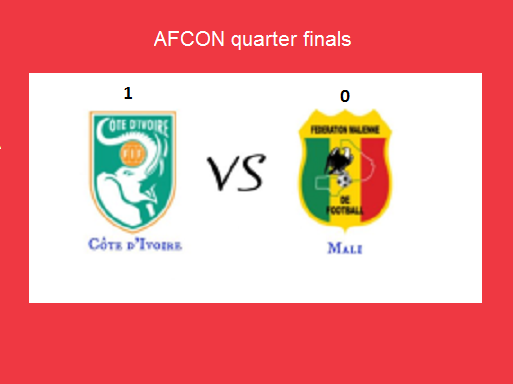 I'm back today with the African cup of nations (AFCON) news. Yesterday, I talked about how the super eagles of Nigeria put sand in the Garri of the Indomitable Lions of Cameroon by trashing them 3 goals to 2 in the round of 16. Today, it's about the tragedy of the Malians.
How Ivory coast squeezed bitter leaf water in the eyes of the Malians in the 76th minute
Haaaaa!!!!!!!!!!!! This is very much painful, but when there's no other option, the victims will have to deal with the trauma. The game between Mali and Ivory coast was very fierce. They both held to their sides throughout the first half and I was very impressed with their performances. At the 22nd minutes, Diaby played a free-kick that almost resulted in a goal but, the Ivorian keeper Gbohouo stayed on his line and tipped it over. What a fantastic save!
Mali has been the better of the two teams so far, but are yet to truly test Gbohouo apart from the fantastic freekick by Diaby. They played a tic tac game, while the Ivorians only depend on long balls. (End of the first half).
The second half began, and every player tried to make a name as they struggle to get a goal for their country. Traore, Kodija, Pepe, Meraga, and more all tried to keep the ball at the back of the net but wasn't able to get past the goalkeeper.
Zaha did it in the 76th minute! Gbohouo hoofs up a free kick from the back, which beats the Mali defence and Zaha was there to slot it underneath the onrushing goalkeeper..... GOAL..... The Ivorian team managed to take a lead and that was how the match ended with Zaha, the Aston Villa man giving them the chance to move into the quarterfinals against Algeria. The Mafana guys really played to win, but that's soccer for you. Ivory coast never played a classic ball but ended up with a brilliant finish. Congratulations. We are all looking forward to the quarterfinals.
Till then, thanks for visiting my blog.
This is ckole (the laughing gas)
Always spotting the sport info.