Mason Mount who was on loan to Derby county performed up to expectation and he has been given the opportunity to prove himself at Chelsea. Frank Lampard, who was appointed as the new Chelsea head coach worked at derby county last season of which Manson was under him.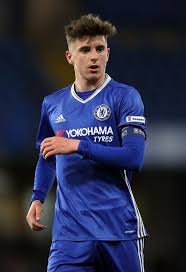 image credit
I think Manson's chance of a five-year contract with Chelsea was as a result of his performance, and the potentials seen in him by Lampard when he was on loan at Derby.
The 20years old player scored in the preseason match against St Patrick's Athletics on Saturday, where Chelsea won 4 - 0. I wasn't surprised at the 5 years contract deal with the young lad. He had been in the Chelsea academy since he was 6 years, and he has always stood out as a fantastic talent and dedicated individual.
Manson was happy with his deal with Chelsea. He said
"I'm really looking forward to the coming season now and working hard to have an impact here at Chelsea. I've been at the club for a long time already and hopefully, I'll stay for a long time to come."
Everyone is looking forward to an exciting moment for him at Chelsea. Already, he's featured in the pre-season matches. I wish him all the best in his new career endeavor.
Thanks for reading.
This is ckole(the laughing gas)
Let's keep up with sports talks.