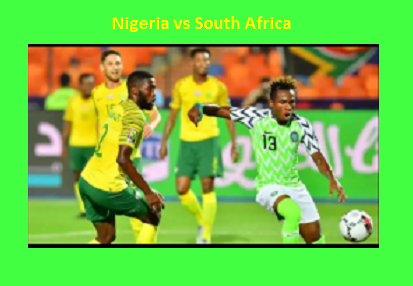 Welcome to another talk on the Afcon (African cup of nation) tournaments. Most of my talks are on Nigeria matches. Guess what! That's my country, and I'm very proud to be a Nigerian. Zoom!.
Nigeria held the Amazulu guys in the Afcon quarter-finals on 10th July 2019 and it was a nutcracker. Before the match started, I said something that made many people around where I watched the match laughed their ass out. Yes, it was the truth and it happened.
I said
Argentina has been a very tough side for Nigeria. We've met several times, but the only time I recorded a win for my dear country was in Atlanta 96 where Diego Maradona cried from a 3-2 loss to Nigeria. After then, it's been a narrow escape for the Argentines against Nigeria. A narrow escape, but a superb win over us. Except for the 4-3 win in a friendly match a year and a half ago, where Nigeria came from behind to knack the Argentines 4 kosa. I never see friendly matches as serious. It doesn't portray the best part of a team. The real show is when they meet in tournaments and Argentina has been up to it. Kudos! The South African team has also been a problem for the super eagles of Nigeria. These are the result of the last four matches with South Africa before the recent quarter-final.
17 Nov 2018. South Africa 1-1 Nigeria
10 Jun 2017. Nigeria 0-2 South Africa
29 Mar 2015. South Africa 1-1 Nigeria
19 Nov 2014. Nigeria 2-2 South Africa
10 Sep 2014. South Africa 0-0 Nigeria
Nigeria changed the story this time. They defeated Bafana Bafana 2 - 1 in the Afcon quarter-finals. The success was due to the 89th-minute strike from William Troost-Ekong. They will be playing with Algeria on the 14th of July 2019 in the semifinals. wIll Nigeria defeat Algeria or vise vasa?
Well, as for me, I predict a 2 - 0 win for the super eagles. Let's wait and see how everything plays out.
Thank you for staying glued to my channel.
This is ckole (the laughing gas) on sports talk.
Have a good day, One love