Carlos Santana (electric guitar), John McLaughlin (electric guitar, piano), Eve McLaughlin (piano), Larry Young (piano, organ), Doug Rauch (electric bass), Jan Hammer (Hammond organ, drums, percussion), Billy Cobham, Don Alias and Mike Shrieve (drums, percussion), Armando Peraza (vocals, congas, percussion), and Mingo Lewis (percussion). From the album Love Devotion Surrender (1973).
In 1973 John McLaughlin introduced Carlos Santana to his spiritual leader Sri Chinmoy, and he and his wife Deborah became his disciples. As a result, the two musicians decided to issue this album together with members of the Mahavishnu Orchestra and Santana, adding organist Larry Young and percussionist Don Alias. Since it's inspired by the teachings of Chinmoy and dedicated to John Coltrane, the following is a brief biography of this master born in East Bengal (now Bangladesh) to know the mood in which Love Devotion Surrender was recorded. Sri Chinmoy was a disciple of the famous Hindu guru Sri Aurobindo and in 1964 he received the inner call to move to New York to help those Westerners seeking spiritual fulfillment.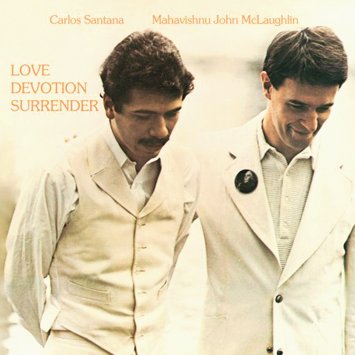 Album cover
From then on he organized conferences, concerts and meditations, all free of charge, reaching 7000 followers in 70 countries spread over 400 Sri Chinmoy Centers. In these centers no dogma is taught nor any particular belief system is required of its participants, but offer a vision of life based on the essential goodness and divinity of the human soul. They are also an ideal place to practice meditation as a powerful method to cultivate spiritual awakening and in them is not allowed the use of drugs, alcohol, tobacco or coffee, eat meat or have pets. A prolific writer, poet, painter and musician, Chinmoy advocated the development of inner peace through a path to God founded on prayer, meditation and athletics.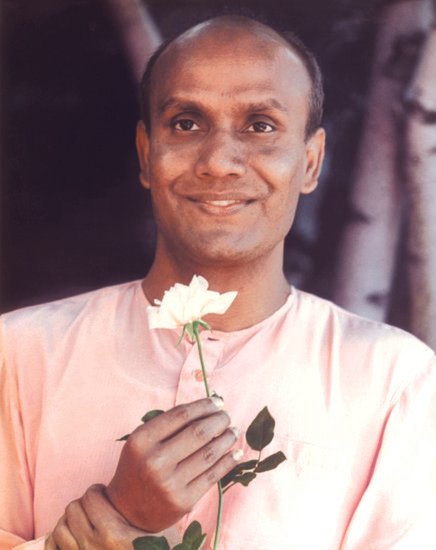 Sri Chinmoy
Born in Shakpura (Bangladesh), when he was eleven years old his father passed away and a year later his mother did it too, so he went with his brothers and sisters to the Ashram (Hindu teaching monastery) of Sri Aurobindo in Pondicherry, southern India. There he stayed for twenty years doing spiritual practices, attaining Samadhi (state of consciousness in which the meditator gets in unity with the Divine), studying literature and working in the Ashram's cotton workshop, besides being a good sportsman and writing his first articles and poems. After emigrating to New York he worked as a clerk at the Indian consulate and was soon invited to give lectures on Hinduism at universities in the United States and finally at the United Nations.