Journey: Steve Perry (lead vocals), Neal Schon (lead guitar, backing vocals), Johathan Cain (keyboards, rhythm guitar, backing vocals), Ross Valory (electric bass, backing vocals) and Steve Smith (drums, percussion, backing vocals). From the album Escape (1981).
Afterwards, Journey recorded "Ask the Lonely" for the soundtrack of the romantic comedy Two of a Kind (1983) and "Only the Young" for the drama Vision Quest (1985), which climbed to ninth place of the Billboard Hot 100. In 1986 the band released Raised on Radio with electric bassist Randy Jackson replacing Valory and drummer Larrie Londin at Smith, placing fourth on the Billboard 200 and its single "Be Good To Yourself" ninth of the Billboard Hot 100. Next Neal Schon and Jonathan Cain partnered with other musicians before forming in 1988 the hard rock supergroup Bad English with singer John Waite, electric bassist Ricki Phillips and drummer and percussionist Deen Castronovo.
Jonathan Cain

Bad English logo
Bad English published two albums: Bad English (1989), which was certified platinum and which single "When I See You Smile" ranked first of the Billboard Hot 100 and "Price of Love" fifth, and Backlash (1991). Meanwhile, Neal Shon started his solo career and recorded Late Nite (1989) with some former Journey members in which we find jazz-rock and hard rock. Then he created with Castronovo the glad metal band (subgenre of heavy metal with pop influence and guitar riffs) Hardline with Johnny Gioeli singing, his brother Joey on rhythm guitar and Todd Jensen on electric bass, but Shon only participated in its first work Double Eclipse (1992), in which he spits fire with the guitar.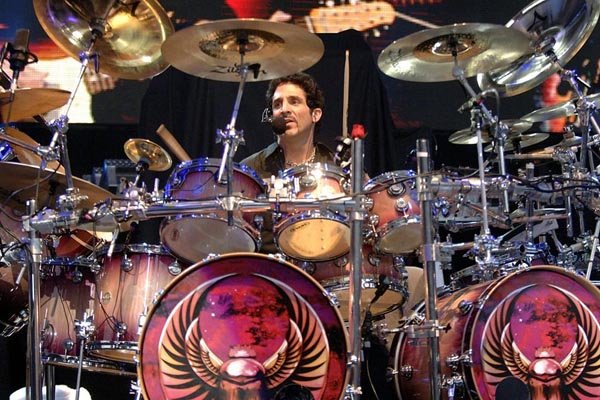 Deen Castronovo

Hardline logo
In 1995 Shon released Beyond the Thunder containing smooth jazz and in which he uses synthesized guitars being accompanied by Cain on keyboards and several percussionists. That same year the Journey formation that had played on Escape and Frontiers (Perry, Schon, Cain, Valory and Smith) met again to issue Trial By Fire (1996), whith single "When You Love a Woman" reaching first position in the Adult Contemporary list.
© Columbia Records