Yesterday I wrote about the transfers which were already done! Probably Samata will also leave the club this week. A delegation of Galatasaray is in town to discuss a transfer.
But like I promised I will write about the goalies and defenders Genk has at the moment! Let's see if it is enough to battle for the title again!
Goalies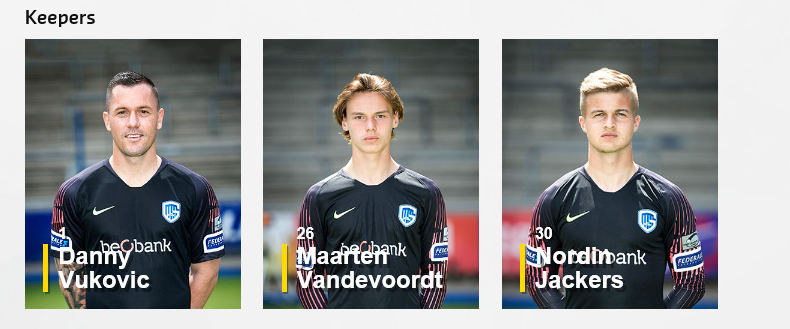 Genk has 4 goalkeepers in the squad. But there is at the moment only one keeper who can stand on the pitch. And that choice for the moment is obvious.
Vukovic (age: 34) is without a doubt the undisputed number 1. Last year when he was injured or away on internation duty he was each time replaced by Nordin Jackers (age: 21).
Jackers is asking for more playing minutes so a transfer or loan is due!
The other 2 keepers in the squad are Coucke (age: 20) and Vandervoordt (age: 17). Vandervoordt has a lot of potential and is described and the next Courtois! Time will tell.
Coucke was loaned out last season to SK Lommel, where he did play most games. So he has matured. That's why I do think that Jackers will be granted a loan or transfer, Coucke will become goalkeeper number 2 and Vandervoordt may play the games with the second squad and will be the third in the picking order!
No need for incoming transfers, the quality is good enough for the Jupiler Pro League!
The defenders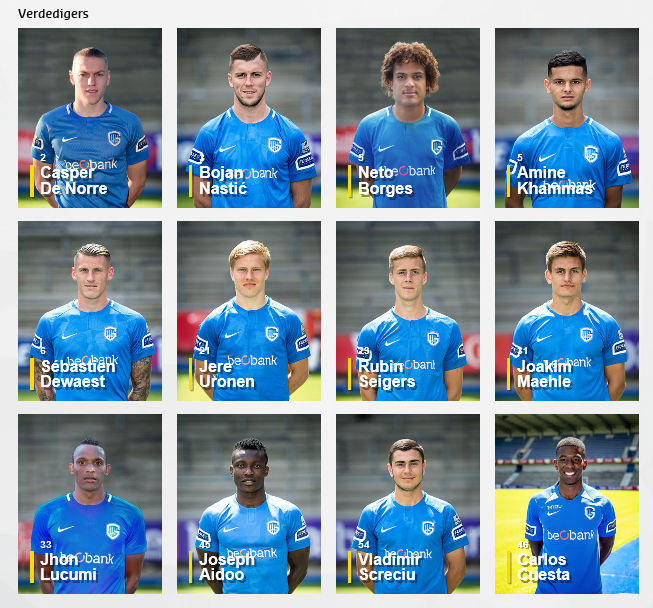 9 defenders in the squad. Maybe a little bit too much. It looks like Maazu is going to play with 2 Centrals Defenders and 2 more offensive backs.
Center backs
3 real center backs in the team with new crowned captain Dewaest, Lucumi and newcomer Cuesta.
Dewaest (age: 28) will be the leader of the defense and Lucumi (age: 21) and Cuesta (age: 20) will have to battle it out for the remaining center back position. I do think that the season will start with Lucumi besides Dewaest. Depending on his performance Cuesta will be used as a real back up.
When in need Khammas and Wouters can also jump in on the center back position.
Left backs
Way too many left backs in the squad! 5 real left backs. Some of them can also play on the right back position but still.
Number 1 in the picking order will be without a doubt Jere Uronen (age: 25).
De Norre (age: 22) was purchased during the winter tranfer window as a backup for Uronen. But I don't think that he is ready yet. He also had a longer holiday due to playing the European Championship for U21, which is never a good things when a new head coach did arrive. I do think that he is a good player for the Belgian competition but misses just a little bit quality to be number 1 in the picking order at Genk.
Borges (age: 22) will start as backup for Uronen.
And then we also have Nastic (age: 25) and Khammas (age: 22). Both were loaned out last season.
I guess one of those two will leave the club before September has started. Khammas will be loaned out if it will be him and Nastic will be sold.
Right backs
Than we do have a strange situation here! Only 1 real right back in the squad with Maehle (age: 22). Well he is too good to stay in the Belgian competition. Lots of teams were interested but he says that he still can learn enough at Genk and really want to play the Champions League.
De Norre can become the backup of Maehle.
But is something happens during the transfer window a new incoming transfer is due!
My opinion
The only place where we could have a problem is on the right back. Maybe a incoming transfer of a young promising player to be the back up of Maehle would be great!
We do have an experienced leader with Dewaest who will keep the youngsters focussed!
For the Belgian Jupiler Pro League the quality in the squad should be enough to fight again for the title!
Later this week, the midfield and the ones who will have to net the ball!
Cheers,
Peter