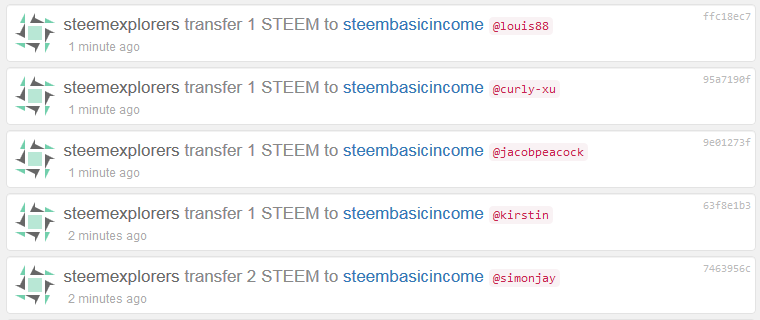 ---
Opening Remarks - Team Projects
We have two new awesome project that we recently launched @steemexplorers and @givememonsters.
Steemexplorers is a discord server that serves as a database containing free and easy to use information on a wealth of services and communities on the Steem blockchain. Stop by and find some things to help yourselves grow. We also have FREE upvote bots there. The steemexplorers upvote bot has loads of staked coins for almost every Steem-Engine tribe for added curation benefits and is free to use right through our discord channel at the link below. How can you argue with free votes across all platforms?! Come visit us today.
@givememonsters is a Dark Energy Crystals (DEC) upvoting bot in which you can pay 1-10 DEC (which most people get for free from playing or by burning cards even one common Steem Monsters card) and you can use those for up to a $0.02 upvote on Steemit AND loans of free Steem-engine tribe token upvotes. You can use this service by sending your DEC to @givememonsters on the Steem-Engine exchange. Our bot is offering currently around a 200%+ return on investment just from the Steemit upvote alone and not even including all the FREE steem-engine tribe upvotes your'll get too with these upvotes. This is one of the best deals around! Don't like the card you won here today? That's ok, just burn it into 15 Dark Energy Crystals, keep 5, and use the other 10 to get yourself a $0.02 Steemit upvote and various tribe upvotes from @givememonsters! Increase your earnings by using our service today!
Learn more about both of these services at our discord at the link below.
---
Giveaway Results
We're back at it with some more SBI share giveaways!
So now let's get to the good part, here are the winners of the first 4x contest back on the SBI share giveaways! As a side note we are giving all of our shares from these sponsored shares to our partners over at @givememonsters which is why you will see their name appear before yours but you will still get your all the same. This is just a technical feature that SBI allows if you wish to give someone else the share that you would have received.
Contest# 388
@simonjay
Contest# 389
@simonjay
Contest# 390
@kirstin (nomination winner courtesy of @barmbo)
Contest# 391
@jacobpeacock (nomination winner courtesy of @freemotherearth)
Contest# 392
@curly-xu (nomination winner courtesy of @chekohler)
Contest# 393
@louis88
Congratulations to all the winners!
Thanks everyone for your loyal commitment to our cause and please stay tuned for more daily giveaways and an exciting new project we're working on that we hope to reveal by the end of the month!
---
About The Team
We are a growing group of individuals that seek to help the Steemit community by providing free giveaways to promote, above all things, a platform for other Steemit users to grow and find a little assistance along the way to improve their experiences and draw more interest to Steemit as a whole.
Combined between our now 5 active team members:
We are now giving away something every single day across 4x accounts. That's 28x FREE giveaways every single week! And we're working on providing an upvote service through the @givememonsters account!
---
Easy Access Steem Blockchain and Free Crypto Sites to Help You Earn!!
Coinbase Registration
Coinbase Earn - $10 Free EOS
Coinbase Earn - $10 Free Stellar Lumens
Actifit
Givememonsters
Minnowbooster
Mannabase
Presearch
****