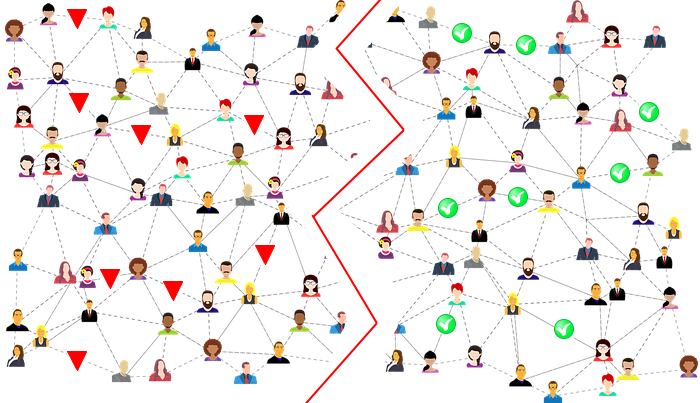 A special thanks to @valued-customer and @planter for the interesting comments on my last two posts. It just goes to show that the blockchain and all its complexity, can be viewed from starkly different perspectives. I think it all comes down to human nature, the biological imperative, self-interest, and or greed. Depending on how you view this one human condition that has many different names; It will most likely determine which word you choose to use. Bear in mind, as Milton Friedman said: "Of course none of us are greedy, it's only the other fellow who's greedy."
I'm of the mindset that markets evolve from the ground up, and almost all actions are taken with self-interest or self-preservation in mind. America first if you will. Similar to a biological organism, if you tamper with it via genetic editing or code changes from the top-down, you'll mostly end up with unforeseen consequences. It almost always ends up destroying what the people have collectively created on a subconscious level with their self-interest and free will in mind.
---
"We hold these truths to be self-evident, that all men are created equal, that they are endowed by their Creator with certain unalienable Rights, that among these are Life, Liberty and the pursuit of Happiness." — Declaration of Independence
---
But when does the pursuit of happiness move from self-interest to greed? This is a very subjective question, and some people are more content while others have insatiable appetites, and so long as these hungry, hungry, hippos do not violate the liberty of others, I say, let them have their fill. However, the Steem ecosystem is an artificial marketplace, and property rights are murky at best, the reward pool is finite and replenishes daily.
Investors purchased Steem for the reward distribution rights, but because of some irreverent, twisted code, the blockchain also gave them reward redistribution rights. In part, the first 50% aligns with normal human behavior. In the latter portion, however, the redistribution rights go against human behavior and play into the behavior of crabs who are stuck in a horrible predicament while they await their imminent demise. Ultimately, people have a choice; they can act like war crabs, and try to keep each other down. Or, they can live and let live, allowing people to pursue their self-interest. Some people, I've noticed, attempt to operate in a bipolar fashion, with one foot in both worlds, handing out lollipops and groin kicks to everyone they meet.
My personal preference is to stick with self-interest and to live and let live. I don't want to be a crab in a bucket. I don't want to be a guy that hurts someone else's potential or causes people to loathe and to hate me for doing so. This kind of culture that #newsteem is promoting is so disharmonious and destructive that it should never have been implemented in the first place. Social networks should not be a place where people are programmed to act like crabs in a bucket, or snipe people's rewards as that is the pinnacle of antisocial behavior.
In a perfect world, one where everyone is an altruist, all Steem investors would curate the most quality posts. However, we do not live in a perfect world, and not everyone is an altruist. To think that we should try to modify people's behaviors to solve trending by using the punishment side of operant conditioning is a horrible failure of imagination, and I know I'm not the first to suggest that we can do a hell of a lot better to encourage the right behavior, even if it's only on the condenser level. If we want to present the product as social-media-centric, then let's not encourage antisocial behavior.
Some people see self-serving investors as antisocial. However, they do bring value to the coin. They did this when they purchased Steem for reward distribution rights, and they continue to do it with the HODL (or powered-up Steem). As of right now, Steem is still a very niche product, both the blockchain social network and the alt-coin. The fact of the matter is; a lot of times, people who invest in things are looking to make a quick buck. That's the self-interest I was talking about, and you can call it what you want.
You can call it capitalism which may or may not be true depending on your understanding, or you can call it profiteering. But the fact of the matter is, the goal of capitalism is profit, and the same goes for profiteering. So the two concepts intersect, and perhaps they take different roads to get there. I think most of the people who invested in Steem, making it as successful as it was, were riding the BTC wave and looking to make a quick profit. No matter how you cut it, both types of individuals propped up the value of the coin at the point of sale and also help to maintain Steem's value while theirs is powered-up.
What Steem needs is an off-chain condenser-oriented solution to fix the problem of trending, and the Drudge Report is a wonderful example of why we should do this. The Drudge Report, one of the most popular websites in the history of the internet, is successful because it showcases fresh links to riveting information on a single webpage. When we can fix trending, without the need to promote flag wars, the general attitude on the platform will be more desirable and far less disharmonious. We can retain both content creators and investors. Whether they are "good" or "greedy," we need them all if we don't want Steem to become doge.
---

---
The image above is brought to you courtesy of Pixabay.
[1]
[2]
After seeing the title of my post, some may wonder, "Is the author a bonafide monetary physician?" To that, I would respond; Is Steem bonafide money?