This pandemic has been very weird
Many might not know but my husband caught CoVid-19 in April. He was declining quickly, and we had a hell of a time getting him help. Finally we were able to get him on the hydroxycloroquine and a z-pack and within 12 hours he started recovering, within 5 days he was 85% better and within 7 days he was 100% recovered. He went back to work on April 22nd and while he was out his company paid him. So we haven't hurt financially over CoVid-19 so bad where we can't pay our bills or anything, even though we did lose my income. But we keep our budget and our cost of living down so one income can pay for our lifestyle and the other income is the gravy per say.
Over the last few years I been slowly growing my photography business
It was really slow going as I am mainly disable and it was hard to do things, then I started seeing the Chiropractor last year and my life has changed. With less pain, I have been move active, I have promoted my business more and have rapidly grown my business over the last year. Having booked 5 weddings and 51 Senior photos and a half dozen family photos for this spring and early summer. Then CoVid-19 hit and the shutdown happened. And even though I rarely photograph larger gatherings, I still was force to shut down which sucks because I was averaging $500 or so a week. Some weeks more some weeks a little less but I finally felt like I am creating a real income even if it isn't much. I live in Indiana the cost of living isn't as high as most places. So the income isn't bad, and is nice gravy for my family.
I been working to save the money to buy a large Storage Shed
I been wanting to buy a large storage shed to turn into a photo studio on my property. I do location only shoots right now and I have lost out on a lot of potential business not having a studio. I have 1.53 acres of land and thought a big Shed could be converted into a photo studio. I was on track to have the money to do that by July or August. But then CoVid-19 happened and those photo shoots I had booked was canceled only one is still on so far and that is later in the summer. But then the Cares Act was signed giving self-employed unemployment benefits. I applied and was denied state benefits at first but qualified for PUA which then gave me state benefits too. I had applied back in April after being shut down for 2 weeks knowing I would be denied but knew that the Cares act would approve me for the benefits. I didn't know on average I would make more in a week than I was making on my own, which makes this oddly beneficial to me, as I am gonna be able to get things done quicker than I thought.
So Friday I was given retro active back pay
They deposited into my account after taxes more than what I would have made doing those shoots, and today I will received another payment, which gives me enough with what I already have saved to buy that shed. So while I am shut down, I am gonna build my studio. Next week's payment will go to buying the electrical stuff and the floors, if any money is left over I will get insulation too, then the following week the drywall or paneling (don't know which yet) for the walls. Hopefully by June I will have my studio up and running. But I am debating which style to get. I have decided to go with a Shed Style design as I was looking at the cabins style ones and they don't have much SQ FT and I would have to spend twice the amount of money to get the space needed for a proper studio as the porches take up too much of the floor space and for that extra money I can build a floating porch and finish the inside and have money left over. But there are two styles and I can't decide which looks better. What do you guys think? Here are the 4 different designs I am looking at, I am looking at a 12x16 space maybe even the 12x20 just for that extra space and the cost is less than $500 more. The barn style ones are $200 more expensive and there really isn't more head room just more storage space for props but the loft areas in the other ones are plenty room for that so it isn't really needed. Color wise I want Gray and White as our house are those colors.
Option 1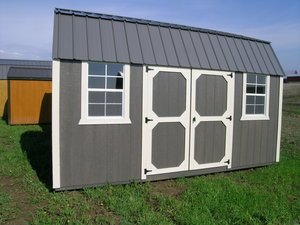 Option 2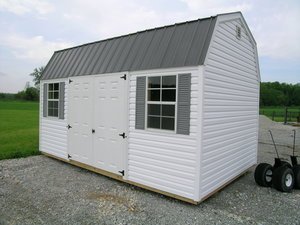 Option 3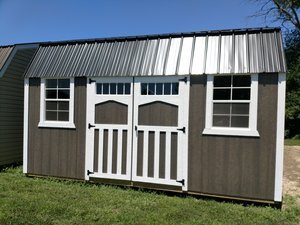 Option 4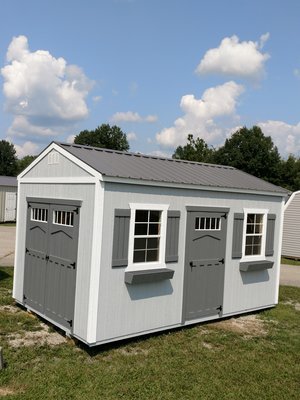 I am also only going to do a single door and not a double door
They have options to have a secure regular residential door put on them and I am going to opt for that for more than one reason, mainly because it will be more secure than Barn doors and since I am going to be insulating it like you would a house I want to make sure the door is going to be good and keep the place warm. As I do plan to place a small heating and air unit in the studio to keep it comfortable year round. But what do you guys think? Which option would you pick? Should I go with the planters and shutters on the front? Or leave it off. So many decisions to make. Let me know inf the comments which ones you think would look best. I am going to be custom ordering it most likely as I haven't seen on the lot the color combination in the size I want already built. But it doesn't take long for the Amish to build these.