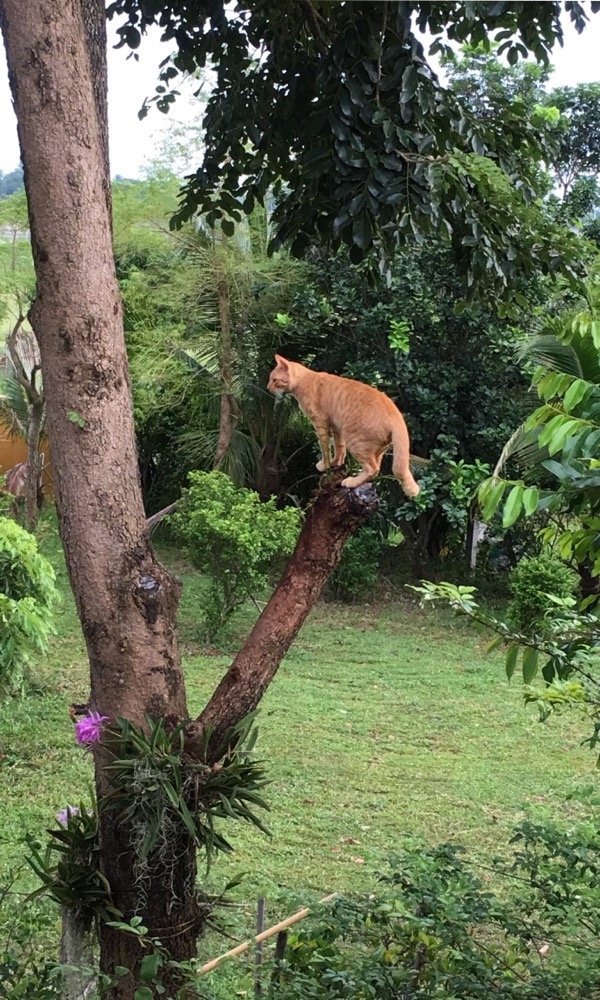 This is my entry for #dailypetphotography hosted by @kona. This weekend I am spending some quality time with my cats in our country house.
The weather is very nice though it is still hot during lunch time. The cats are running about freely and securely knowing that I am watching over them. The five dogs from my neighbour's house used to come into the garden chasing my cats up the trees. At night, a male cat came to attack my sleeping cats two nights in a row. Last night he did not come back as he knew I would be waiting for him!
My naughty cat, Joan, is very fond of this tree as it gives me very nice view of the river. But he often sits on my orchids to rest his fat bottom! The orchids are on strike this year with very few flowers. I have to get my cats on a diet for a few days.
สุดสัปดาห์นี้เรามาพักผ่อนที่บ้านสวน ทำให้ได้เล่น และดูแลแมวบ้าง แมวก็ดูเหมือนจะมีความสบายใจมากขึ้น มันออกมาวิ่งเล่นกัน และมีความรื่นเริงมาก เมื่อป้าแมวโรซี่กลับมาบ้านเมื่อวานนี้ พวกแมวก็ยิ่งมีความมั่นใจมากขึ้น ไม่ไปแอบนอนกันใต้พุ่มไม้ มันกล้าออกมานอนในที่แจ้ง มันคงรู้ว่ามีเราคอยปกป้องมันจากสุนัขของเพื่อนบ้านห้าตัว ที่เคยแอบมาไล่พวกมันขึ้นต้นไม้ แล้วยังมีแมวตัวผู้มาไล่กัดแมวของเรากลางดึกอีก เมื่อคืนมันไม่กล้ามาแล้ว เพราะมีเราคอยดักรอมันอยู่ พวกแมวก็ซนมาก วิ่งเล่นขึ้นต้นไม้ โดยเจ้าจอมจะชอบขึ้นต้นไม้ที่มีกล้วยไม้ และนั่งพักบนกอกล้วยไม้ จนปีนี้กล้วยไม้ออกดอกน้อยมาก เราคงต้องจับแมวลดความอ้วนสักสองสามวันแล้ว
Wishing you peace, good health and prosperity.
Cheers.
Posted using Partiko iOS