When I saw @shanibeer's post with the photo of the christmassy tea cosy I thought of a cowl I made two years ago. The 'scales' just looked like those of my cowl. But then I saw the tag - that was crocheted? I immediately took a look at the pattern to see how it was done. I never heard the term 'crocodile stitch' before.
Because my cowl was knitted. It was my first project that wasn't plain knitting but had a pattern with yarn overs and k2tog. I learned a lot knitting it but several times I was deeply distressed. Without the help of the owner of the local yarn shop I never would have finished the cowl.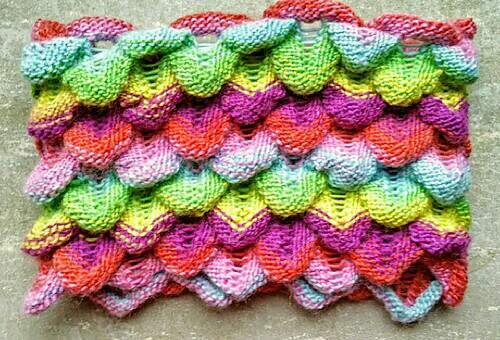 This pattern is aptly named: 'Teufelszwirn' means something like 'the devil's twine' and the first half of the projects I thought only a devil could have thought out that pattern. Why? Well, you knit from the other side - this is the "wrong" side. It's difficult to get a picture in your head of why you do what. I plan to do the cowl again now that I learned more about knitting. Though @shanibeer's cosy is really nice, too.
Isn't it interesting how different needlework techniques can have results that resemble each other so much? I love these things, like the crochet slip stitch I wrote about two weeks ago that looks like knitted ribbing :)
Posted using Partiko Android