In today's world, you will agree with me that technology has taken over virtually everything. Even the financial sector is not left out. Better means of storing as well as transacting assets one client to another has been a great challenge before the advent of blockchain technology. Since the inception of blockchain technology, the financial sector experienced a major drift where people prefer to have their assets stored on blockchain rather than using the customary banking platform.
To ensure trust and efficiency in transferring assets from one client t another using blockchain technology with ease, PAYACCEPT was launched.
---
WHAT IS PAYACCEPT
---

Using blockchain technology as the core infrastructure, PayAccept is a payment platform developed to bring massive drift in the traditional financial sector. PayAccept offers a thorough decentralized platform where users can swiftly initiate transactions directly with one another thereby cutting off middlemen. On the platform, users can with ease trade any assets of their choice irrespective of the currency involved; this feature help to bridge challenges faced by clients to convert their local fiat to USD before making a trade, which is always done with high conversion fees as charges. But with PayAccept, these issues have been resolved.
---
CORE FEATURES OF PAYACCEPT
---
In order to stand firm and compete in the financial sector, PayAccept developed three core features to help promote their project. These are:
PAY Card: PayAccept developed her native payment card to ease transaction stress for all clients. With the payment card, transactions can be easily initiate on the goal in the actual world. Funding of the card is very easy and simple on the platform, with an exceptionally good rate compared to the general exchange market. PayAccept built in an EMV chip on their cards to enhance total security to the end users.
PAY Token: PayAccept native token is PAY. PAY is an utility token that will be used to drive PayAccept platform. ALl transactions on the platform will be carried out using PAY, which is fast, secures, efficient, effective as well as cut off high transaction fees.
Payment on Sale (PoS): To meet every clients' demand in the competitive market, PayAccept introduced her PoS that would help process transactions from cryptocurrency to USD and vice versa with ease and at very low transaction fees.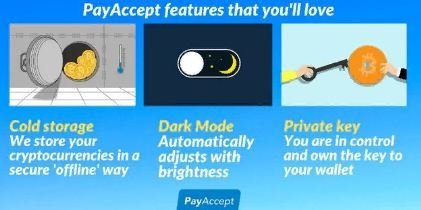 ---
WHY USE PAYACCEPT PLATFORM
---
Gift cards can easily be converted to any form of digital currencies.
Clients have full control of their assets as well as private keys to their e-wallet.
To ensure security of client's assets, they are kept in cold storage, thus no one has access to it except the clients him/herself.
PayAccep exchange is superb and soley built on activities of the community members.
All transactions are stored on the public blockchain, which is accessible to all.
Transactions on the platform are processed at an extremely low fees compare to PayAccept competitors.
PAY, which is the native token of PayAccept can be used to unlock savings and loan section of the project.
Using PAY as your desired payment option will attract good discounted rates on your transactions.
---
For more information about PAYACCEPT, click the following links:
---
Website: https://PayAccept.net/
Facebook: https://www.facebook.com/PayAccept.net
Telegram: https://t.me/PayAccept
Github: https://github.com/PayAccept
Linkedin: https://www.linkedin.com/company/PayAccept
Twitter: https://www.twitter.com/payaccept