Recently we changed two things that made a big impact on https://peakmonsters.com/
PeakMonsters tiers are calculated using ONE YEAR rolling volume instead of 90 days.
We also changed the reward tiers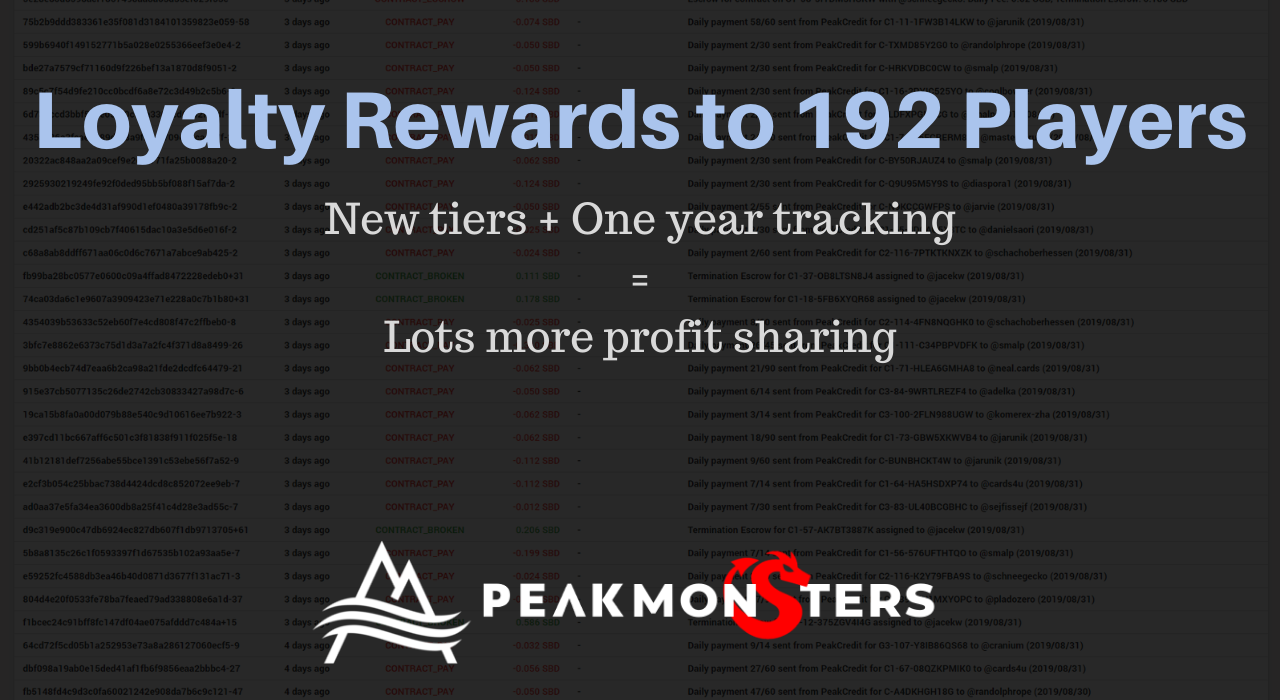 WAY MORE PAYOUTS
In some cases people went from 5% profit sharing to 15% profit sharing over night.
Turns out this impacted a TON of people ... over 190 people now qualified for a payout gift to their PeakCredit from Peakmonsters.
FYI: We only process the payouts when it is over 1 steem or 1 SBD... but we're always tracking the numbers even if you only buy a little bit each day.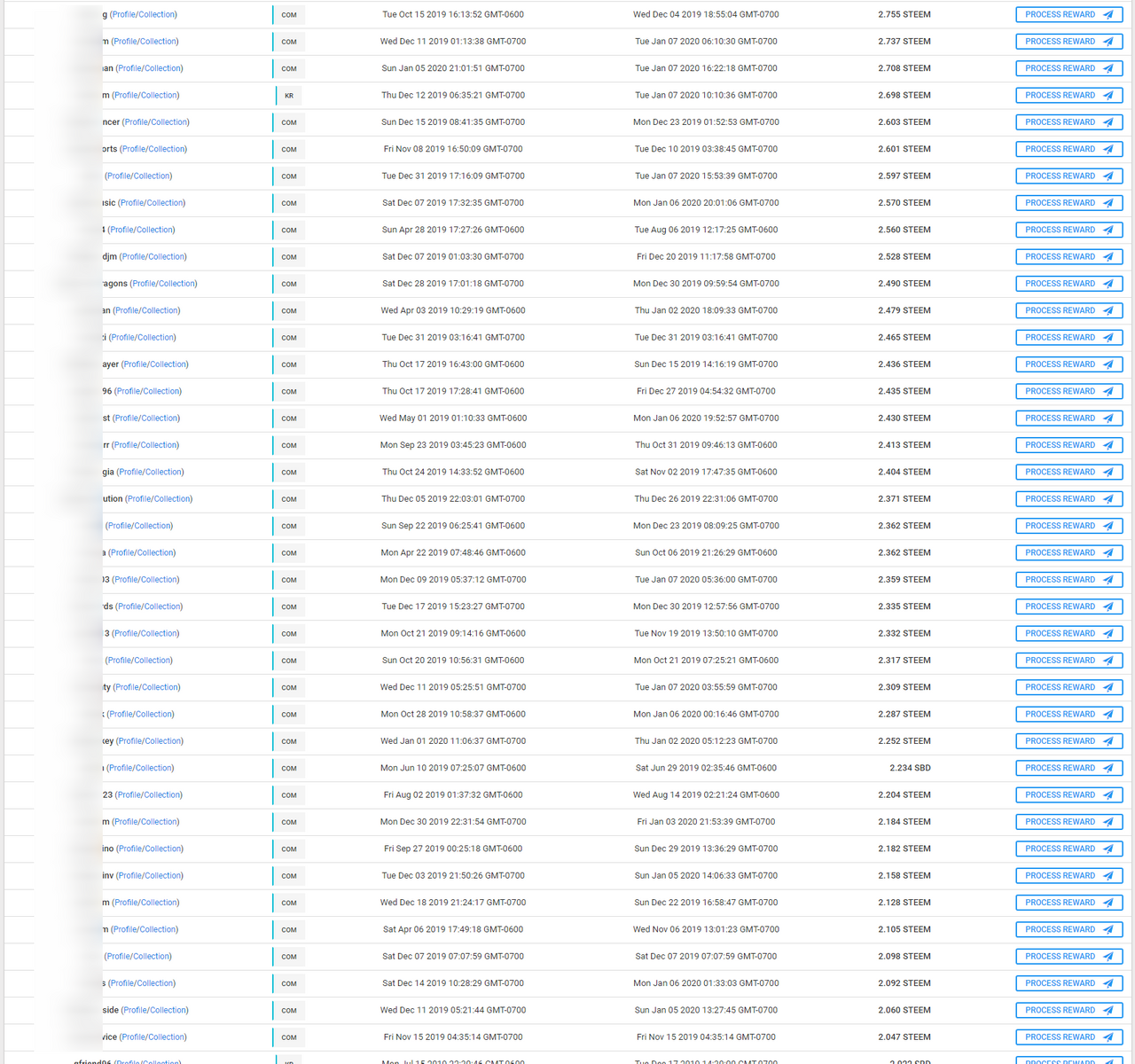 I'll be hitting these buttons 192 times this morning... and believe me I wouldn't mind doing that every day. However if that were the case we'd also set aside time to automate.
WHO THIS IMPACTS
Go check your balances in your https://peakmonsters.com/ profile.
It's not a lot previous to yesterday it was under 1 Steem but now in some cases it's tripled to like 2-3 steem.
Then go feel free to use for market purchases or bids or rentals.
@rea
@jaydih
@gfriend96
@monsterstamer
@vip
@ayogom
@glory7
@leomonsters
@reggaemuffin
@fenrir78
@giosardinian
@coolguy123
@bearone
@donekim
@schmidt2015
@schneegecko
@ravanen
@dhimmel
@mahtabansari370
@senstless
@smongo
@erda
@marjanko
@michealb
@mastergerund
@johndoer123
@derspaetevogel
@kobold-djawa
@jacekw
@imperij2374
@ecoinstant
@jeffandhisguitar
@kungdel
@aagabriel
@foggybottom
@shitsignals
@ayogom
@imperij4427
@monstergames
@arisgg
@enrique08
@register50
@mightypanda
@abrockman
@stormkeepergu
@kalam
@someonesomeone
@rambo21
@guchtere
@tailcock
@fuxx91
@bil.prag
@galorum
@cjbetaman
@donekim
@cryptomancer
@eatmyshorts
@giker
@gamemusic
@hwey4
@braindeadjm
@house-of-dragons
@spilzman
@jacuzzi
@liuke96player
@peppex96
@elprutest
@tinamarr
@fuscianigia
@jonnyrevolution
@koskl
@nureza
@achim03
@neal.cards
@gioele13
@cirott
@lordwinty
@shpak
@stokjockey
@igor45123
@donekim
@pargentino
@newageinv
@jemblem
@maxiom
@zaku
@tsnaks
@technicalside
@roomservice
@splinterlands-ru
@jarvie
@dasgup
@cryptobosiom
@michelcamacaro
@cannonwar
@monsterveritas
@jozef230
@no-nonsense-net
@opinizeunltd
@givememonsters
@thebluewin
@zzings
@toocurious
@bernardino
@argentium
@madeyearcher
@drooshka
@nathanpieters
@cyguy
@stiant
@buritica
@zukowick
@epc
@o07
@ndirish8988
@cryptogecko
@nixks
@roven
@pataty69
@starwaves123
@raynie
@monstersales
@monster.cards
@dreamryder007
@stuttgart
@steelman
@schachoberhessen
@ceptocide555
@mati684
@reggaemuffin
@primersion
@steemstorage
@jjerryhan
@cryptorentals
@barbarossastudio
@bji12032
@donbeano
@cranium
@putsauce
@sshappydayz
@shyaren
@maestromaxo
@jibo
@slider2990
@flauwy
@bargolis
@janoshik
@the.big.bang
@monsterworld
@maryincryptoland
@hercule
@bp9930
@curacionbot
@zzings
@kruln
@elemental010
@yonilkar
@hstafford
@mulletwang
@candyboy
@coolbowser
@citrus-soap
@synrg
@ceewye
@meowgan
@dvf-ventures-1
@smon-joa
@teammonsters
@paredao
@mfblack
@flipstar
@butterb
@thank2u
@federacion46
@coreabeforekorea
@marigiurena
@victorvonhom
@doloknight
@karamazov00
@satan-himself
@tost
@cici.and.evan
@jk6276.leo
@carficchio
@mattuk
@fantasycrypto
@handtalk5
@redthunder90
@mys
@shoemanchu
@nicole-st