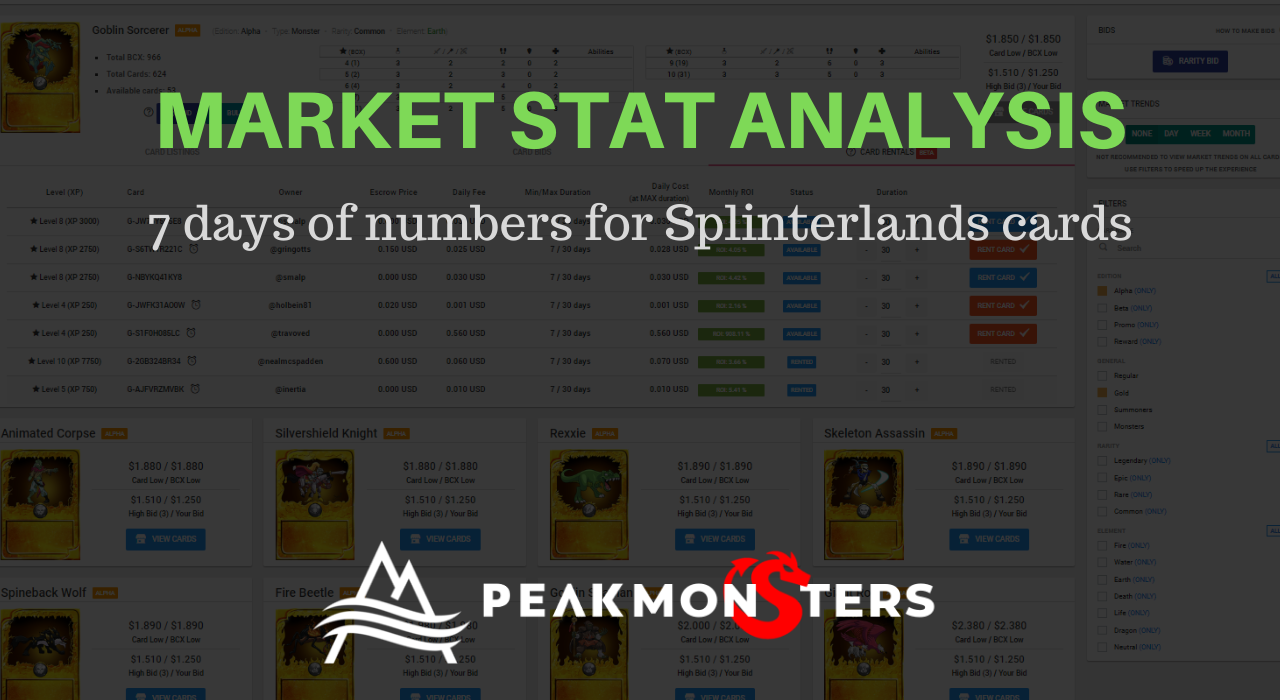 We're just doing some research to make https://peakmonsters.com/ even better and decided to share some of our research about the Splinterlands market in general. There are many interfaces to the same market protocol.
Number of transactions - Total 15,012
We may not have the $ volume of some other online card games but our number of transactions is truly impressive
---
Number of cards - Total 44,516
Still quite a lot of single card purchases which is very interesting since so many interfaces allow multiple cards at a time... for example https://peakmonsters.com/ allows up to 45 in one transaction.
---
Market Volume (USD) - Total 26,103.78
So on a good month this could end up being $100k
---
1065 Accounts have purchased something from the market
---
Top 3 buyers spent $1613, $495, $458
3 players alone represent about 10% of the volume
---
38% of purchases have been with DEC
This stat was unexpected because it seems like only the SteemMonsters market interface does a lot of DEC ... for example in those 7 days we have done 16.7% of our volume in DEC which is a high amount for us.
---
MORE EMPHASIS ON DEC
https://peakmonsters.com/ offesr pack card and set purchases with DEC already.
Seeing these numbers overall we're going to work on a focus on DEC.
We still have concerns in how DEC purchases in the market are done and the lack of decentralization and no one should take that for granted. But we are understanding of how it benefits the speed of the markets.
It does make our job of creating peakcredits many many times more difficult... but we're still thinking of solutions.
---
3684 cards were purchased by @steemmonsters
... we're assuming that means purchased via TRX and paid out in DEC?? Not sure how that all works or if we missed a post on how that functions @yabapmatt @aggroed
---
PEAKMONSTERS YEAR
There have been 1598 accounts that have made a market purchase on Peakmonsters.com in 2019
726 that have spent at least $20usd worth in 2019 on peakmonsters
---
UPDATES COMING SOON
We're changing the rolling volume to ONE YEAR instead of 90 days and changing the percentages they'll equal. This will impact a lot of our users.
With improved tournaments / guild wars hopefully coming out soon we'll likely start some perks of using PMT token for tournaments soon as well.
We have a development cycle we've been working on right now as well with a few cool new additions.