"Surprisingly??"
I say this because many have assumed it's gone down recently...
It's a little weird since the update i did 11 days ago the rental market has seen some interesting changes. I'm doing this update because myself and several other big renters have had our daily values go down a bit. For example my daily rental income has gone down about 8-10% since the end of last season.
... but just because my personal rates have gone down... what do the general numbers show?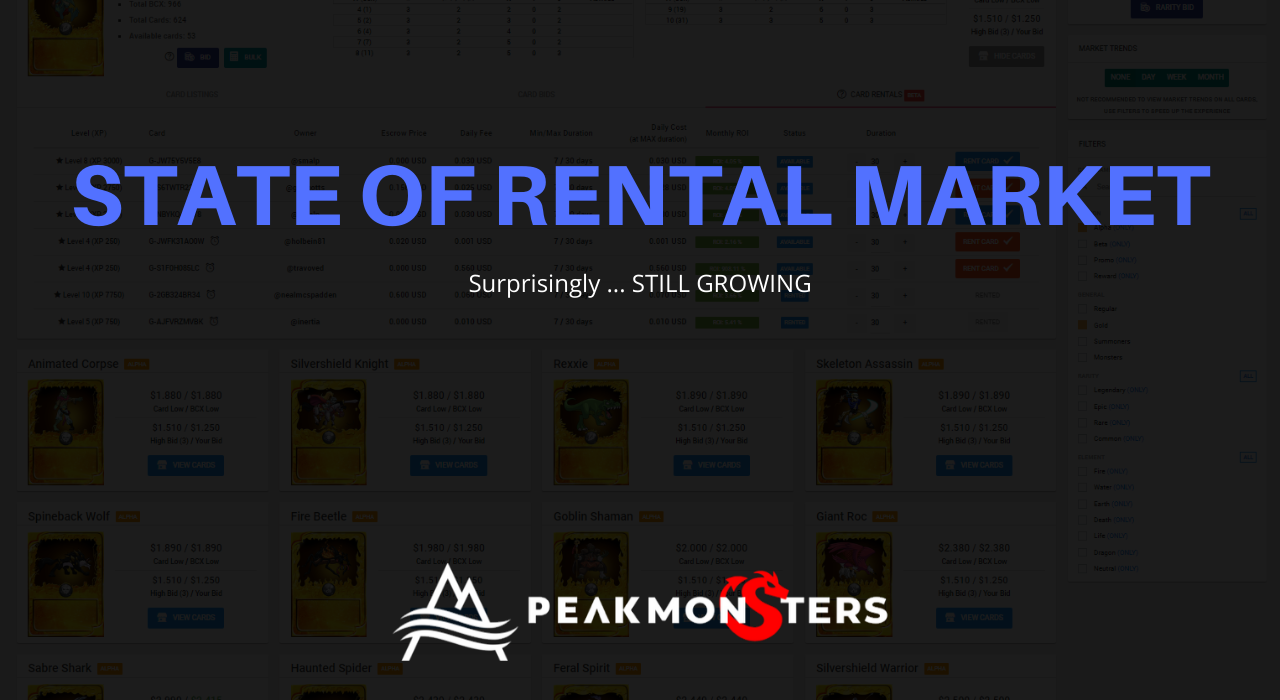 LET'S LOOK AT THE NUMBERS
There are 337 new cards being rented since last time
From 6282 to 6619
That's an increase of 5.3% in cards being rented in the last 11 days
However the total value of cards being rented went from 158.184 to 158.073
Meaning values have mostly just stayed the same.
Which means i suppose that more large cards aren't being rented at the moment and MAYBE more smaller league renters are renting silver/gold level cards
Or it means more is being put into escrows
Escrow is hard to determine because it's a mix of 14% of the contracts not doing escrow 5.8% of the contracts using SBD and the rest having a Steem based escrow
But in general it looks like escrow holdings is up about 9% (again this is harder to calculate)
FINAL VERDICT
It's not the growth we'd love to see
But it's still growth in a couple of areas
So overall it's still an upward trend
CHANGES FOR OWNERS
There are many new tools that make renting out cards way easy
even checking on the status of cards is now much quicker if you go learn how to do it
And we now made the tool to help you halt your rental of that one alpha card that keeps getting rented before you can change the rental rate... you know the one ... it's renting at like 0.5% monthly roi.
NEXT UP RENTERS UI CHANGES
This is a big project and should make life for renters very very nice
It's just a much larger project than we could fit in december.
WAITING ON A SPLINTERLANDS CHANGE
Also huge upgrade if we can get splinterlands to make the change to the cooldown protocol so that renters can re-rent the card that just finished renting... because no other account has played with the card it stands to reason there shouldn't be a cooldown if no one else has played with that card. It's something splinterlands knows renters are looking for but they just need to get some time to work on it. Keep asking for it because IF they can make the change then this can impact renters and owners a LOT. everyone wins.