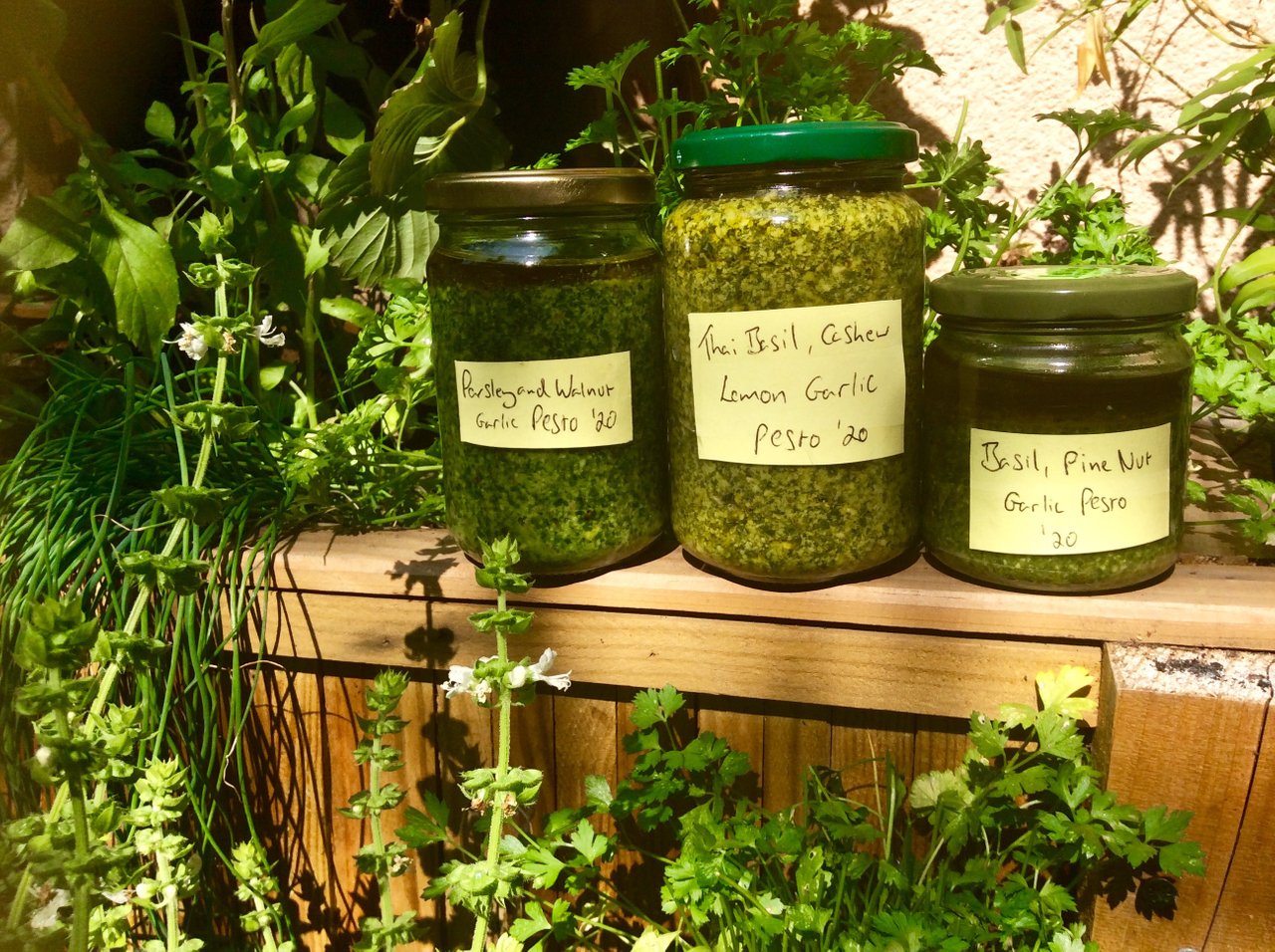 Looking for a way to store an abundance of courtyard grown basil & parsley I came across the simple process of turning it all into pesto. I had heard of the classic pesto which combines basil with garlic, pine nut, olive oil & a touch of salt, but never had I heard of using parsley or other nuts. So, it was with a great amount of pleasure I was finally able to have my pesto making day!
I would like to give a big shout out to my teacher on this one, YouTube. We vilify them for their censorship but they do at least still let us learn such things with relative ease. And for this they deserve praise. Along with that crazy variety of content providers who all inevitably contradict each other and leave us only with a sense of the basics and the reality that everyone embellishes on this in their own way.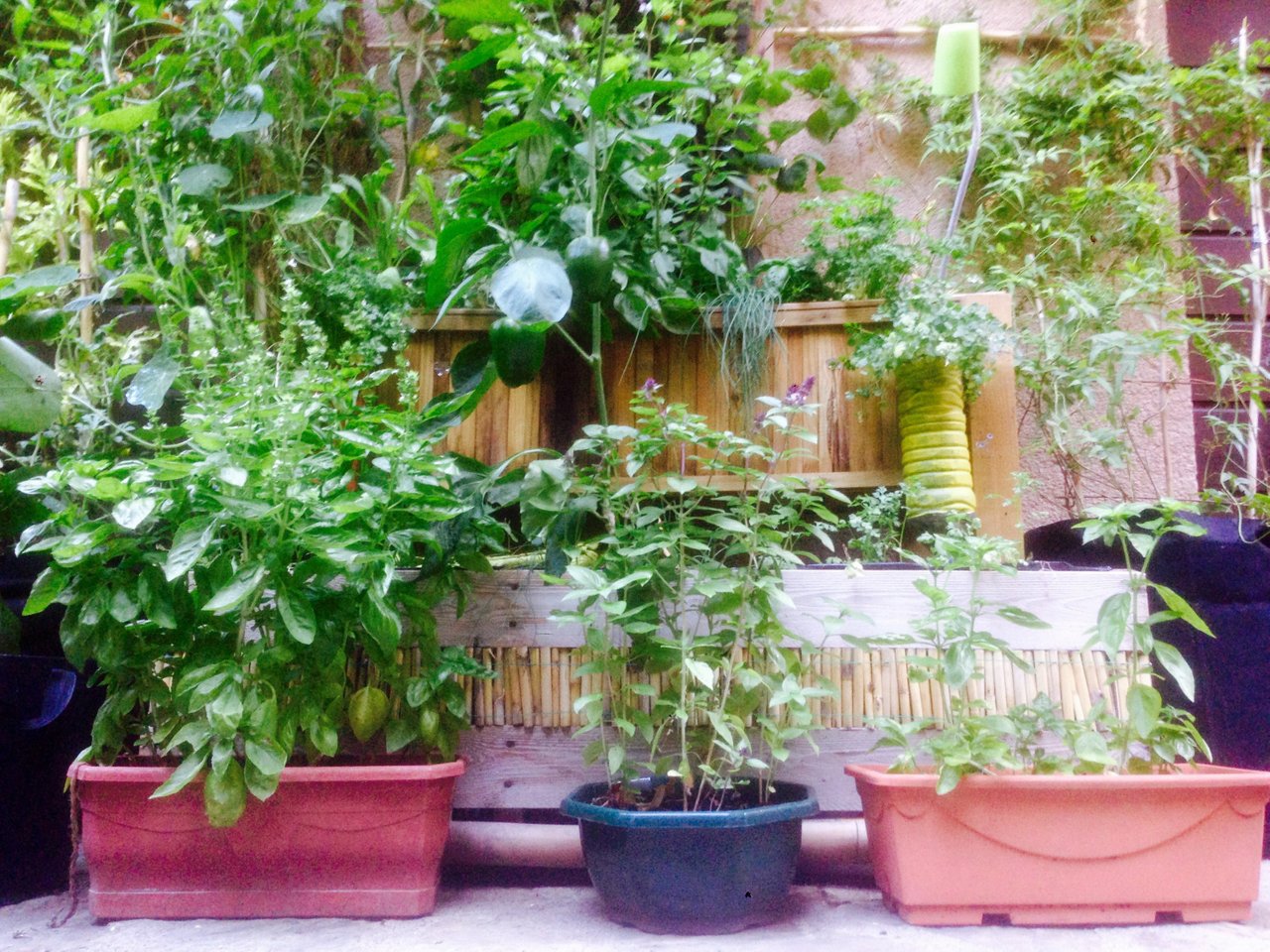 As I mentioned, the main ingredients are a herb of choice, a nut of choice, garlic, olive oil & salt. Parmesan & lemon juice can also be added if you feel it.
You will need a food processor to get this job done quickly. Though if we had one I would have preferred to use a pestle & mortar which I believe would have retained the flavour even more effectively. The old ways are always best.
Classic Pesto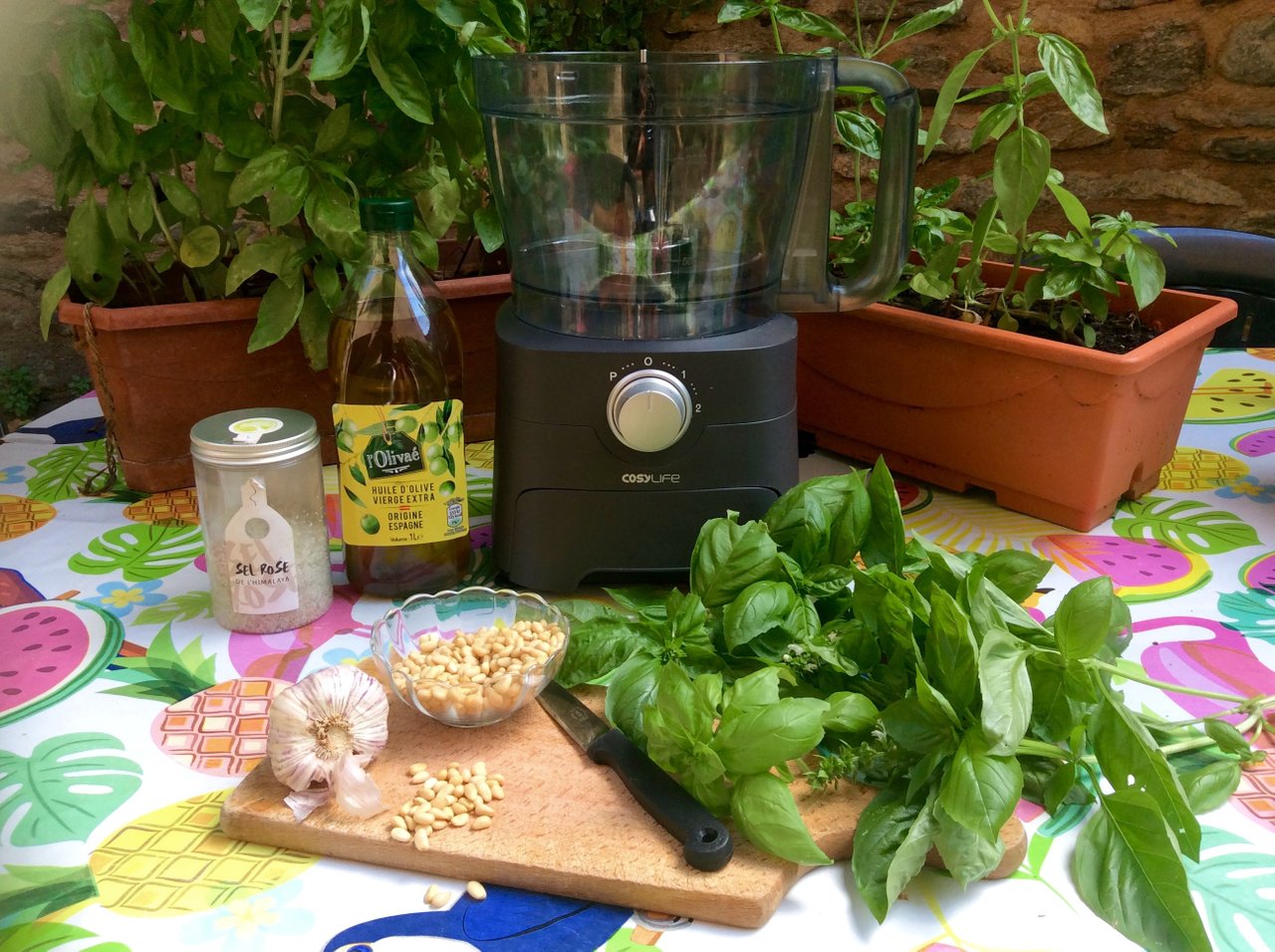 I made this one first, keen to repeat a familiar flavour and build some confidence before trying less familiar combinations. The pine nuts weren't cheap but it is what it is.
2 cups packed basil
1/4 cup pine nuts
2 garlic cloves
teaspoon of natural salt
2/3 cup olive oil
teaspoon of parmesan (if you're into cheese)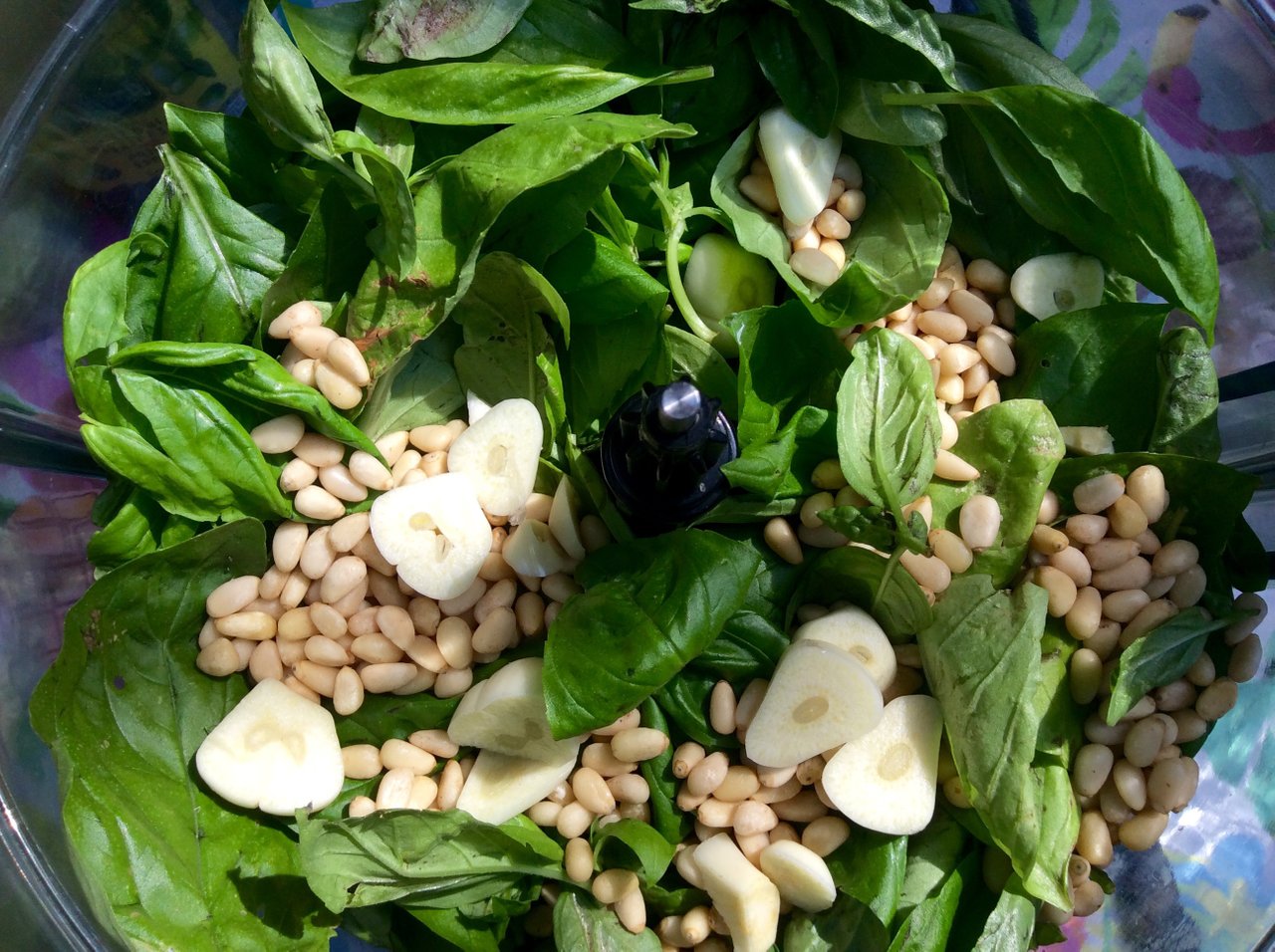 Chuck it all in the processor for a few mins and Bob's your uncle.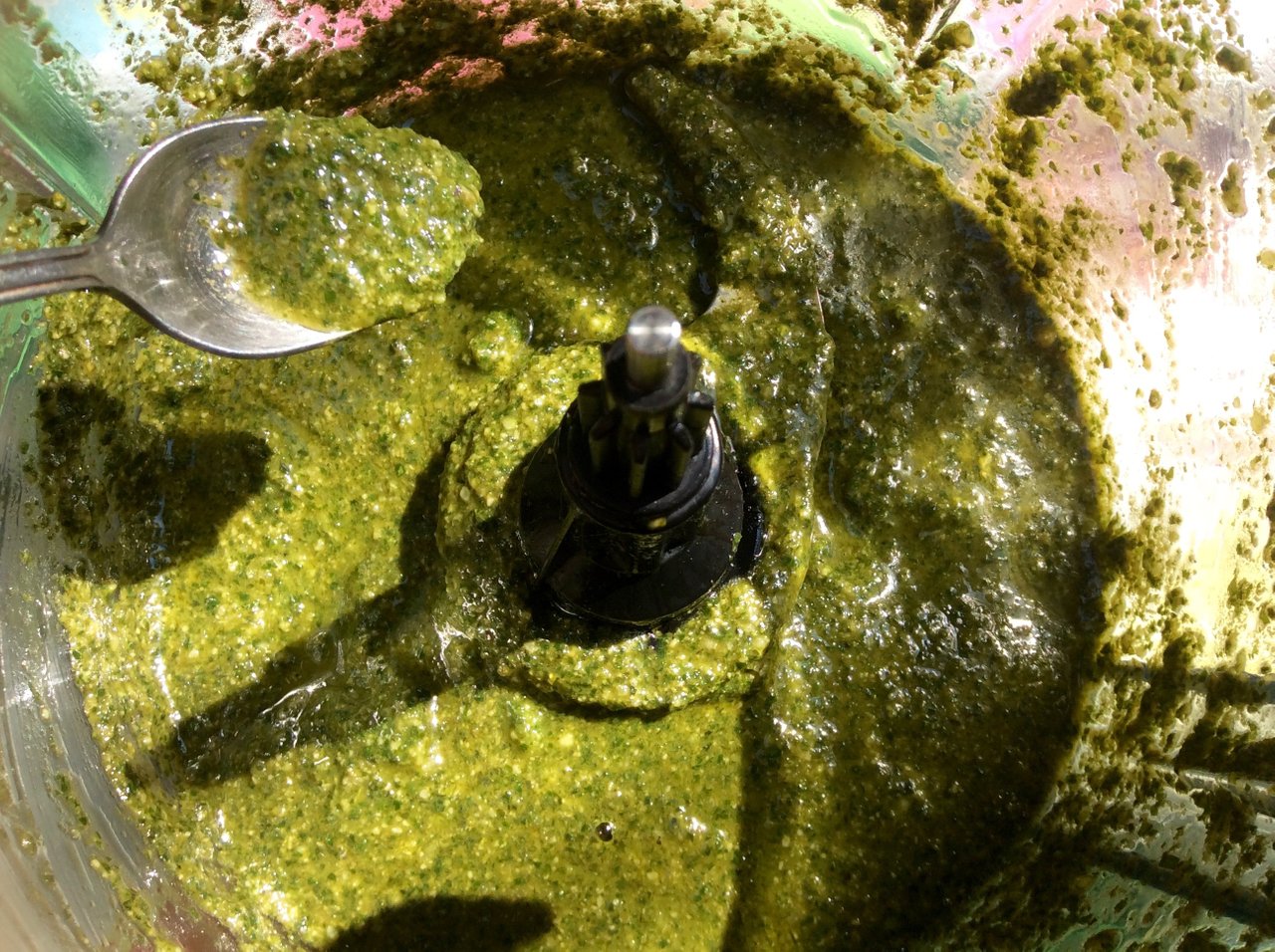 I understand it is important to pour a little oil on the top to create an airtight seal in the jar. This makes sense to me. Though you can also freeze it for longer storage if you like.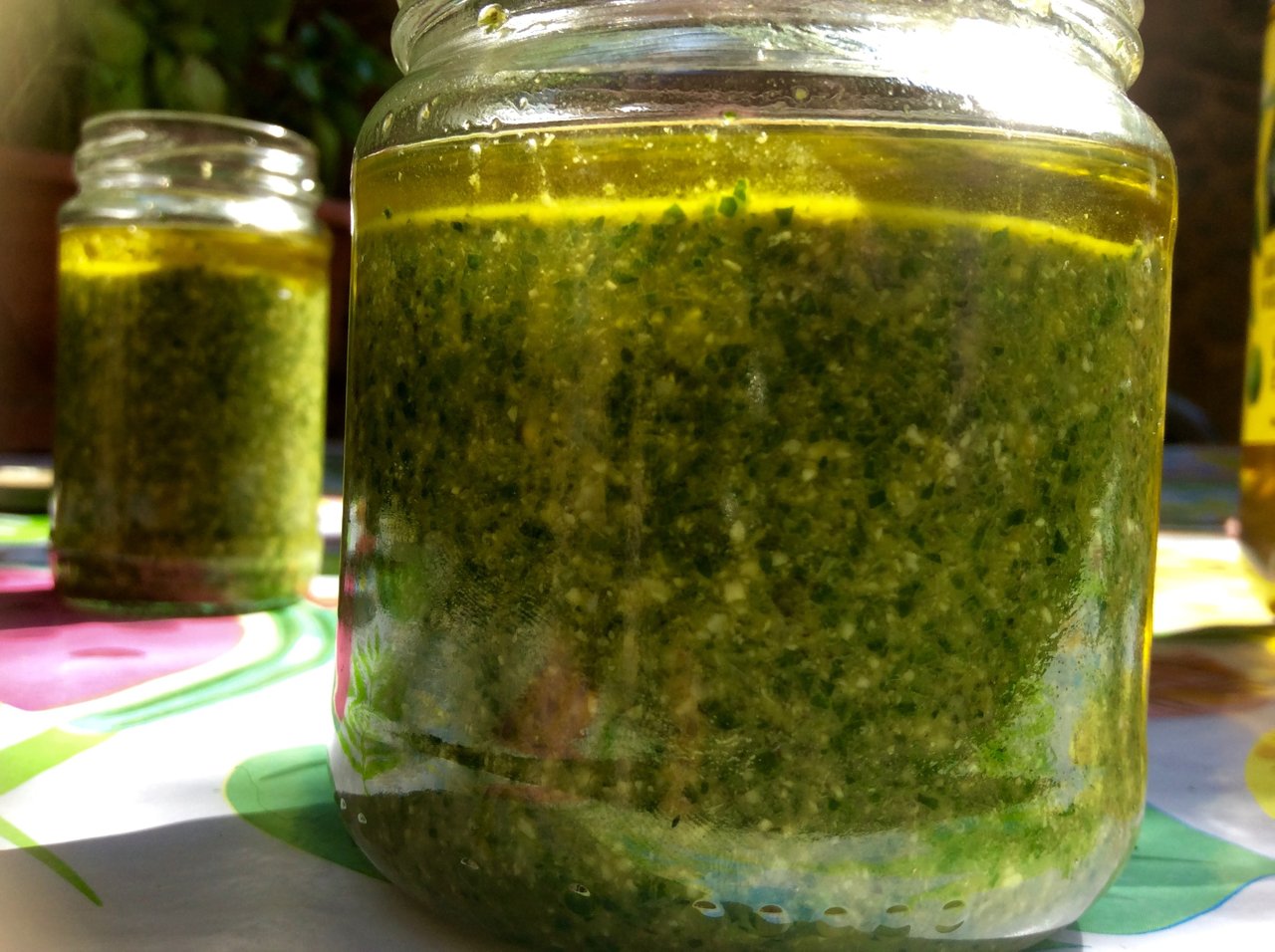 Can only imagine how intense a pestle & mortar flavour would be because this is already incredibly good. One imagines it will stay in the fridge for a long time but I can assure you it doesn't. Everyone loves it. Even without parmesan.
Parsley Walnut Pesto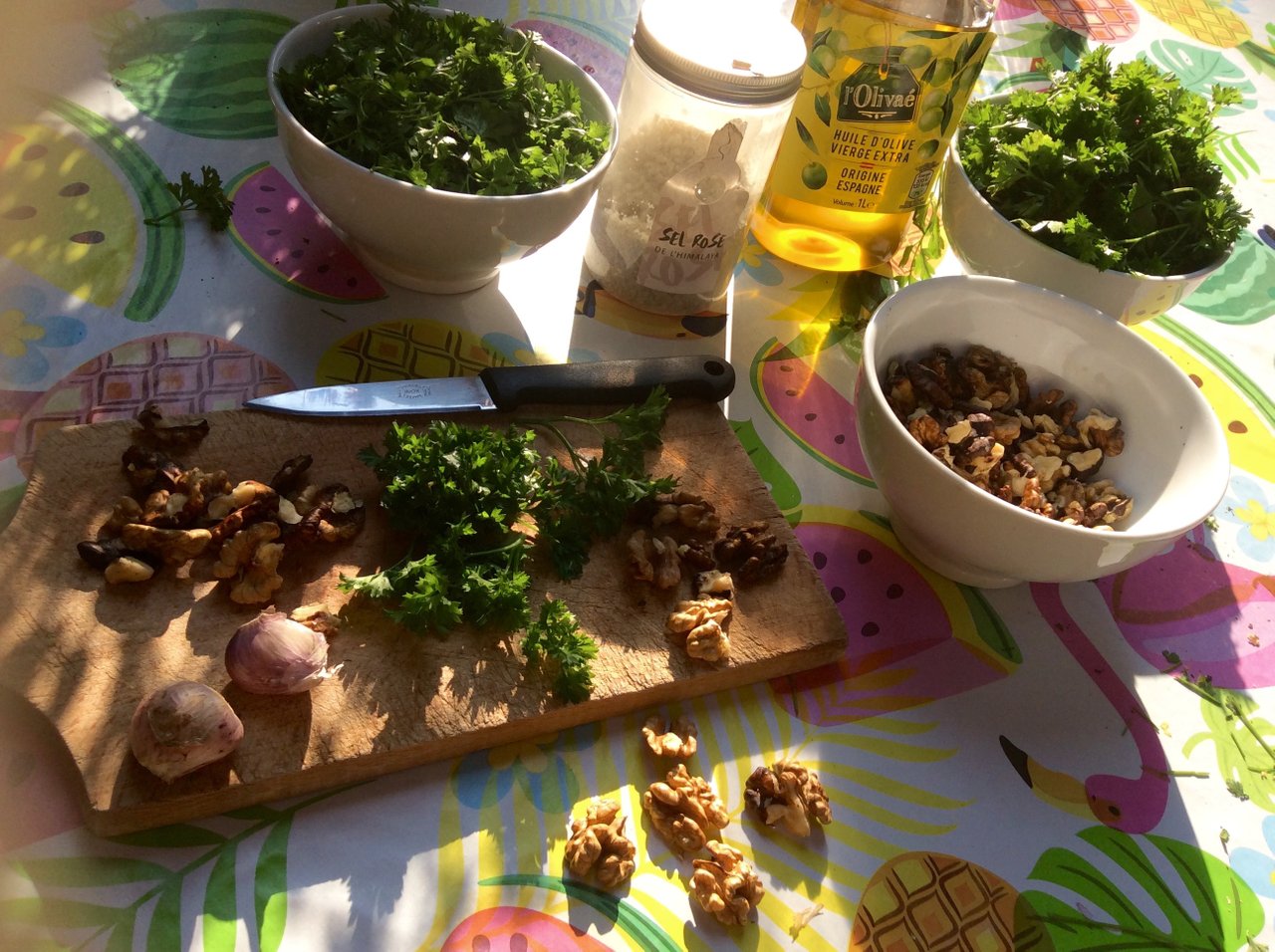 Walnuts grow in abundance here, so unlike the pine nuts, these were free. I figured out to use a long piece of bamboo with a hook on the end to pull them from the high branches. And now we have loads.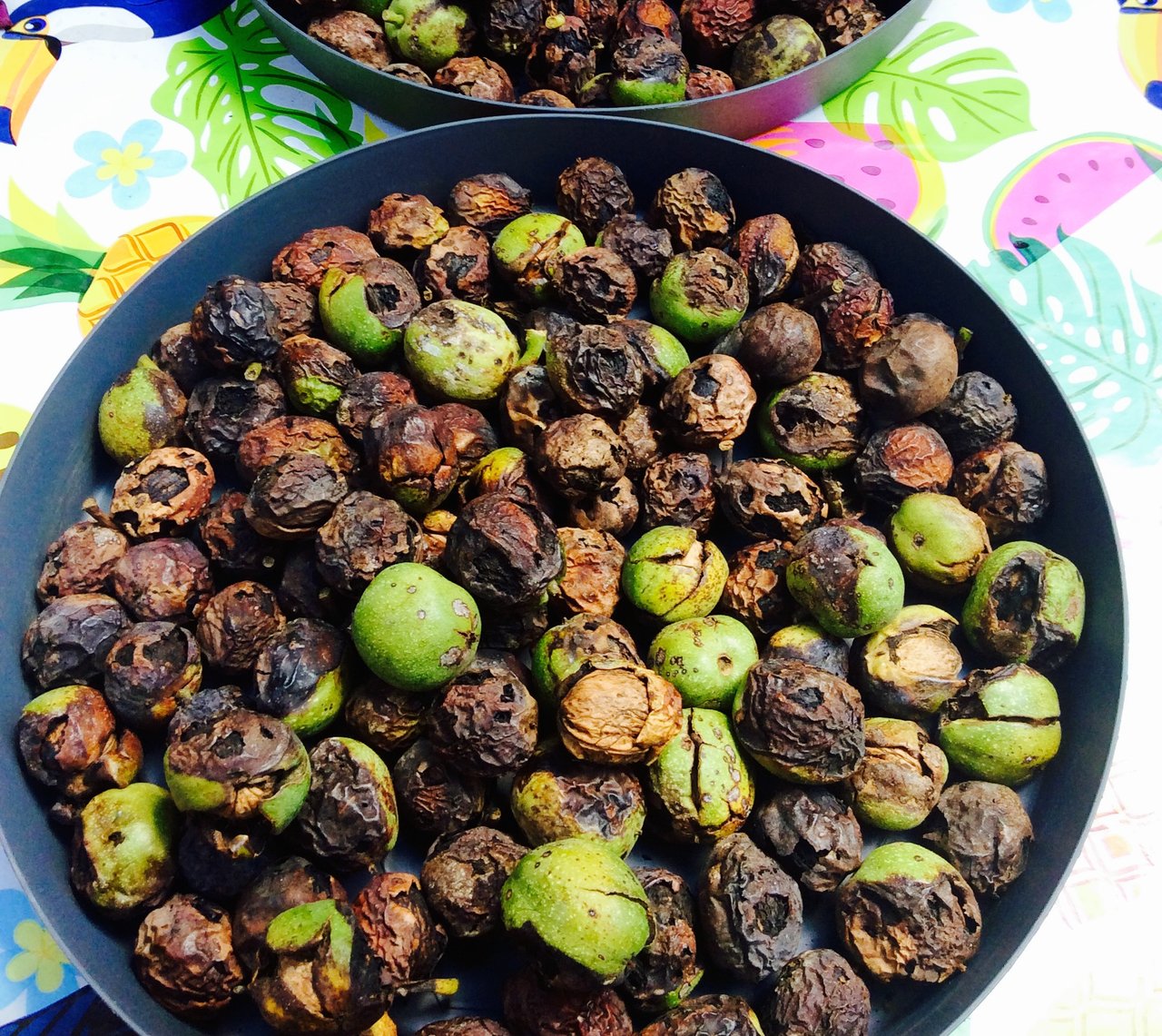 100g walnuts
80g parsley
3 garlic cloves
2 teaspoon of salt
150g olive oil
50g parmesan (if you're into cheese)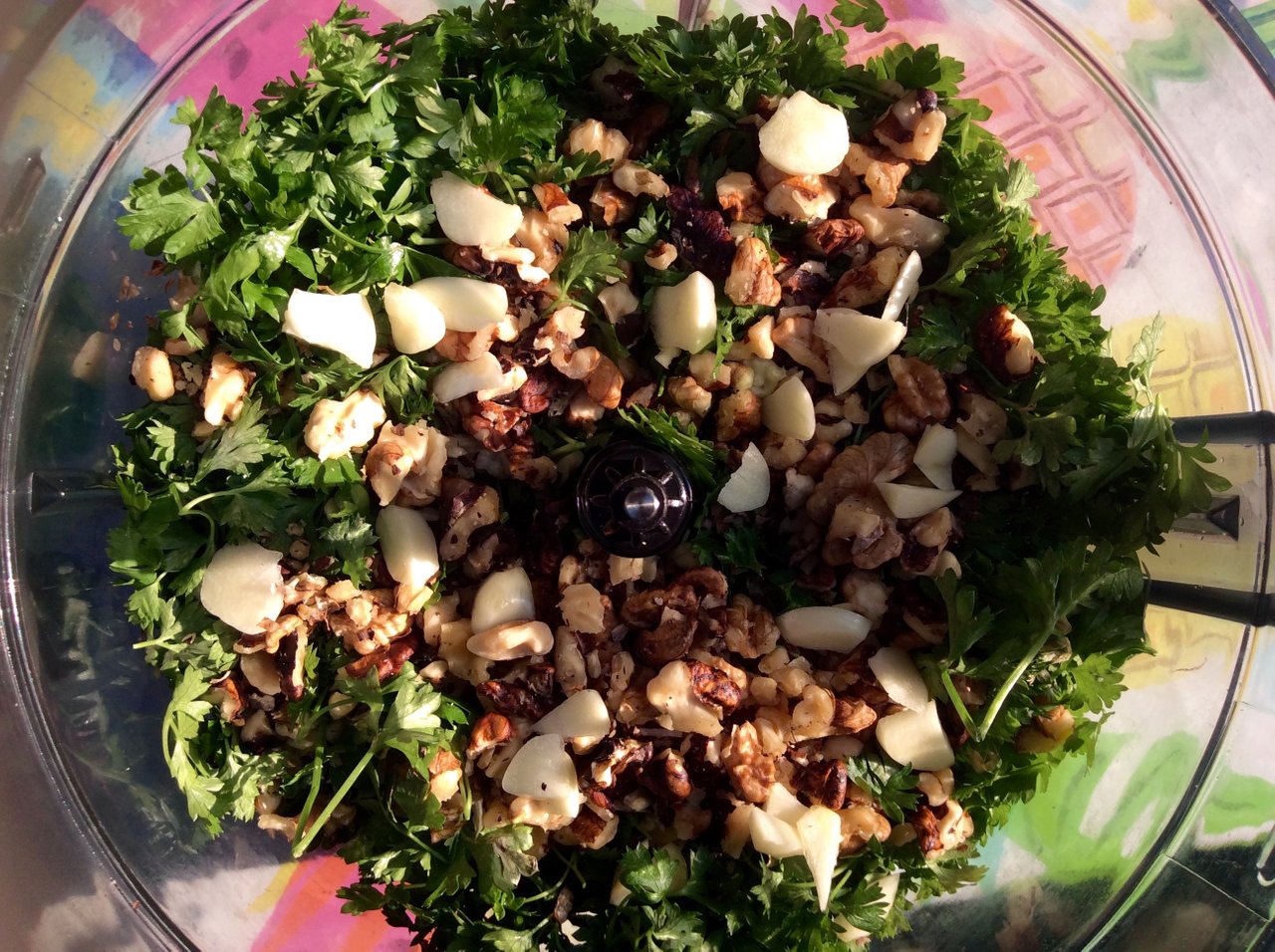 Boom.
The taste is similar to that of garlic butter, yet different. And better for you!
I have been mixing a little with plain humous and this works great to spice up all the raw veg I love to eat. But it also works with most cooked meals. You will be surprised how adaptable it is.
Thai basil & Cashew Pesto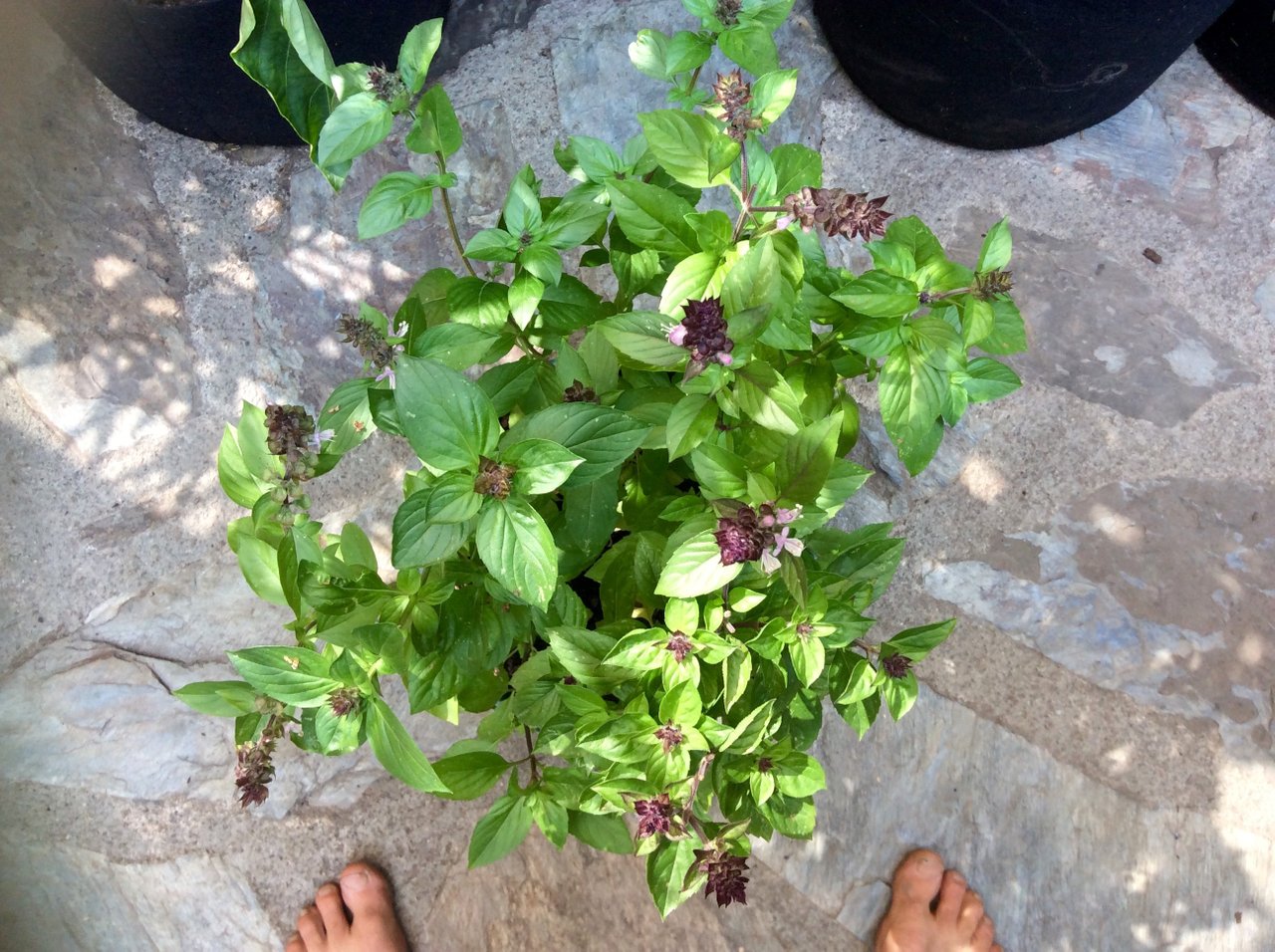 For this one I free-styled it. Loosely following the recipe at the top, I also added lemon and switched out the pine nuts for cashew. And boy it was good! Totally different to the others. The oriental twang of the thai basil marries so well with the cashew & lemon. I should have been a chef ;)
There are a few health benefits to eating pesto, but the main one I would say is the olive oil. Often overlooked by people (including myself prior to this moment!) it is important to have a little spoon of a healthy oil each day. So what better way than this?
Right, it's food time!
Love & Light everyone 🌿