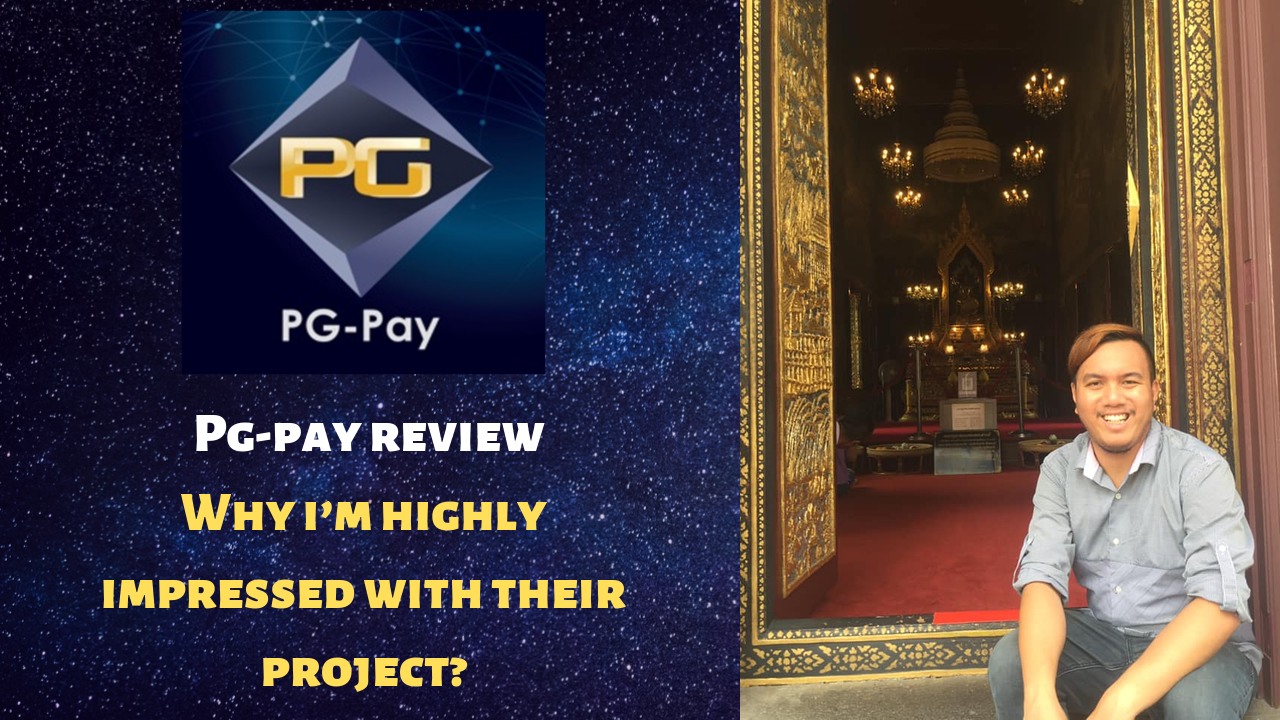 Hey there peeps! I'm back once again for another blog post. This time, I'm going to discuss more about PG-Pay! One of the things that I want to do for a long time is to own real physical gold. I consider it as one of the most liquidated asset of all time. You know why? It's because gold's longevity is so outstanding and it may continue for decades.
Though it exists for thousands of years, gold has been named as one of the most valuable assets of all time. Mining gold has been one of the things that people are doing back in the early ages. They trade gold rocks or bars for some valuables that they liked. 
However, there are some problems or issues that a lot of gold dealers and clients are experiencing for so long.
A lot of us are having issues or difficulties in purchasing gold. Not only that, it is hard to determine if that physical gold was real or fake. Speaking of that, I would like to share a bit about my friend's experience in dealing with gold.
He has a contact from Austria who delivered the "gold" to him. However, my friend didn't know that gold was absolutely fake. When he tried to exchange that to cash to a gold shop in Plaza Singapura in Singapore, the employees have double-checked and verified that the gold was fake and said to him, "Are you trying to scam us?". 
My friend was humiliated and he fired back at his contact from Austria for bringing him a fake gold. This is one issue that a lot of people like my friend are experiencing right now. Months later, he had another call from someone abroad who wants to transact gold with him. However, in order for my friend to make sure of everything, they need to meet personally.
Because of that, my friend's client needs to book an airline ticket and hotel just to transact gold. As a result, the client spent additional expenses instead of transacting online because of the concerns he had whether if the gold is real or not. 
The good thing is that PG-Pay can solve this kind of problem.
We are now entering the digital age, and gold must ride on into that as well. There is a platform that would end all of the hassles when it comes to buy, sell and trade gold online. If you're worried about gold's authenticity, PG-Pay can take care of that. There's no need for you to worry anymore if the gold is real or not, and you don't need to meet face-to-face or spend additional expenses just to complete the transaction. Without further ado, I'm going to review about PG-Pay and how would it help gold buyers and sellers take their deals to a whole new experience. 
Anyways, take a look at their video and see how PG-Pay works:
To start off with my review, here are some reasons why I am very impressed with PG-Pay's platform:
1 - PG-Pay's gold ATM is currently live and operating
One of the reasons that I am so impressed with PG-Pay is that they have a state-of-the-art gold ATM that is currently operating in Singapore. To be honest, I have never seen such ATM like that, and I would like to test that once I go back to Singapore next month.
I have visited Singapore twice this year, but never had the time to check out their gold ATM. Since there are three of them that are being deployed, it's good enough for me to visit at least one. I would prefer the gold ATM in the Resorts World Sentosa. 
I was blown away when I see one of their videos in PG-Pay's official Facebook page in using their gold ATM. You can even tap your credit card to begin the transaction in their gold ATM. I've never seen anything like that before, and I'm looking forward to try them one day when I visit there next month. 
2 - PG-Pay's gold trading mobile app is easy to use and fair physical gold prices!
Aside from having their own gold ATM, they have launched their PG-Pay app as well. PGPay's app is available to download in both Android and iOs devices.
Check out my video review + app demo here: 
In my latest video, I'm doing a live demo in using PG-Pay's app. The dashboard is so simple, where it provides you a QR code once sign up is completed and verified. It's so easy and simple to use when we buy, sell and trade gold. There's a pop-up notification where we can login with our fingerprint, and I believe that it will be implemented very soon. 
Another thing is that gold's price are reasonable and fair. PG-Pay has a fixed 1.5% transaction fee, which was indeed low for all of us. When it comes to buying gold, it will be at 2% above spot prices. As for the selling part, it's just below 0.5% spot price. On top of that, jewelry retailers, pawnshops and foreign exchanging for price spreading is around 5% to 18% above spot price. 
3 - PG-Pay's incentive to token holders and liquidation are absolutely outstanding!
As a token holder myself, I can finally say that there's a real benefit into this one. You know why? It's simply because PG-Pay token holders are given incentives and rewards. Since PG-Pay was Puregold Token back then, I have a few tokens at hand and may be looking forward to add some more to my arsenal.
For transacting gold in both PG-Pay's website, app and gold ATM, a portion of its transaction fees will be distributed to its token holders. In other words, it will create a passive income opportunity for us as PG-Pay token holders.
I'm a huge fan when it comes to passive income streams and opportunities, and PG-Pay can do that for us as long we are token holders. The more we hold, the more we receive in their token distribution coming from transaction fees in their platform. 
As for the liquidation part, there's no doubt that PG-Pay can sustain that. Instead of fiat currencies, gold has the capability to overcome market downturn and volatility (no matter if its stocks or crypto) as it can cut down our losses for good. I can say that the stability of gold's prices with PG-Pay are in no question, even if the market is in a bloodbath. 
4 - PG-Pay guarantees you 100% authenticity of their gold
Going back a bit earlier, I did shared about my friend's experience in dealing with gold. One of the issues that he is experiencing is the gold's authenticity. The one that his client delivered to him isn't 100% authenticated at all, as it was detected fake by a local exchanger in Plaza Singapura (by the way, there's a #Bitcoin ATM in their premises too). 
PG-Pay isn't like any other gold dealers out there. They are assuring customers like me that their gold is real and physical (not paper gold). PG-Pay doesn't like to mislead their customers. With their gold's 100% authenticity, there is no doubt that customers like me would no longer think twice in dealing with them. Trust is essential, especially to PG-Pay.
5 - A trusted third party service for storing your gold 
I know, and you know, that it feels painful when banks and other storage services are charging you fees for just storing your gold. I know that most of you, especially gold buyers and sellers, can relate to this. Not just years, but decades.
The good thing about PG-Pay is that they have a trusted third party service where your gold is secured and safe at absolutely no cost. Loomis International, PG-Pay's trusted third-party storage facility, has lots of leading suppliers, branches, agents and partners as their global network. 
When it comes for international valuables logistics solutions, Loomis International was their leading specialist. Because of that, it ensures that our precious metals are fully insured and in safe hands. They can transport and handle our precious metals, including the gold, and foreign currencies by offering their comprehensive solutions. 
My conclusion to PG-Pay
Based on what I have seen about PG-Pay, I honestly believe that they would become successful in the long run. The team behind PG-Pay had a brilliant job in migrating from Puregold to PG-Pay to enhance their services and features once and for all. I've been a proud token holder since their first ICO, and I am looking forward to see this project grow even more. 
I honestly think they're on the right track, especially on what they're about to accomplish in their roadmap. All I can say is that the PG-Pay team is doing a great job with this project. They're just one of the few projects out there who are standing out from the rest even during the bear market. They don't stop thinking of ways that would make PG-Pay successful in the long run. In order for me to learn more about them, I have plans to meet them in person next month if they don't have schedule conflict. I want to do a video interview with them and upload in on my official Youtube channel. 
Thank you so much for taking your time in reading my blog review about PG-Pay! I hope this review of mine helps you a lot before trying out the PG-Pay app to buy, sell and trade gold. If you think that this blog review of mine has helped you to decide trying out PG-Pay, kindly do not hesitate or think twice in sharing this to your crypto friends out there. 
For more information about PG-Pay, just simply go to their official website by clicking here.
And one more thing peeps! If you want to stay updated about my latest blog post, just simply follow me on Steemit and on my other social media channels such as Youtube, Facebook, Twitter, LinkedIn and Telegram!
Here is my previous video about PG-Pay:
Thank you very much and see you in my next blog post!