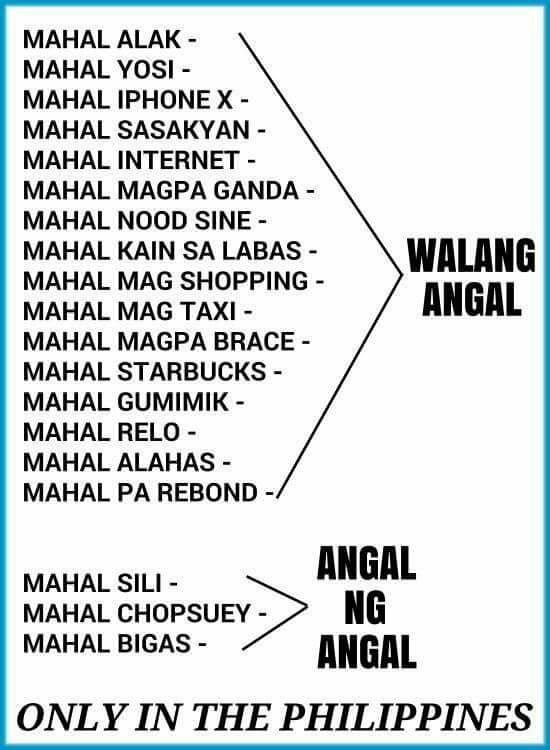 ctto
Everyone of us has noticed the effects of inflation like fuel price hikes, increase in basic commodities' prices and many more.But it is so alarming that many people still do not know the difference between needs and wants.
While I was busy scanning through posts in my FB account, a post from someone caught my attention and got me provoked. According to her post, the price of liquors, cigarettes, iphone X, cars, internet, watching movies, eating out, shopping and many more rose but no one complained. Prices of rice, chopsuey and pepper rose, people complains.
I was very surprised by the message she wants to convey. It left me wondering where she placed her brains (maybe in her heels).
This is my say. Cigarettes and liquors are vices. If a man dont drink alcohol or puff cigarettes, he can still live. Iphone X and cars are luxuries, so as internet, going to beauty salons, movies, eating outs, andthe like. If you have extra cash in your purse you can spend for these thing s but if none, you can still live without those. You can still smile confidently if you dont have dental braces. If taxi fares are high, why not ride a jeepney especially now that traffic is very heavy? Prices of watch and jewelries rose but we can still live without those. Sometimes jewelries can sometimes bring us to danger. Rebond? Even if you have hair straighter than a ruler but your face is as rough as sandpaper, do you think it can make you beautiful? Of all those mentioned above, do you think people who are earning minimum wage and below (about 90% of Filipinos fall under this category) are interested with those? Its a big NO. And, do you know why no one complains, because only the 10% who are rich are affected with these.
Whereas, set aside chopsuey and sili (pepper),rice (or corn to some) is Philippines' staple food. Our meal is not complete without it. It doesnt matter if we eat it with bagoong because rice can satisfy the hunger.
p.s. I was once a staunch supporter of Duterte. I would pick fight to someone who insults the president. But all my admiration to him vanished like thin air because of how he was not able to address this problem.