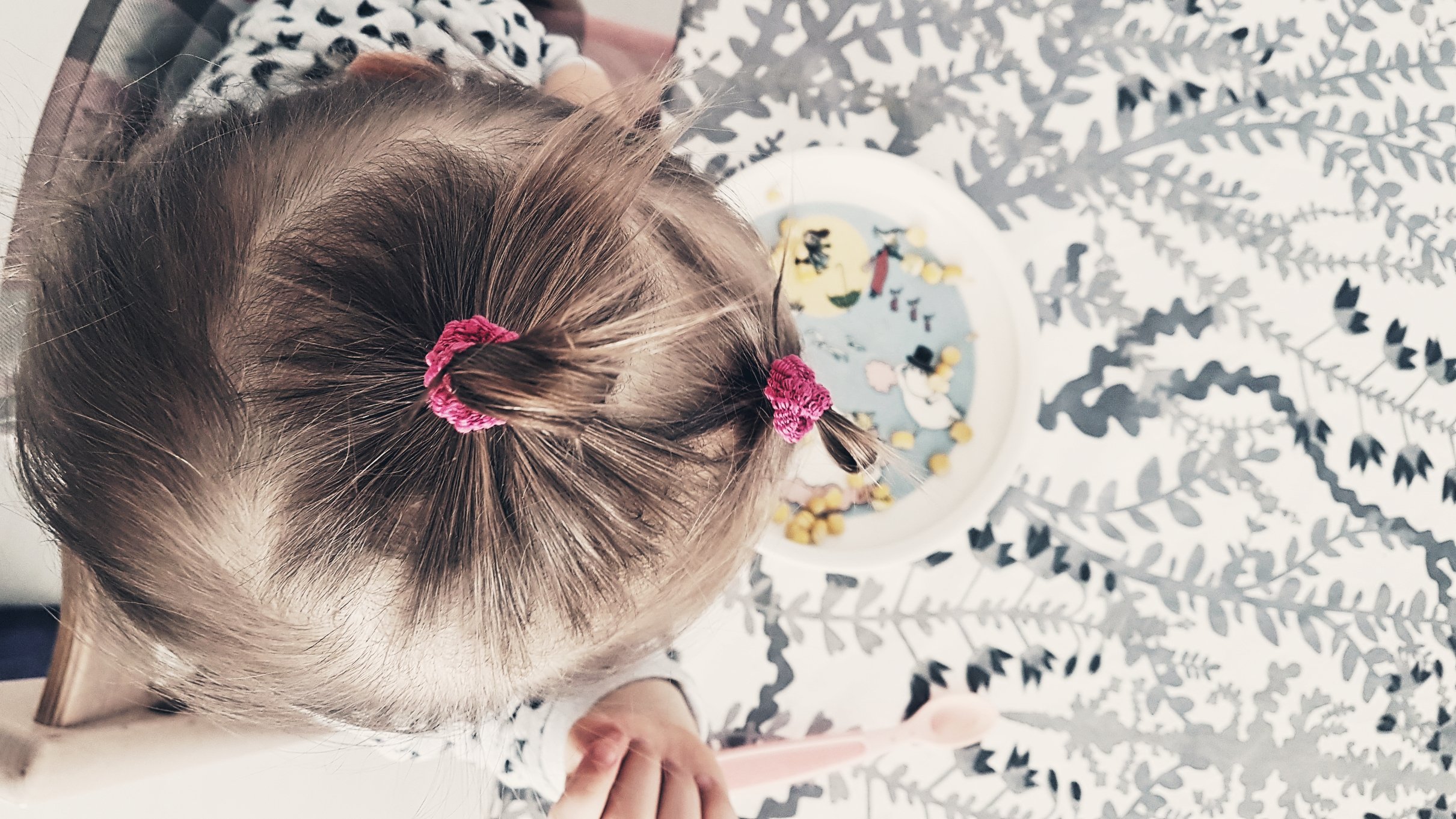 This is a picture of my daughter eating but, look how cute her hair is. She doesn't have a great deal of hair but she does enjoy it more these days, when it isn't in her eyes. We had been trying to tie it up for a while but she really didn't like having the band in and would rip it out. But, Daddy to the rescue, I wore one in my hair before putting hers up for a couple of days and suddenly, ponytails were cool in the house. I figure I have about 8-10 years of being a Cool Daddy until I morph into Embarrassing Dad.
In our household, there is a great deal of lead by example teaching which has its pros and cons but is why our daughter is able to speak so well because, my wife and I have never limited our conversationwith her. We have never spoken like babies and, neither has she. The other thing we have encouraged is a trial and error approach to all things, even if it could mean to more work for us in the short-term. From as soon as she could do anything practical for herself, what ever she has shown an interest in, we have given her first opportunity to play. What this seems to have fostered in her is a healthy curiosity in all things.
Even though she is relatively shy around new people, when it comes to working out how something operates, she is hands on and very focused. If she can't get it to work how she thinks it should, she will keep fiddling until it does and only gets frustrated when she is tired. At that point most of the time all it takes to get her to recalibrate is to ask, what does Daddy say? and she says, Be patient. It was one of the first phrases she learned.
The reason I taught her that and try to demonstrate it is that delayed gratification is a key indicator of future success in children. Not that I care about the statistics but in a society of increasing instant gratification that is driving debt cycles, road rage and depression, a little patience is going to be a valuable trait. A commodity of sorts where the trade is on ones own future position.
I am older, almost 40. And even though that isn't very old in reality, on the Steem platform it is a dinosaur that is fast becoming irrelevant. Only, we aren't. If you have a look at many of the larger accounts here what you will find is that the holders are often a bit longer in the tooth than the others. Now, this might be because older accounts were able to buy in but, that isn't actually the case for many and myself included, many worked their way into the community and, worked their way into larger SP holdings.
In a comment a few minutes ago, Linda aka @canadian-coconut mentioned that she was unsure about what she should do with her VP, wait and let it recover or vote on people regardless. She supports many people here and I know that her being her feels that she isn't doing her job for the community when inactive. This indecision that she has is healthy.
Essentially it is an understanding of uncertainty that forces the mind and body to recognize that the environment has changed and that means that behavior has to be considered. It is a warning system that takes the normal processes of habit and fast thinking and forces them to pay attention. Most likely, similarly to myself and many others, this self-management process has been learned through her experience with many different kinds of events. What it is is, wisdom.
Younger generations are increasingly consuming more and turning all information and products into consumables designed for the express purpose of satisfying immediate needs. It doesn't matter if those needs do not satisfy longer term targets as long as it fills the belly now. If it doesn't do what is wanted immediately, it is tossed aside as useless junk. In time, this process is going to increasingly move one further from a stable future and into volatility but, not with the skills to deal with volatility itself.
Young people have been encouraged to be emotional and hyper-sensitive to not getting their needs met. We saw this over the last 24 hours while Steem was down and people are screaming and shouting about it not being fair and how could they and, I am so frustrated. Here is a tip, just like the first person to get angry loses the argument, the frustrated people lose the ability to think clearly. Frustration is a kind of psychological pressure and when it is coupled with an inability to act (like the hardfork time) it looks for release. Without emotional control, it can be very destructive.
The reason that on Steem many of the larger accounts are held by older people is because through all of the ups and downs that Steem has, there is a much higher level of consistency. Not just consistency in posting and engaging, a consistency in temperament. What this means is even in difficult situations and disagreements, there is still a more measured and controlled approach that allows the people to be trusted.
This is a word that comes up a lot with code but in actual fact, the most important part of this community is the trust between its members and what you will find is that the most engaging and healthiest community accounts are the ones that have built real social trust, not on wallet size, but at the personal level through content and engagement. When it comes to the ability to build trust, the experience that comes with age is a very good teacher as having it has brought a whole lot of examples to learn from.
Emotional control is something that everyone can improve actively but most don't. Most prefer to live the emotional life of a hedonist and do what 'feels right' without considering if it is right or not. This does a massive amount of damage and very quickly erode trust in a relationship if one never knows how the other will react. What eventuates is rather than interacting, there is an avoidance mechanism that kicks in and, the benefits of relationship are lost.
If one was going to work out how to take a long-term position on Steem, it is likely that they would turn to accounts with long-term views of Steem and that is almost every person who is above the average age of whatever it is here. The people who have an understanding that the jump in feet first attitude of youth is only valuable up to a certain point before some time needs to be taken to put a stick in and test the waters before jumping.
This is what Linda is doing when asking me and now that I have thought a bit about it, if I was her, I would heavily restrict my voting behaviour but, keep it ticking over on people and content who are part of that long-term view. Now, this is only a 5 day wait to get to full VP but, it is only a 6 or 7 day wait on a restricted plan. Middle ground.
This will depend of course on other variables but when uncertain, starting from the middle and then feeling the way through the newly changed environment means that although their is the risk of missing some future gains, there is also a mitigation of future loss by taking the wrong approach. As the seas start to settle and the horizon starts to come into view, a new course can be charted. Rough seas aren't for panicked and emotional captains and if at sea such a captain existed, the crew would soon mutiny. Lead by example or do not take the wheel.
Now, I have no idea what my daughter is going to do with her life and I hope that she will be happy in her experience but the best thing I can do for her is to help her understand who she is and what who she is might be capable of. That is going to take patience and understanding from my daughter, not avoidance where she sinks her nose into the next social network, iphone or TV show. In consumption is not where the answers lay, it is just an instant gratifier to avoid the discomfort of not knowing what else to do and in time, it will lead to indigestion, a core inability to satisfy needs, let alone wants.
Be patient, work it out.
Taraz
[ a Steem original ]
While many people are shitposting because rewards are down and they want to complain, you will find the ones with a long-term view doing what they have consistently done.