Many of those who know me know that I love macro photography. With the help of macro photography I discovered an unknown world to me, the wonderful world of insects, insects about I did not know they exist. One of these I discovered recently. I have no idea if it is a mature insect or is an insect at an intermediate stage of development (larva, nymph or pupa).

I still have not been able to discover what it is. I posted this photo on my blog hoping someone would help me. I'm posting here, with the same hope. Can you help me identify this insect?

Thank you in advance!
Thank you for stopping by and for your support.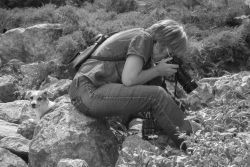 I'm with QURATOR


Feel free to upvote, resteem and follow @ileana56