German carnival in Rottweil.
The so called "Fasnet" begins on 6 January with the dusting of the "fool dress". In addition the committee members of the fool guild in tailcoat and top hat move by the core city and stop at the "fool houses" (houses, in which persons with fool dresses live), in order to release the larvae prepared there symbolically from the dust of the past year. In Rottweil the mask is always called "larva"; the entire fool's dress is called "Narrenkleidle", not "Scheme" and "Häs" as elsewhere.
On "Schmotzigen Thursday" the Fasnet market takes place. All day long disguised pupils are on the move in the city. In the evening groups move from place to place and satirize the city events.
Proclamation on Fasnacht Sunday
On Fasnet Sunday the fool guild takes over the city regiment with the proclamation at 11.45 o'clock before the old city hall. In the "parade for the jester's seed", which is now also called the children's parade, children in traditional bayass costumes move into the city from the Black Gate. No traditional jester's clothes take part in this procession. Before the parade the Ausscheller already move in the morning by the city and announce of the beginning of the Fasnet.
On Fasnet Monday at 8:00 o'clock the fool jump begins. With the stroke of the bell the fools stream through the black gate. A second fool jump is organized on Tuesday morning at the same time, the third on Tuesday afternoon at 14:00 o'clock. After the jumps there is a fool's hunt on the streets of Rottweil. The fools run through the streets and recite to the passers-by. The recitation is a form of the fools' right of rebuke. They often use a fool's book, in which the larger and smaller incidents from the local events of the city since the past Fasnet are noted in drawings and pictures. The "Aufsageopfer", for which it is nevertheless an honour to be addressed by a fool, may "snort" after the recitation. The fools carry a box of chocolates or a basket, from which the addressed ones may take a small candy as a consolation.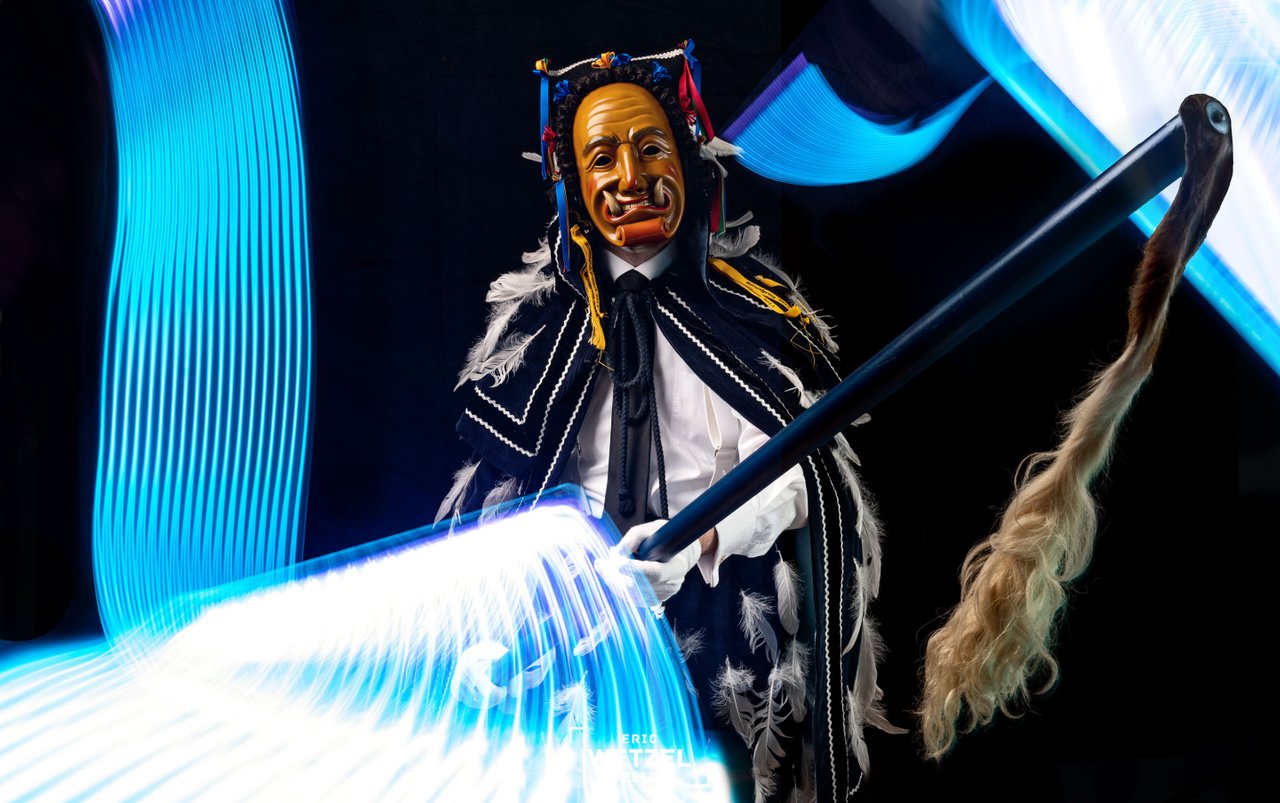 Full Size Image
I combined the old traditional clothes with a modern lightpainting.
Canon A7iii with Tamron 28-75mm 2.8
photography by


https://www.instagram.com/ericwetzeldesign/
https://www.facebook.com/ericwetzeldesign/