Imagine owning an original painting by the man called "the last link to the masters in Paris." Well, we do, the photo is of our very own painting by Charles Cobelle. Please enjoy this short walk back into the history of an amazing artist, Charles Cobelle ~ Paradise Found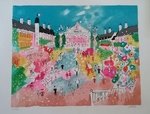 Charles Cobelle, born Carl Edelman (1902-1994) was a modern French master of painting, lithography and a fine muralist, who was born in Alsace-Lorraine, France. He is considered the last link to the great tradition of the Open Line School of Paris.
Cobelle lived and painted in Paris until the late 1920s and established himself within the great tradition of the School of Paris. In the late 1920s, Cobelle moved to the United States, where his paintings were immediately sought after by galleries and private collectors alike.
By the 1950s, spurred by the commercial success of his mentor, Dufy, Cobelle had achieved phenomenal success commercially with his Parisian-influenced style.

Paris Scene - Charles Cobelle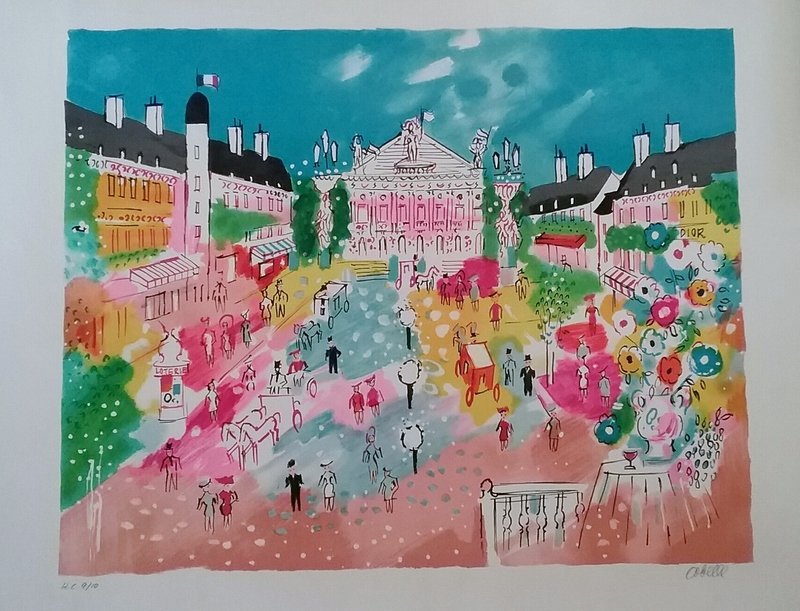 Throughout his long and prosperous career, Cobelle painted his favorite subjects; Paris street scenes, race tracks, regattas and casinos. The subjects in Cobelle's paintings were not of actual locations or events, but they nevertheless convey the excitement of the places that they depict. This imagery, combined with a vibrant palette of expressive colors, creates a world full of verve and wit that effortlessly transcends reality.
His paintings are characterized by thin, descriptive line-work over broad patches of bold color. First, Cobelle would map out a scene in blocks of bold, expressive color. Then, he would define the imagery with spontaneous, fluid line work. Many of his paintings were painted on canvas with mixed media - oils, acrylics, tempera, conte crayon, ink, whatever was at hand.

Cobelle signature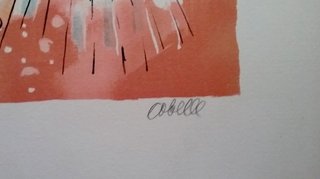 In 1965, a fire ravaged his studio at his home in Ridgefield, Connecticut. As a result, most of his early work was lost, as were all school records and correspondence.
In his later years, which ended with his death in July 1994, he signed his paintings "Chas Cobelle."
I am Paradise Found and I hope you enjoyed this post!
Photo's original to Paradise-Found
Thanks for visiting, please follow, comments are free.