Simple concept: pictures taken from a car.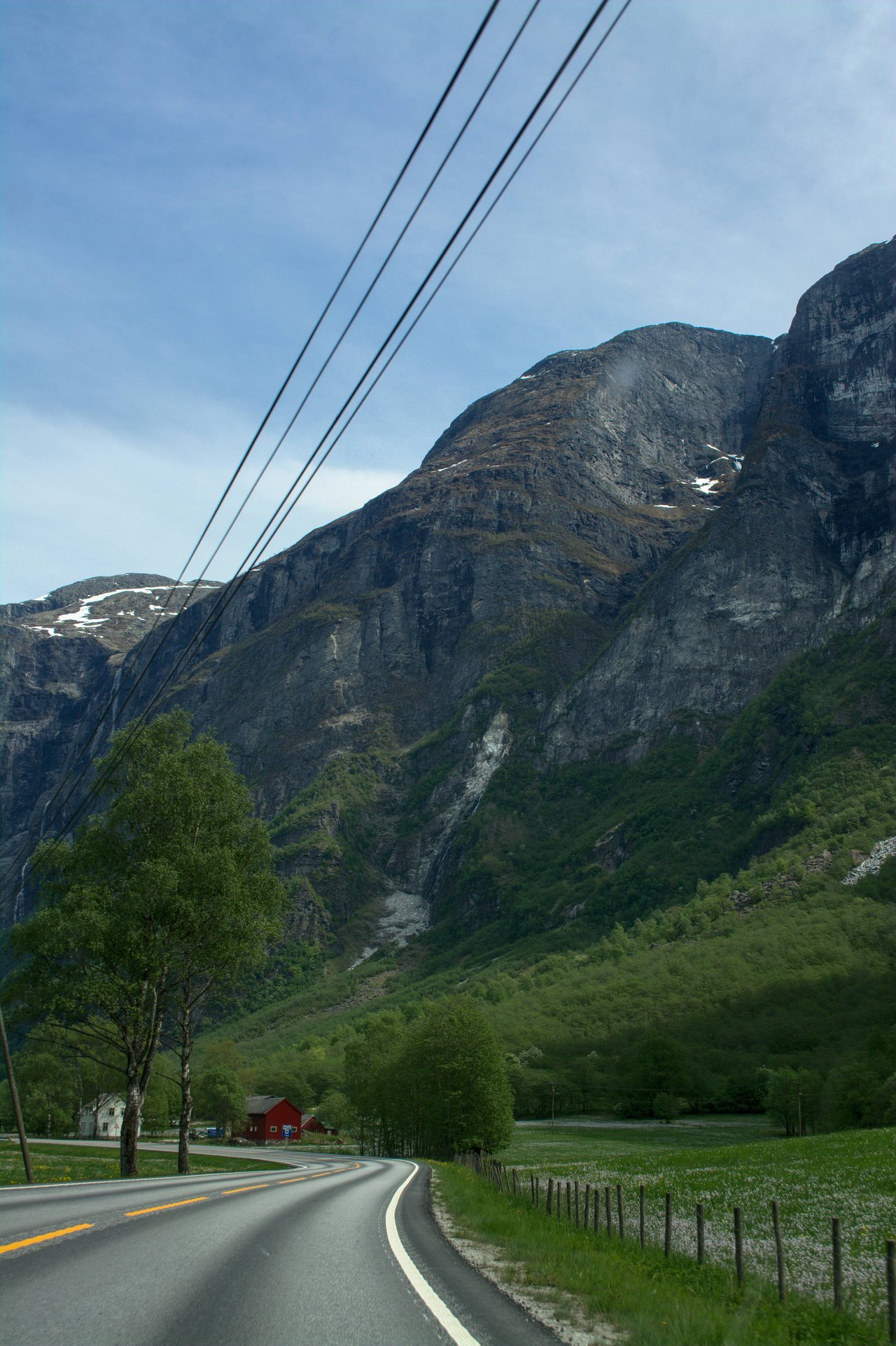 Continuing with the Drive series in West Norway, right here in the beginning I have a photo that deserves some explanation:
If you interpreted the picture correctly, yes, that is a truck with a trailer speeding past us – just another day in Norway. Norwegians are crazy drives, often speeding past us 100 km/h on roads that definitely aren't straight, or supposed to be driven 100 km/h, but at this sight I had to scratch my eyes a little: "a truck?" It's like seeing your 90 year old grandma suddenly busting a few breakdance moves: not what you'd expect, but not technically impossible either.
The register plate says it's Swedish, but the driver must be Norwegian, or a very arrogant Swedish. Maybe it's their thing to get cocky about their driving skills when they see a foreign license plate: "Hah, look at this noob Finn – and they think they are good at rally!" Could be Norwegian-Swedish, too. Afterall, there's both flags on the truck. A bit of viking and bit of gay. Ha! No, I'm obviously kidding. Finns just sometimes like to call them gay, or "swedupelle" aka. Swede clown. Usually this happens when they beat us in ice hockey, otherwise we don't actually mind them. Except we still call them gay occasionally, because of their funny way of talking that we call "riikinruotsi", rikssvenska or, Sweden-Swedish. They have much more intonation compared to us Finns, we just mumble prrrrkle in the corner of the pub with a pint before us, empty look at our hand that never manages to wash the depression away down our throats. I am obviously getting slightly melodramatic and stereotypical – off topic too – but you don't obviously mind because otherwise you would've left already. "Hah, what a smart writer, not talking to the people who aren't reading him!"
Ok, cut the bullshit.
Where was I... Right, Sweden Swedish have variation in their tonality, but Finns talk Finland Swedish – it's just monotone Swedish, like Finnish, but Swedish (I guess they call it "accent"). Oh did I forgot to mention Swedish Finns? No worries, they are just Finns, Finns who talk Swedish as their mother tongue – Finland Swedish, not Sweden Swedish. I know, it's getting a bit confusing.
Anyway, the truck didn't get far, hope it was worth it getting 10 meters ahead of us. Maybe he (oops... almost got sexist) or she was just really excited to enter the world's longest road tunnel. Damnit, Finnish has at least one good thing going that it doesn't have gender pronouns – don't have to bother with that shit!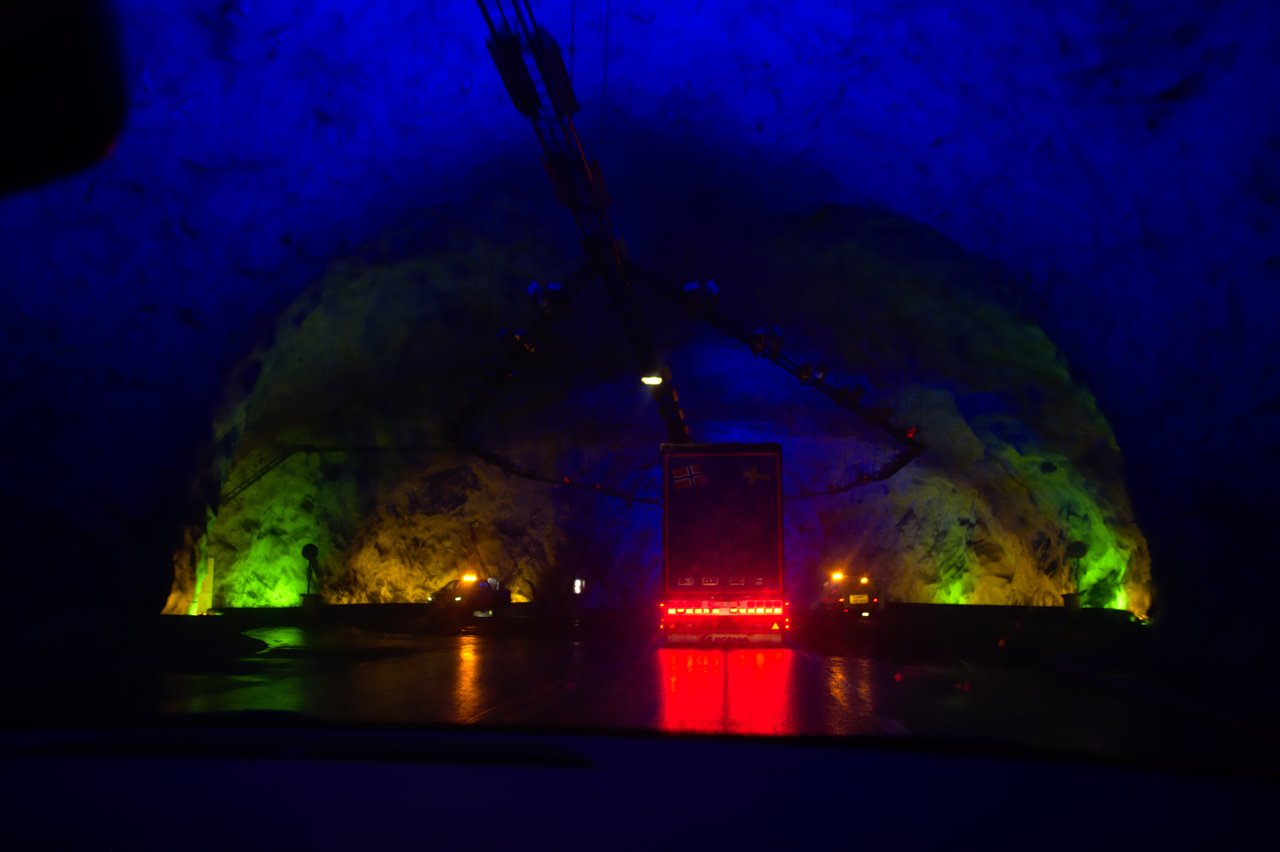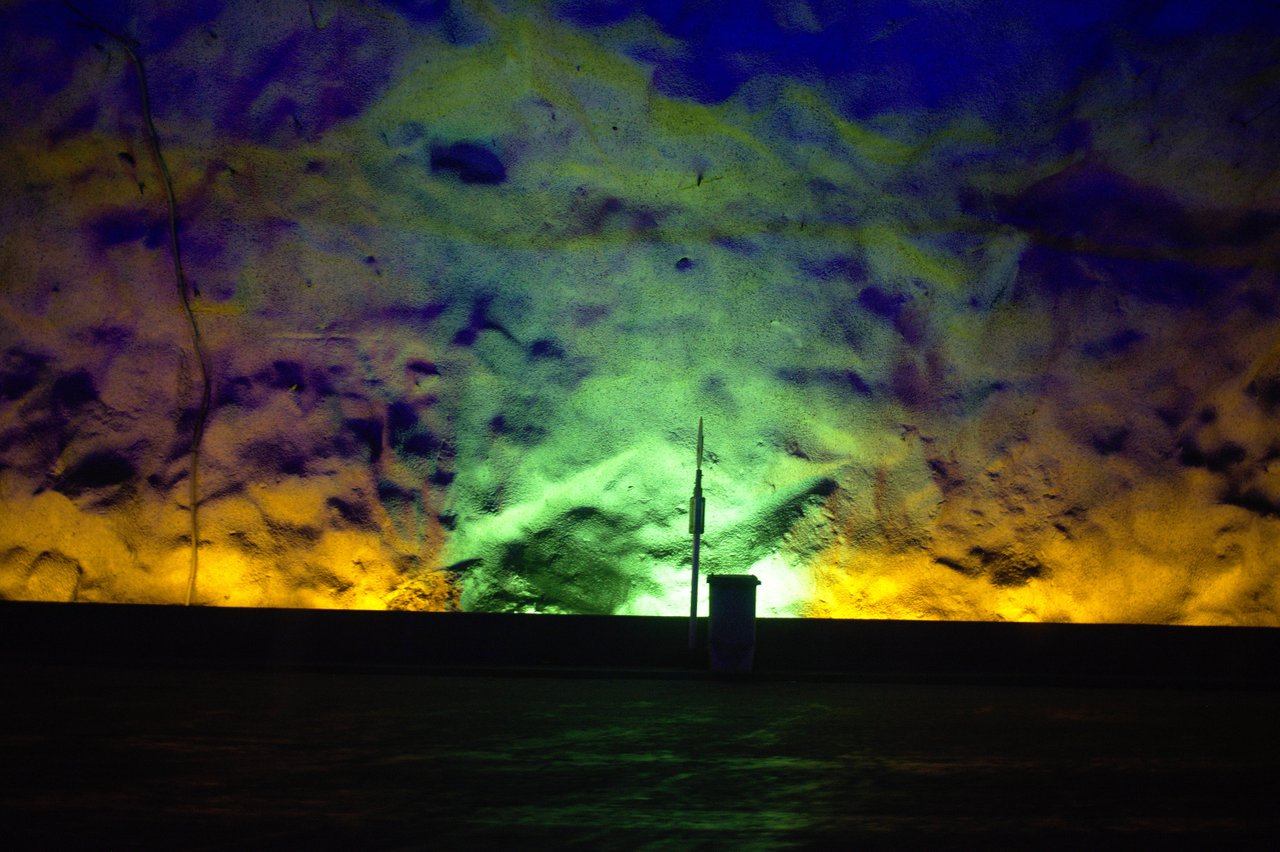 Lærdalstunnel, 24.5 kilometers long. There are even three caves with fancy lights there. I guess it's a must when it's the longest road tunnel in the world.
I will leave you now and just give you the rest of the photos, I have rambled enough.