Hello Lovely Steemians, here are some of my favorite winning photographers and images for 2018, with German photographer Tobias Friedrich being named Underwater Photographer of the Year 2018.
More than 5,000 images were submitted this year by photographers from around the globe. Prizes and commendations were handed out in a number of categories including Wide Angle, Macro, Wrecks, Behavior, Portrait, Black & White, Compact, Up & Coming, and, in British waters, Wide Angle, Compact, and Macro shots.
Here are some of the photos with captions written by the photographers and hope you enjoy them: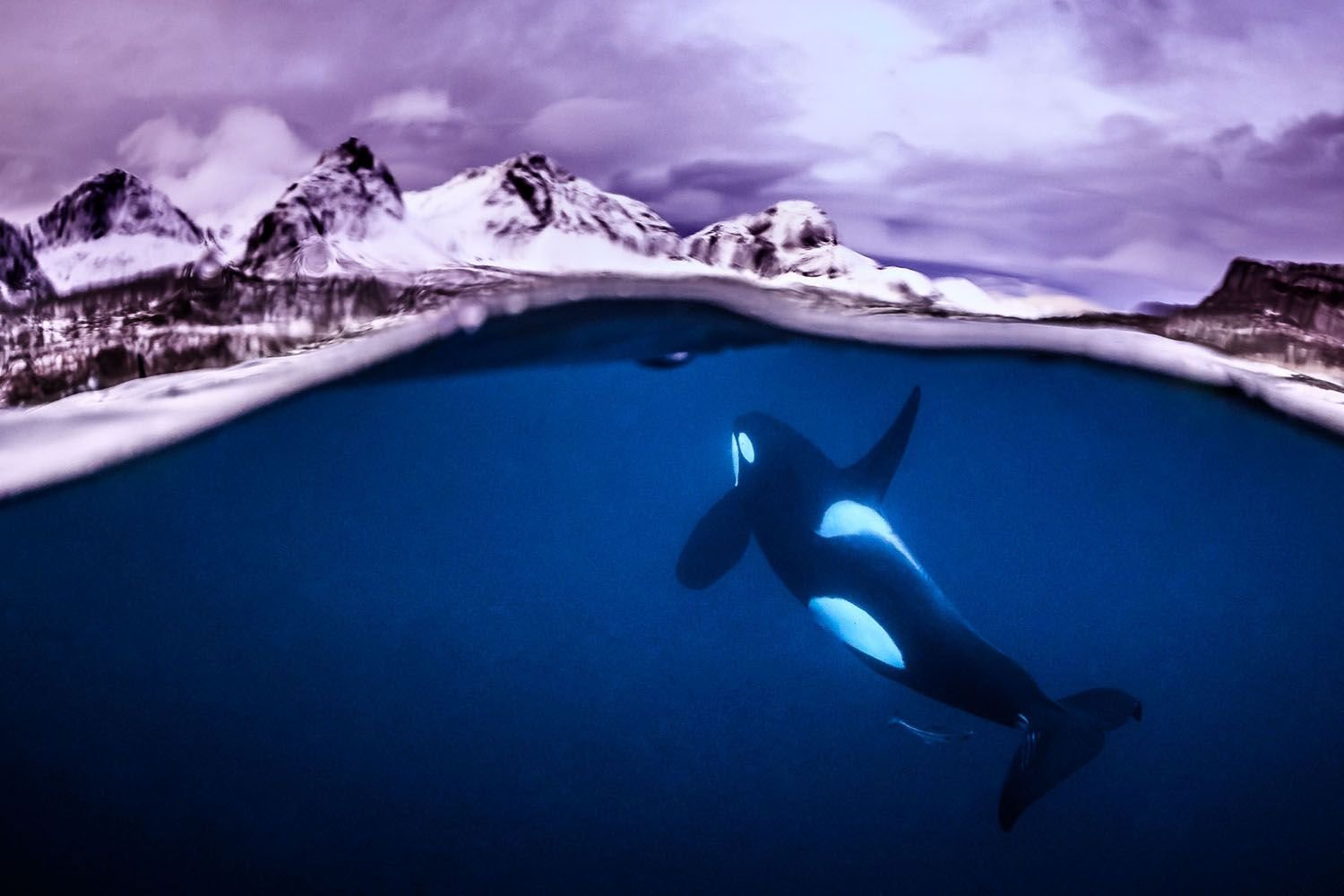 "We found a pod of Orcas that were circling some herring caught in a net. The animals keep circling the net and we could approach them easily to take some close-up shots." Photographed near Skjervoya, Norway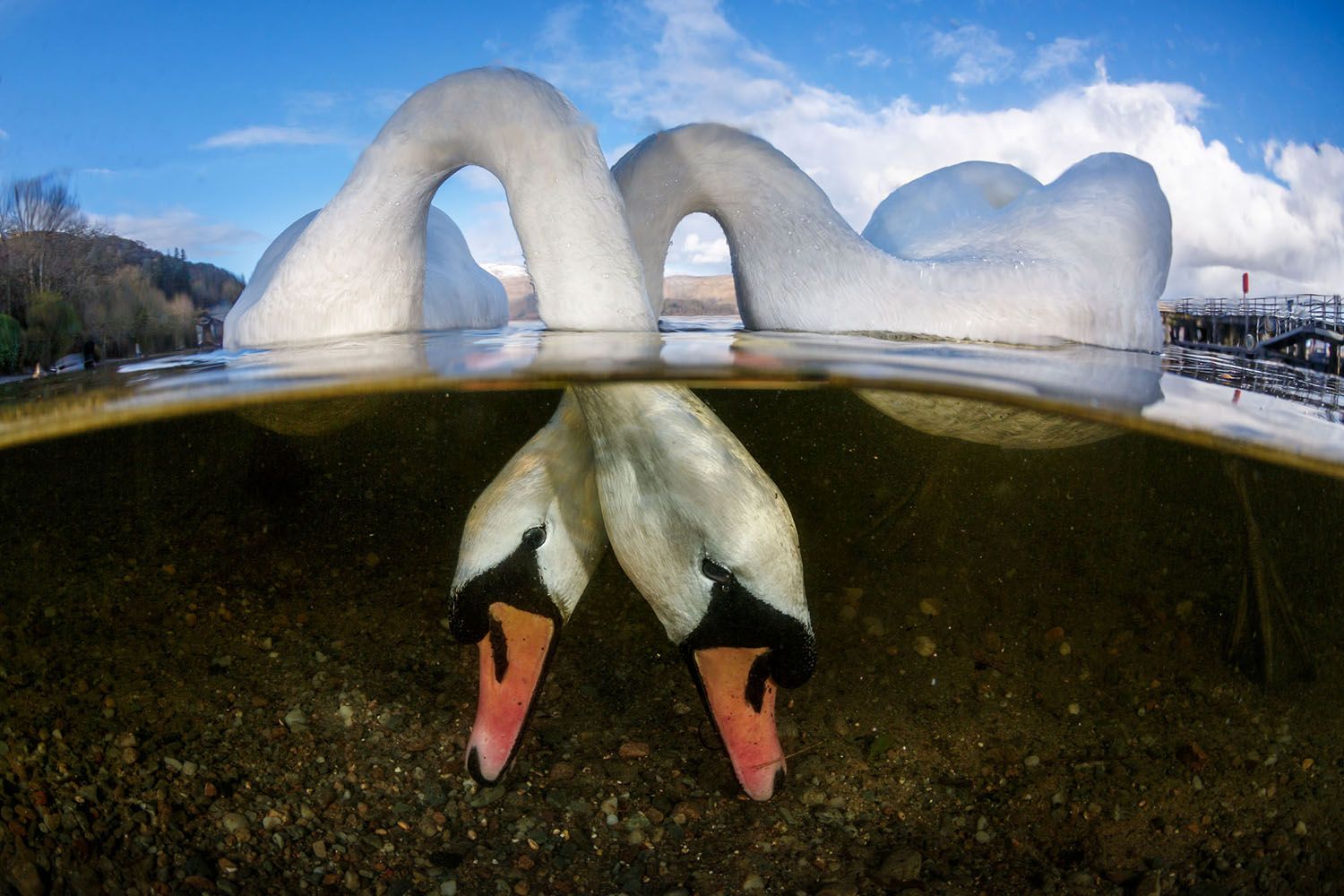 "I have always been fascinated by over-under photography, connecting the everyday terrestrial world that we all know with the less familiar underwater secrets. I chose Loch Lomond as the location for this shot due to its idyllic scenery, water access, and friendly swans. My initial idea was to frame a split shot of one swan feeding below the surface of the water but when I noticed how comfortable they were around me I was confident, with some patience, I could get that magical shot of the two. It was mid-day, sun high in the sky, when I waded slowly into the shallow water, allowing the swans to become comfortable with my presence. When they began searching for food below the water line I just had to wait for that perfect moment of synchronicity." Photographed at Luss Pier, Loch Lomond, Scotland.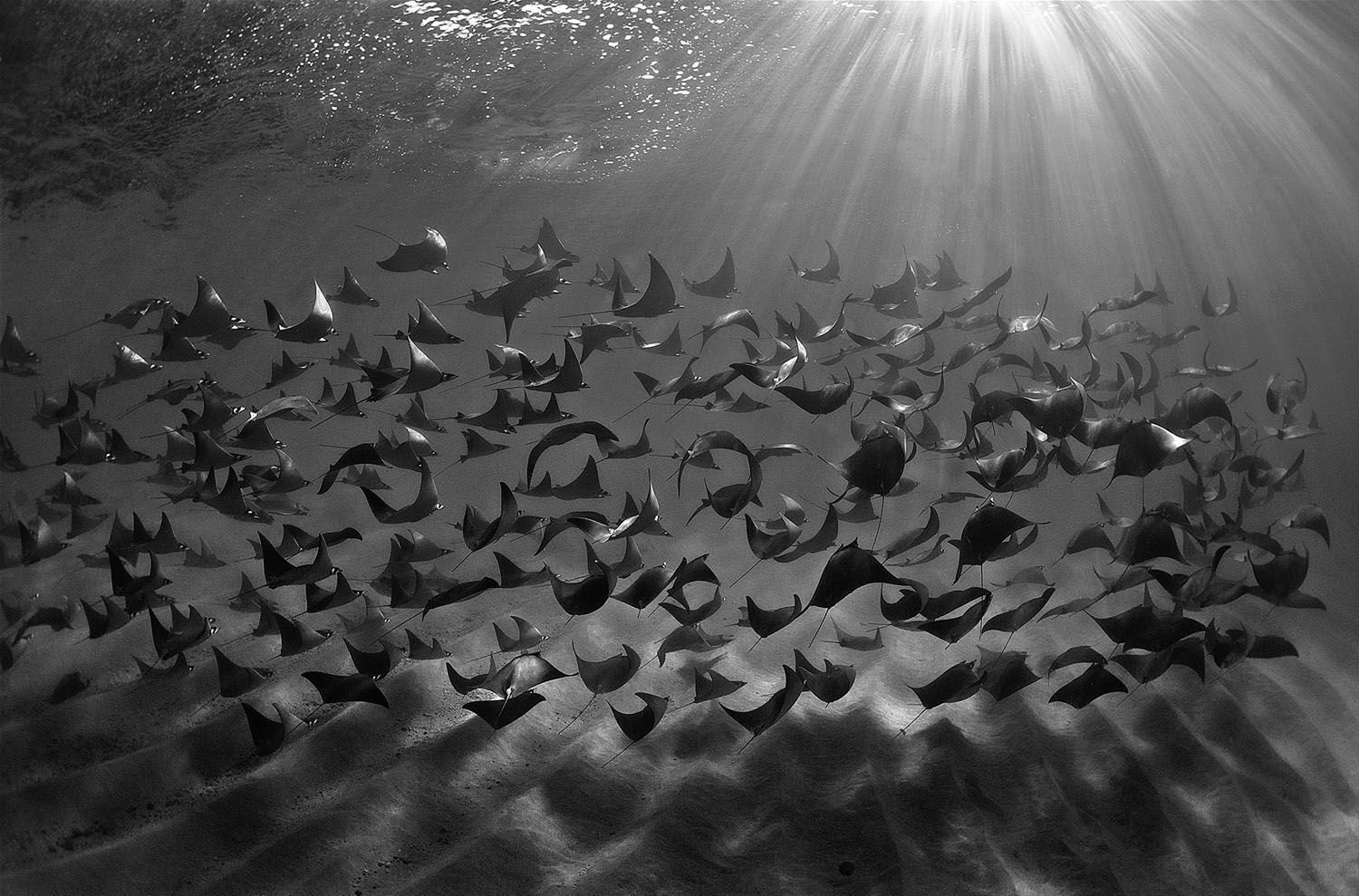 "During springtime, from April to June, on the coast of Baja, California, we can witness one of the most impressive migrations of the sea. Thousands of mobula rays migrate along this coast. I tried many times to find this incredible behavior but never was able. This year, during a morning safari on the sea, we saw a different group of beautiful mobula rays. I jumped in the water and we followed them for a couple of hours and a small group moved into a shallow area where I was able to shoot in great light." Photographed off Cabo San Lucas, Mexico.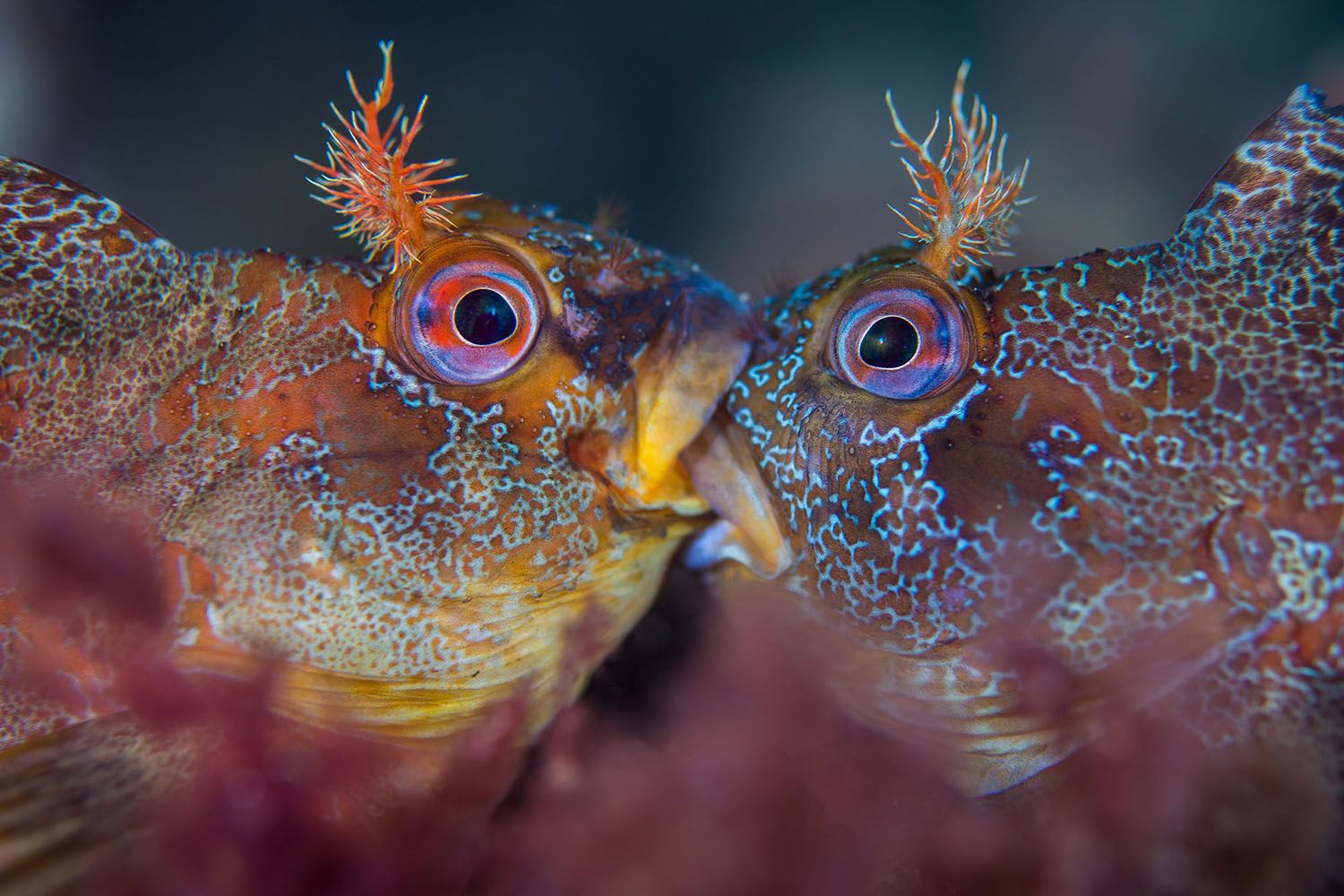 "Despite appearances, these two tompot blennies are not kissing but engaged in a ferocious battle over mating rights. The British summer is mating season among tompots and competition is fierce. I went diving under Swanage Pier in search of these charismatic fish and was delighted to encounter one with the ornate, blue facial markings designed to attract a partner. To my surprise and wonder, he was soon joined by another male and they started tussling. At one point, the dust settled and they remained motionless, jaws locked together just long enough for me to capture this image. It was a very fortunate encounter and I am delighted to be able to share it through this photo." Photographed at Swanage Pier, Swanage, Dorset, UK.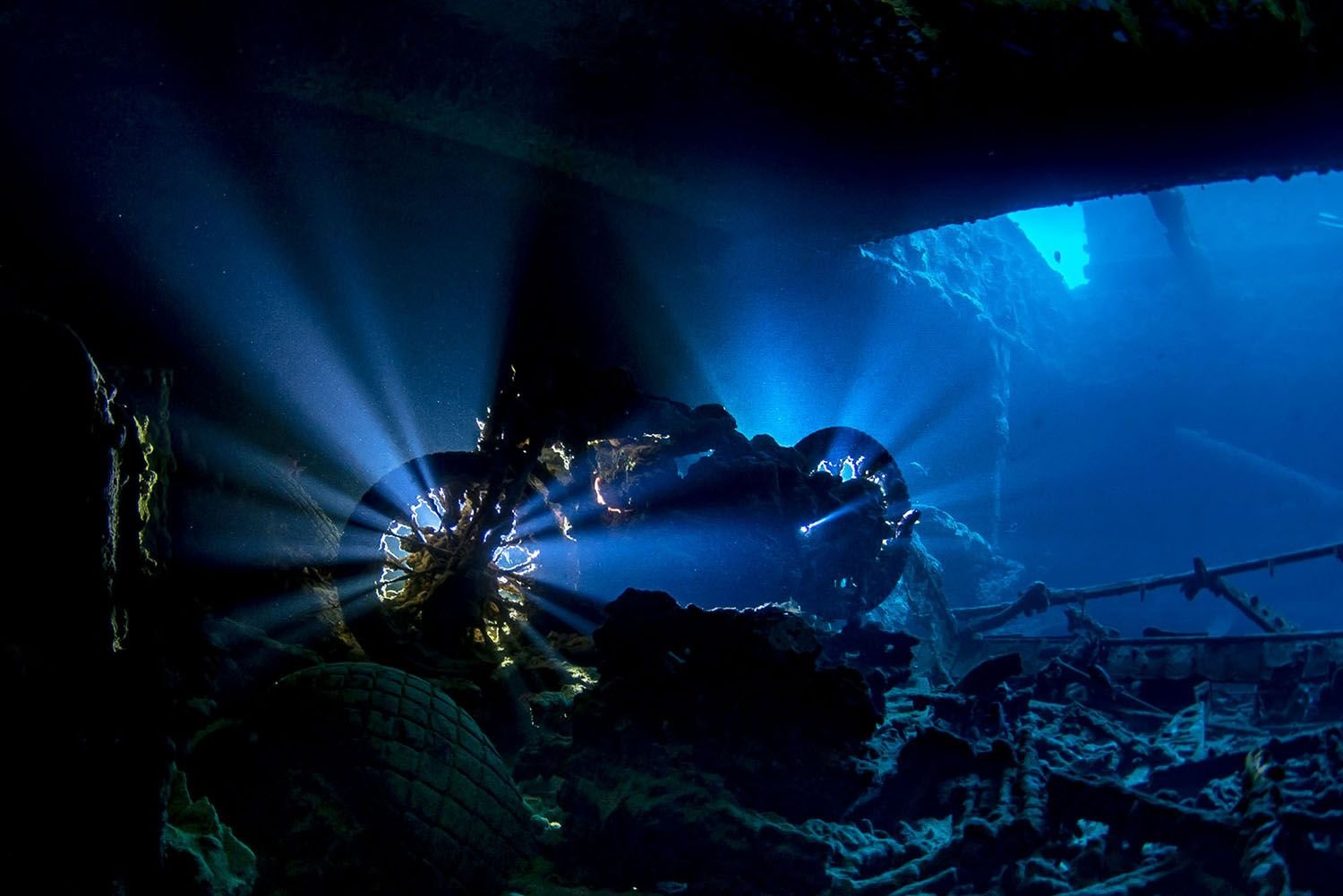 "I have dived this wreck several times and I never get tired of it! This is a well-known subject, a British World War II BSA M20 motorbike inside Hold 2 (port side, upper level) of the wreck of the SS Thistlegorm. Usually, I use strobes for this kind of shoot but I had to try this with two video lights, I think the result works well and the lights are useful, especially when you, as the photographer, can see how the light is shaping and working." Photographed in the Red Sea, off the coast of Egypt.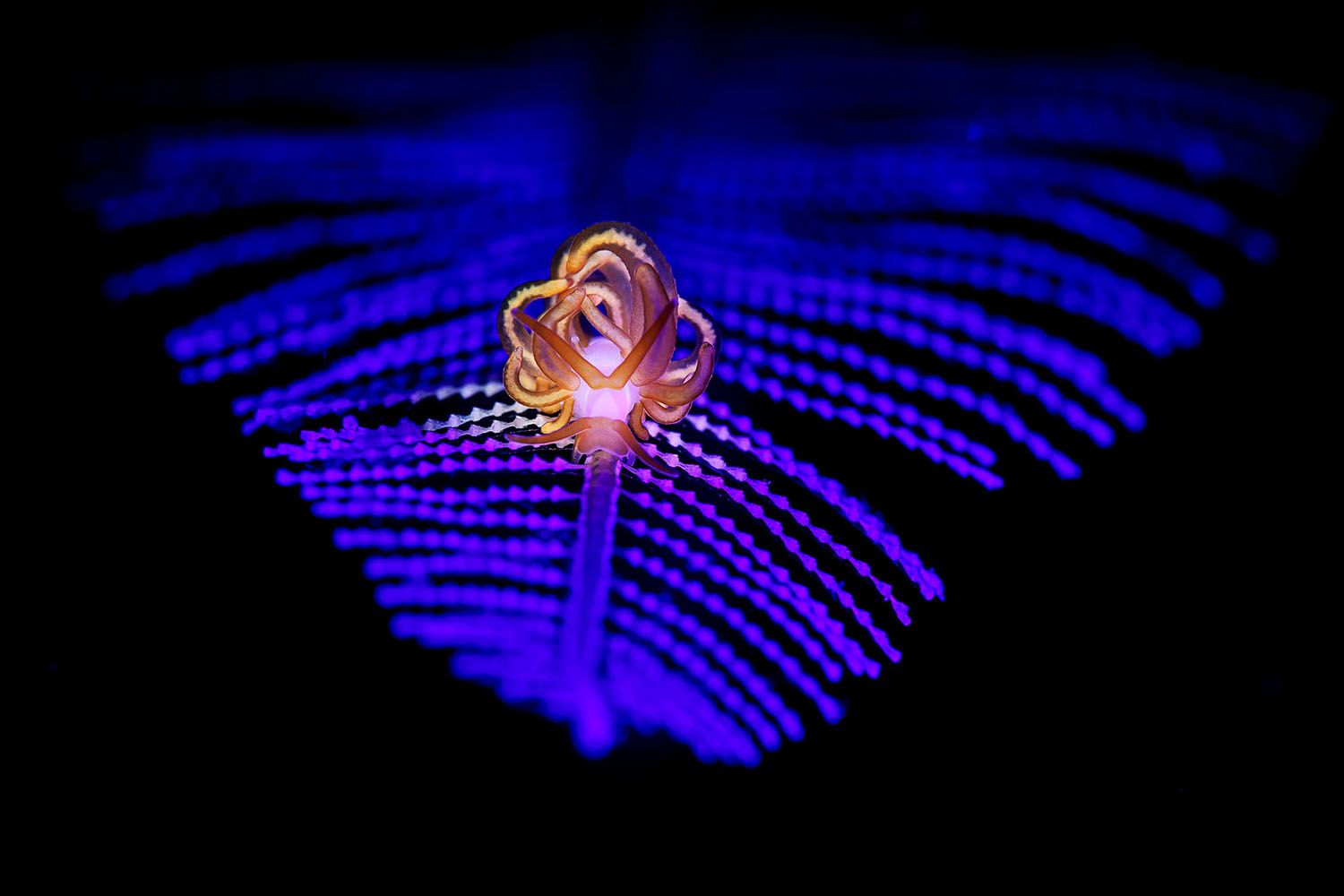 It is not easy to combine blue light in a traditionally lit image. You need to make the subject pop while integrating the blue light into the photo naturally." Photographed near Lembeh, Indonesia.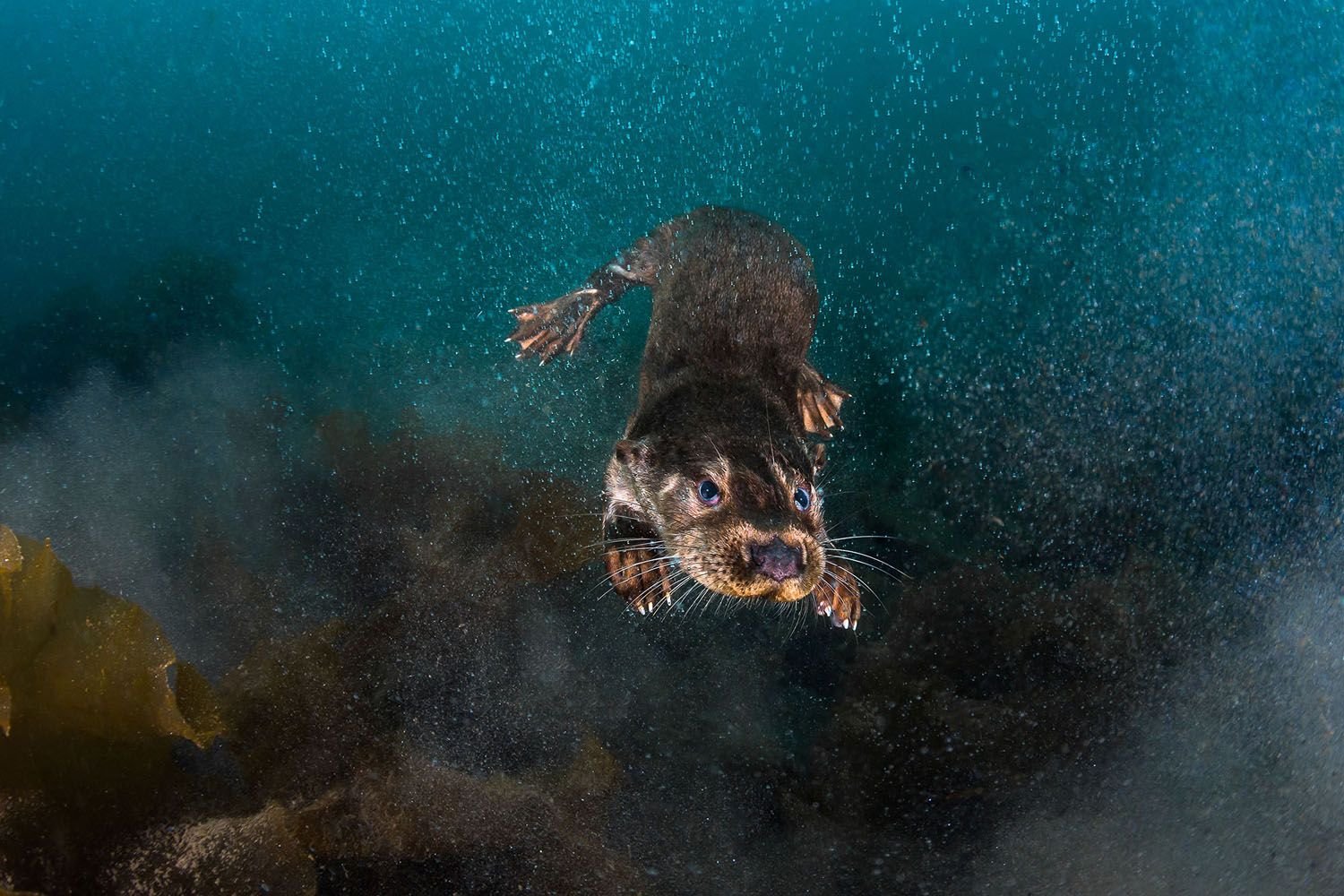 "I was very intrigued by this mammal who adapted to marine life and had in mind to witness of this scene. So I asked to my Scottish friend Richard Shucksmith who knows this species very well to help me to capture this image. During a dive we were very lucky to find this otter who was curious about my lens." Photographed near Shetland, Scotland.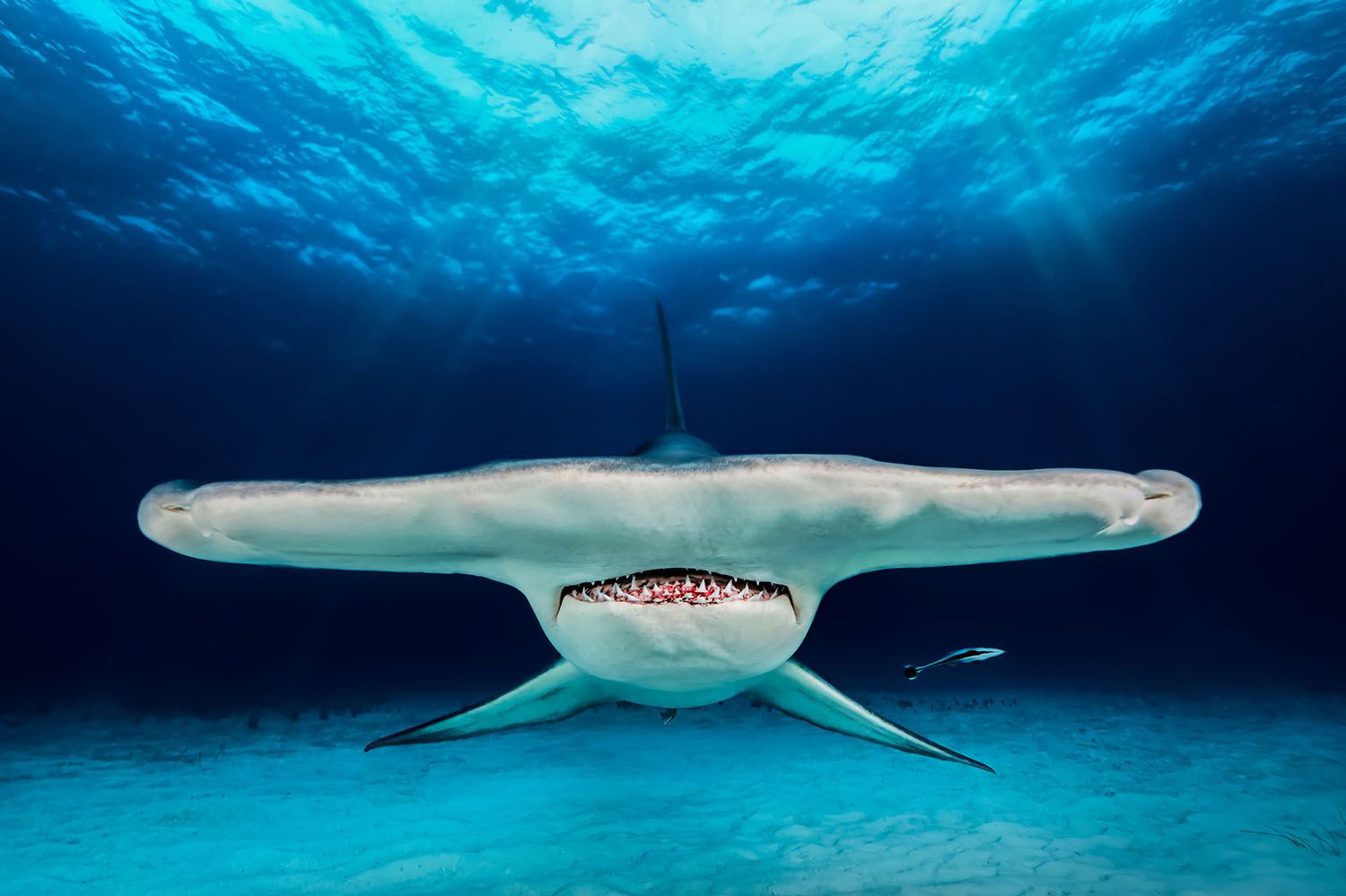 "It was the last day of the Enigma team shark expedition to Bahamas. The last day and I was still missing a shot I came here to take. We went down. The day before there was a storm and we did not see anything. But they were back. Glorious, mighty, curious, but shy four-meter-long ladies. The great hammerheads were slowly circulating around us. It was my last chance. The last opportunity to do what I had in my mind for months. 'Stay calm; be patient,' was constantly echoing in my mind. Sitting on a soft sandy bottom, facing against the sun I could have only waited. And there she was coming directly at me." Photographed near Bimini, Bahamas.
"When I originally booked my surf trip to Fiji, I didn't realize how close Tonga was. I had always wanted to go to swim with the whales so I made a last minute adjustment to my flight and jumped over. Everyone I talked to strongly advised against going to Tonga without a guide lined up, but I figured a bad day swimming with whales was better than going back home. As luck would have it I found a group that was leaving early. I was able to take their spot on a boat with just one other diver and it was just us hanging with this mom and her calf. The calf was a wild one, breaching and tail slapping all over the place. I love this photo because it looks like mom is giving the baby a talking to about straying too far from her." Photographed off the North Shore of the Kingdom of Tonga.
I really hope you enjoyed those photographs, and let me know which one is your favorite in the comment section.