Have you noticed the smoothie bowl craze taking over the internet? Well whatever the case, it is and everyone is cranking out the most gorgeous and colorful creations of fruitiness so I couldn't help but start to feel left out, right?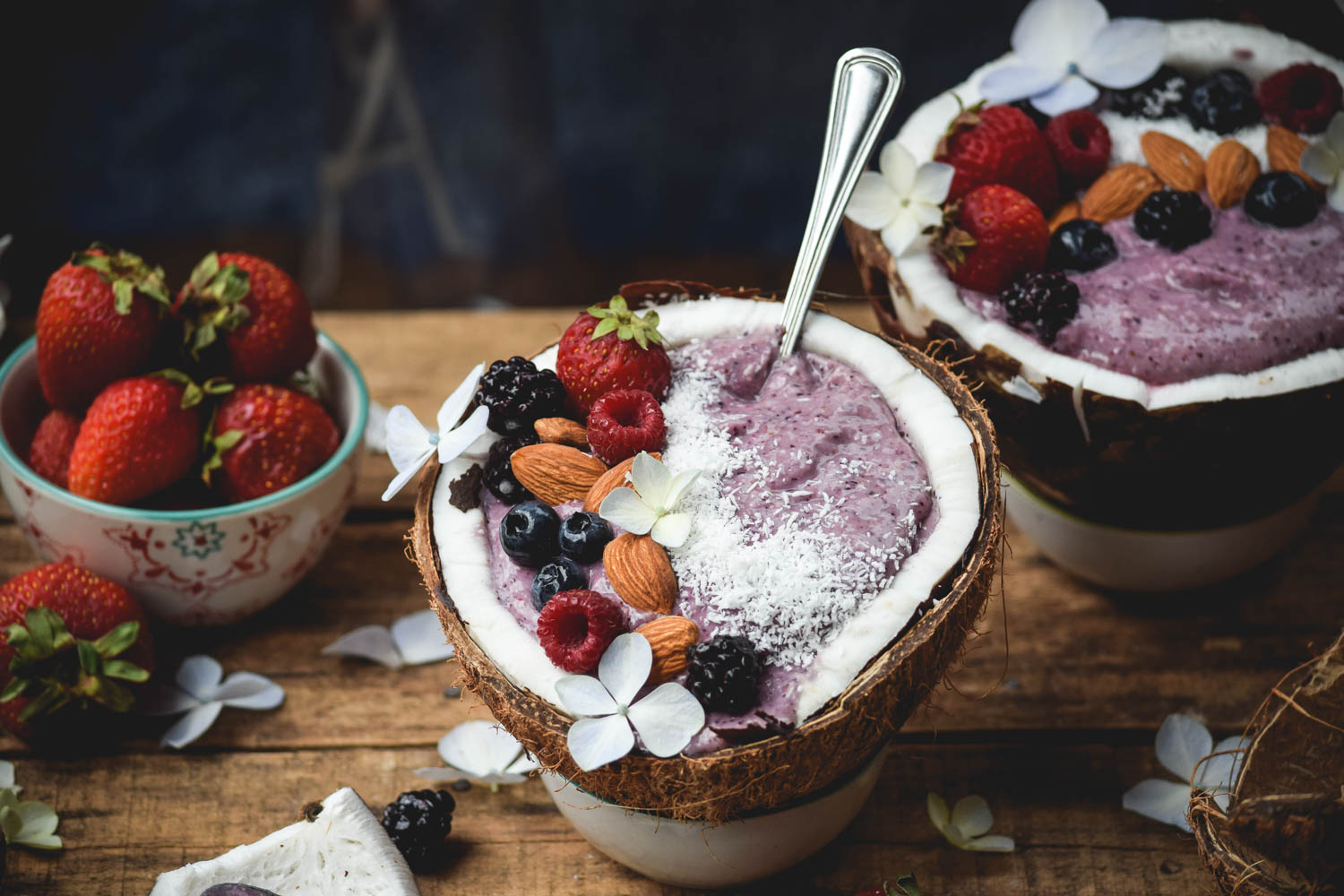 To be completely honest, the first time I saw a smoothie bowl I thought it was a pretty strange idea and I didn't see myself ever wanting to make one. I mean, smoothies are supposed to be what they claim, smooth, so that they can be sipped through a big fat straw, not chunky and thick enough to scoop. But after I'd had time to get used to the idea it actually started to sound pretty stinkin' good. It's kinda like sorbet with add-ins!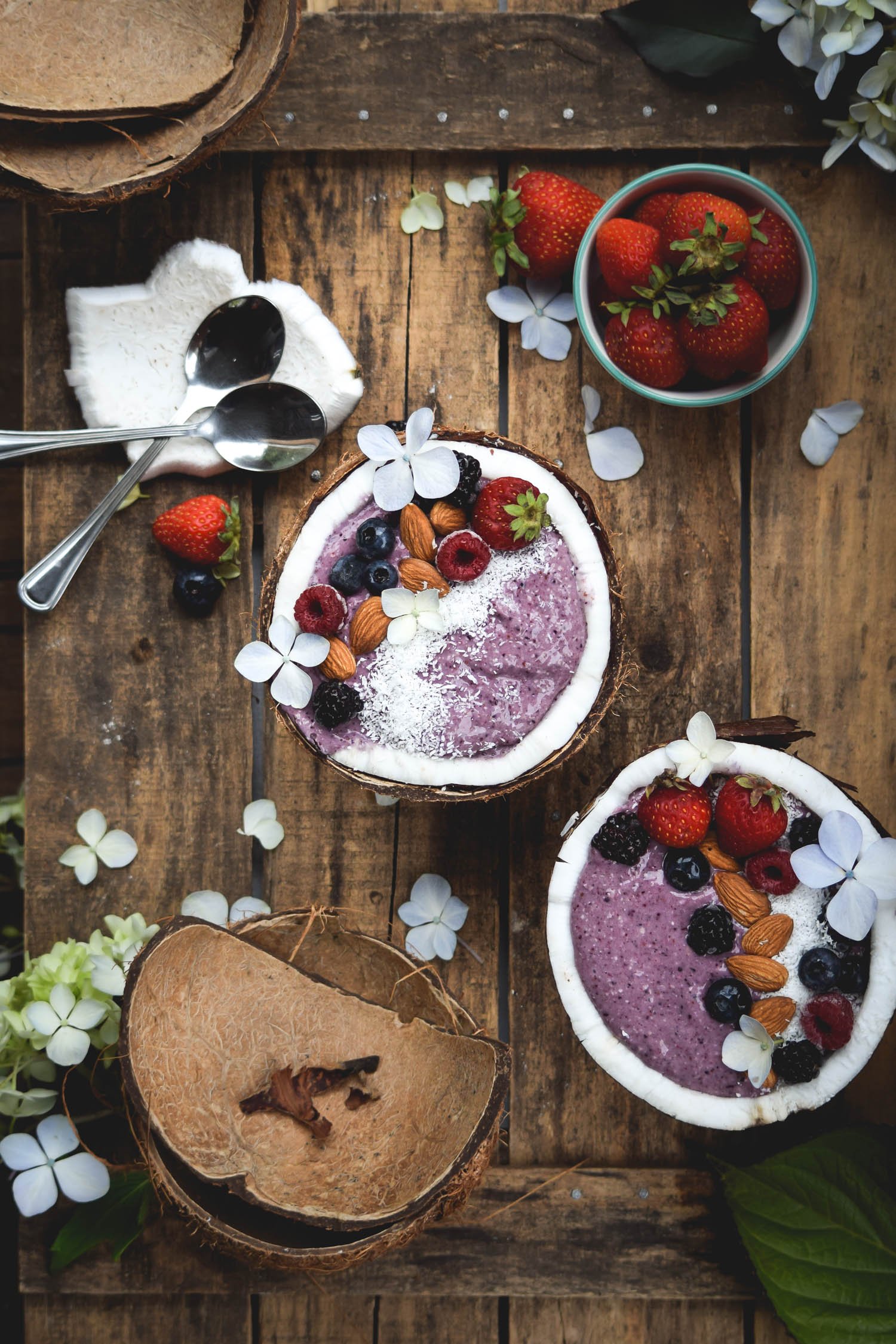 In case you missed it in so many of my previous posts, I'm kind of addicted to berries, (it's like a certifiable condition, not even kidding), and one of my favorite things to snack on is berries with yogurt and/or cereal. That's why I got to thinking, why should a smoothie bowl be so different? So as much as I'm loathe to admit it, I gave in to the collectivism on this one you guys! Do you think that make me a complete sell-out or what? I just hope this isn't the first step to losing my individuality, yikes!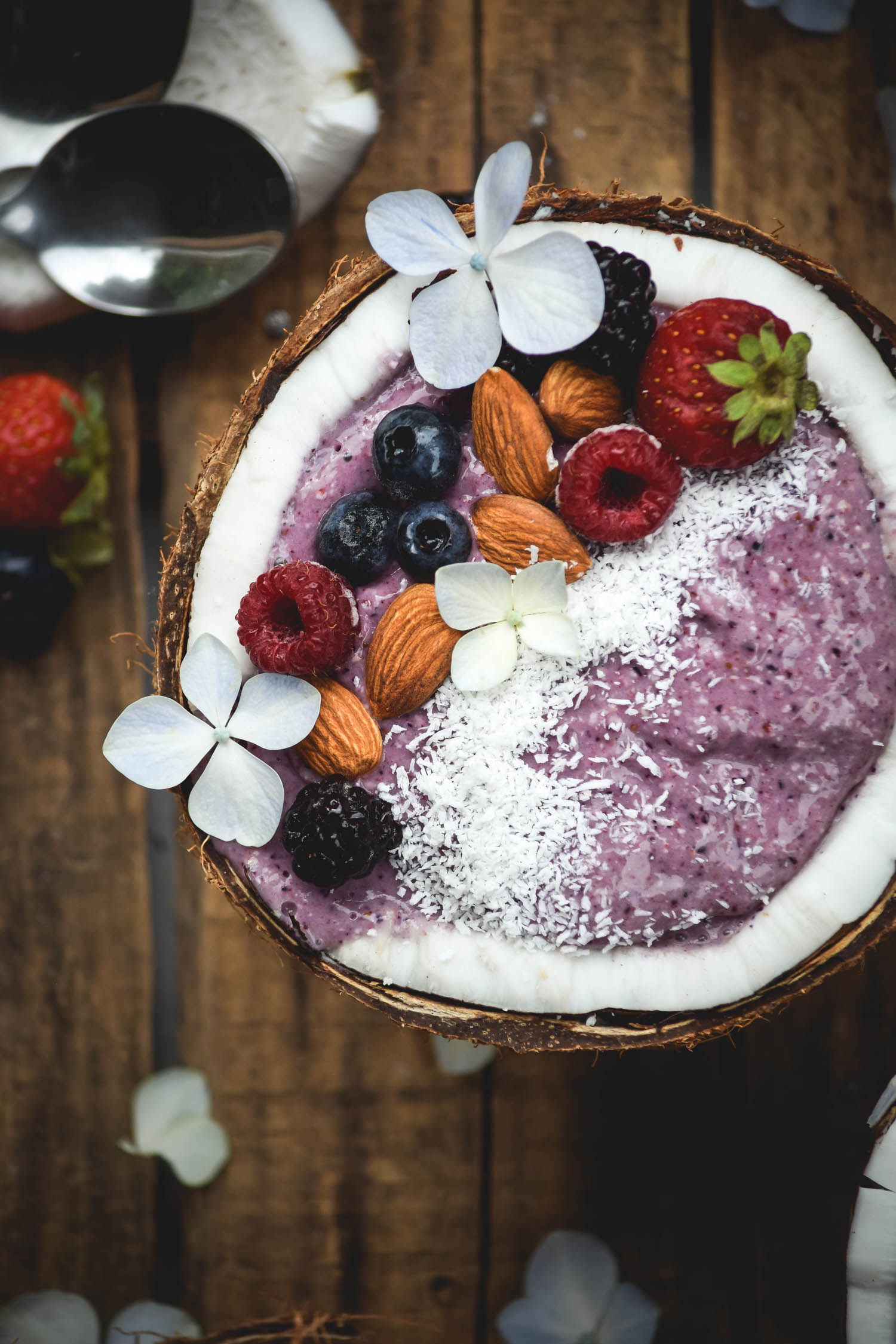 But anyway, something else I've been crazy about, and still getting crazier, are coconuts. I'm nuts for those coconuts! Seriously though, do you have any idea how versatile coconuts and their contents can be? I'm constantly switching up my normal dairy products for coconut water, milk, or cream and it works amazingly! It's so good in pretty much any form of dessert or you can go savory and put it in everything from panko breading to Thai sauce. Can you see the level of obsession I've got going on here?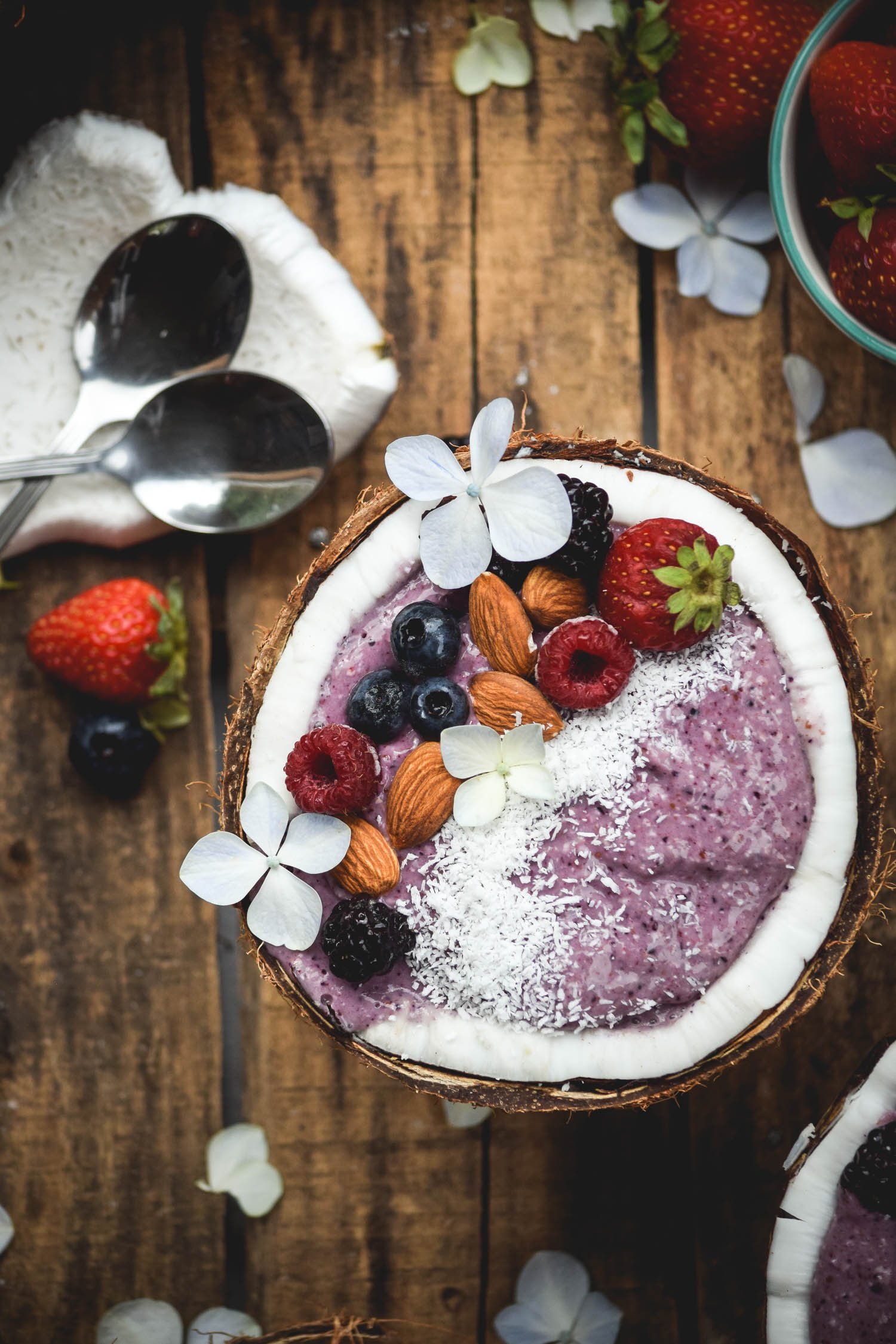 So here's the deal, these smoothie bowls are super easy, they're gluten free, dairy free, and vegan so pretty much everyone can enjoy them and they work as a breakfast, a snack, or I'd even go for one as lunch, yum! I wanted to make them extra pretty so I thought it would be fun to pour them into actual coconuts to make them more fun. I'm really hoping that you'll want to make them now too.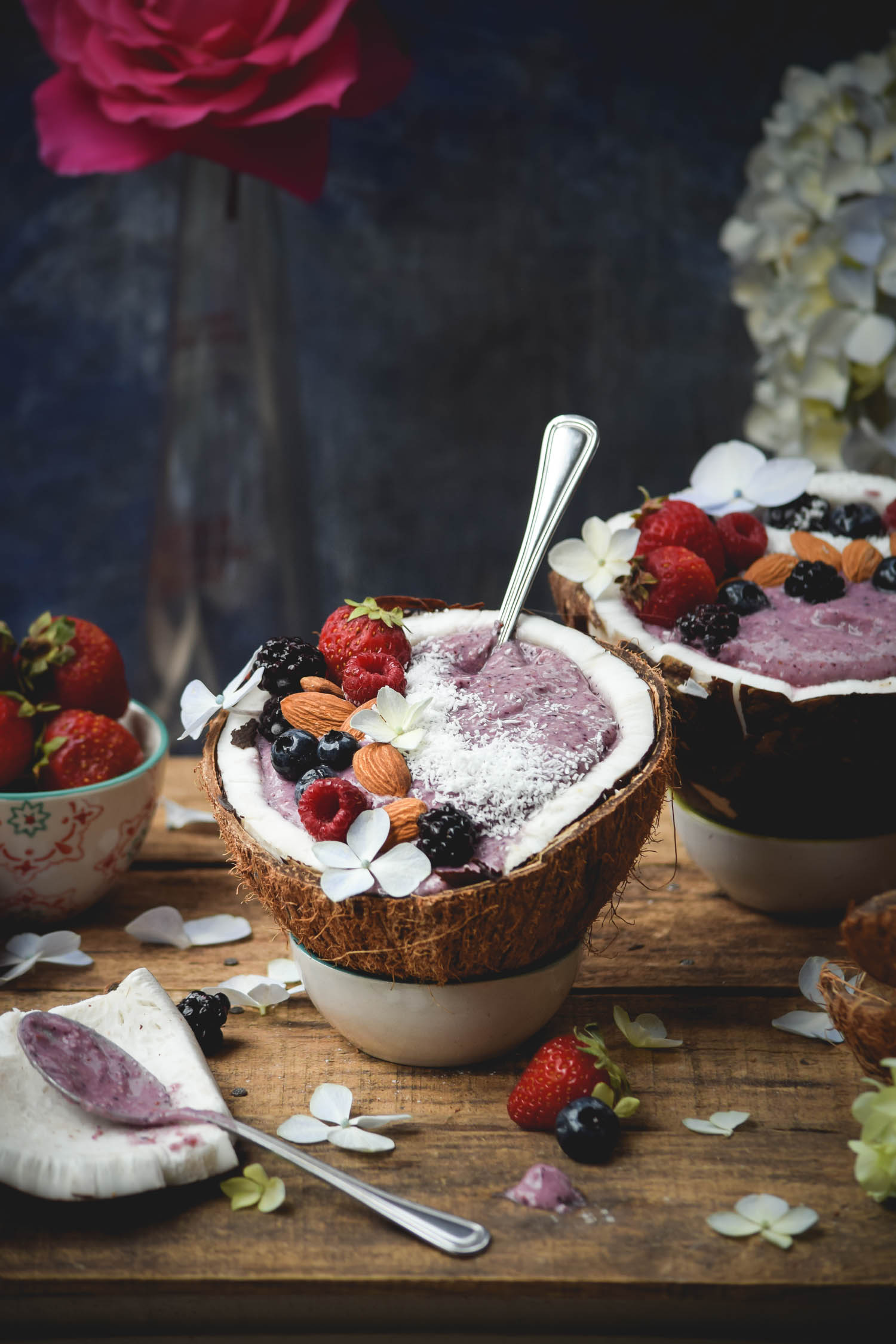 As for personalization, I used a combo of oats and flax to thicken this but you can trade out the flax for chia seeds and my smoothie was like really thick with the amount of oats I used so you can cut back on them if you want it a little thinner. The fruits can be traded out too. Maybe try replacing some or all of the berries with tropical fruit for a breakfast that will feel like your on vacation!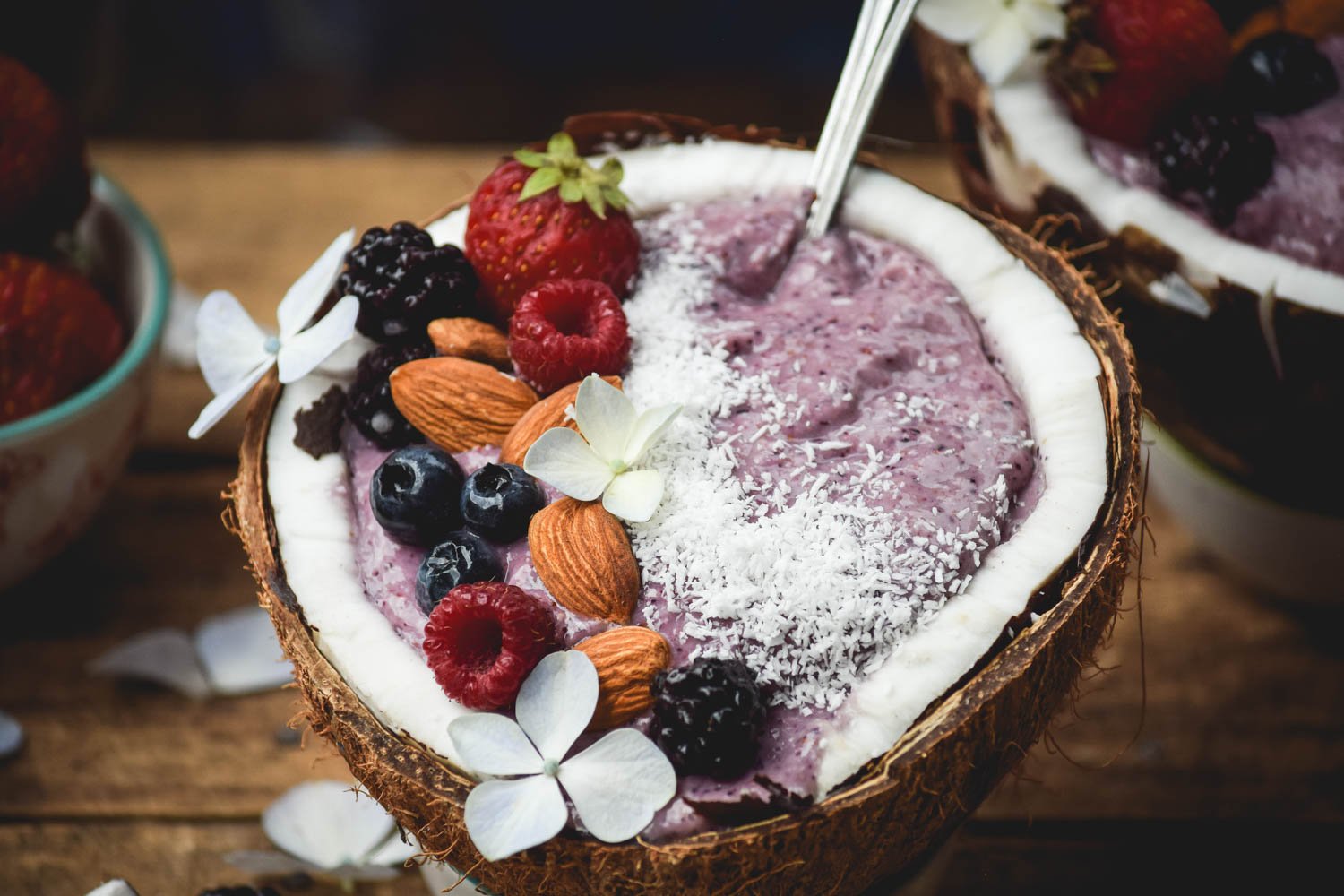 Other than that, I just say make them, load them with all of the yummy toppings you can think of, and most importantly, eat them with a small spoon. I have this belief that everything is better with a smaller spoon! Smoothie bowls for the win!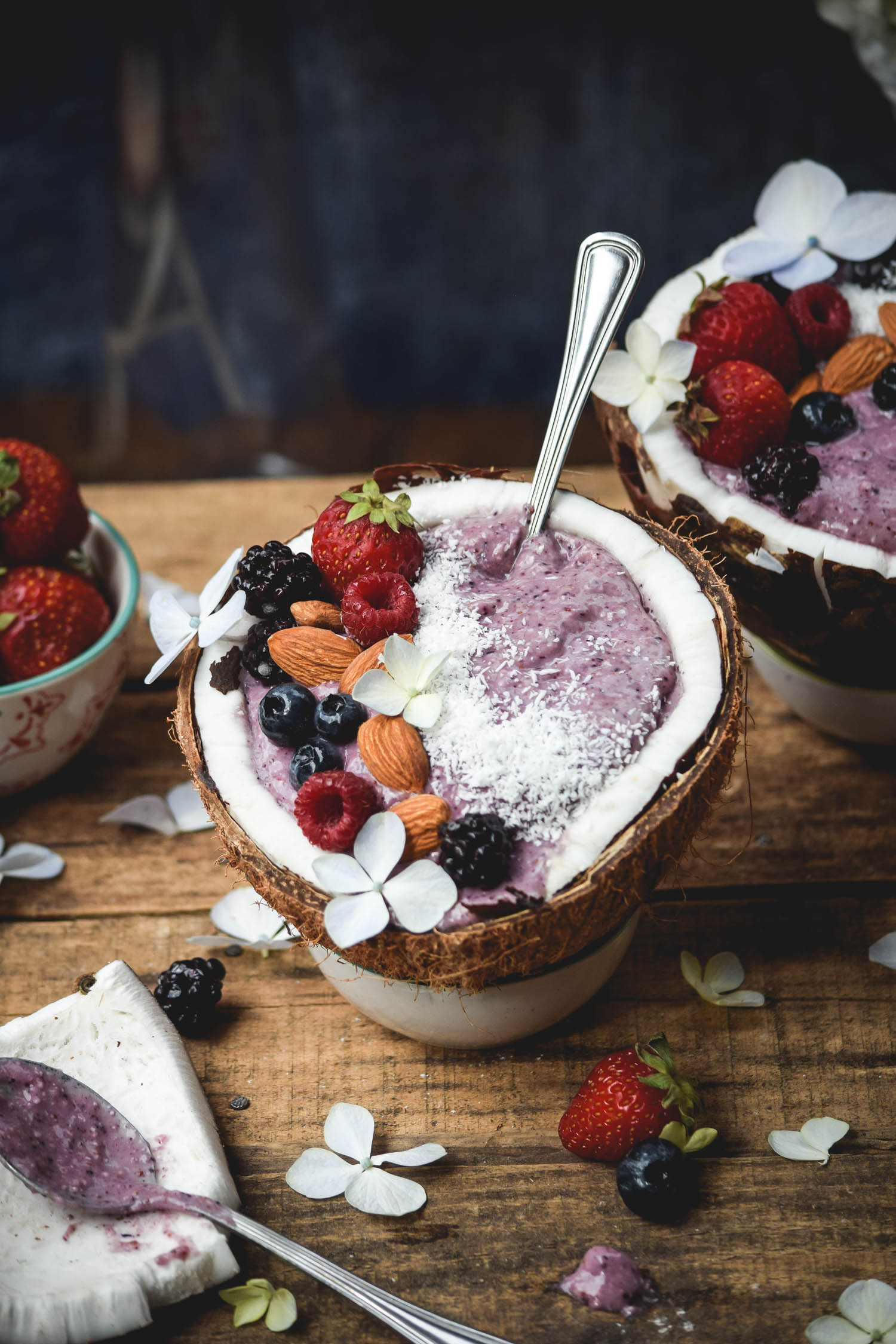 ALL CONTENT IS MINE AND ORIGINAL! All of these food photos were taken with my Nikon D5300 and my favorite Lens, the Nikon AF-S FX NIKKOR 50mm f/1.8G. You can find out more in my INTRO POST.
And, by the way, to all the minnows out there, my intro post did a huge $0.21. The key to success on Steemit is to be consistent and persistent.
Also, a huge shoutout to @rigaronib for designing my logo!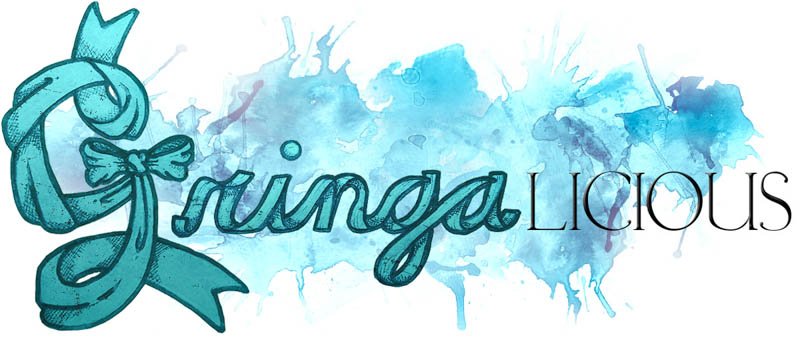 For more great food ideas, please do not forget to look at my other recent food posts
Oh, and don't forget to follow me on all your favorite social media channels!
Recipe available upon request to the first Steemian friend who says today's words : "Going Coconuts"