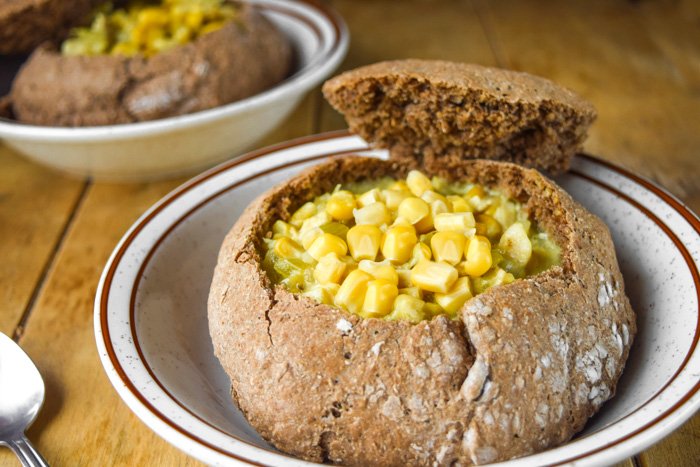 It's pretty cold outside, don't you think? Well, at least it is for me.
Although, maybe I shouldn't be complaining because we've had an unusually warm Winter so far. My sisters went skiing yesterday and they were very disappointed with the snow being so poor. I hope we get a little more snow soon because my opinion is that if it's going to be cold there might as well be snow, don't you agree?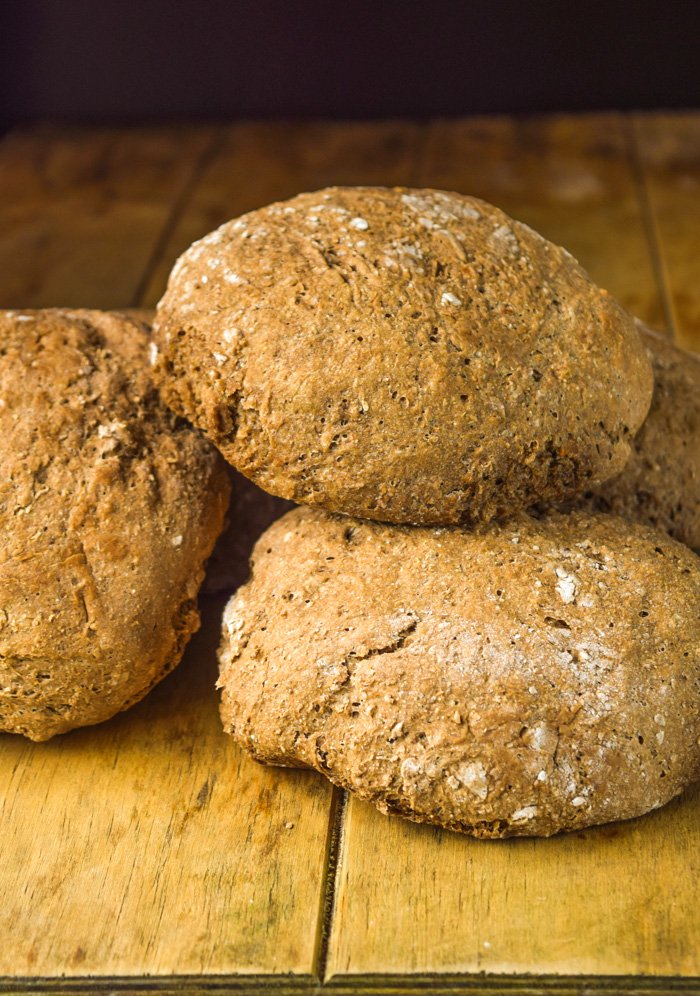 Okay, about the recipe. I have been wanting to make bread bowls for what seems like such a long time! I mean, who doesn't love getting to eat the bowl when the soup is gone? Plus, it looks so pretty and rustic when you serve it. And I don't know about you, but I have always loved corn chowder.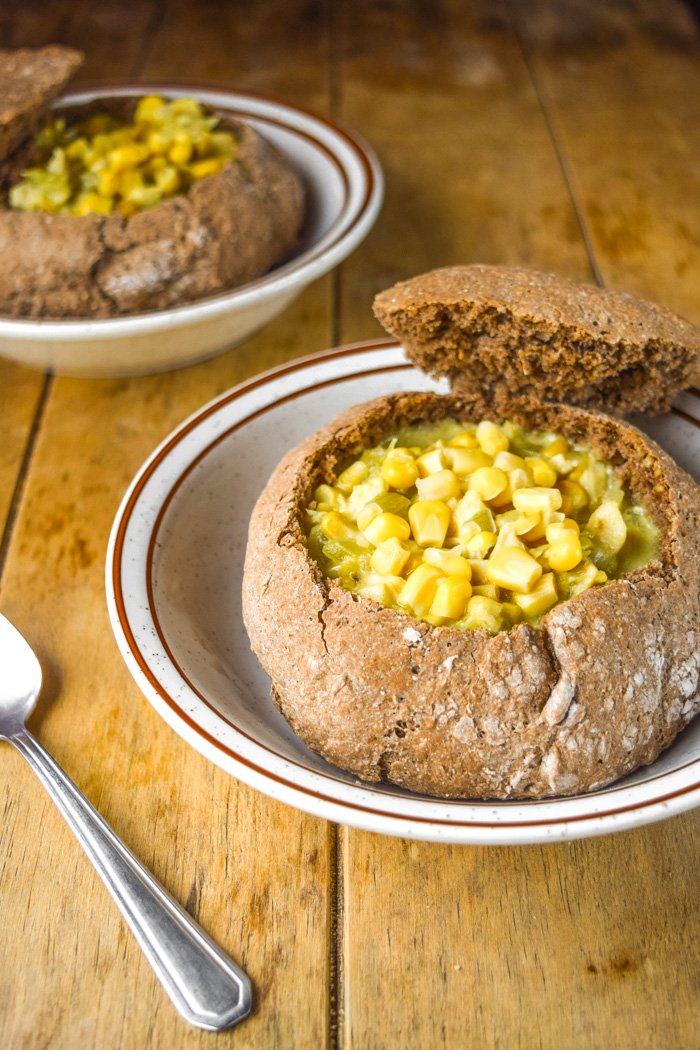 I think I should mention that my soup was not quite as corny and thick as it looks in the pictures. That is due to me spending too long taking pictures and the soup being in a bread bowl that likes to absorb broth. Although, if you want it to be that corny or thick by all means add extra corn or a little extra flour. For me soup is more of an art than a recipe. Make it how you like it.
I think this would make a great weeknight meal anytime. Also, if you can get fresh corn still on the cob I think you should use that and simply cut it off the cobs. The difference in flavor and even texture is worth it.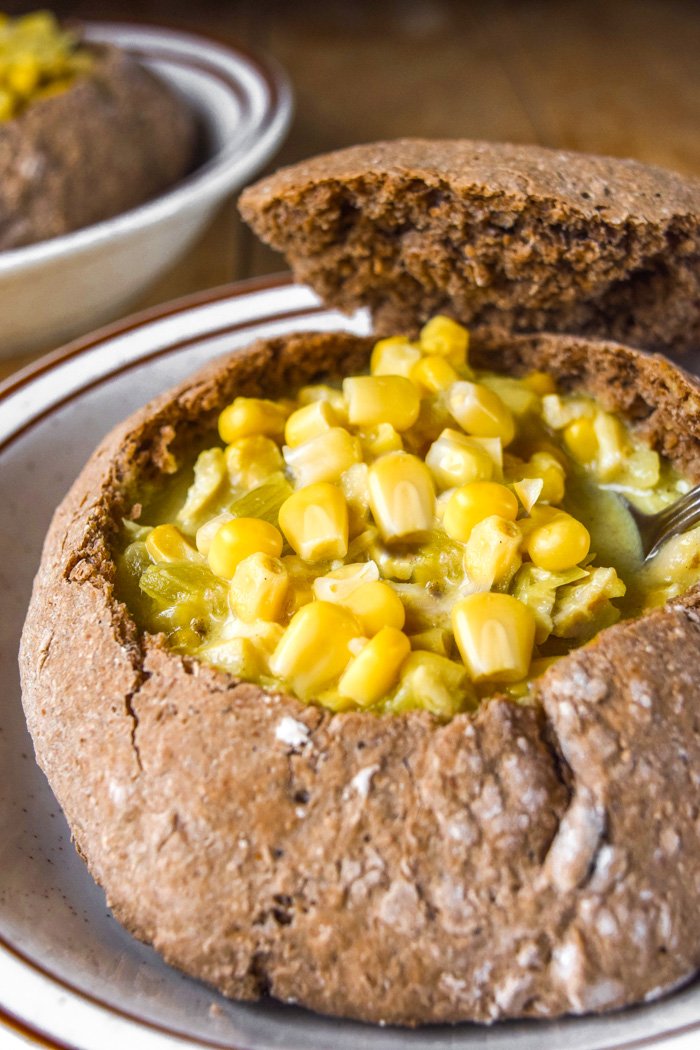 Hope you're enjoying your day and that you enjoy this recipe!!!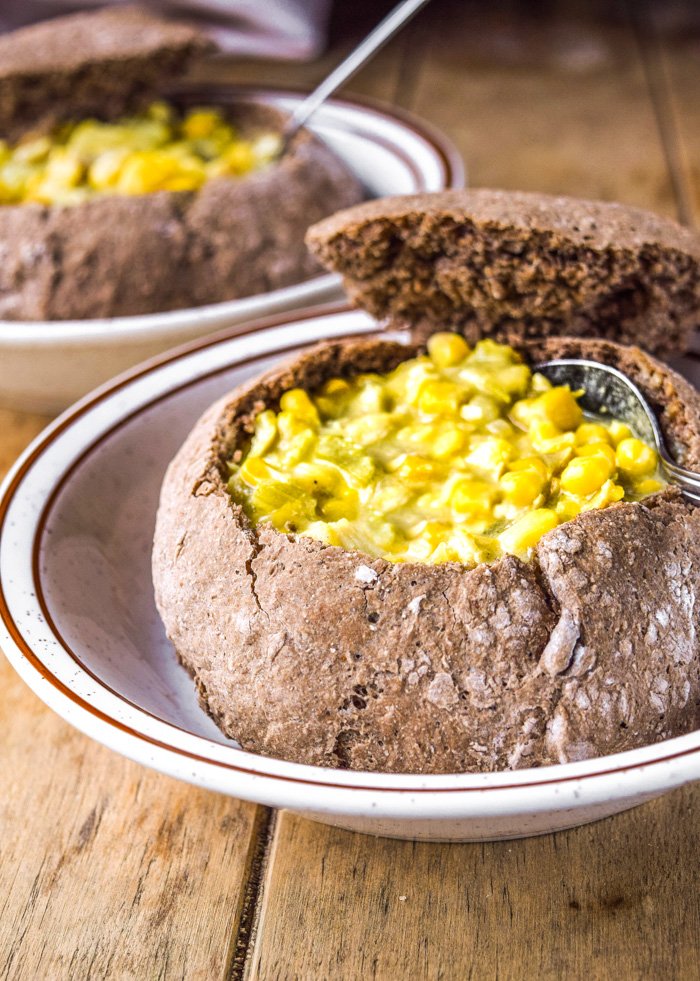 Homemade Bread Bowls + Creamy Corn Soup
Take advantage of the Summer harvest and make this cozy and delicious chowder soup along with some homemade bread bowls!
Prep Time 35 minutes
Cook Time 1 hour
Rising Time 1 hour
Total Time 1 hour 35 minutes
Servings 8 - 10 servings

Ingredients
Rye Bread Bowls:
3 tablespoons yeast
3 tablespoons brown sugar
3 3/4 cups warm water
4 1/2 tablespoons cocoa powder
2 1/2 teaspoons salt
3 cups Organic Rye Dark Flour
1 1/2 cups whole wheat flour
2 - 2 1/2 cups all-purpouse flour
Corn Chowder:
1 tablespoon olive oil
1 medium onion chopped
4 cloves garlic minced
4 stalks celery chopped
1 cup cauliflower (finely chopped or riced)
1/4 cup all-purpouse flour (use cornstarch to make soup gf)
4 cups Organic Vegetable Broth I use homemade
3 medium potatoes peeled and cut into small cubes
1/3 cup plain non-dairy yogurt (such as soy or cashew)
1 13.5 ounce can Lite Coconut Milk
1/2 cup Nutritional Yeast Flakes
3 15-ounce sweet corn (including water) (or 4 is you'd like it very corny )
1/2 teaspoon ground turmeric optional
3/4 teaspoon freshly grated nutmeg
salt and pepper to taste
Instructions
Bread Bowls:
Combine water, yeast, and brown sugar in a large bowl and stir to dissolve. Add salt, rye flour and whole wheat flour and mix well. Add all-purpouse flour 1 cup at a time until dough is no longer sticky. Knead for about 5 minutes then place in a well oiled bowl. Cover and put in a warm place to rise for about 1 hour until doubled in size.
Pre-heat oven to 375 degrees F.
Divide dough into 8 balls and place on greased baking sheets at least 2 inches apart. Cover with damp towel and let continue to rise while oven is heating.
Bake for 25 - 30 minutes until golden brown.
For Corn Chowder:
In a large (wide) pot or dutch oven, saute onion, garlic, cauliflower, and celery with oil until tender. Whisk flour and 1 cup of broth and add, stirring constantly until mixture begins to thicken. Reduce heat to low and and whisk in remaining broth and simmer until thickened again.
Add potatoes and remaining broth and bring to a boil. Once boiling, reduce heat to low and simmer uncovered 15 - 20 minutes until potatoes are tender.
Add in corn and coconut milk and simmer, uncovered 10 - 15 minutes longer until it begins to thicken. Stir in nutritional yeast, nutmeg, turmeric, and yogurt then season to taste with salt and pepper.
Assemble:
To make bread bowls, cut tops at an angle in a circle and use a spoon to pop tops out. Fill with soup and serve hot.
Recipe Notes
If you're making this soup for a smaller group it can easily be split in half to make 4-6 servings. It also freezes very well.
If you prefer creamy soups this soup can be blended smooth with an immersion or standing blender.

ALL CONTENT IS MINE AND ORIGINAL! All of these food photos were taken with my Nikon D750 and my favorite Lens, the Nikon AF-S FX NIKKOR 50mm f/1.8G. You can find out more in my INTRO POST.
Also, a huge shoutout to @rigaronib for designing my logo!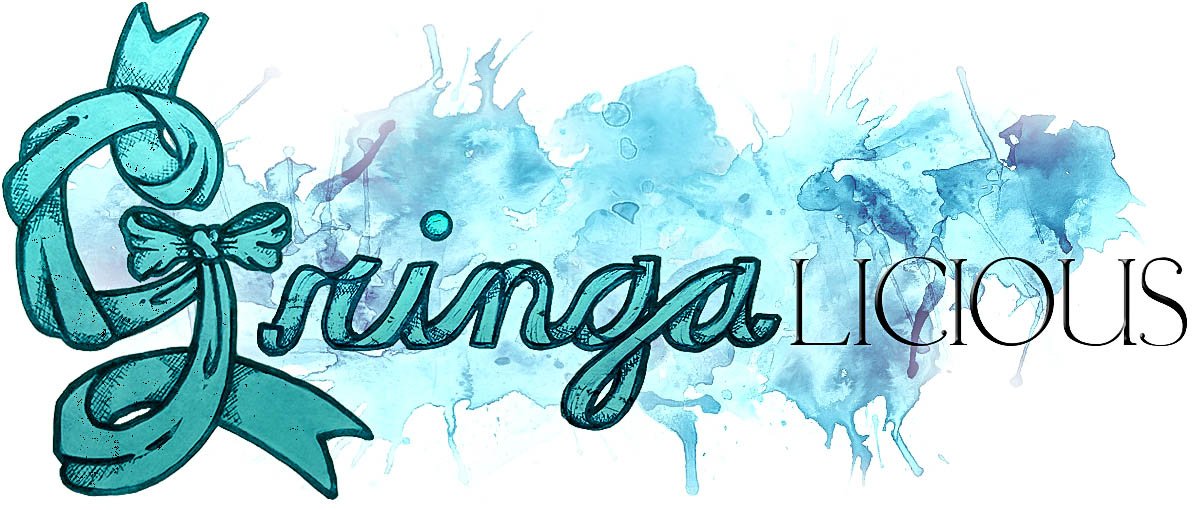 If you're looking for more recipes check out some of my other recent posts!
Also, check out my recap of last year