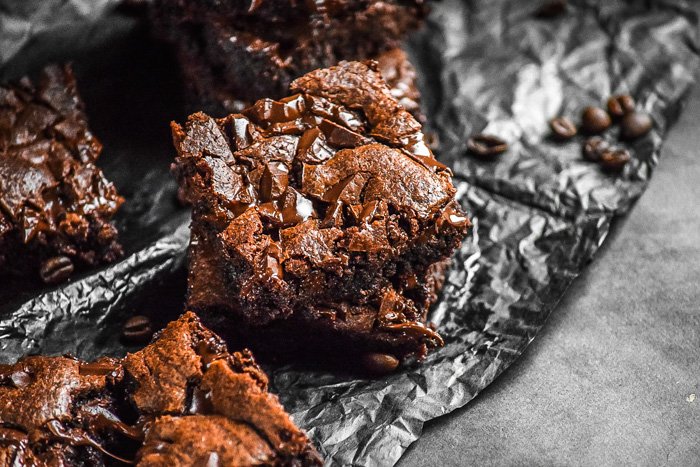 You know what I'm thinking….? I'm thinking today needs some serious chocolate. Oh, OH, and, and coffee! Yes there definitely should be coffee because that's, well that's just necessary for today! So, so, um, I made you brownies, and not just any brownies!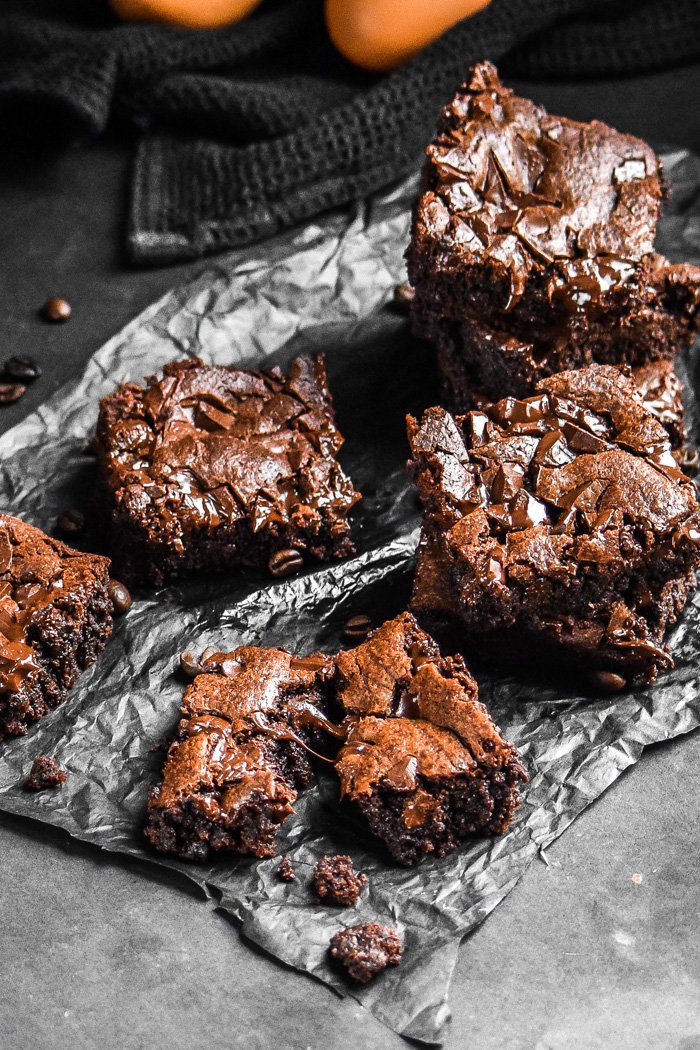 So these brownies were a spur of the moment decision that somehow ended up being what they are. I started with my favorite brownie recipe and then I just kept feeling like they needed to be darker. I ended up almost doubling the cocoa, using brown sugar instead of all white, and adding plenty of coffee just for good measure.
I give you the midnight mocha brownie. It may not actually be able to keep you awake for days but it'll definitely give you a sugar rush if nothing else. And not that I can tell you from personal experience or anything, but the batter is almost as good as the brownies. Hypothetically…..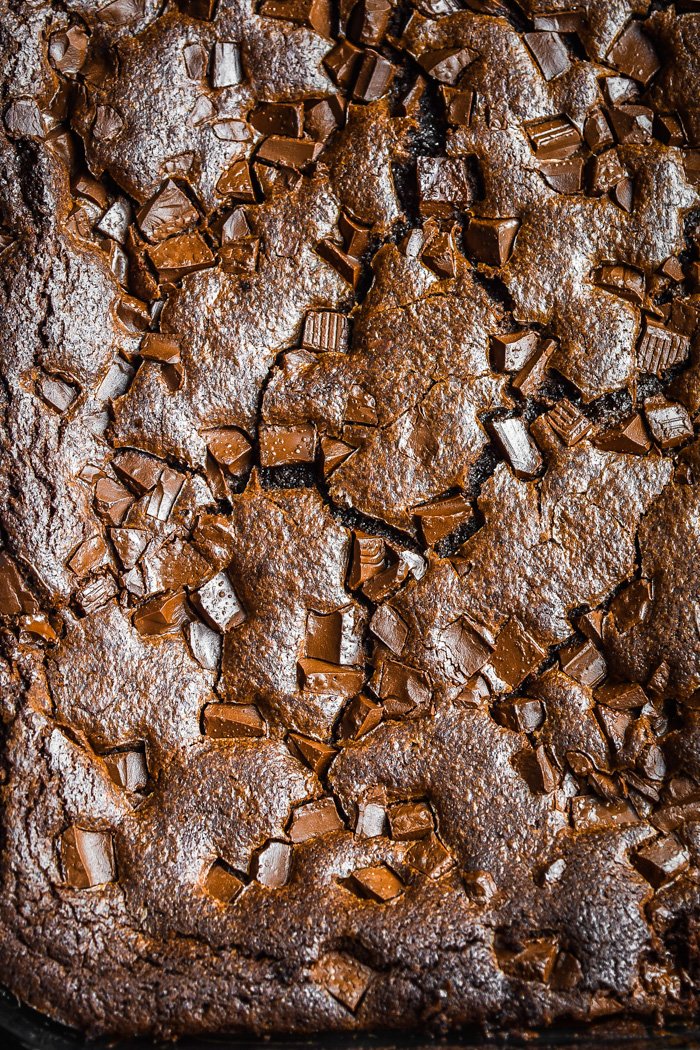 Mocha Dark Chocolate Fudge Brownies
Brownies are such a classic and these extra dark ones are always a crowd pleaser!
Prep Time 15 minutes
Cook Time 40 minutes
Total Time 55 minutes
Servings 24 brownies
Ingredients
1/2 cup 1 stick vegan butter, softened
1/2 cup organic vegetable oil
2/3 cup full-fat coconut milk
1 cup organic cane sugar
1 cup packed brown sugar
1 1/4 cups cocoa powder
2 tablespoons freshly ground coffee beans
1 1/4 cups all-purpose flour
2 teaspoons vanilla
1 teaspoon salt
1/2 teaspoon baking soda
1 1/4 cups chopped dairy-free semi-sweet dark chocolate or chocolate chips
Instructions
Pre-heat oven to 350 degrees F (180 C) and grease a 13x9 inch baking dish or pan with oil.
Cream butter and oil with sugar in medium mixing bowl. Add the coconut milk, vanilla, salt, and soda and mix well. Stir in flour, cocoa powder, and coffee until batter is smooth then add about 1/2 of the chocolate chunks.
Scrape batter into pan and sprinkle remaining chocolate over top. Bake for about 30-35 minutes until a toothpick comes out clean. (Stick a toothpick in a few different spots because you will most likely find some of the melty chocolate chunks.)
Allow the brownies to cool completely then cut and serve.

ALL CONTENT IS MINE AND ORIGINAL! All of these food photos were taken with my Nikon D750 and my favorite Lens, the Nikon AF-S FX NIKKOR 50mm f/1.8G. You can find out more in my INTRO POST.
Also, a huge shoutout to @rigaronib for designing my logo!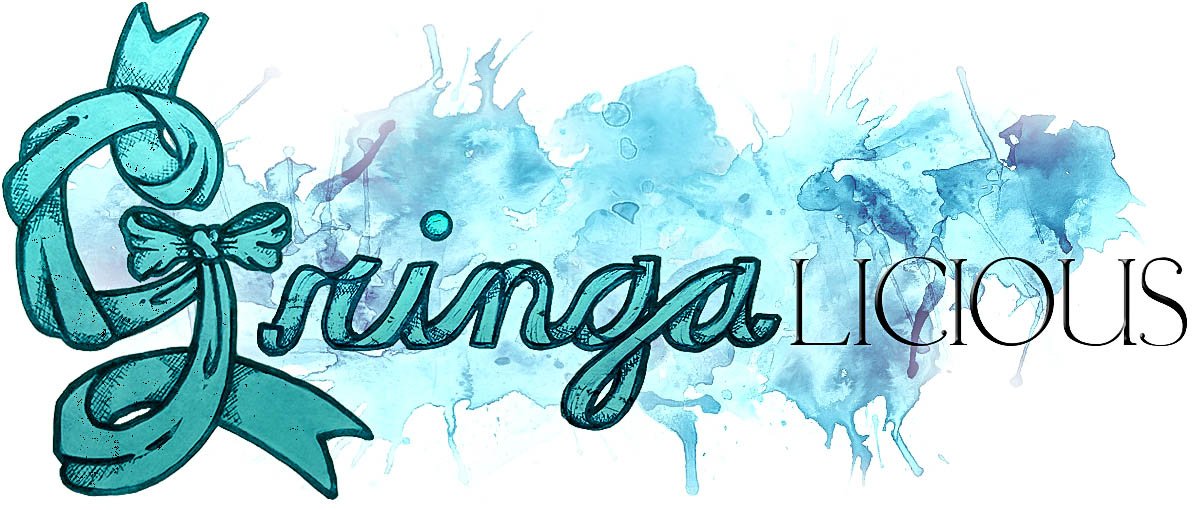 If you're looking for more recipes check out some of my other recent posts!