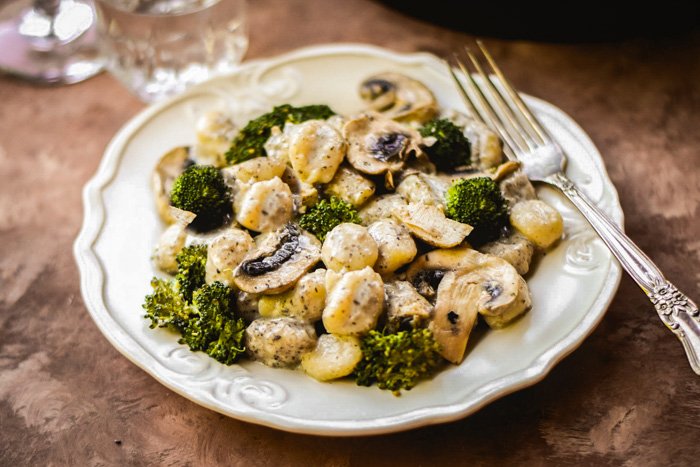 So I haven't made a gnocchi recipe in a really long time and I'm pretty sure I've only made the actual gnocchi itself 2 or 3 times. One of the biggest advantages that I love about making gnocchi is that it cooks very quickly, like 2 minutes and presto. Plus, if you use store-bought gnocchi then all you've got to make is just the sauce.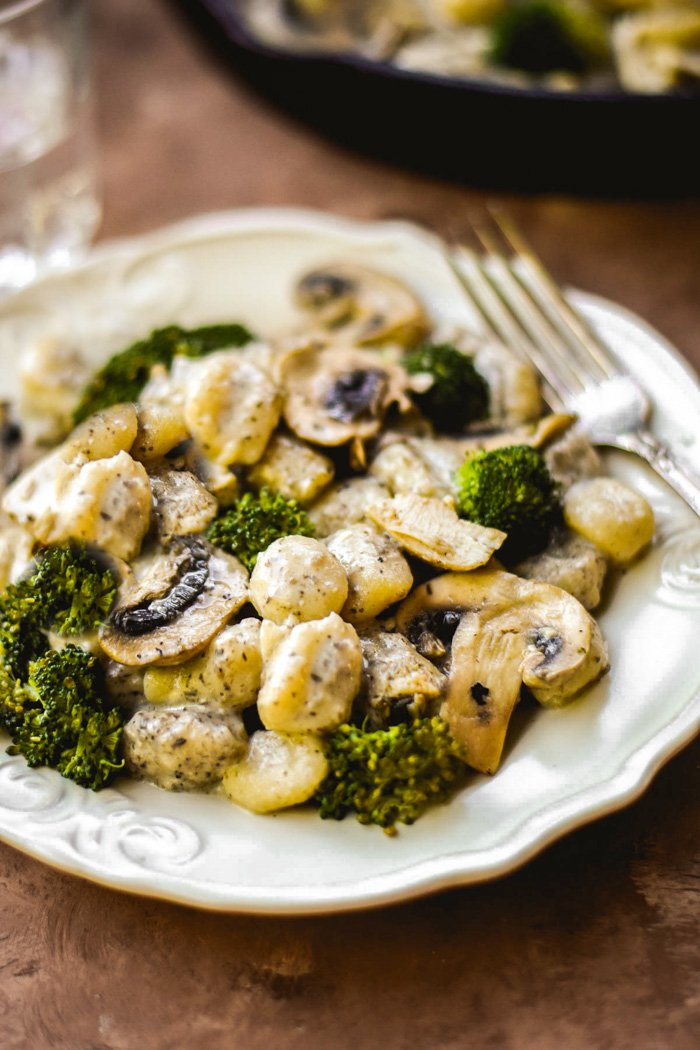 Of course homemade from scratch is always going to be better and I completely recommend you try it sometime. I'm not gonna lie though, its kind of nice to short-cut things and use store-bought every now and then. In fact, it makes this a 30-minute meal when you do that, aren't those the best kind at the end of a long day or a hard week?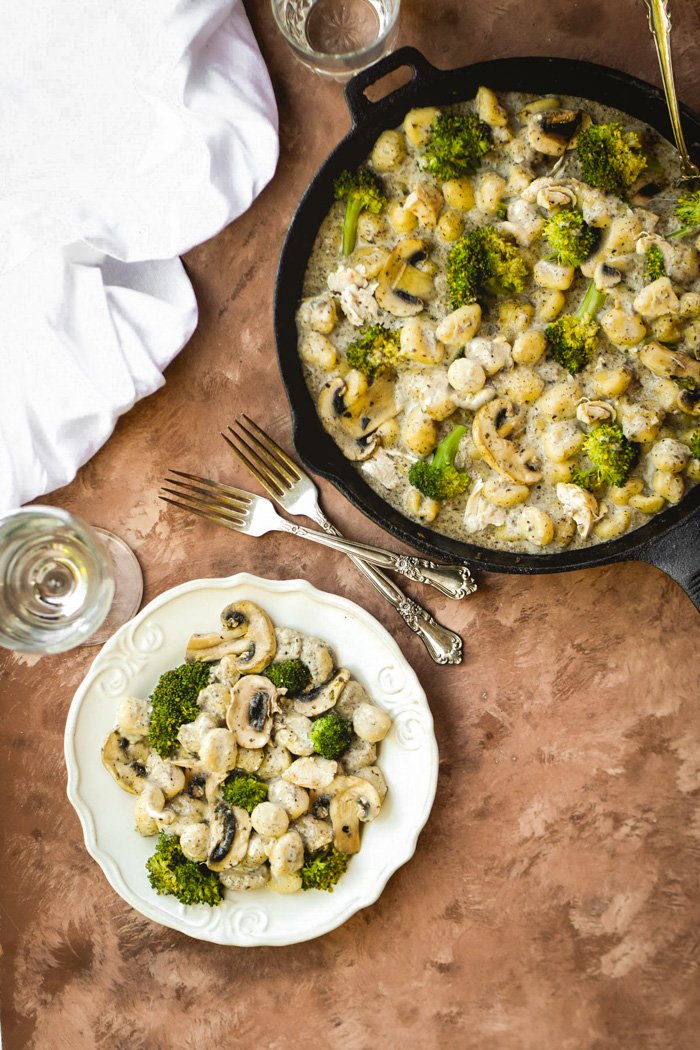 Also, this is a perfect week night meal because you just simmer everything together until you've got a simple, yet delicious meal that I think your whole family will enjoy! Total win win situation right here.
Mushroom Broccoli Creamy Gnocchi
Enjoy a quick, creamy, and delicious dinner that's so simple and requires minimal ingredients. This recipe is sure to become a favorite.
Prep Time 15 minutes
Cook Time 30 minutes
Total Time 45 minutes
Servings 8 servings
Ingredients
1 pound uncooked gnocchi pasta check to make sure it's gluten free if needed
3 cups vegetable broth
1 head roasted garlic peeled and minced
3 cups broccoli florets
3 cups portabello mushrooms sliced
2 teaspoons lemon juice
1 cup raw cashews soaked
1 13.5 ounce can full-fat coconut milk
1/4 cup nutritional yeast
salt & black pepper to taste
Instructions
Heat the vegetable broth in a large (deep) skillet over medium heat and add the broccoli. Cover and steam for 6-8 minutes until fork tender.
In a blender or food processor, combine the cashews, lemon juice, coconut milk, nutritional yeast, and roasted garlic. Pulse until smooth.
Now back to the skillet, add the sliced mushrooms and continue cooking for 2 to 3 more minutes. Pour the sauce mixture into the skillet and stir until smooth.
Meanwhile, boil gnocchi according to package instructions then drain (reserving a cup of the cooking water) then add the gnocchi and reserved cooking water to the sauce. Simmer, stirring gently, until the sauce has thickened and everything is hot.
Season to taste with salt and pepper and serve hot.

ALL CONTENT IS MINE AND ORIGINAL! All of these food photos were taken with my Nikon D750 and my favorite Lens, the Nikon AF-S FX NIKKOR 50mm f/1.8G. You can find out more in my INTRO POST.
Also, a huge shoutout to @rigaronib for designing my logo!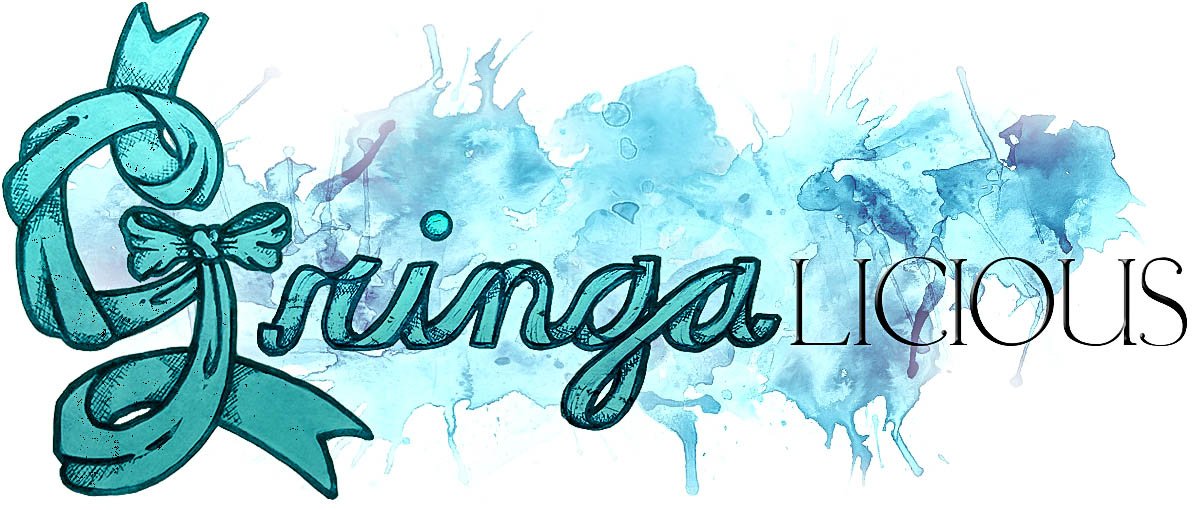 If you're looking for more recipes check out some of my other recent posts!