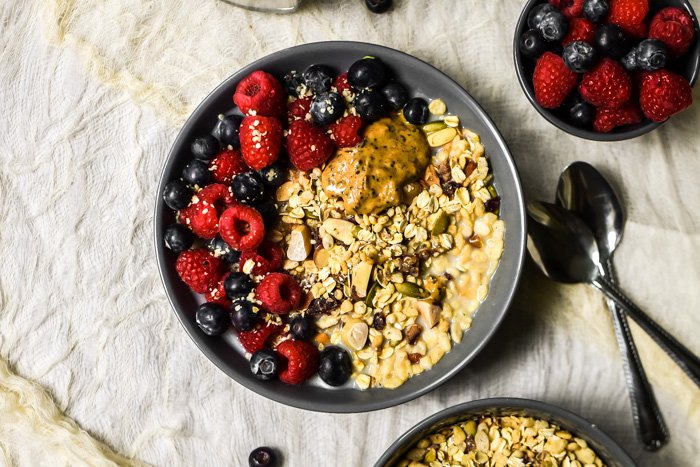 I found a new favorite thing guys! Do I say that a lot? I think I say that a lot. You've probably at least heard me obsess about granola right? Well, muesli is basically the close cousin of granola but it's just a little different.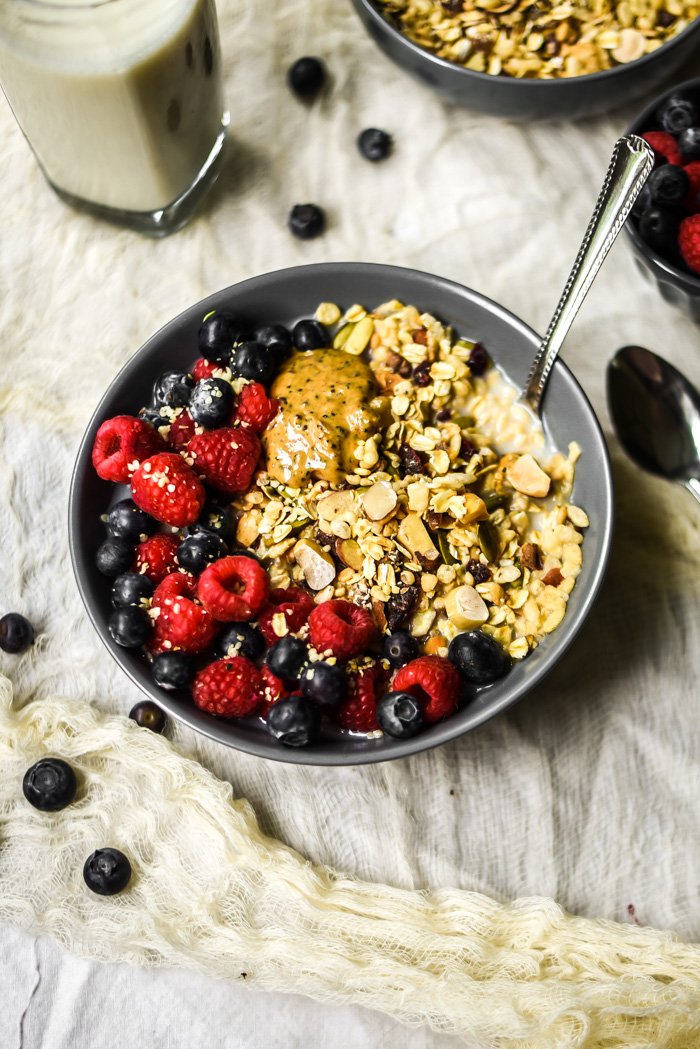 The first time I heard of museli I just didn't get it. I know for sure I didn't even know how to say it right and I couldn't figure out the difference between it and granola.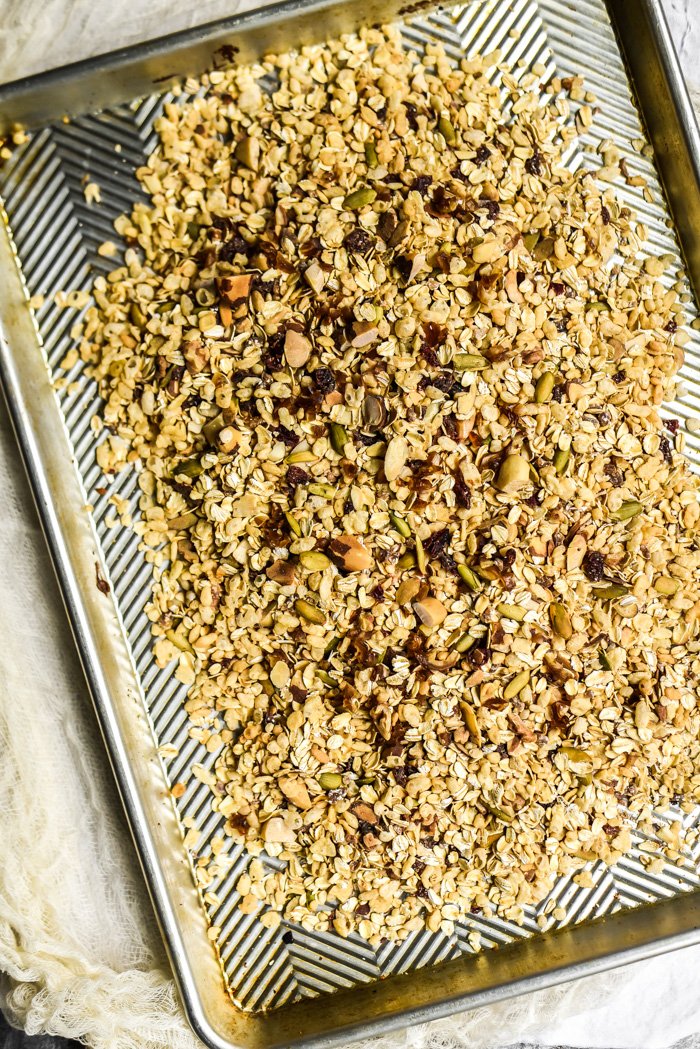 So whats really cool about muesli is that it's even simpler to make than granola. Granola is actually really easy so that's saying a lot. With muesli you can choose to either eat it cold as you would eat your typical morning cereal with some fruit, berries, and anything else you might like. Or you can soak it overnight like basic overnight oats, however it has so much more flavor!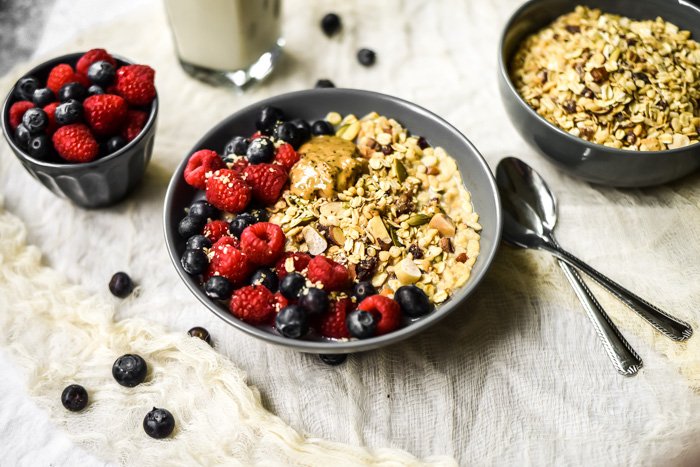 The third option is to cook it like oatmeal and eat it warm. Now many muesli recipes are totally raw and just mix together things like nuts, seeds, oats, dried fruits, and maybe some puffed cereal. While it's good like, it just takes it to a whole other level when you toast the nuts and oats first.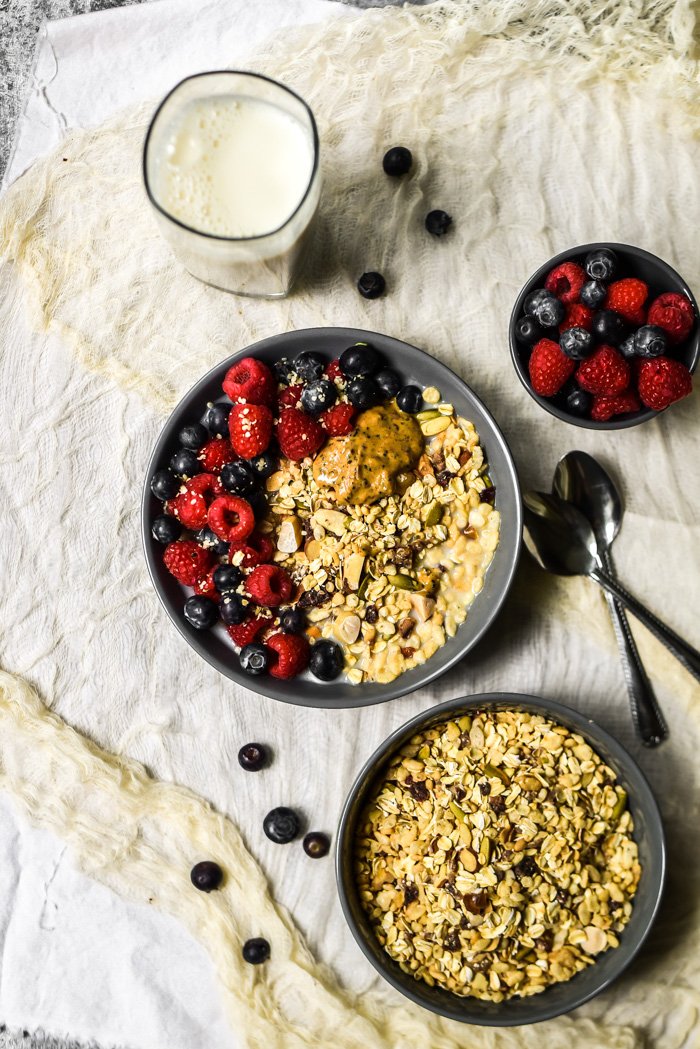 Whichever way you like it, it's a great option to have around and I'm so glad I finally gave it a try. It's also nice because it's shelf stable for a really long time. Also, if you don't have any of the nuts or seeds I used in this recipe, you can simply replace them with the kind you do have. For example, I picked up some Brazil nuts this week (because, you know #health) so they made their way into this but you could just as easily use almonds, pecans, etc. Also, I've had this major thing going on with pepitas recently so those are in this, but sunflower seeds work, or even just use more nuts.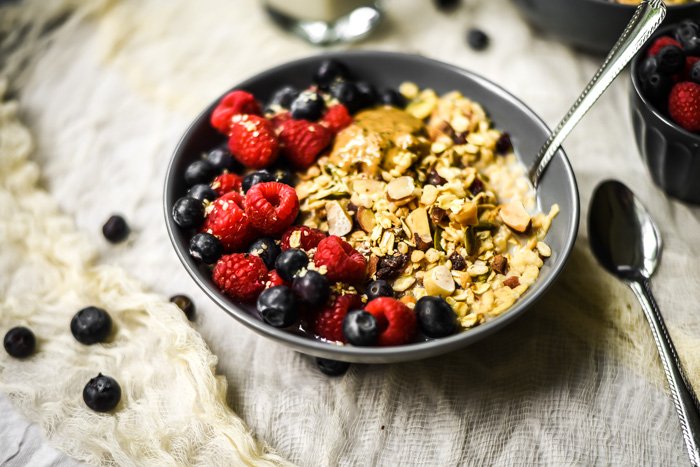 Here's the breakdown. You really just need about a cup worth of any nuts or seeds that you so desire, then about a cup of any died fruits you want (cut into tiny bits), and then some oats and crunchy cereal. For that I used your basic crispy rice cereal. Anyway, I hope you're encouraged to try it and make it your own. One last thing is that it's only sweetened with the dried fruit so if you like you'd like it a bit sweeter and you're feeling extra indulgent, feel free to drizzle on some maple syrup.
Let me know what you think!
Simple Nuts & Seeds Muesli Cereal
Prep Time: 5 minutes
Cook Time: 15 minutes
Total Time: 20 minutes
Yield: 4-6 servings
Ingredients
3 cups old-fashioned rolled oats
3 cups crispy rice cereal (unsweetened)
1 cup roughly chopped nuts and/or seeds. I used:
1/4 cup pepitas
1/4 cup walnuts
1/4 cup Brazil nuts
1/4 cup slivered almonds
1 cup finely chopped dried fruit or dates. I used:
1/2 cup craisins
1/2 cup dates
1/2 teaspoon sea salt (optional)
1/2 teaspoon cinnamon
Instructions
Preheat oven to 350 degrees F and line a baking tray with parchment. Spread the oats and nuts/seeds on the pan and sprinkle with salt and cinnamon then place in the oven to toast for about 10-12 minutes. Remove from oven and cool completely.
In a large bowl, combine the toasted ingredients with the dried fruit and puffed rice and store in an airtight container until ready to use.
To serve you can either; A: top with milk of choice, fresh fruit and nut butter. B: Soak in mil of choice overnight for a delicious cousin of overnight oats. C: Cook like oatmeal and enjoy warm.

ALL CONTENT IS MINE AND ORIGINAL! All of these food photos were taken with my Nikon D750 and my favorite Lens, the Nikon AF-S FX NIKKOR 50mm f/1.8G. You can find out more in my INTRO POST.
And, by the way, to all the minnows out there, my intro post did a huge $0.21. The key to success on Steemit is to be consistent and persistent. Click on the link below for some great tutorials on how you can also succeed on the steem blockchain: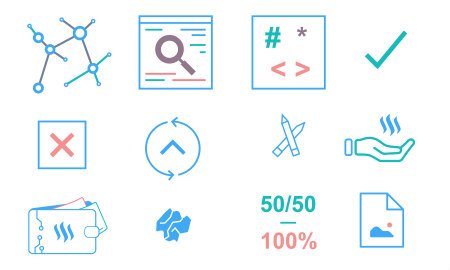 Also, a huge shoutout to @rigaronib for designing my logo!
Oh, and did you catchall the other travel posts from my Canada and New York?
NEW YORK
Do you want to learn more about me? Click here to see a recent @wadepaterson interview with me - 20 questions with @gringalicious