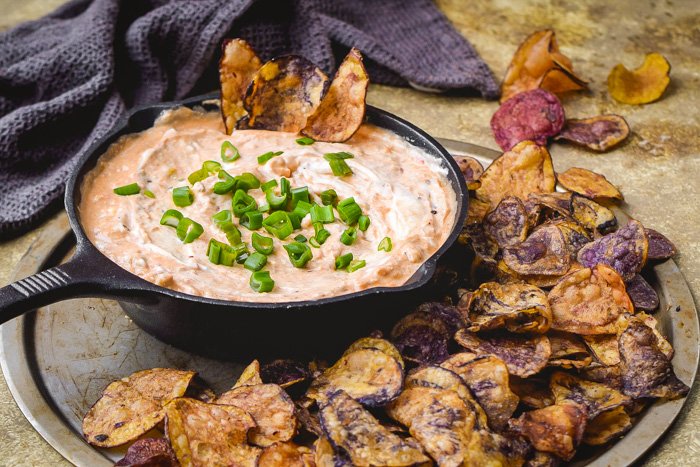 Some of my absolute favorite recipes are the ones that remind me of different people and times in my life. I'm guessing it's the same for you. What is it about a specific taste or smell that can immediately put you in a favorite memory, it's crazy? So I feel like this recipe's worth sharing for those of you who haven't had anything like it.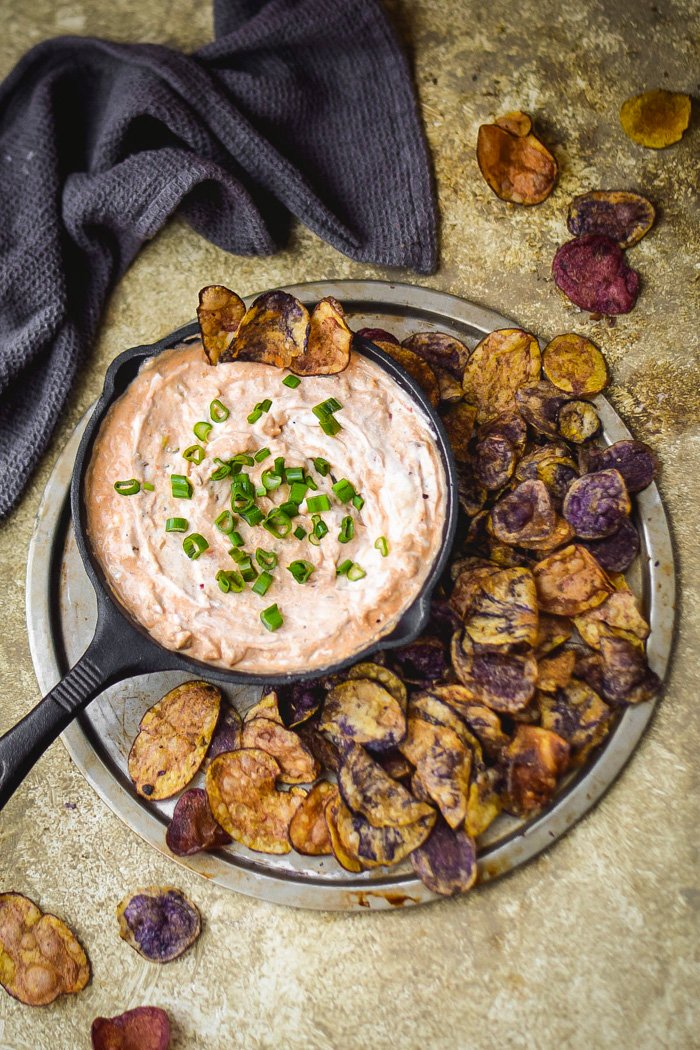 It's quick and easy to make but I really feel like the final result is so much better when you use fresh ingredients that aren't straight out of a can. I mean, I completely do understand that part of what makes the other version such a go-to is that it's about 3 ingredients and takes literally minutes to make, but I also know that spending just a little bit more time for quality is so worth it. Really you guys, starting with whole ingredients hardly takes much longer and you can control the flavors and ingredients way more that way.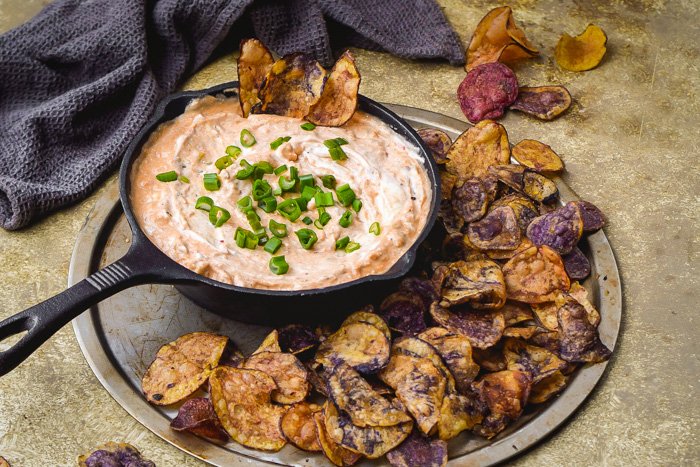 Okay so after you whip up this major crowd pleaser you, of course, are going to need some dippers. You can always go with obvious choices like tortilla chips or if you're feeling like something more artsy like I was, you could use muti-colored potato chips. Some other things that go well with this are toasted bread slices, pretzels, crackers, or even some veggies (Lol, good luck getting the boys to eat those though).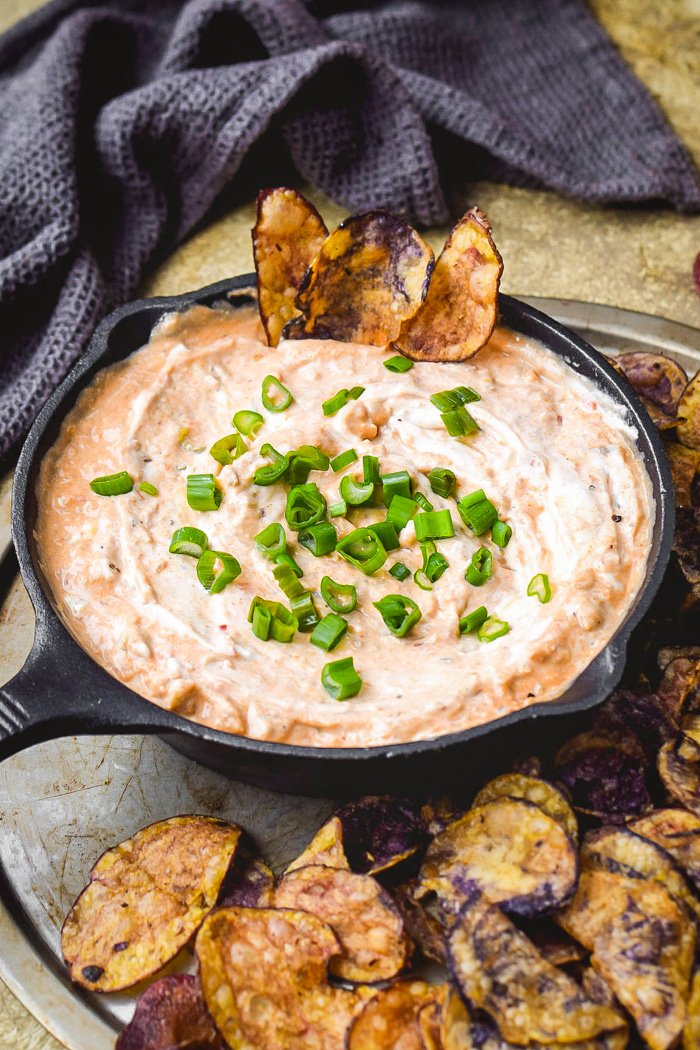 The bottom line is that even with using all real ingredients this is still an extremely easy dip to make and it's a winner every time!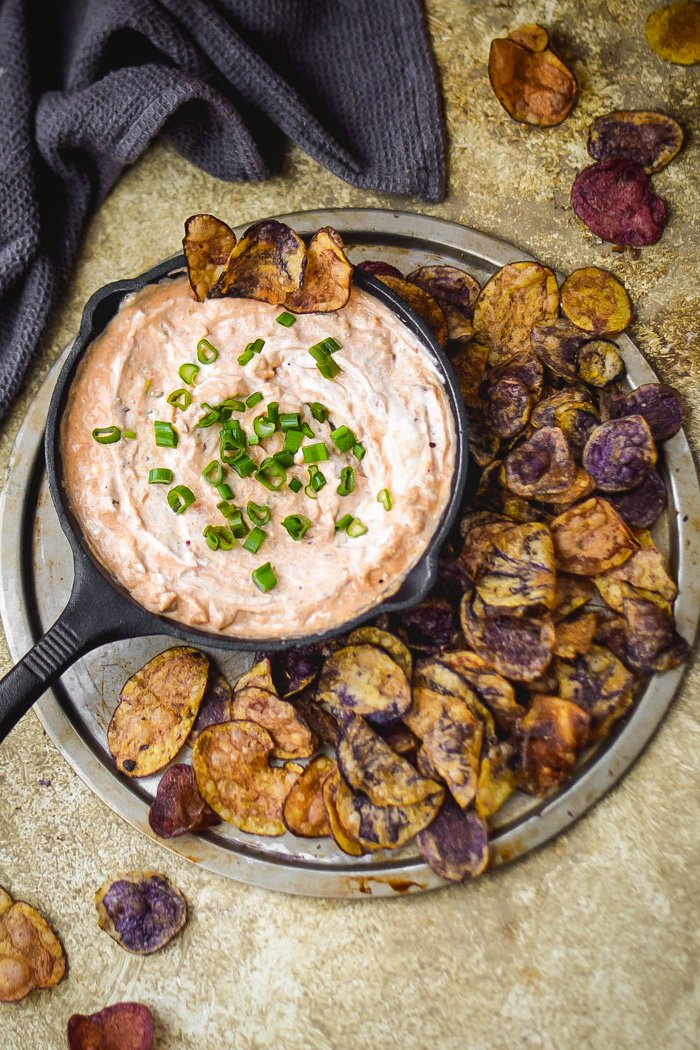 Spicy "Cheddar" Chili Queso Dip
Every party needs a delicious dip and this one is sure to be a favorite.
Prep Time 10 minutes
Cook Time 35 minutes
Total Time 45 minutes
Servings 18 - 24 servings
Ingredients
2 medium tomatoes diced
1 medium red bell pepper seeded and diced
2 small green chili peppers seeded and diced
1 jalapeno pepper seeded and minced
1 small onion diced
3 cloves garlic minced
2 tablespoons cornstarch
2 cups plant-based milk
1/2 teaspoon dried rosemary
1/2 teaspoon ground sage
1/2 teaspoon dried thyme
1/2 teaspoon fennel seed
1 teaspoon paprika
1 teaspoons salt
1 teaspoon pepper
1/2 cup nutritional yeast
1/2 cup shredded dairy free "cheese"
2 tablespoons lime juice
1 cup non-dairy yogurt
additional salt and pepper to taste
diced green onions for garnish optional
Dippers for servings i.e. tortilla chips, toasted bread slices, potato chips, pretzels, or veggies
Instructions
In a large skillet, add the tomatoes, peppers, onion, and garlic to the same pan and cook for 2 to 3 minutes until softened and fragrant. Whisk together the milk and starch in a small glass or bowl until completely smooth, then pour into pan and reduce heat to low. Add the spices, salt, and pepper and stir constantly until the sauce begins to thicken.
Add the lime juice, yogurt, cheese, and nutritional yeast and continue stirring over lowest heat until evenly melted and creamy. Season to taste with more salt and pepper to taste and if desired top with green onions.

ALL CONTENT IS MINE AND ORIGINAL! All of these food photos were taken with my Nikon D750 and my favorite Lens, the Nikon AF-S FX NIKKOR 50mm f/1.8G. You can find out more in my INTRO POST.
Also, a huge shoutout to @rigaronib for designing my logo!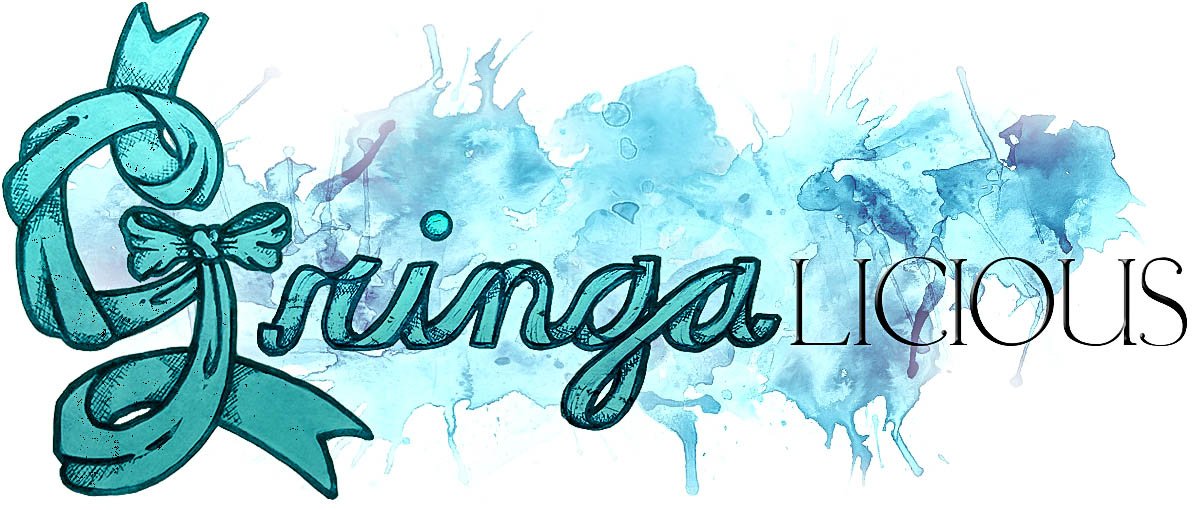 If you're looking for more recipes check out some of my other recent posts!