MULTAN'S VISIT
BEST VIEW OF MULTAN (PAKISTAN)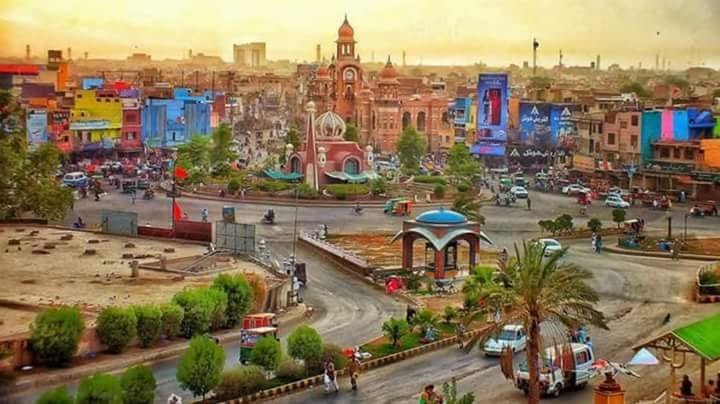 How to spend 5 Days in Multan
Day 1
Goto Fort Kohna Multan, see Tombs of Bahaudin Zikarya and Tomb Shah Rukne Alam see Art GAllery on damdama and Arts inside old Barood Khana. See old cannon in police station and an old stadium inside fort. Got Qasim Bagh inside fort and see ruind of an ancient temple named Parhaland Mandir. See Ghanta Ghar chowk and clock tower from roof of Art Gallery in Multan fort. Eat Naveed biryani from ghanta ghar and get it better packed.
Dont forget to feed pigeons all around the fort.
You can start a drive from Chowk Kumharanwala and come to Pul Mouj Darya and then goto left and reach Children Complex Hospital and buy Multani Sohan Halva from there. From here start round around old city clockwise or anticolockwise is your choice watch all Gates of Multan and Khoni Burj, namely Bohar Gate, Haram Gate, Delhi Gate (existing) and Lohari Gate, Pak Gate, Dolat gate (non existing). Buy delecious fish from khoni burj named Allah Wasaya Fish. Better get it packed.
Day 2
Goto Chaman Zar Askari lake wash fish eating popcorns, get rides if you like, and paddle boats. Come to Cantt food street huts nearby and eat outdoors. Get something from fort bakers if you like. Goto nearby Yadgar Shaheedan Park Sher Shah Road Cantt. See beautiful yadgar monuent. Come to nearby CSD plaza and have shopping around these shops.
All above things are at walking distance to eachother.
Day3
Take a long drive towards River Chenab (>10km) on Muzafar Garh Road and have boating or play volleyball or bedminton on chenab river bank and then eat from Billay Da Dera or Dera Inn on bypass road.
Or you have long drive towards sutluj (=80km) on Bahawalpur road. See greenry around this patch of drive and at end you can goto Noor Mahal inside Bahawalpur or may take turn back from River Sutlaj and eat from famous restaurants of highway namely Mushtarka Balochistan Hotel (enjoy sitting with pillows) or Hotel Taj (fantastic food paratha with handi) or luxury Libra food and wonderful location.
Day 4
Reserved for Shopping? Dont forget to buy Multani Khussa (shoes) and world famous embroidery. Goto cantt bazar and plazas of cantt (Sadar Multan) to have quality and many brands. Want more stuff and enjoy old bazar Hussain Agahi near Ghanta Ghar Multan.
You can taste Sharif Plaza at kachehry chowk Multan and get lot of stuff there.
If you only like national international brands then goto Nawa Sherher Abdali road and clean shopping at Cheone Plaza and United Mall. Eat at Indulge inside Chenone Tower. Watch Multan Institute of Cardiology from glass windows of Indulge restaurant. And see monement of birth of Ahmad Shah Abdali nearby these malls. Abdali road hosts luxury hotels and restaurants of Ramada Multan and Zanzibar Multan.
Day 5
Multan is incomplete if you dont taste at Bosan Road and Gulgusht. Pizza Hut, Jhok candle light dinner, Masoom's Cafe, Gloria Jeans. Gol Bagh. Life of Chungi No 6 Bazars.
If get some time then take a look around drive across Nishtar Medical College Clock Tower (Working and looks beautiful in evening) Shah Shams Tabrez historical tomb, historic Eidgah mosque at Khanewal road,
If you make a plan to stop then. Children's favorite Jinnah Water Park New Multan or Ali Baba games at Bussiness Plaza Bosan Road make them happy. Or see art of BZU or see beautiful Sculptures of Sadiq Ali Shehzad in Art Gallery of Arts Council Multan