Rumoh Aceh (rumah tempat tinggal orang Aceh) kelihatan sangat sederhana. Karena terbuat dari bahan-bahan yang juga tergolong sederhana. Bahan-bahan Rumoh Aceh terdiri dari kayu, pohon kelapa, bambu dan atapnya terbuat dari daun rumbia (on meuria)atau daun kelapa yang biasa diikat dengan rotan. Meskipun rumoh aceh kelihatan sederhana, namun semua satuan-satuan yang terdapat didalamnya mempunyai arti khusus bagi Adat dan Kebudayaan Aceh.
= Rumoh Aceh (home of the Acehnese) looks very simple. Because it is made of materials that are also quite simple. Rumoh Aceh materials consist of wood, coconut tree, bamboo and the roof is made of rumbia leaves (on meuria) or coconut leaves commonly tied with rattan. Although rumoh aceh seems simple, but all the units contained therein have special meaning for the Aceh Culture and Culture.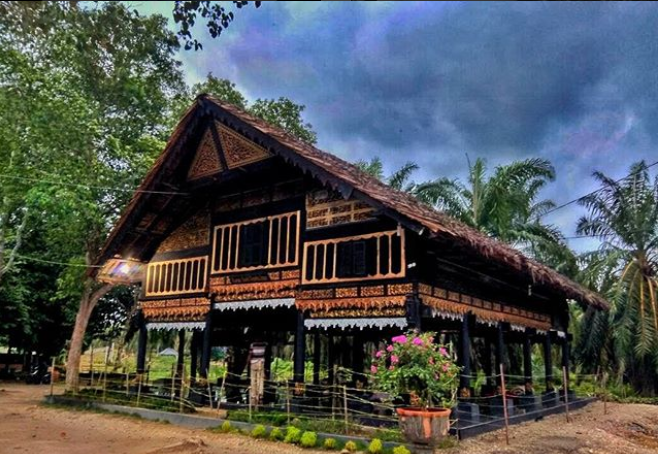 Adat dan Kebudayaan suatu masyarakat sangat di pengaruhi olehkondisi geografis di mana masyarakat itu berada. Bahkan juga di pengaruhi oleh sistem kepercayaan yang di anutnya. Begitu jg halnya tentang Rumoh Aceh banyak di pengaruhi oleh faktor geografis.
=The customs and culture of a society is greatly influenced by the geographical conditions in which the society is located. It is also influenced by the belief system in its embrace. So much about Rumoh Aceh is influenced by many geographical factors.