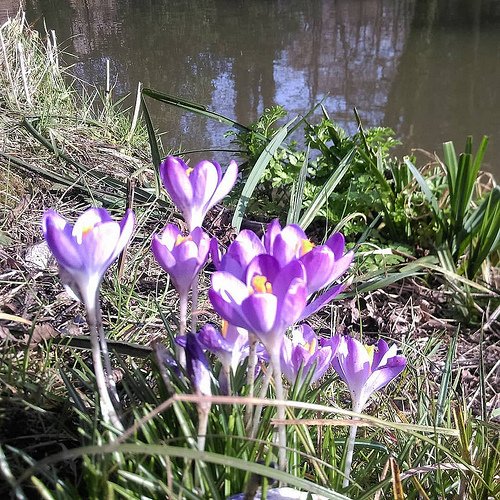 Today it didn't feel like winter for the first time this year. I'm not going to say it was spring, but it was spring-like. The birds and other wildlife obviously felt the same, there was so much chattering. At one point a robin flew down onto the path in front of me and then watched as I walked towards him, didn't fly off until I was about a foot away. Then a squirrel sat in a garden as still as can be, hoping perhaps that I wouldn't notice.
The water is high in the canal and the bit where it feeds into the river was gushing hard, the weir gates at their maximum.
The locks are all full too, and muddied up. Meanwhile the swans strut around and the ducks were busy doing whatever ducks do.
I met a friend in the High Street as I was walking down, staring into the distance at the hill that goes up the other side of the river. We exchanged stories of being overdressed and too warm, but surely mustn't grumble.
It would be lovely if it stopped here, but there's always the nagging thought that this is climate change and that this country oughtn't to have such short winters, we're not set up for it. And yet, I also know that we often have odd days like this and then it can still snow through March.
So hope, a little trepidation, but mostly hope.