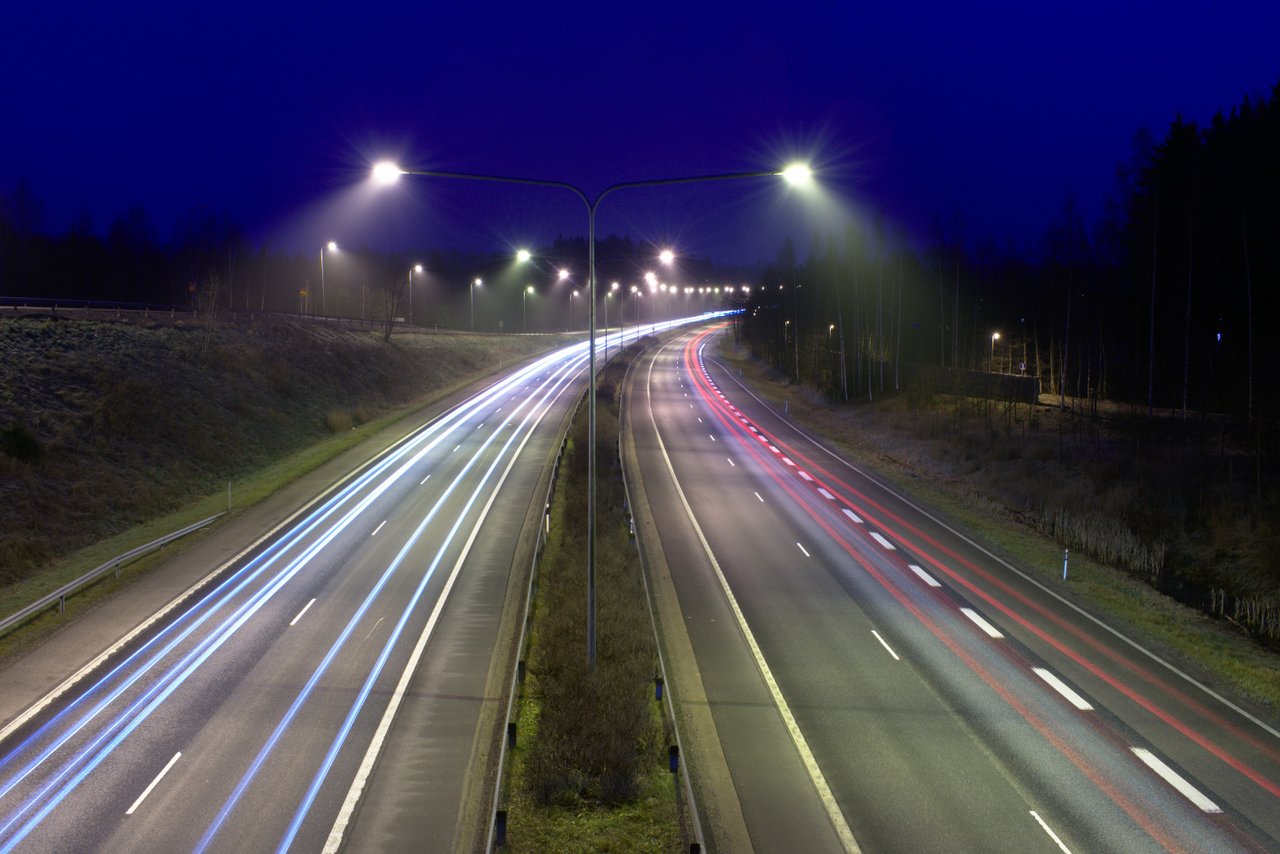 f/13, 18 mm, ISO 100, 30s, white balance adjusted towards the colder
My family and I went shopping for clothes to a mall outside the city today. When we were done eating, my wife and my daughter went shopping while I was waiting. I took the opportunity take this motorway shot from a bridge. I didn't even have to use my tripod because I could put the camera on the rail. I took off my cap and put the camera on it.
That motorway is part of the European road E75, also national road 4 from Helsinki to Utsjoki close to the the northernmost tip of the country about 1200 km to the north of Helsinki on the south coast. It's a four-lane motorway from Helsinki to Heinola about 30 km to the north of Lahti. Then it runs to Jyväskylä and Oulu about 600 km north of Helsinki. Then to Kemi along the coast of the Gulf of Bothnia from Oulu. Then it follows the largest river in the country, Kemijoki, until it reaches Rovaniemi on the arctic circle. After another 450 km, the road ends in Utsjoki, the northernmost municipality in Finland at the Norwegian border.
I've been to Utsjoki when I was a child. Our family spent a week at a ski resort to the south of Ivalo a couple of hundred kilometers to the south of Utsjoki. The whole country is forested until the very far reaches of the north. In Utsjoki, there are scarcely any coniferous trees even at low altitudes. Contrary to what many foreigners might believe, Finland is almost entirely in the northern coniferous forest zone. I'd say less than 0.5% of its territory is tundra. The satellite image on Google Maps gives you and idea of what I'm talking about. The large swathes of non-green areas surrounded by forests are bogs. Very large peat bogs exist in Lapland. Most of the year, the sun is too weak to dry them. They are found in even larger quantities in Siberia and Northern Canada. Southern Finland tends to be too warm for large areas to be covered by bogs.
And no, no polar bears can survive in Finland. There is no place in continental Europe where they have ever existed after the last ice age that ended about 9,000 years ago. They do exist in the island group of Spitsbergen about 1000 km to the north of Nordkapp, which is the northernmost point in Norway.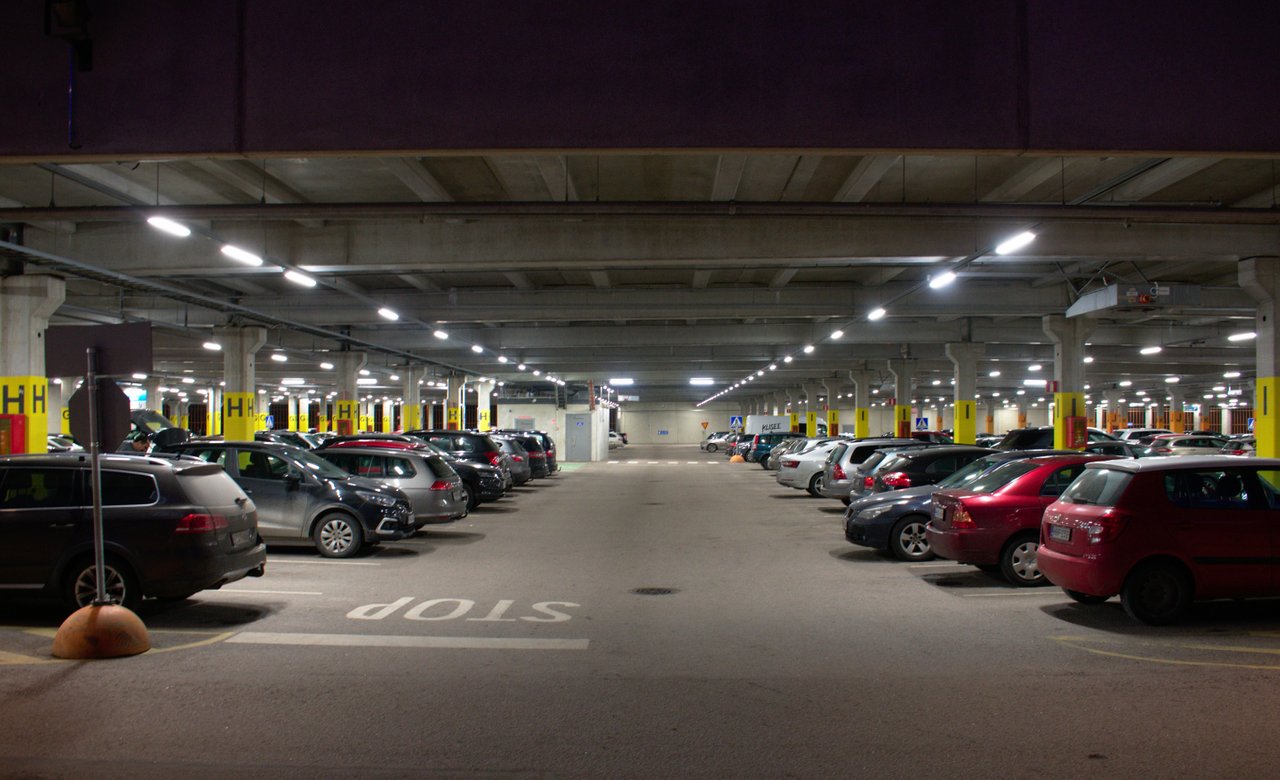 Ok, let's go and put the camera gear away.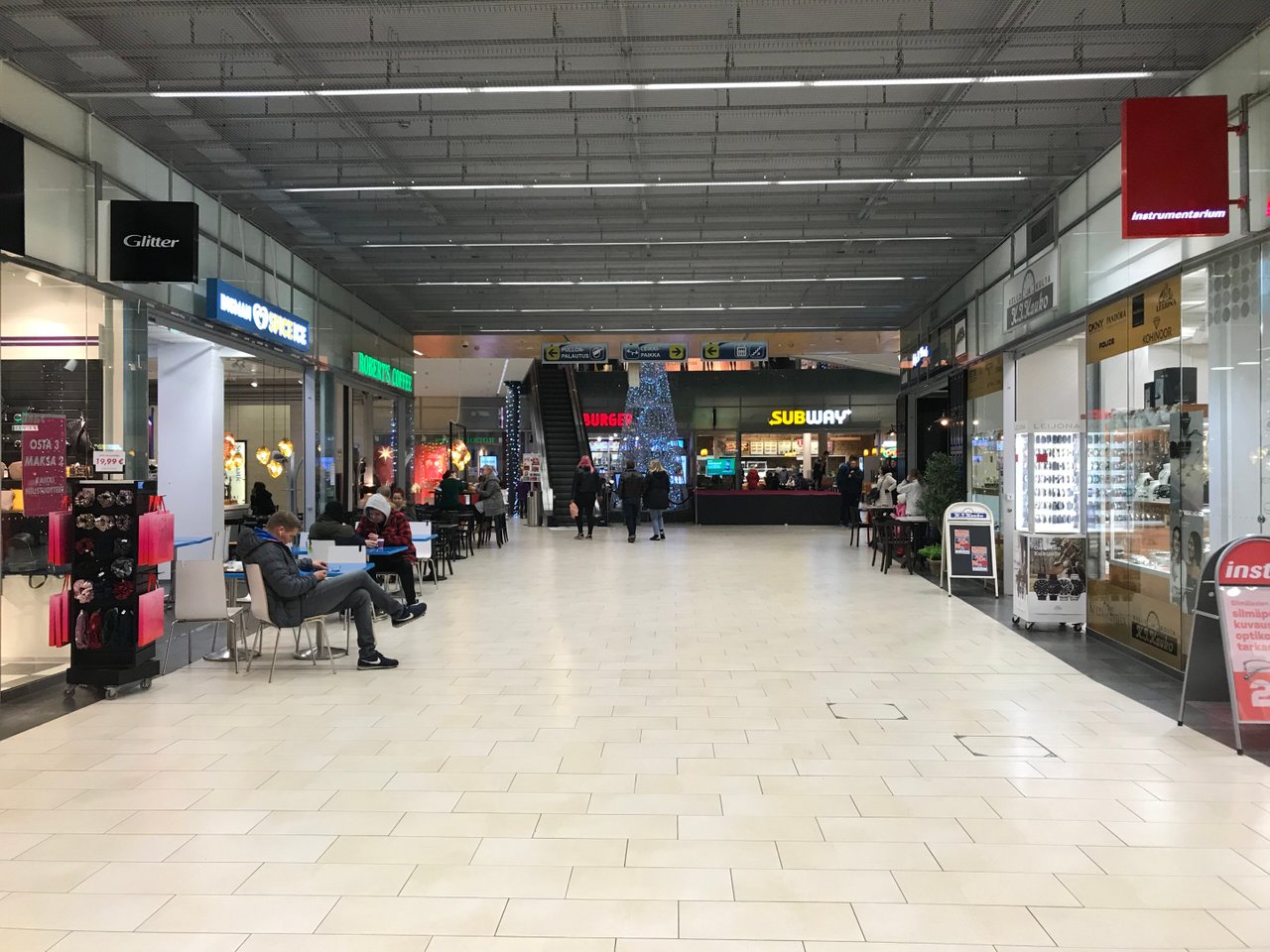 The main entrance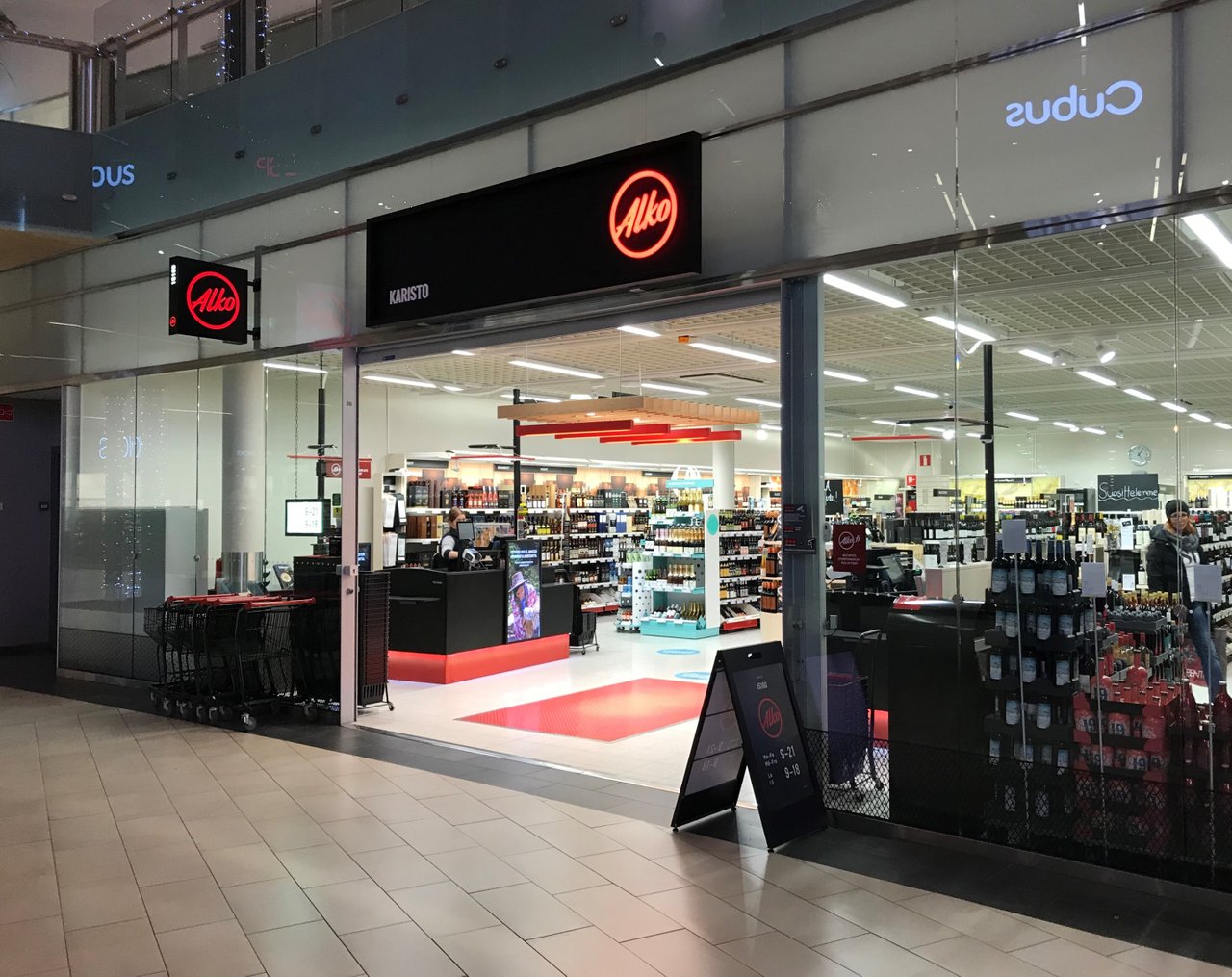 Like all Nordic countries, Finland has a state liquor retail monopoly. Nothing over 5.5% alc.vol is allowed to be sold outside these stores except for brewpubs that are allowed to sell their own bottled beers. Too bad they didn't have Sinebrychoff Porter. It's a really good porter. The alcohol content is 7.2%. Until about 6-8 years ago, it used to be sold for a little over €2 in 0.3 litre bottles, which was dirt cheap by our standards. The salesperson at the store said you could find it sold at $7 a bottle in the US and elsewhere. That store didn't have it today because the brewer had changed the bottle design and they had some problems delivering it to all the stores.
I bought Iku-Turso Imperial Stout of the Hiisi brewery of Jyväskylä. (Iku-Turso is a sea monster in old Finnish mythology.) I'll drink it later tonight.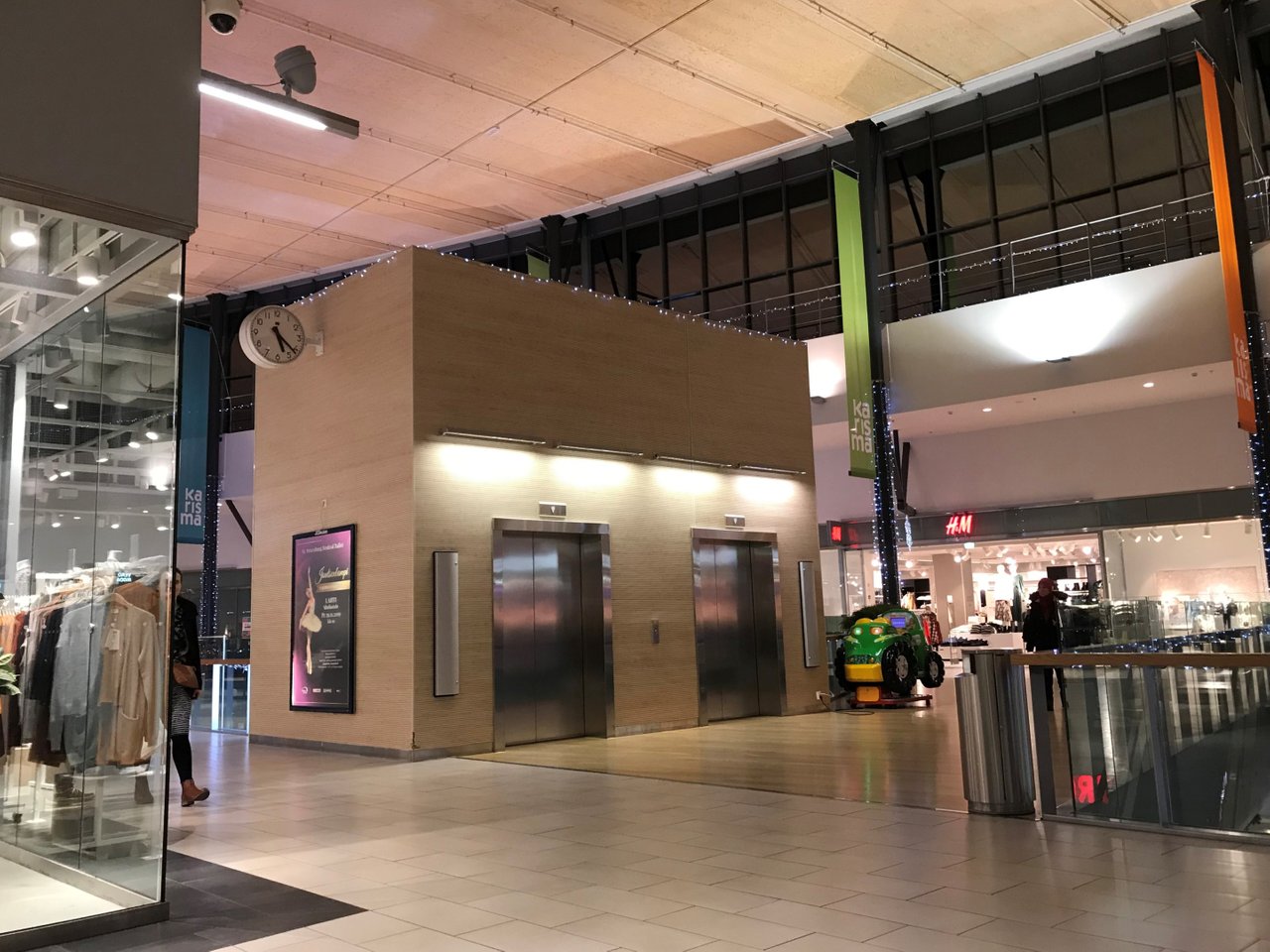 Waiting for my wife to come from the store.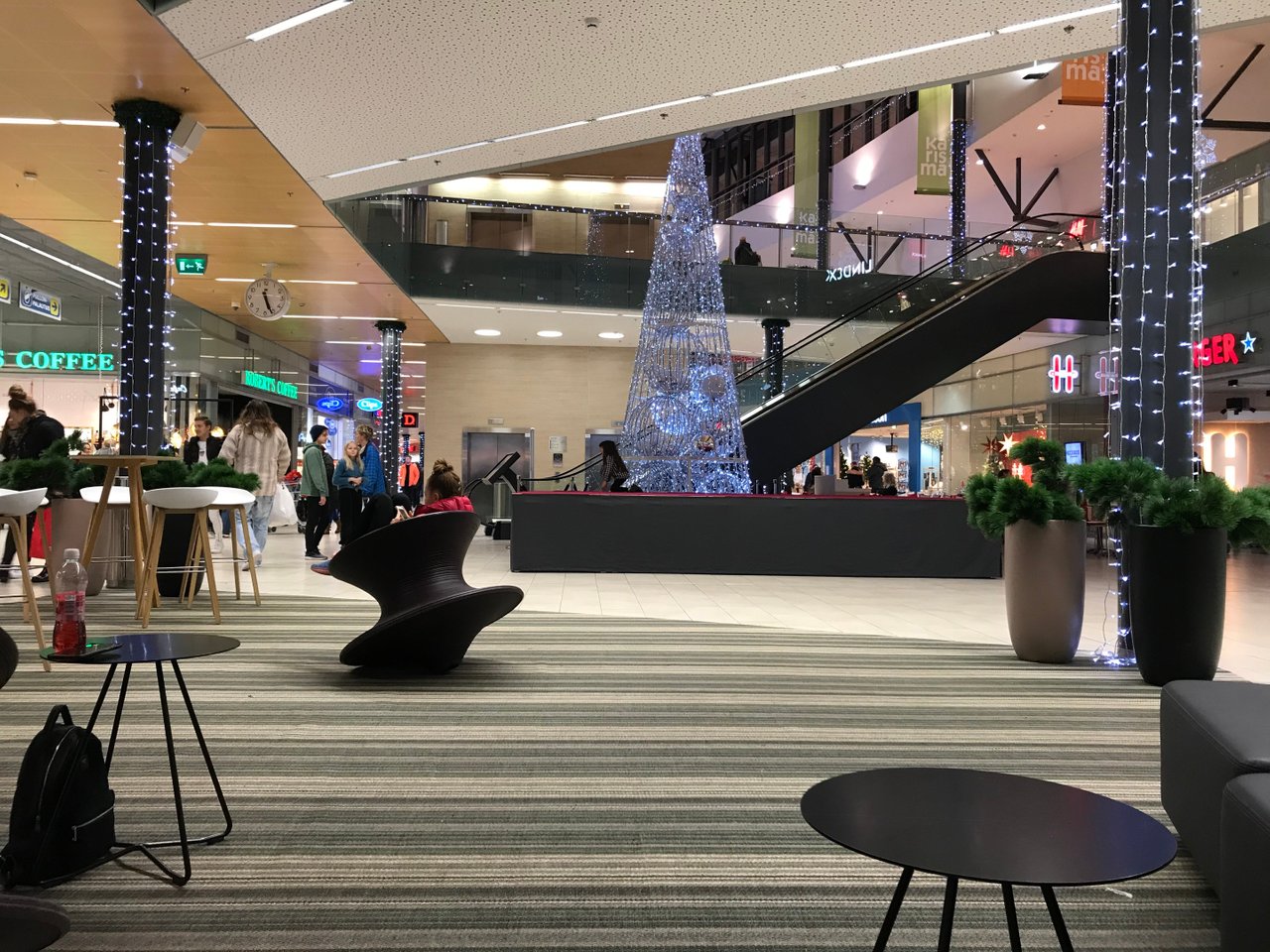 Now we're waiting for her to come from buying cat food.