Here is a collection of panos I stitched together in Lightroom. These were taken at different times of the year and are all with in a few miles of my house.
Click images for larger view



Whychus Creek Overlook - The Three Sisters (South,Middle,North) on the left, Mt Washington on the right.
Whychus Creek Overlook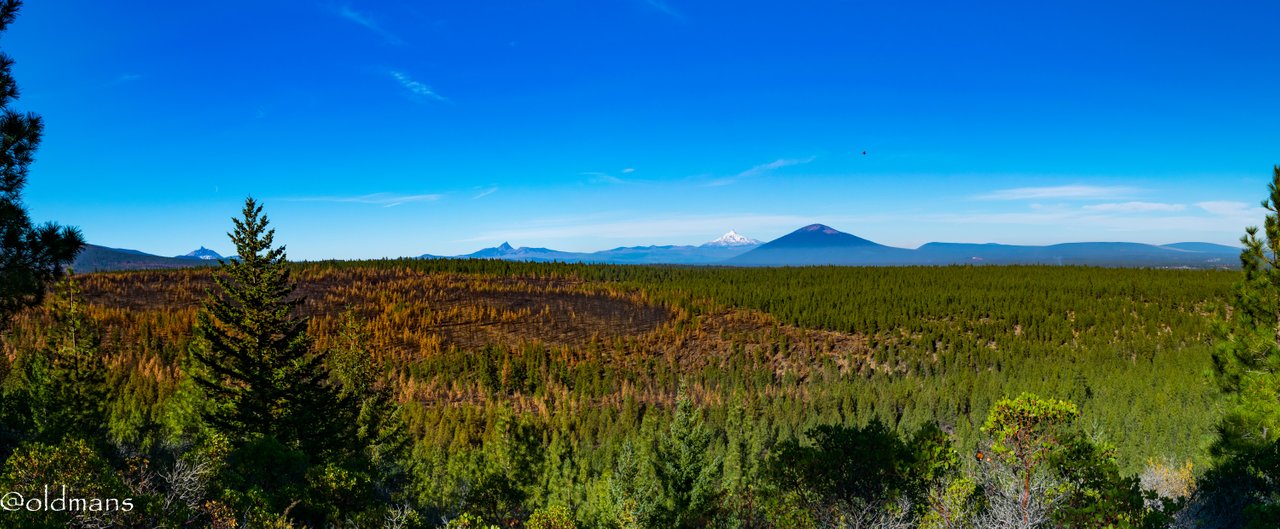 Whychus Creek Overlook - Mt Washington on the left, Three Fingered Jack middle left, Mt Jefferson (snow capped), and Black Butte the cinder cone. Both of these shots show signs of the Milli fire that burned with in a couple miles of our house in 2017.
Milli Fire


Dee Wright Observatory - North and Middle Sister on the left, sunset, Belknap Crater, Mt Washington peaking out of the clouds, and Mt Jefferson on the right in the sun.
Dee Wright Observatory


Whychus Canyon Preserve - This is taken from one of the trails in the preserve on the middle part of Whychus Creek.
Wychus Canyon Preserve


Whychus Canyon Preserve - Three Sisters on the left, Mt Washington center, Black Butte center right, and Mt Jefferson on the right.


Vertical pano of a Ponderosa Pine in the woods near my house.


Some of the main street of my town.
Sisters




These last three are taken on the road from town out to my house.
Click images for larger view
Photos taken by me with a Nikon D3300 and CPL filter with some Lightroom post processing.
Thanks for looking and enjoy your day!