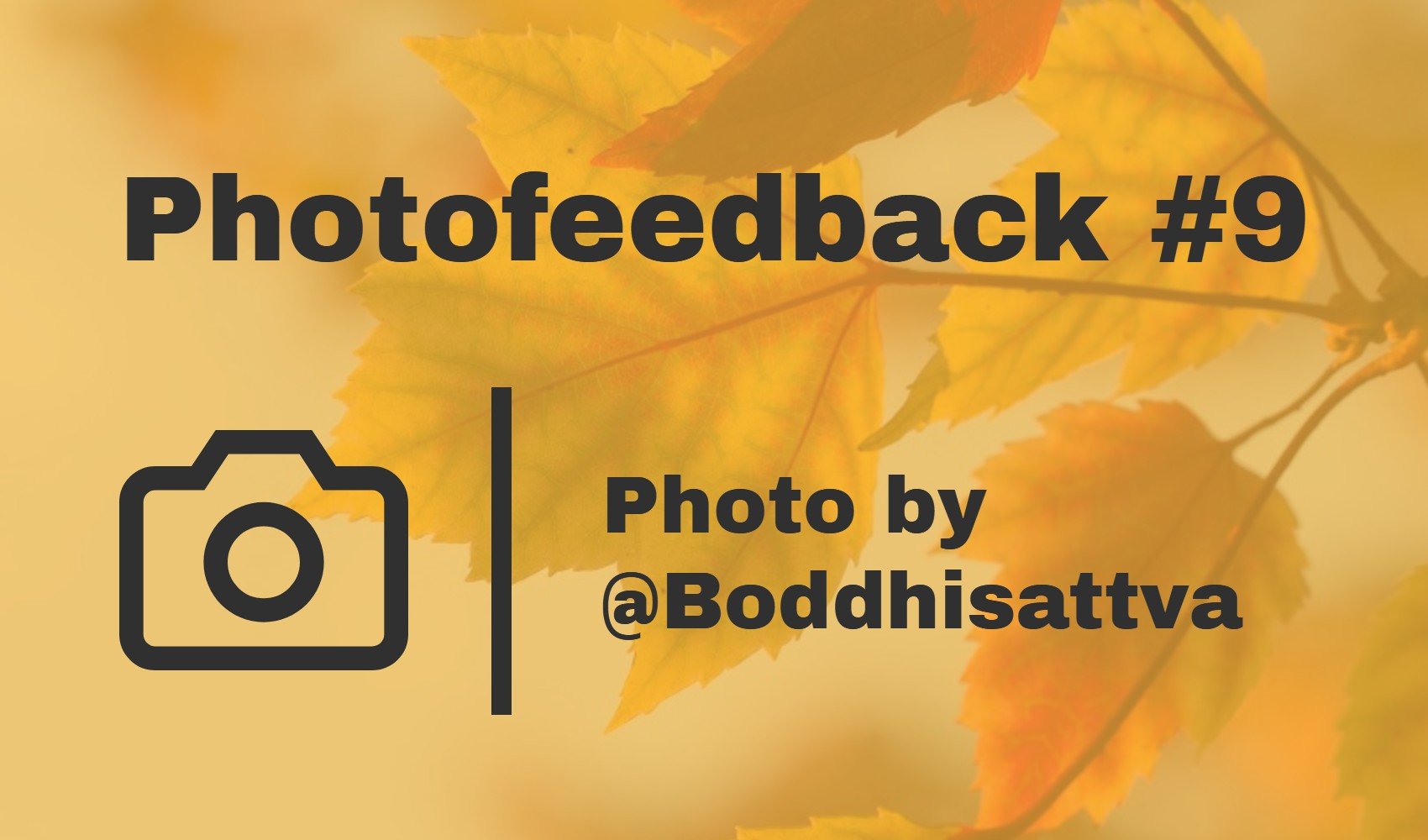 Want one of your pictures reviewed by me? Post it on your feed with the #photofeedback tag and I will review it for you!
---
Let's review another picture for you guys!
When I look outside my window, I see these beautiful yellow and orange tones everywhere. I really like autumn and the colors of nature in this season!
And it is not only beautiful to look at through your own eyes, but also when seeing photographs of this amazing change in nature.
One person who really grabs my attention everytime he posts on Steemit, is @boddhisattva. He has a photography series called 'Autumn sketches' and in this series he beautifully portrays the bright colors, falling leaves and moody weather autumn brings.
I replied to his work and he agreed with me for making a new photofeedback on one of his own pictures.
He has just uploaded his 'Autumn sketches #12: sunny day at the river' and I decided to review this latest photograph.
Please go check out his profile and take a look at his other posts. He really makes beautiful images, not only of this season, but also minimalistic black and white photography and even surrealistic landscapes!
The photo I'll review today was taken at a river on a nice sunny autumn day.
---
---
Some first impressions:
I really like the colors in this picture! Especially the bright oranges in the trees across the water. The sunlight falls really nicely on these trees and because they are brighter than the rest of the image, my eyes are immediately drawn to this part of the picture.

The lines of the banks of the river guide me through the picture from right to left. It's always nice if you're guided in a picture, not struggling to find out what to look at.

@boddhisattva shot this picture with a slow shutter speed. In hiw own post, he said he did this to add some mystery to the photo. Slow shutter speeds can indeed add a lot of mystery to pictures, because for example water will look very dreamy, without any ripples. My guess is that in this picture, the shutter speed was at about two seconds or something. I think this was too little time to really give it that dreamy look. The water still is a little too 'clean' in my opinion.
But you can definitely see the effect of the slow shutter speed!

The foreground is a little distracting to me. Because of the slow shutter speed and some wind, the grass in the foreground really comes out blurry in this image. The grass moves during the time the shutter is open and that's why you see the motion blur.

There is a little too much foreground is this picture in my opinion. The subject is the river (and the trees on the opposite side so it seems), but the grass in the foreground takes my attention away from the beautiful river. Because the grass appears blurry, this effect is increased.

I like how the sky came out a bit threatening. This adds a lot of mood to the picture, which is very nice in autumn pictures. The slow shutter speed contributed to this, because the clouds look like they are moving away from the camera. This is pleasing to my eyes, because it also adds more depth to this picture.
There are some lines to be seen in the clouds, which point at the trees across the water. This emphasizes these trees, nice!

The calmness in this picture is nice, but it also feels like there is something missing. I don't exactly know what, but I think it is a more prominent subject in comparison to the foreground.
This is exactly why I think this is a great picture for a #photofeedback: it has something very beautiful, but also things to do better next time.
I imported the image into Lightroom and started editing and adjusting a little bit:
---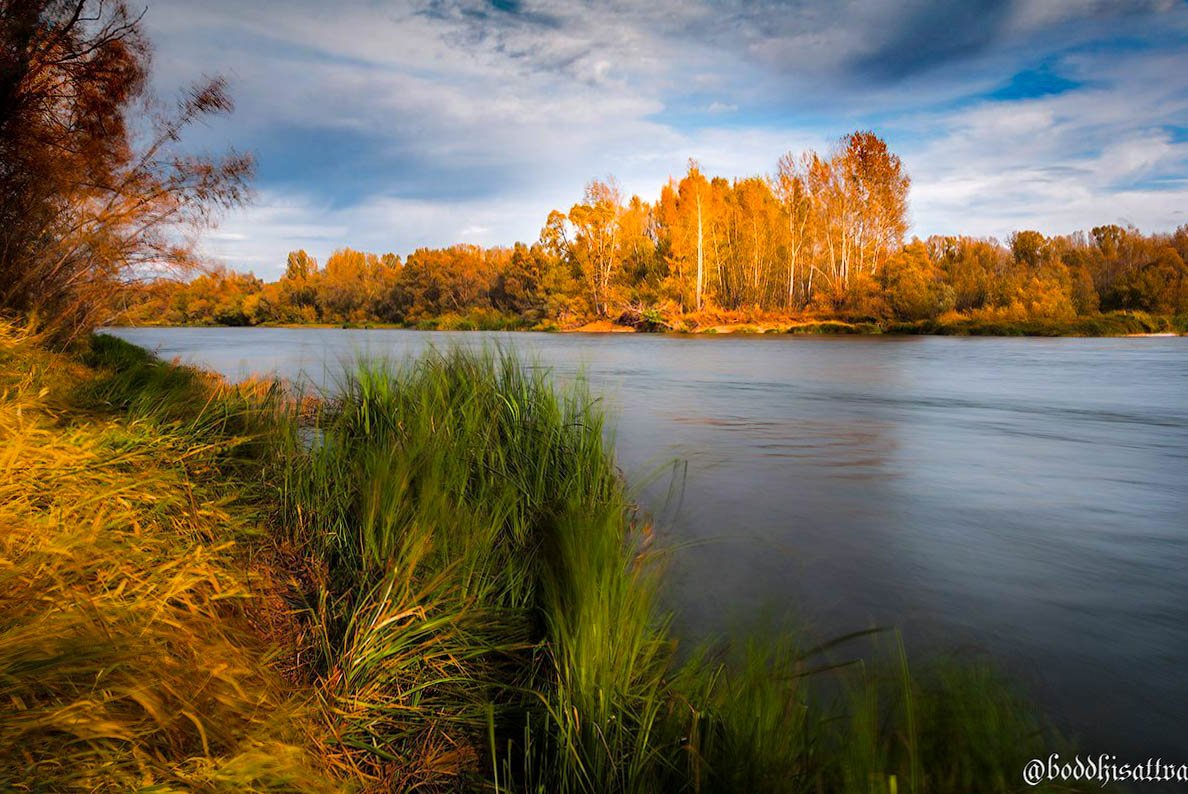 ---
What did I do and why?
I wanted to get the attention away from the blurry grass and towards the river and the trees. So I added a graduated filter to the foreground. A graduated filter is a tool to adjust a certain part of the image, while leaving the rest intact. In this filter, I made the shadows darker and I decreased the overall exposure. The foreground is a bit darker and less detailed now, which shifts the focus elsewhere.

I added some overall contrast, to make the colors pop a bit more.

Lightroom has a tool to automatically adjust the white balance. If you select a neutral piece of grey in your picture (grey with exactly the same amounts of red, green and blue in it), Lighroom will adjust the white balance. I used this tool and Lighroom added some magenta tint to it and increased the temperature a bit (more yellow).

I adjusted the horizon a little bit. It didn't seem falling to one side or the other, but I found that something was a bit distracting. Oftentimes if I don't know exactly whats distracting to me, it's the angle of the horizon. I played with this a bit and adjusted it to my preference.

I upped the highlights in the sky, to make it more bright. I also added some dehaze to this part, to make it look more threatening and dynamic.

To emphasize the beautiful trees across the water, I upped the saturation of the oranges and added some more exposure to that part.

@boddhisattva wanted to give this picture a bit of a mysterious look. I tried to increase the mystery by adding a vignette. The edges of the image are darker now.
The noise reduction tool can be used to make an image appear more dreamy. Noise reduction is normally applied to noisy pictures, but it's also useful for other things. When applying noise reduction, details disappear a little, making it look more like an aquarel painting. By doing this in this picture, the river became a bit less detailed, adding to the mysterious effect.

I tried to make different crops of this image, to reduce the amount of foreground. I wasn't quite pleased with the result, but I still want to share it with you. This is the crop that appealed to me the most (besides the original crop):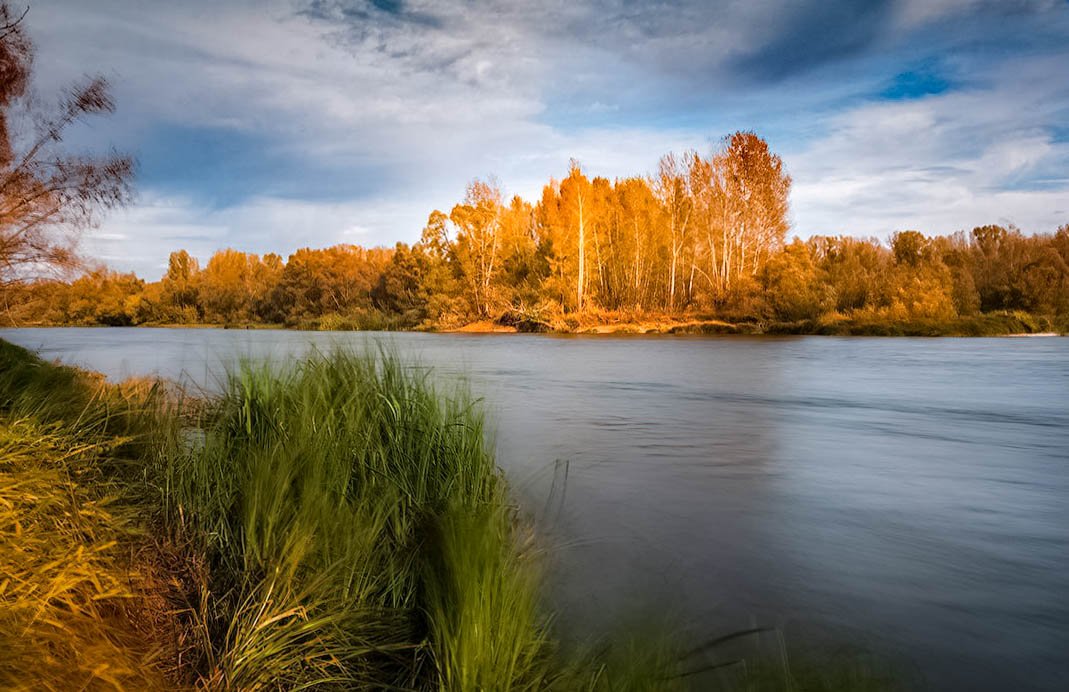 ---
What would I do differently?
I would try shooting this picture with an even longer shutter speed. This would make the water and sky more dreamy and mysterious.

I would try to aim my camera upwards a bit more. This adds more sky and decreases the amount of foreground. By doing this, less motion blur would be visible in the grass.
This effect can also be achieved by stepping forward a few steps. This would make the river appear closer, making it more interesting and impressive I guess.

I think moving to the left a bit would have excluded most of the grass, while keeping some foreground. There is this red-ish looking tree on the left side of the image. I think this picture would have been more beautiful if it was shot from there.

Maybe adding more of a subject to the picture would make it more interesting. A boat for example. I don't mean that you have to get a boat and drop it in the water haha, but maybe walking along the bank of the river would have found you an interesting subject for in this picture.
---
Conclusion:
I like this picture! The colors, combined with the long exposure, really add mood to the image. @boddhisattva has a lot of autumn pictures on his feed and he manages to tell a story and add mood in all of them. Very good job!
There are some things that could have been done differently though. I think the overall composition of this image lacks something exciting.
There are some interesting lines to be seen, but something is missing to really make the composition stand out.
I really liked reviewing this picture for @boddhisattva! Thanks you very much for allowing me to do this for you. I learn so much doing this, and I hope you learn something from it too!
Landscapes are extremely hard to master and I think there is a lot to learn about landscapes in this picture. One of these things is making your subject stand out. In a portrait, the subject is always obvious, but in a landscape this is very different and quite a bit harder in my opinion.
I think @boddhisattva makes beautiful images and really has an eye for photography. If you haven't done it yet, please check out his profile and leave him some upvotes and a follow!
And if you ever want one of your photos reviewed by me, please post it on your feed with the #photofeedback tag. I will select one of them and write a new photofeedback especially for you!
Love
#photofeedback