Hi there photofeedbackers!
I want to start off with saying that I really appreciate the comments and replies I've received so far! Everyone is enthusiastic and willing to share what they think about this new idea called photofeedback. Thank you from the bottom of my heart!
Second (and quite important): a Steemit user called @juliank gave me a great tip for making this page more accessible.
He advised to create my own tag: #photofeedback, so that people can post a photo they want reviewed together with this tag. I will check new posts containing this hashtag daily and choose one I would like to review in a new post on my feed. Thanks again @juliank! Please don't forget to follow @juliank and give him some upvotes.
So if you want your photo to be reviewed in this blog, please upload the photo with the hashtag #photofeedback and I will check it out! Please mention (if possible) your used lens and camera settings.
---
For today I chose an old picture I took myself in my hometown Amersfoort in the Netherlands. I like to look at my old pictures and see what I would do differently today. It's a great learning process!
This is a photo of an old building that was part of the medieval city wall. You can still see where the wall used to be on the side of the building. Amersfoort was an old garrison city, surrounded by a wall and many canals. This photo also shows the canal (which was being emptied, to remove garbage thrown into it). See the picture below: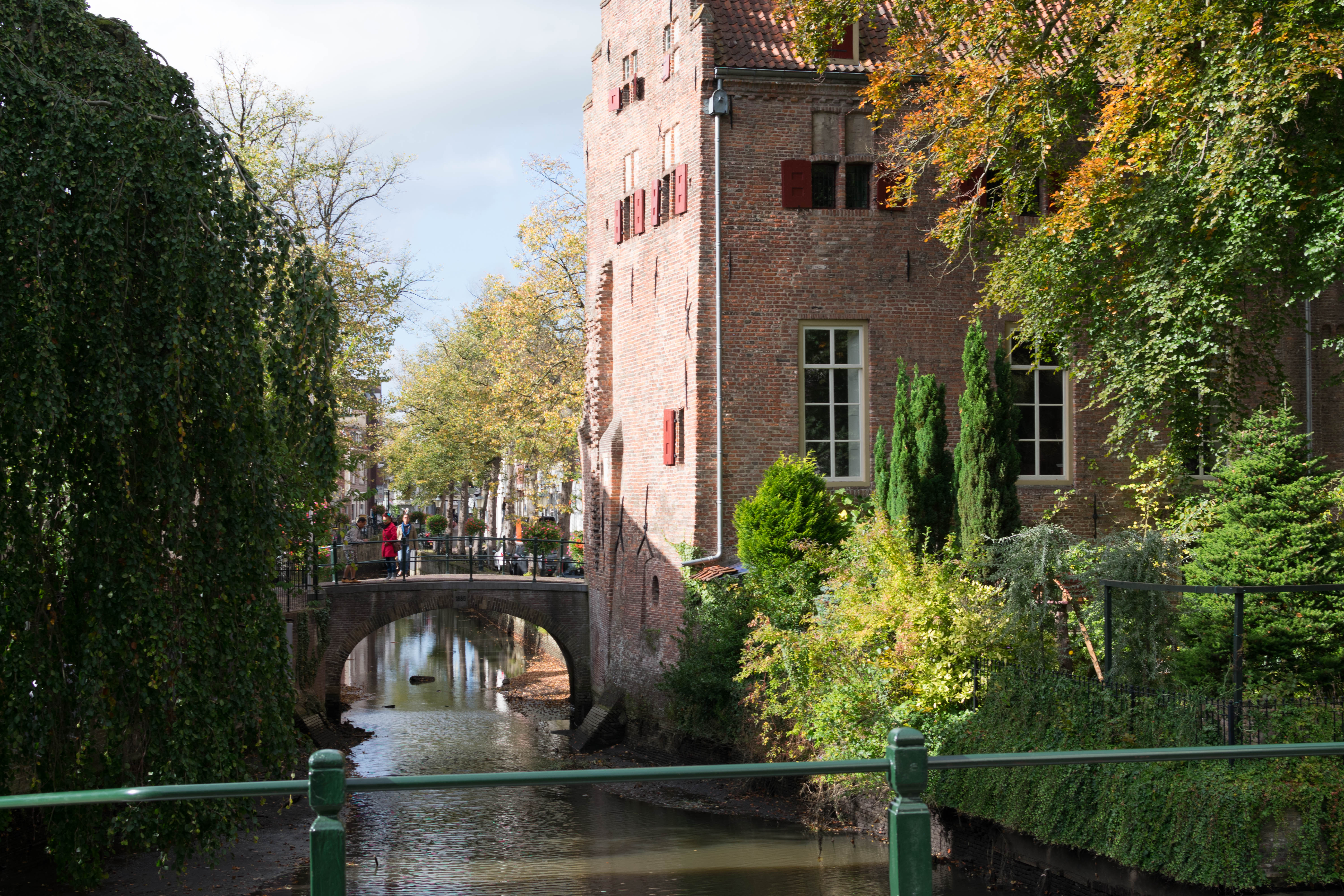 Settings:
Nikkor 35mm 1.8g, aperture at f/7.1, ISO at 100 and shutter speed at 1/125th of a second.
---
Some first impressions:
I think the settings in this photo are quite nice. f/7.1 is a good aperture, but maybe f/10 (more closed diafragm) would have made the end result a little less overexposed.
I see a lot of potential in the colors I tried to display in this photo. They are a bit faded by the harsh light (it was midday), but they are there! That's why converting this one to black and white would not be my preference.
I don't like that the top of the building isn't in the picture.
I like the (imaginary) diagonal line that is visible if you draw a line from the top of the bushes on the left, all the way along with the shadow that you see on the building. I think I did this by accident, but it looks nice and gives the photo something more.
I like the use of the famous photography rule: 'The rule of thirds', which says that a picture is more pleasing to look at, if you more or less divide your photo in thirds ( see picture I downloaded from Google below). This picture has that!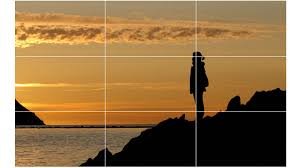 The people on the bridge are a little distracting.
The sky is too blown out in my opinion.
The railing in the foreground is a nice element, but I think it should be more in the frame, or not at all.
I did a quick edit in Lightroom to correct some things I didn't like and this is the result: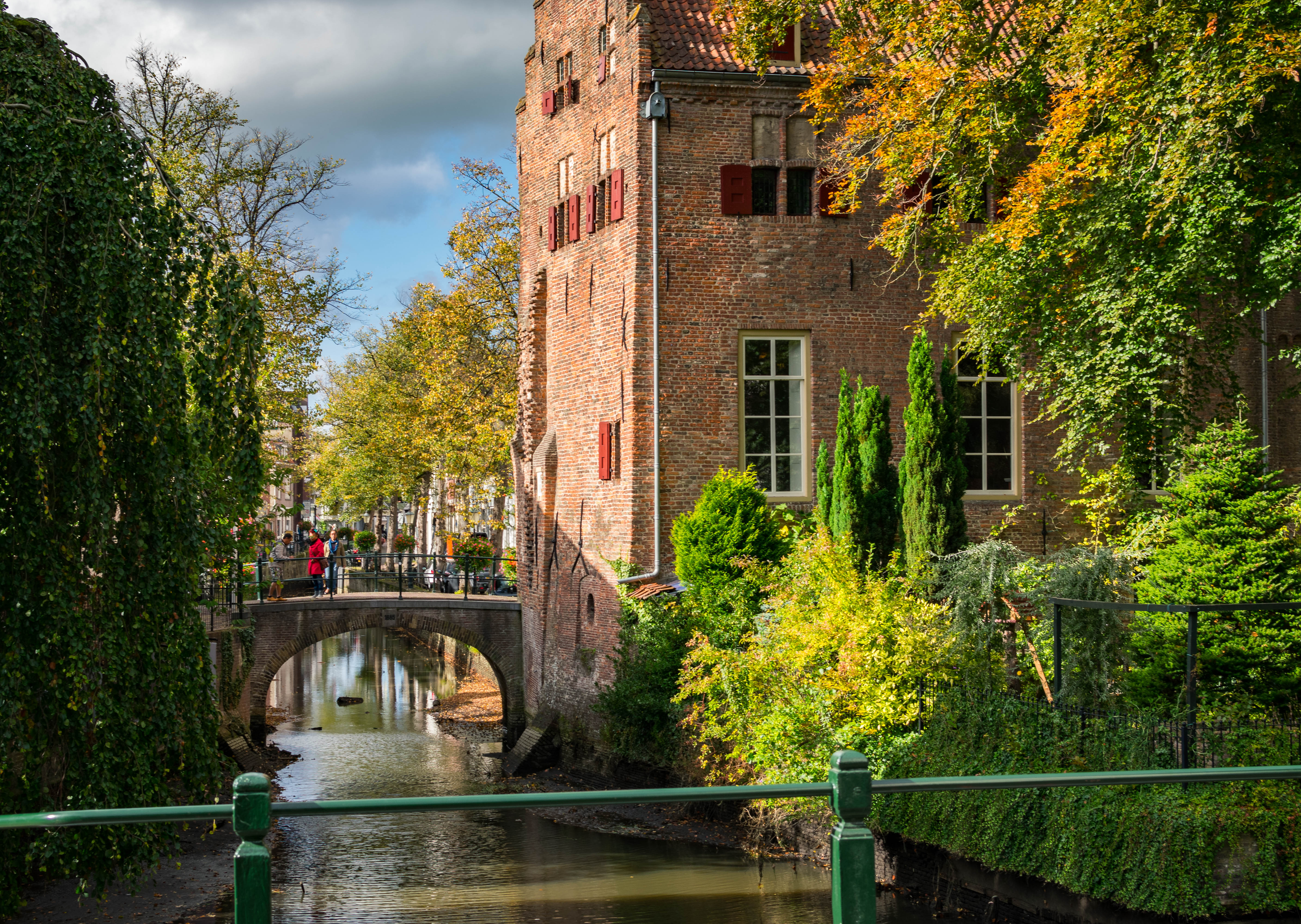 What did I do?
First of all: My edits are pure personal taste and opinion. Some people may find them beautiful, other may think they suck. But what I think is important is the reason why I made a certain edit. Then, even if you don't like it, you can learn something from it.
I didn't like the excessive highlights in the picture, so I decreased the highlight slider to zero.
The colors in this picture are great, but they were a bit washed out. So i upped the contrast and added some saturation.
I made the top of the bushes (top left) align exactly with the top left corner of the picture to emphasize the diagonal line.
I added some dehaze. This is normally used for hazy pictures, but I like to use it for making the sky look more threatening and detailed.
I added detail in the plants and in the building to show more of the beautiful structures.
I added a little vignette, to attract more attention to the centre of the picture (that's where the magic happens).
And last but not least: the shadows in the lower part of the picture (especially the bridge) seemed a bit too dark for me. I locally upped the shadows to make this better.
What would I do differently in shooting this picture?
I would definitely zoom out a little more. This wasn't possible with this lens, because it was a 35mm prime lens. But maybe stepping back a little would have made this a better picture. The top of the building isn't visible and that's a pity, because it's beautiful and quite high actually!
I would wait for the people on the bridge to walk by. I think this picture would have been better without them in the frame.
I would try shooting this with various diafragm settings and choose the best one. Maybe a higher f-stop number would have made this picture more colorful without even editing a thing.
-I would play with the composition a little bit. Shoot it from different angles to make lines or light appear.
Conclusion:
I kinda like this picture. It has some dark parts and some bright parts. Automatically my eye is drawn to the brighter parts, which is good because my subject is the bright building.
The plants on the right add a lot of color and make this a 'rule of thirds' picture.
There are some interesting lines, which make this photo more pleasing to look at. I especially like the imaginary diagonal that separates the bright from the dark parts.
---
Thank you very much for reading this post! If you liked it, please leave an upvote or a follow.
And remember: if you would like to have your photo reviewed, post it on your feed with the #photofeedback tag!
Love
Laurens