Hello and welcome back!
It's been a bit of a hiatus for this series, but with the 1 year anniversary of this trip coming up, I figured I should finally wrap up the last few installments!
So after the last installment of me leaving Gandria, I originally intended to hike up Monte Bre as well, but the weather had other ideas, as it began to pour on me. So I headed back towards my hostel in the center of the city to call it a day. Though it was raining, it let up pretty quickly and I was able to get some great views on my way back, although all the stairs I had to climb made me quite miserable, being wet and all. But the view was worth it.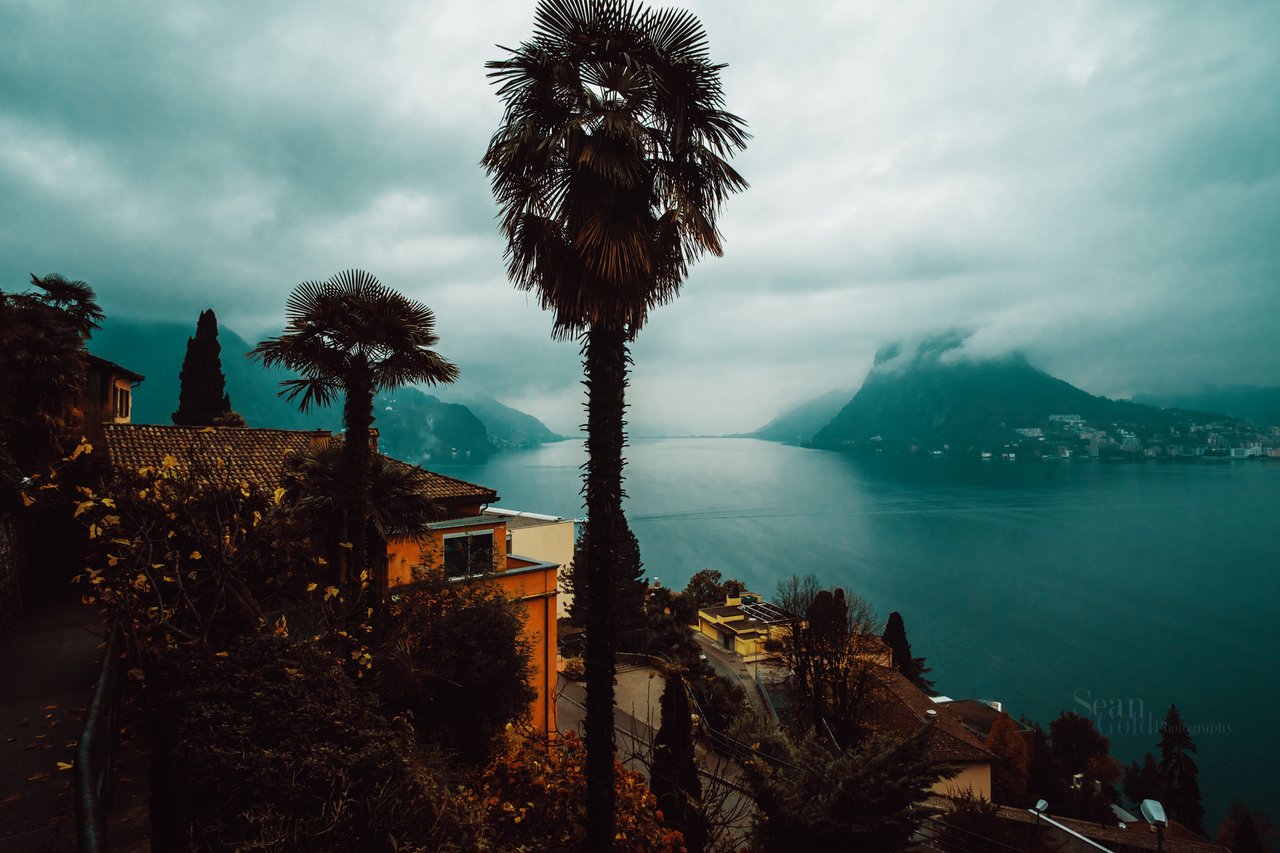 On my way, I decided to detour and climb even more steps to inquire the price for the Funicular up the mountain, as that was also my plan when I first planned this trip. Turns out, it was more than I thought, at about 20$ or so I think. Plus the clouds would obscure the view. Well, there goes that idea.
At this point of my trip I had pretty much run out of food that I was carrying with me, mainly meal bars, so I decided to stop by a local super market and see what they had. I had mostly been buying large pretzels around town because they were cheap compared to other options and were filling for their price at about 2$ each. Well, this supermarket had even better ones at like 25 cents each! So I grabbed some of them and some other baked goods, and some Swiss chocolate for the feast I would be having that night in my hostel bed.
I returned to my hostel, snacked on my discount baked goods, and then called it an early night, probably my first full nights sleep so far on this trip.
Next morning I awoke early and made my way out to catch the first bus of the day. Bus you say? Oh yeah, I realized hiking this thing would be really dumb as well as waste my whole day, at the same time I learned the local bus goes pretty much to the top of the mountain, and if you remember from before, I have a free Ticino ticket, which is a free pass you get from any hostel or hotel in the region which grants access to pretty much any public transit in the area! So free bus to the top? Yes, please!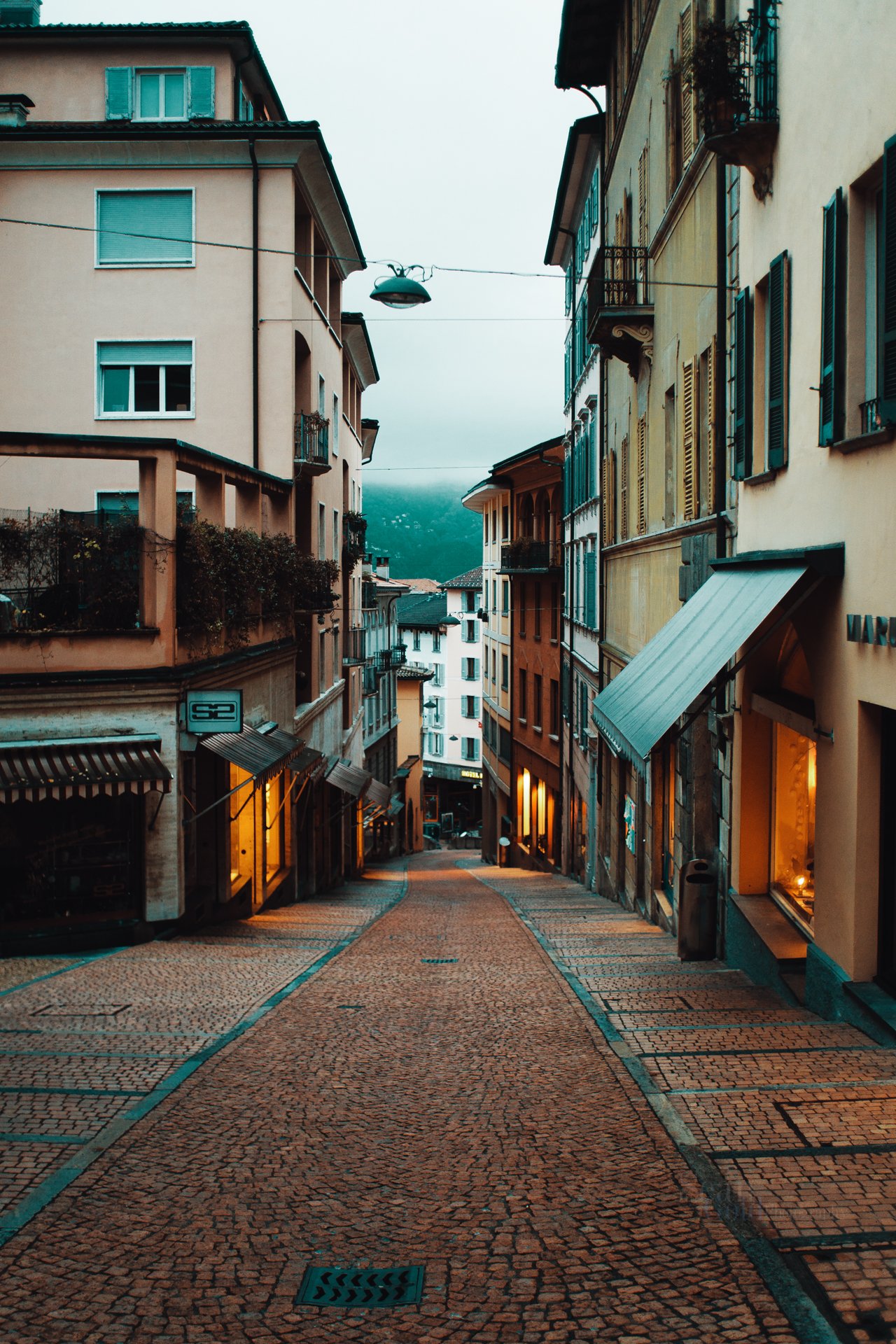 It's a gloomy overcast day again, as I head down to the lower part of the city to the main bus depot. I await my bus since I got there early as to be sure to get the first bus of the day to maximize my time. It arrives and off we go.
We zip around town, hug the coast of the lake and then begin our ascent up the winding roads of Monte Bre! The views were beautiful, well, until we entered the clouds and you could hardly see anything. Meanwhile, this driver is flying around these corners, and all I can see out my window is a sheer cliff with the bottom obscured by clouds. Oh boy. That's one way to wake me up in the morning.
After the thrilling ride to the top, we make it and I try to get my bearings down, as the whole area is covered in dense fog. I find the trail to the summit and begin to hike towards it, first up another road. I don't think I've ever seen fog this thick and it was a bit creepy, and disappointing as it blocked my views, but it was also quite beautiful.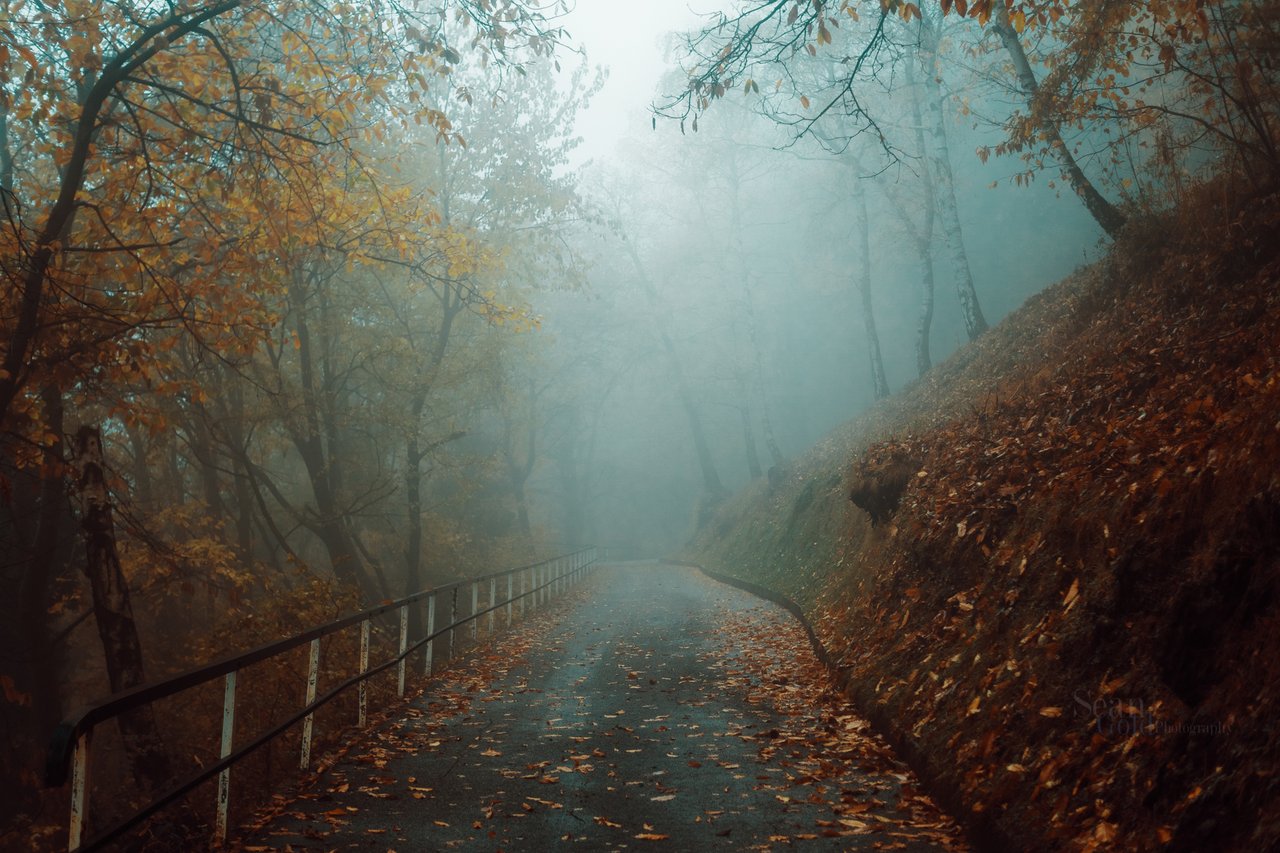 I soon arrived at a winding turn in the road and knew I was almost at the trail to the summit.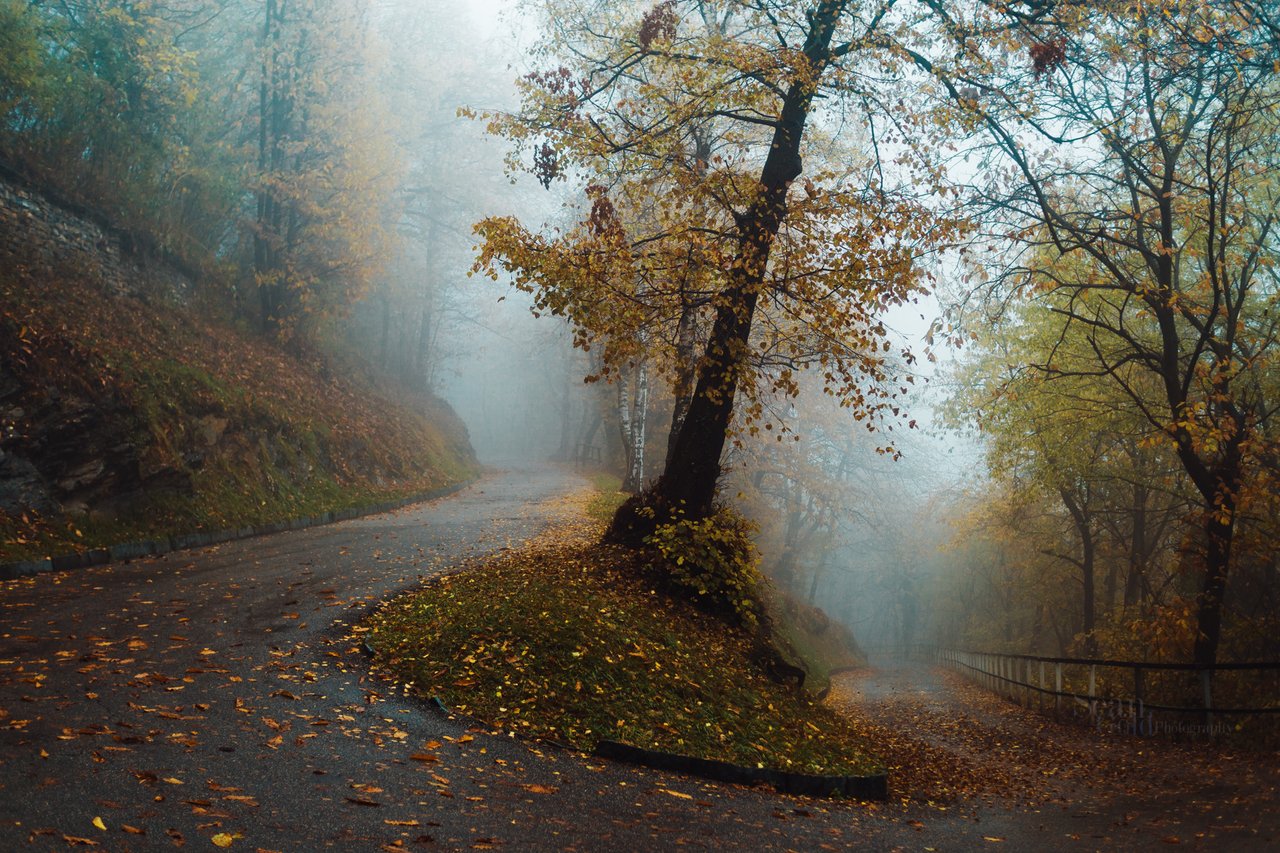 As I reached the top of this road and found the steps that began the trail to the summit, a couple of homes slowly revealed themselves to me as the thick clouds briefly rolled away, offering me my first view off the mountain.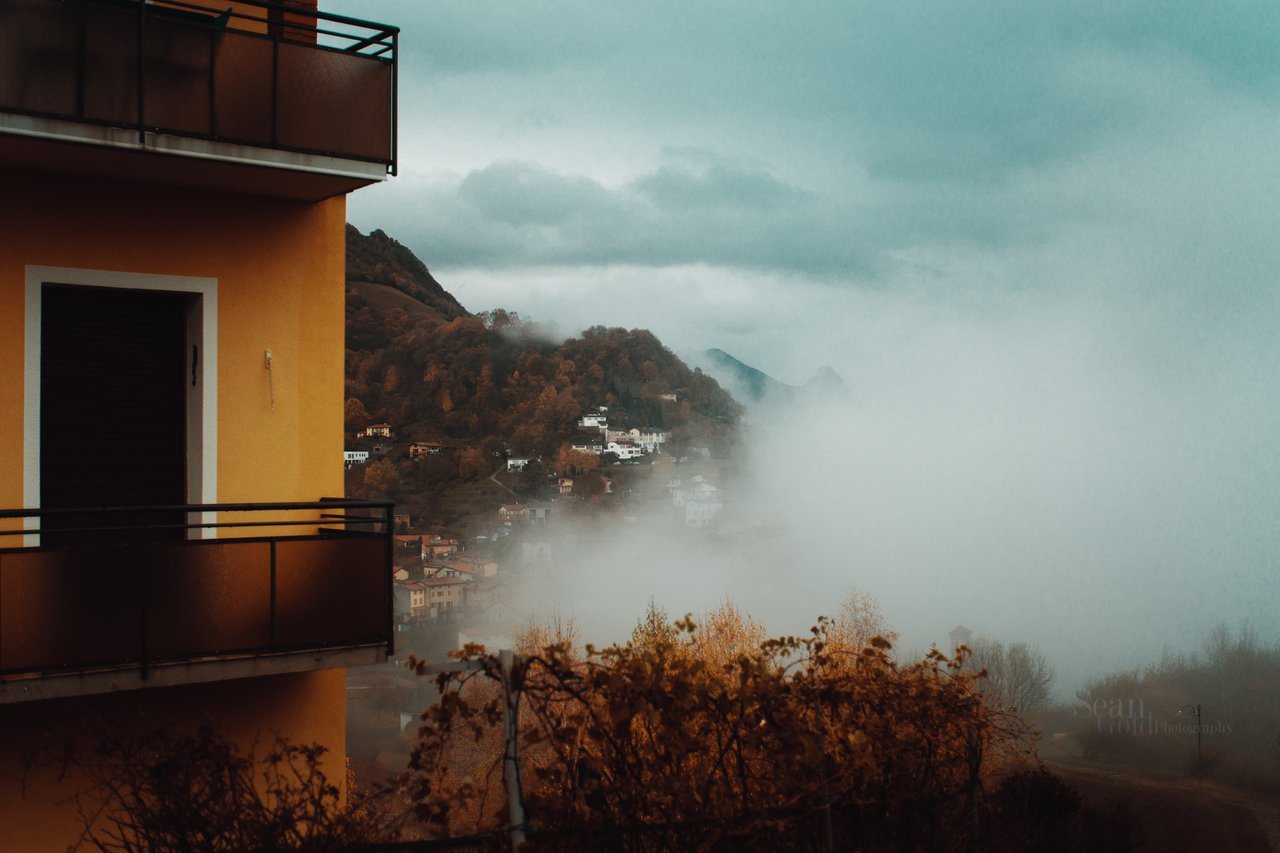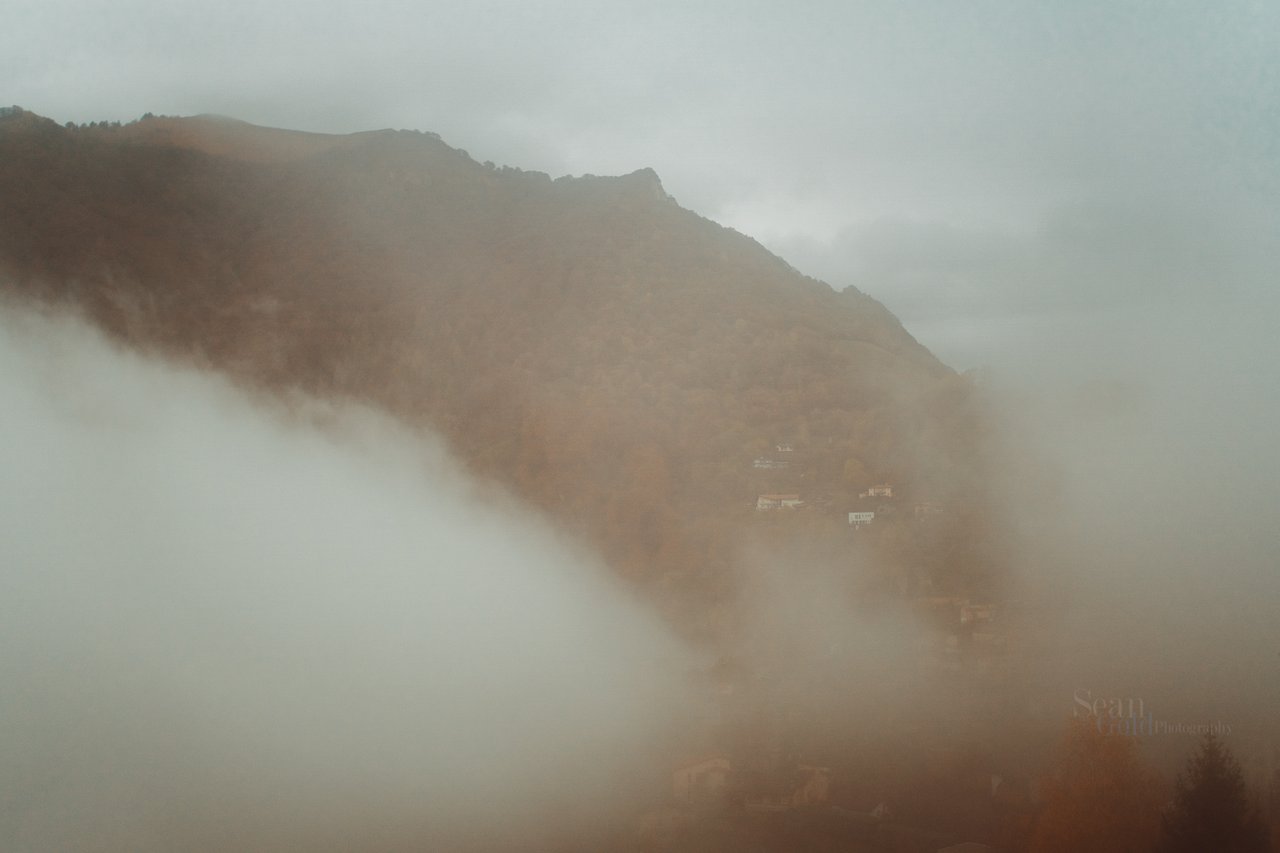 But the clouds quickly rolled back in as I began my climb, but it was quite amazing, as I could see the cloud literally moving closer and closer as it obscured my vision to only a few feet in front of me. And so I climbed.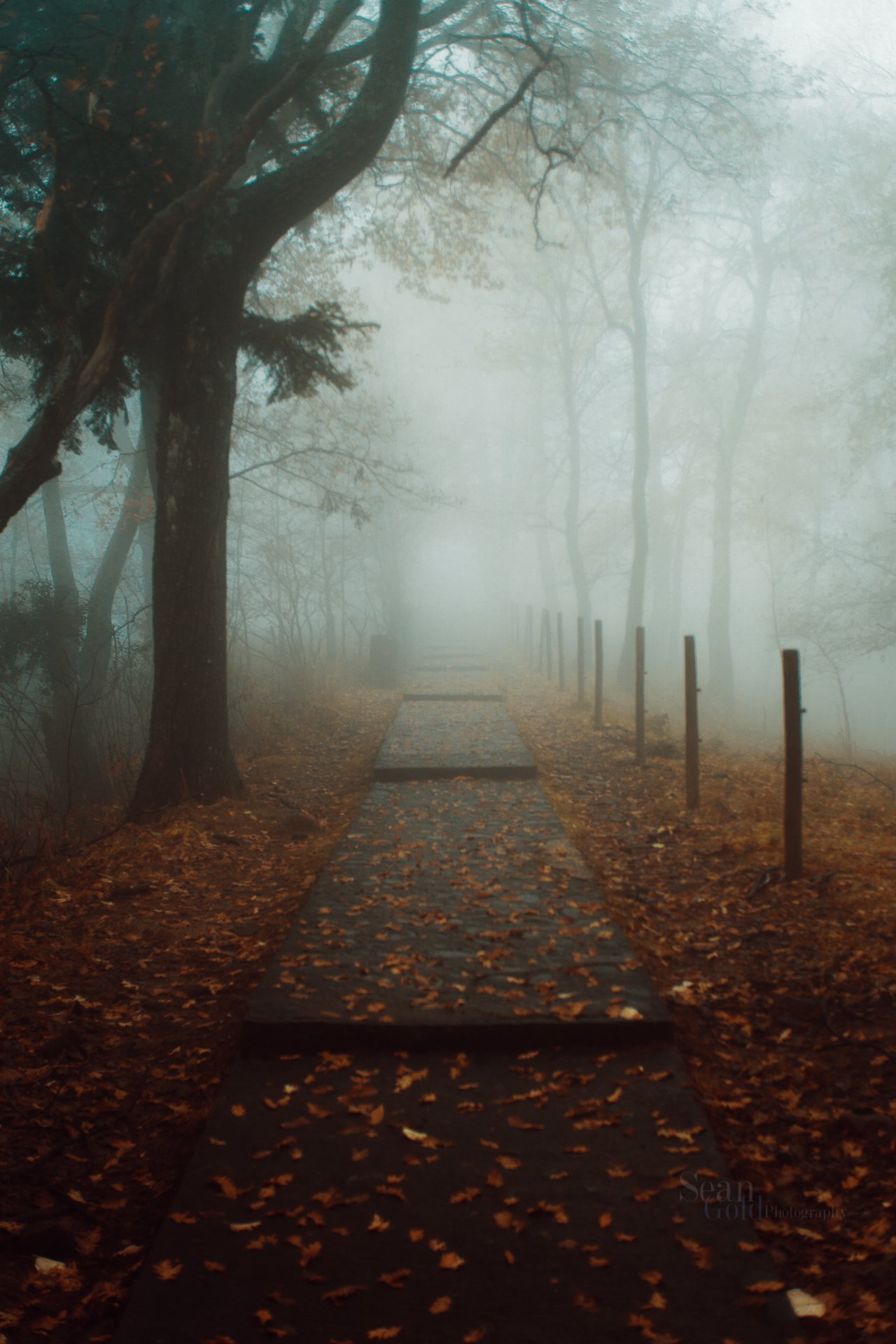 It felt like climbing into the heavens, as I had no idea how far I had come or had left to go.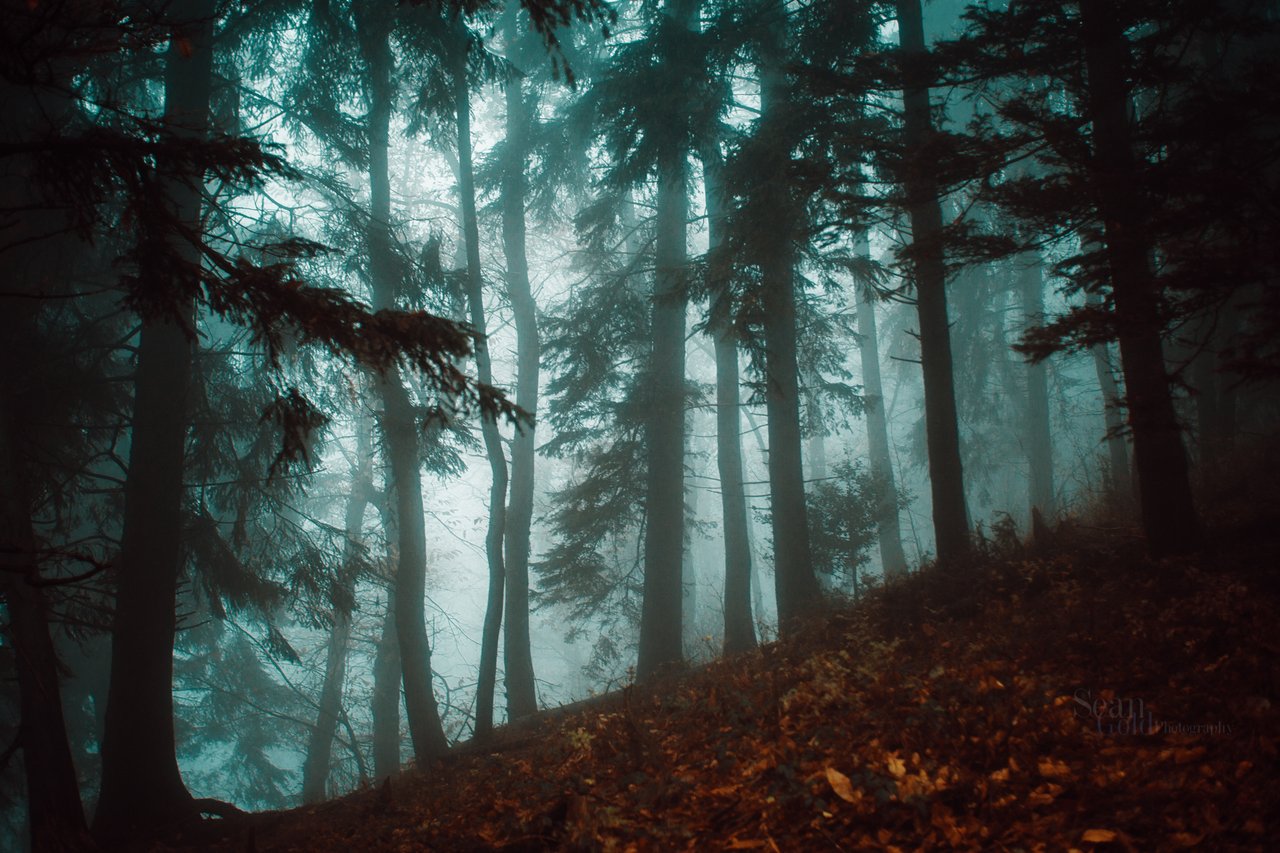 After maybe 20 minutes of climbing upwards, the ground began to level off and some outlines of buildings began to appear in the fog.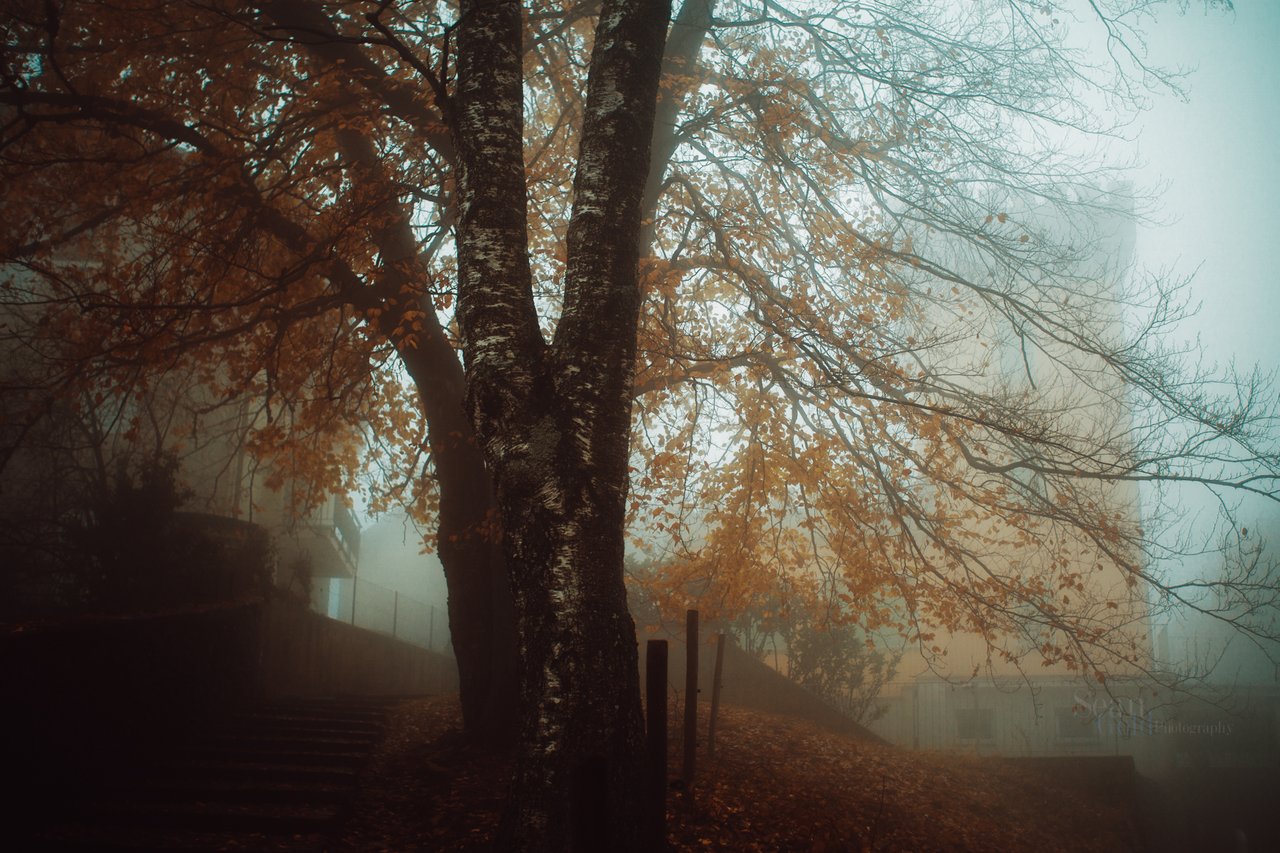 As I get closer I see one seems to be a church. Kind of creepy. There's no one else around, and I'm up in the fog on top of a mountain with a random church.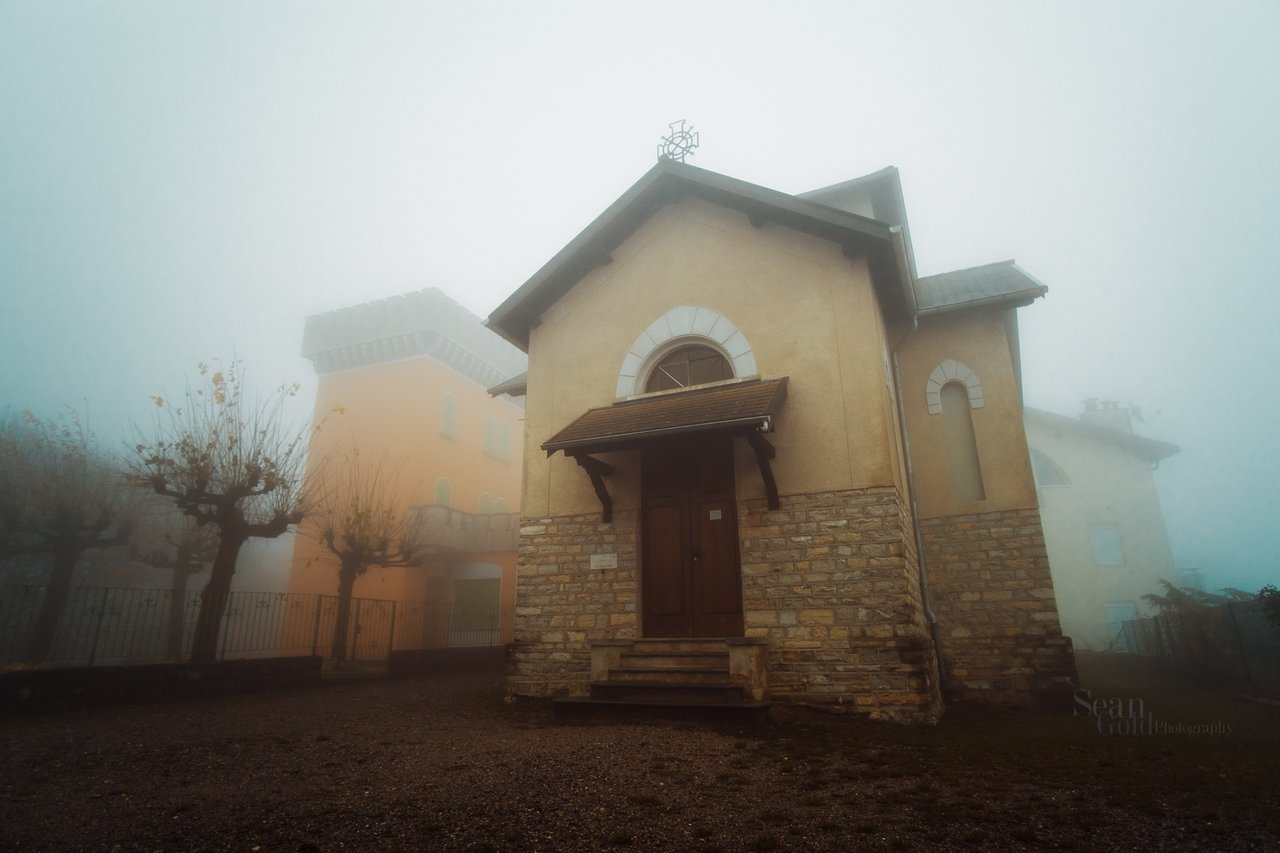 I check out the area a little, not too much to see with the thick fog, then I continue onward, now descending on the other side. I pass by a small pub and hear the first voices I've heard in hours. I pass by that and the Funicular station onto my next destination; the restaurant overlooking Lugano.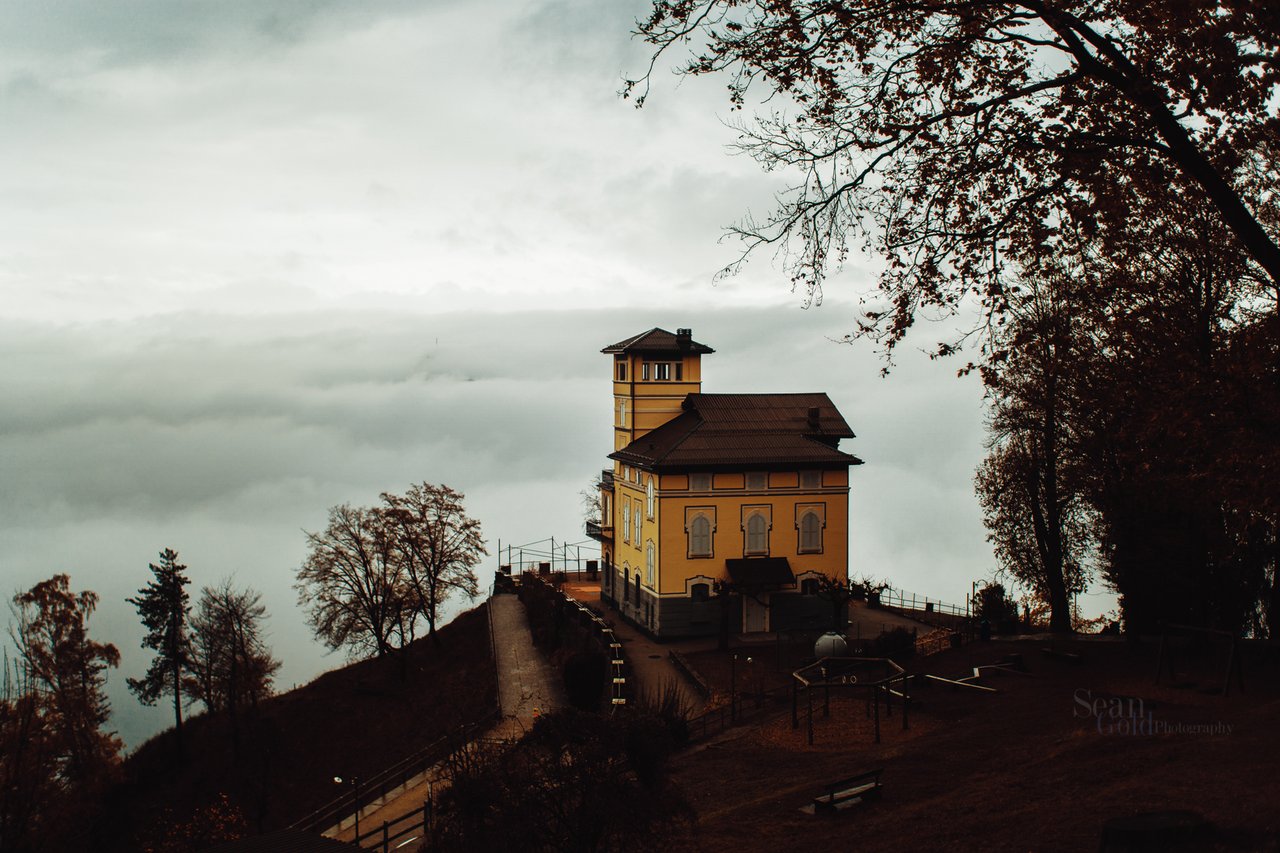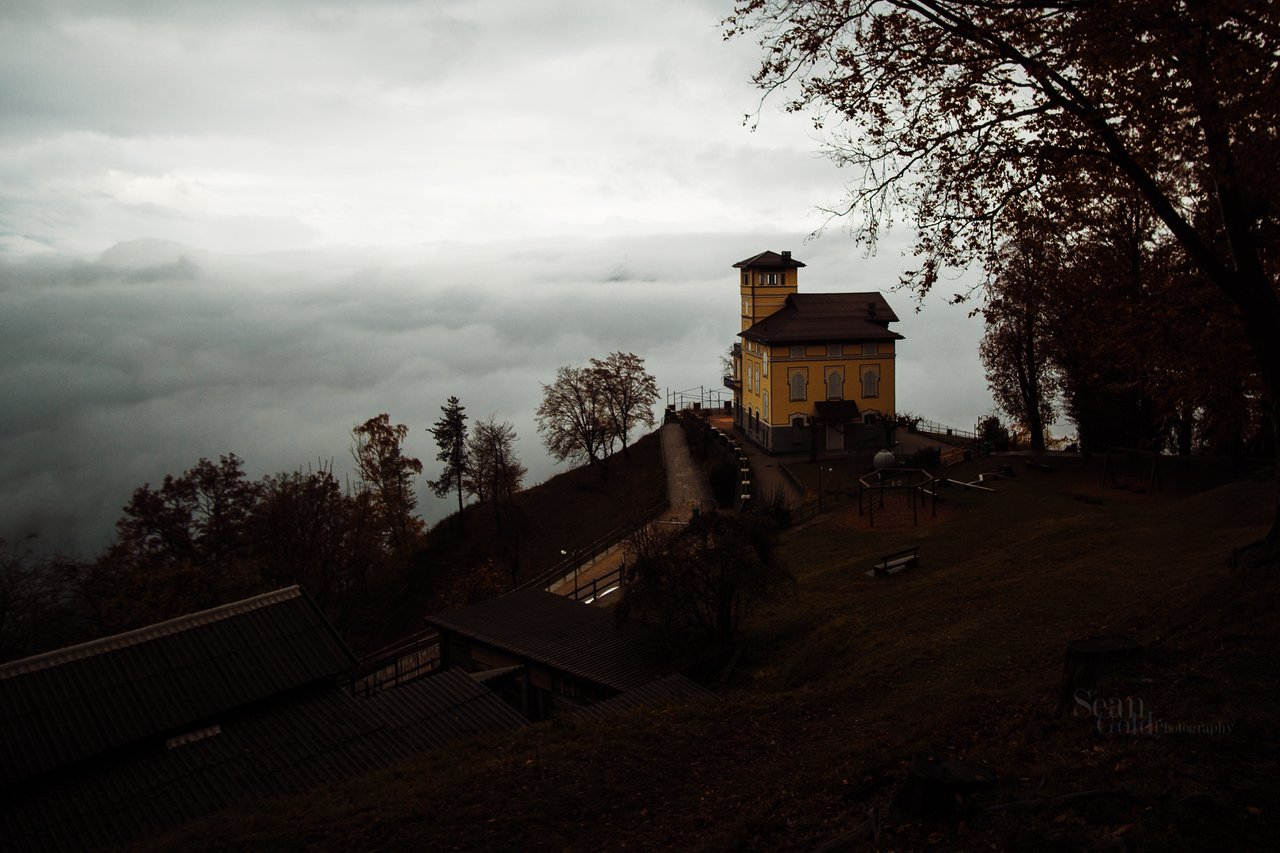 It was amazing to see it, but sadly the view wasn't what I was hoping for, do to the heavy cloud coverage. I had seen amazing photos of this place with the whole city below and mountains in the distance. But with that said, it was still quite amazing looking out at an endless sea of clouds, with mountain tops poking out here and there.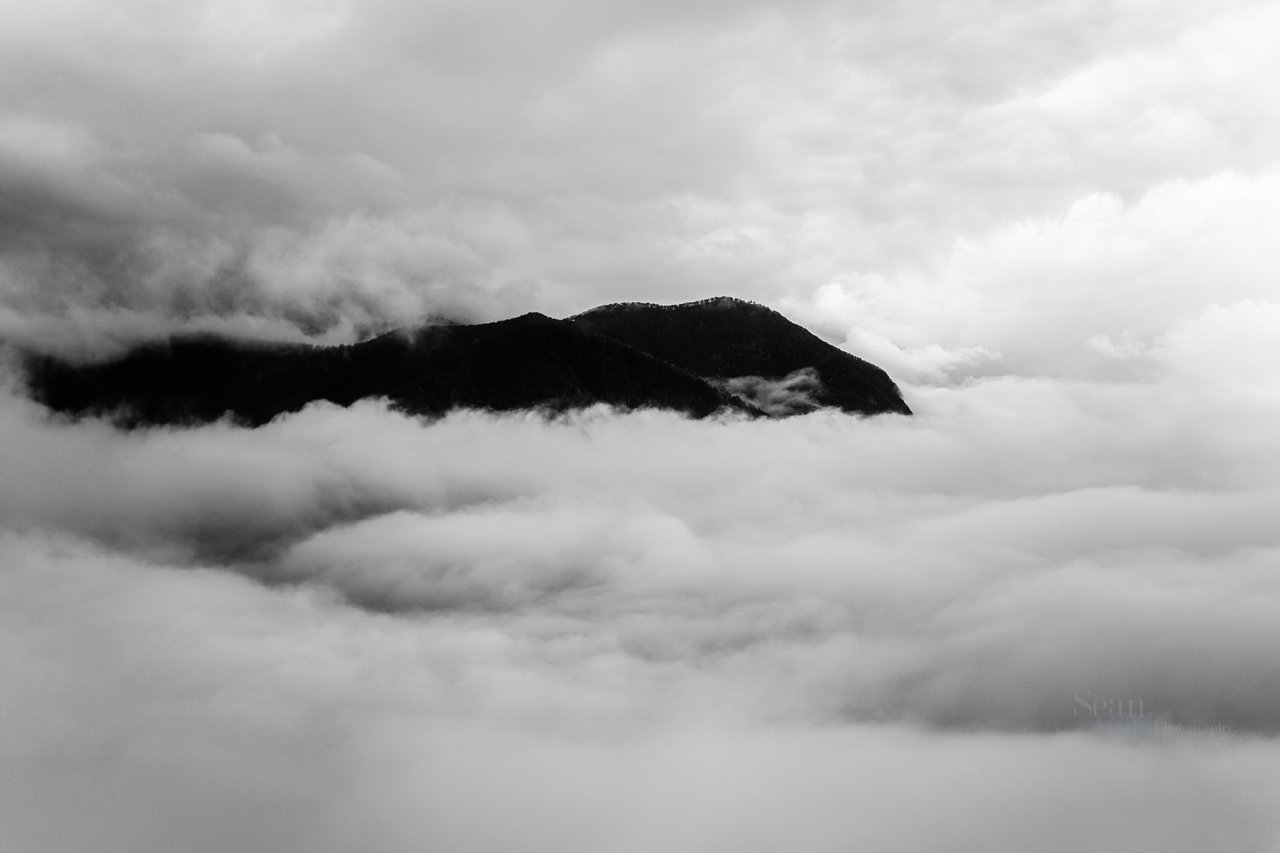 I hung out on the terrace for a little while taking it all in and then began to head back down towards the old village. As I was walking away I decided I should fly my drone. I took off from the road and flew towards the building, and just then a super thick cloud rolled in and messed up my view as well as the downward facing sensor of my drone. Oh boy. Luckily I piloted manually and got her back to me and landed it without incident. Phew.
I then arrived at the old village, still shrouded in fog. There was hardly anyone around increasing the creepy factor. The few that were there would appear and disappear from the fog and down stone roads, almost as ghosts. Here's some of my favorite shots from the village.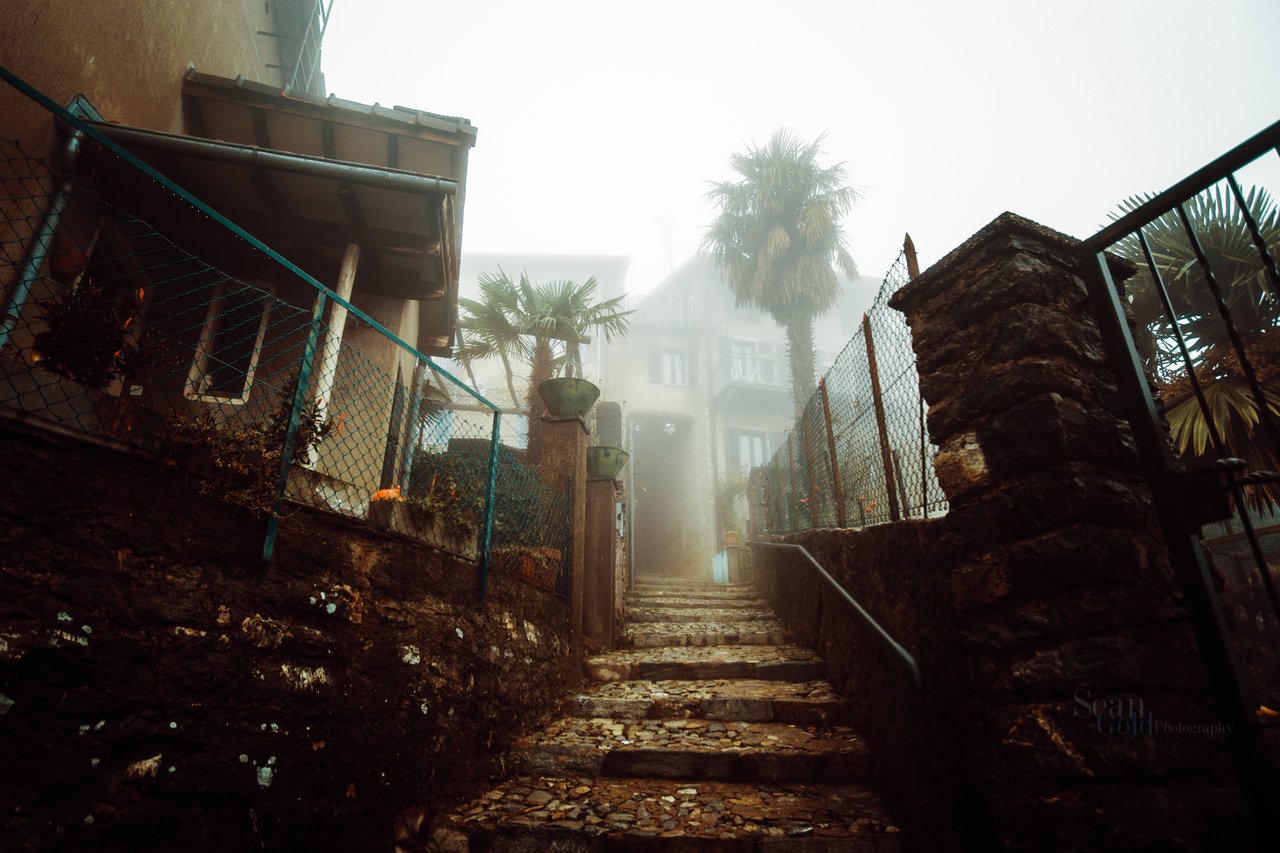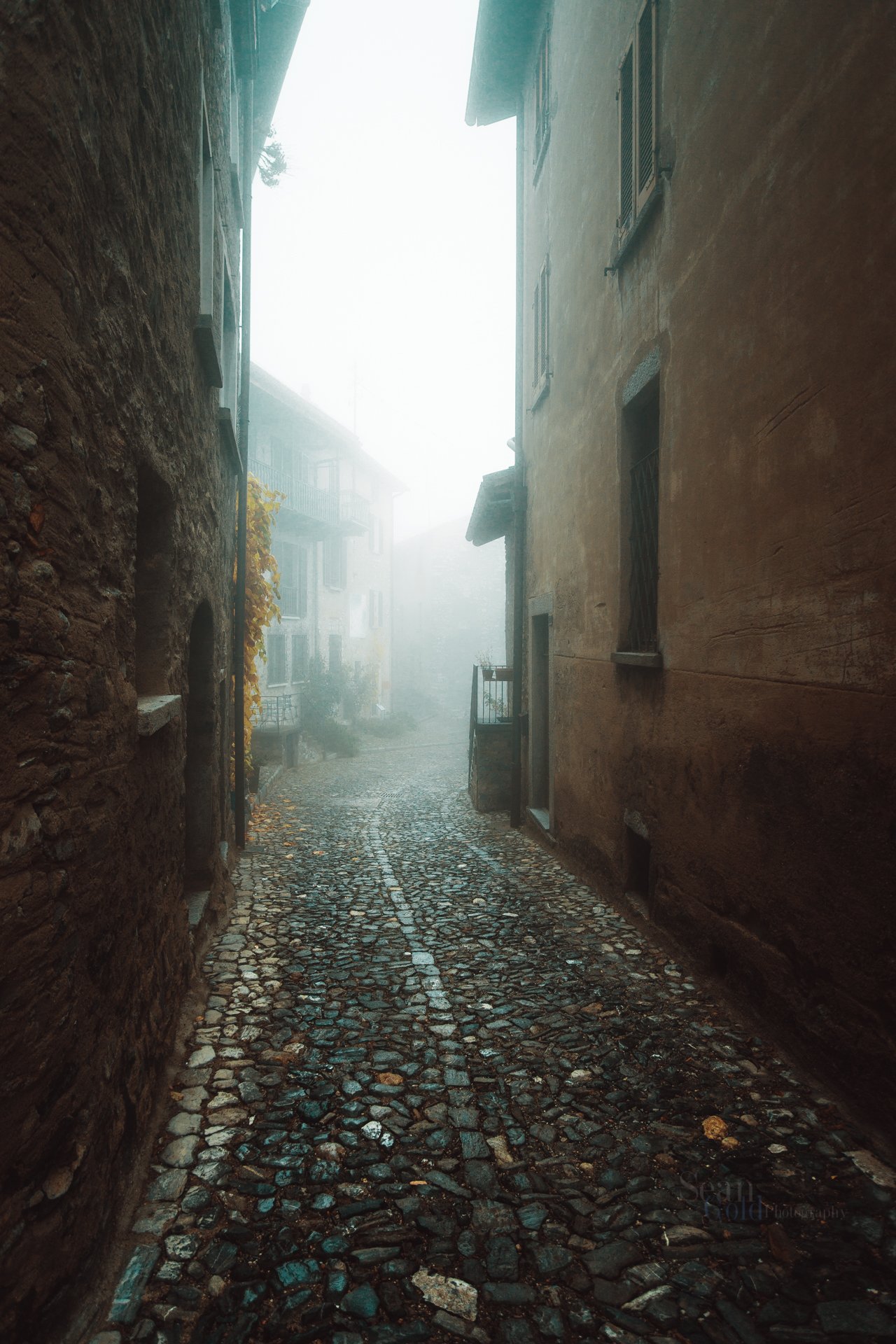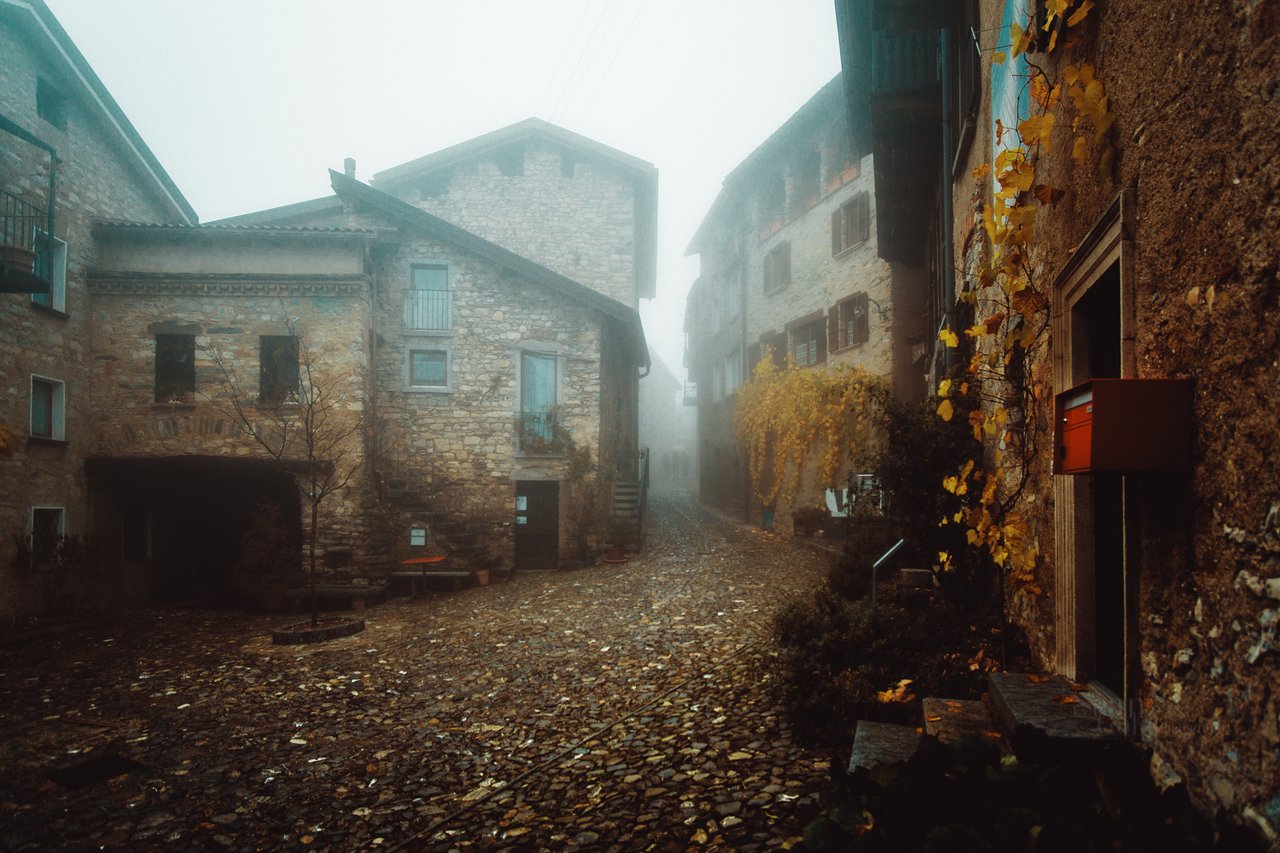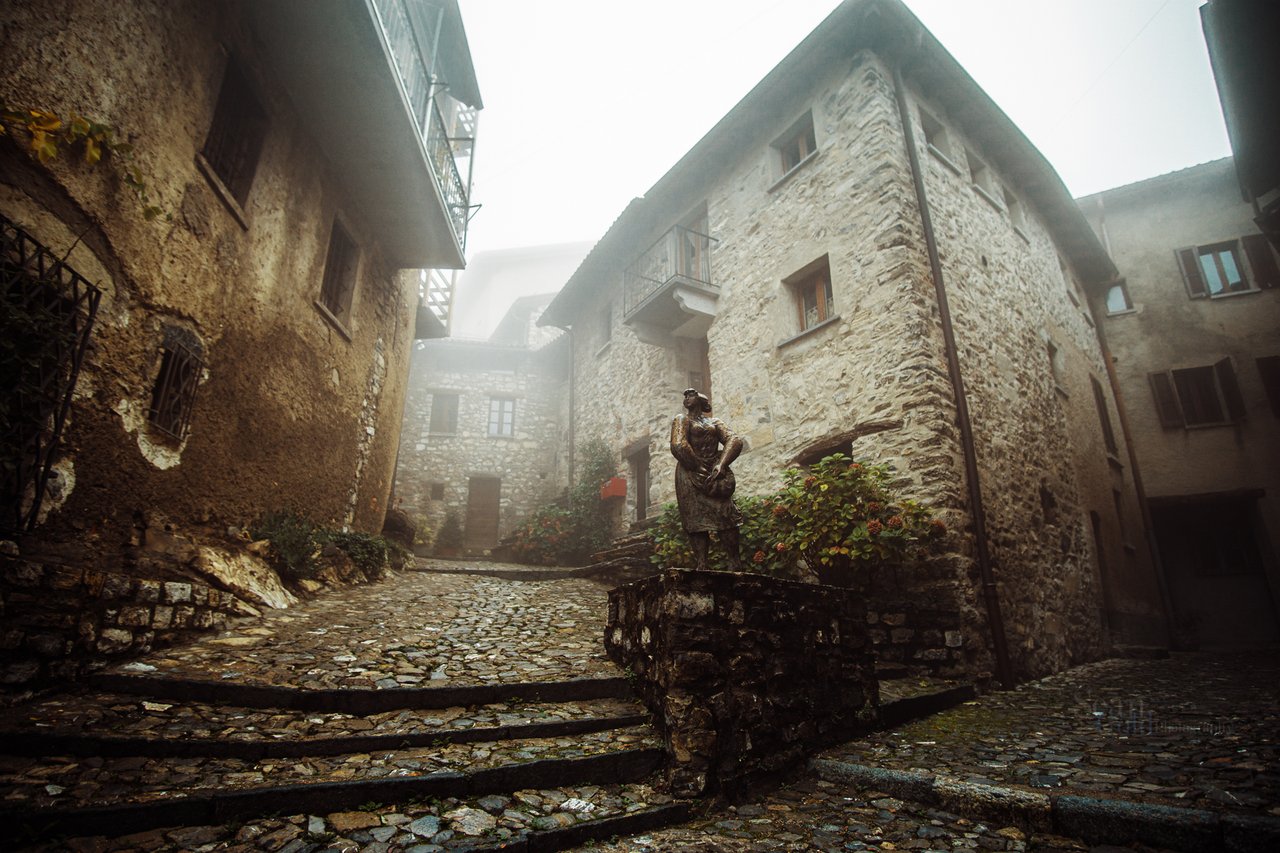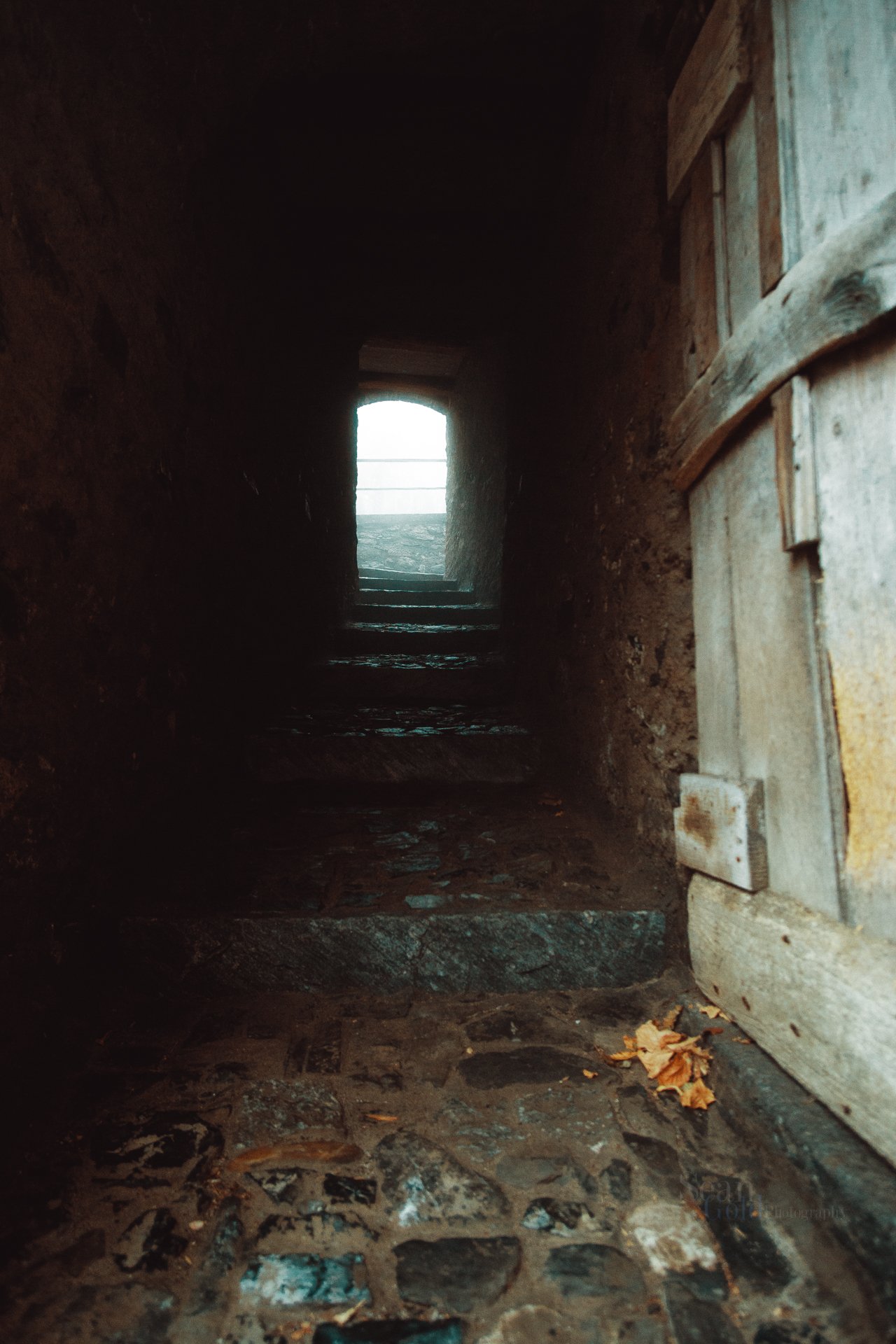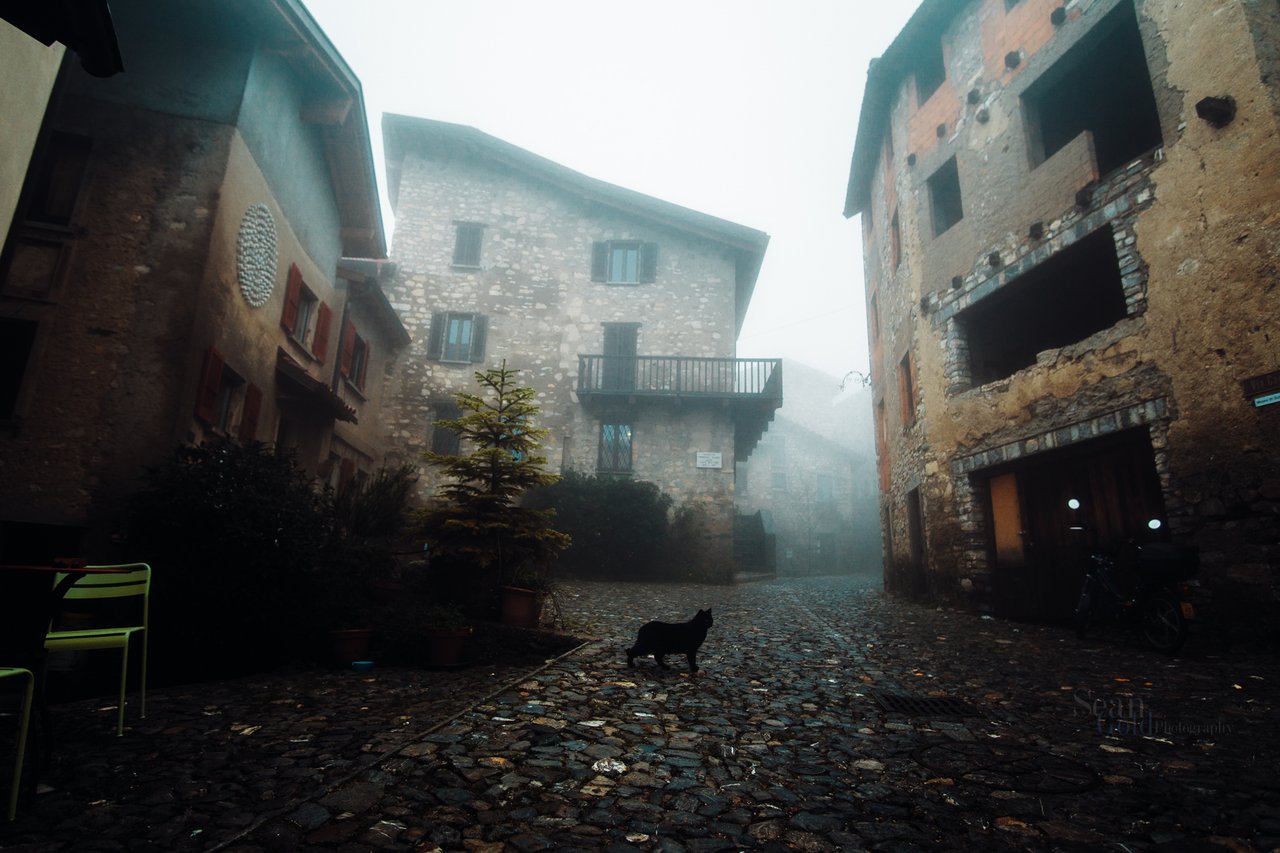 After exploring a good of the village, it was time to head back to the bus stop to make my way back and prepare for my next stop of the day, which will be the subject of my next installment! Hint: there's castles.
Until next time, don't forget to follow along with me on Instagram! or check out my Website! for more of my work and to purchase prints to support my work! Thanks!