While in South Africa, I received the new (not-yet-publicly-available) Fujinon 16-80mm zoom lens for just more than a week to test its usability for street and travel photography.
So, I had to create opportunities to test it in between my normal daily work.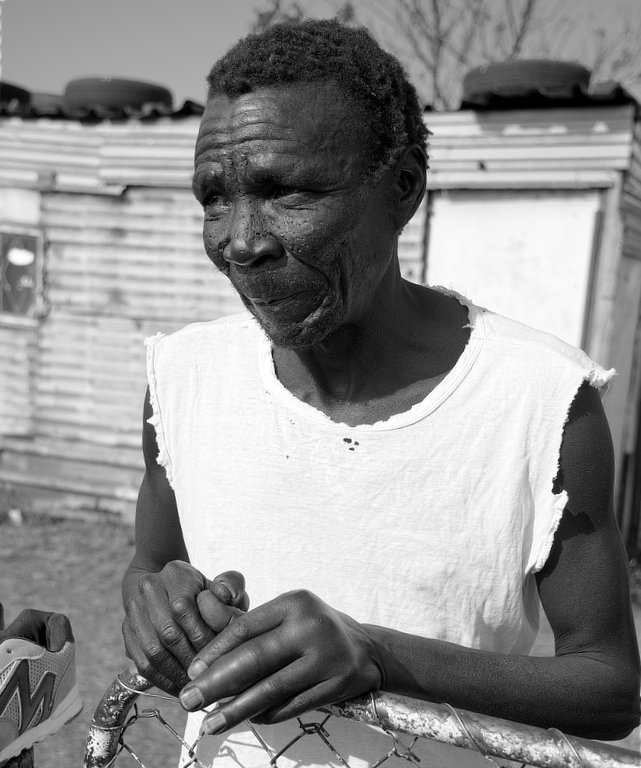 My fellow X-photographer, Anton Bosman, had the lens the week before me and did an amazing job in testing it for landscape photography. Based on his review I was totally sold on the capabilities of this lens for some serious landscape photography! I, therefore, decided to leave out any landscape photography tests (except for a quick infrared test - but for that, I will keep you in suspense until I get time for another story...).
Back to George
About 20 kilometres south of Alberton, next to the R59 highway is a small but typical South African informal settlement called "Philly's Farm". The locals pronounced it without the "h" and the "i" becomes "ee". Not sure I will pronounce it load in a public conversation!
I have been driving past this settlement for many years commuting to work, and interestingly enough, it never grew into a larger community over these years.
While visiting our friends, Dries and Elsa Fourie, who live just south of this settlement, we decided to go for a visit to this settlement.
We were mostly warmly welcomed and managed to meet and converse with many of the locals.
One of the people we met was George. George is a painter by profession. He is originally from the Thohoyando area in the northeastern part of South Africa. Like most South Africans of his age, he not only speaks his own language and several African languages but also a good English as well as Afrikaans.
Being of a similar age as Dries and myself, we had an interesting walk back in memory lane. Soon after meeting him I notice how good a listener he is.
His facial expressions and body language encourage you to continue talking.
We spend a good 20 minutes talking with him. I was so intrigued by his animated engagement in the conversation that I tried to capture it with still photos. Every time that I thought I captured the best expression, he came up with another one which begs to be captured.
I photographed him for a full 14 minutes before we decided it is time to move on. Like always, I was very impressed with the stealthiness of the Fujifilm X-T3's shutter. As Dries was directing the conversion it seems like he was unaware of my effort to get the best possible facial expression. When the conversation died down, he turned to me and said in Afrikaans "het jy 'n mooi kiekie gevat?" which roughly translates to "did you get a good shot?". He was, in fact, aware of all my photo efforts.
I showed him the results on the back of the screen and he had a great laugh at his expressions.
I do not know how a good painter George is, but I think he could make a good buck playing model for photographers. He can guarantee they will get unique facial expressions!
Click on a photo to see a large version)
note: this post contains 26 photos taken at a 26mm focal length with the new Fujinon 16-80mm zoom lens. You may ask, why only the 26mm focal length? Well, old habits die hard - I am used to photographing with a prime lens, and one of my original favourite street lenses was the 27mm pancake lens. I think it is time to put that lens back in my bag!