On our weekend visit to Wuhan, I wanted to photograph the city lights as it is one of the major attractions of Wuhan. The Yangtze river flow through the city and the reflections of the lights in the water are very special.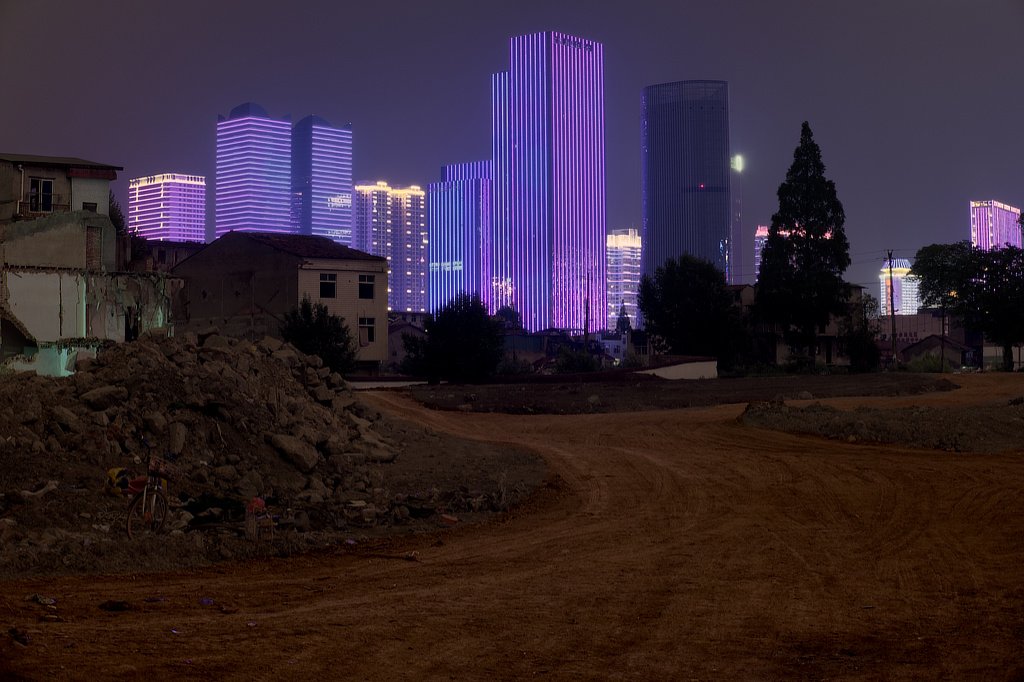 Wuhan has 8 bridges over the Yangtze River to connect the two sides of the city, and each of these bridges is special in its own way.
The Wuhan First Yangtze Bridge is a double-decker bridge with a road at the top and a railway bridge below the cars. It is the most well-known bridge, so Xiaoyi's nephew took us via the subway to this bridge.
It was drizzling so our photo outing was done below umbrellas. At least, the rain made the usual crowds faded out, resulting in cleaner photos.
While photographing, I noticed a suspension bridge on the right-hand side. It had its own animated light show on the suspension cables, making for interesting patterns.
I mentioned to Xiaoyi's nephew how interesting it looked.
This was the wrong thing to do - he decided that we need to get a closer view, and, as soon as we were finished with our city reflection photography, he commanded a taxi to take us closer to the bridge.
Initially, the taxi driver told us that it is impossible to get close to the bridge as there is a new development taking place close to the bridge, but Xiaoyi's nephew's enthusiasm caught on and it became a recce exercise with the taxi driver and Xiaoyi's nephew trying to outdo each other.
We ended up in the middle of nowhere, at such a point that the taxi driver admitted that his car cannot get any deeper into this mud-drenched construction area. Xiaoyi's nephew was not ready to also gave up - we got out of the taxi attempting to walk through the mud, searching for a vantage point to see the bridge.
To no avail. After about half an hour of walking and climbing over fences, even he had to admit that there is no way to get a clear view of the bridge from up close.
We turned around and started walking back the civilisation. It is then that I noticed how beautiful the city skyline forms a backdrop for the old area which is currently being demolished.
This became my favourite photo of the evening.
(Maybe at a later stage I will show you the city reflection photos.)