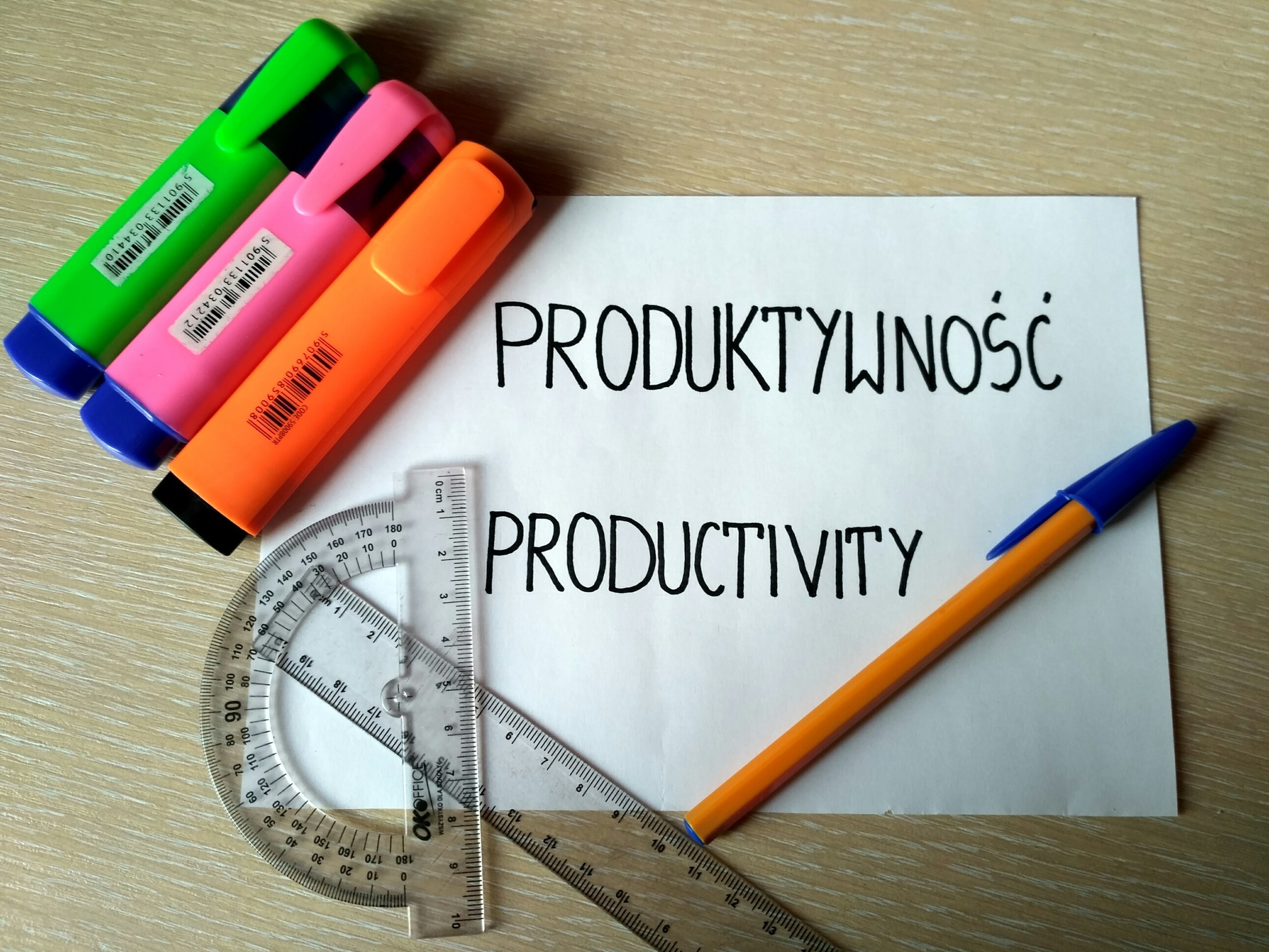 Cześć!
Każdy by chciał, aby zagościła w jego życiu produktywność. Każdy chce się czuć potrzebny i realizować się. Ale jeśli chcesz produktywnie spędzać czas, musisz wykonać wiele roboty, zanim to osiągniesz. Praca będzie polegała na tym, abyś poukładał/poukładała sobie najpierw wszystko w głowie. Niech nie interesują Cię zbędne rzeczy, ustal sobie priorytety, co musisz zrobić, czego nie, co jest potrzebne, co nie. Następnie zorganizuj się! Biurko to będzie główne miejsce twojej pracy, musisz mieć wszystko posegregowane i pod ręką, aby nie szukać czegoś parę godzin. Kiedy ten punkt masz wykonany, postaw sobie cele, znajdź radość w tym co robisz i zaplanuj nagrodę. Musisz teraz wybiec w przyszłość, zaplanować sobie wszystko, abyś później mógł/mogła skupić się na teraźniejszości. Rób przerwy, jest to tak samo ważne jak sama praca. Bez przerw będziesz zmęczony/zmęczona, co będzie się przekładać na twoją produktywność, a tego raczej nie chcemy, prawda? Skup się na jednej rzeczy. Pamiętaj o podstawowej zasadzie: Lepiej zrobić mniej, ale doskonale, niż więcej, a do poprawy. Nie daj się znudzeniu! Szukaj jakiś motywatorów, nie zadręczaj się pracą i nie bądź monotonny/monotonna.
Myślę, że mój artykuł Ci się spodobał, jeśli tak to zapraszam do wszelkiej aktywności na moim profilu!
Cześć!
Hey!
Everyone would want productivity to become part of his life. Everyone wants to feel needed and to fulfill themselves. But if you want to spend time productively, you have to do a lot of work before you achieve it. The work will be based on you arranging / arranging everything in your head first. Do not let unnecessary things interest you, set your priorities, what you have to do, what you do not do, what you need, what you do not. Then organize yourself! The desk will be the main place of your work, you must have everything sorted and handy so that you do not look for something a few hours. When this point is done, set goals, find joy in what you do and plan the reward. You must now go ahead, plan everything, so that you can later focus on the present. Take breaks, it's just as important as the work itself. You will be tired / tired without any breaks, which will translate into your productivity, which we do not really want, right? Focus on one thing. Remember the basic principle: It's better to do less, but perfectly, than more, and to improve. Do not get bored! Look for some motivators, do not bother with work and do not be monotonous / monotonous.
I think that you liked my article, if so, I invite you to any activity on my profile!
Bye!