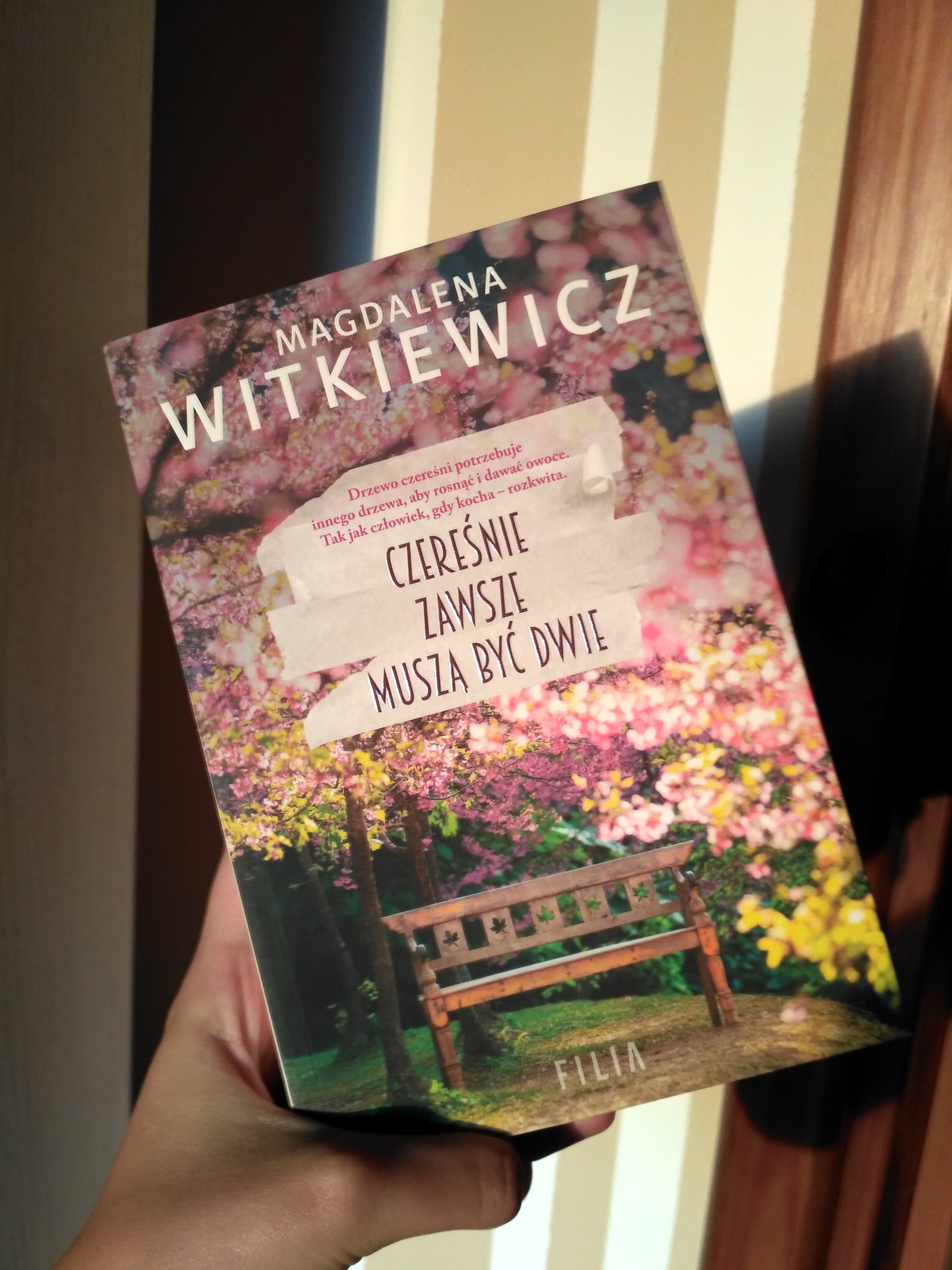 Cześć!
Był październik, niestety właśnie w tym miesiącu byłam bardzo zapracowana i nie mogłam sobie poradzić z pewnymi sprawami, dlatego dopiero teraz pojawia się następna część serii "Rok szkolny z książką w dłoni". Dzisiaj opowiem wam trochę o książce ,, Czereśnie zawsze muszą być dwie" Magdaleny Witkiewicz, która jest fenomenalna i mówię to z ręką na sercu. Wciągnęła mnie na dobre 2 dni i nie można było się do mnie dostać w żaden sposób. Uwielbiam do niej wracać i myślę, że Ci, którzy uwielbiają love story i kłopoty dnia codziennego pokochają ją tak samo jak ja, a teraz przejdźmy do fabuły.
Książka opowiada o Zosi, która po zawodzie miłosnym, udała się do swojego nowego domu odziedziczonego po znajomej babci, której kiedyś pomagała. Zamieszkała w nim i rozpoczęła tam swoje nowe życie. Poznawała tam nowych ludzi i historię poprzednich właścicieli domu. Myślę, że książka chce głównie pokazać, że jeden ruch, który nie zawsze jest dobrym, może rzucić nowe światło na przyszłość, tak jak w tym przypadku.
Reszty dowiecie się czytając książkę, do której was serdecznie zachęcam.
Cześć!
Hey!
It was October, unfortunately this month I was very busy and could not cope with certain issues, which is why the next part of the series "The school year with a book in your hand" appears. Today I will tell you a little bit about the book "Cherries always have to be two", Magdalena Witkiewicz, who is phenomenal and I say it with my hand on my heart, pulled me in for 2 days and you could not get in to me in any way. I think that those who love love story and everyday problems will love it as much as I do, and now let's go to the story.
The book tells about Zosia, who after a love job, went to her new home inherited from a friend grandma she once helped. She lived in it and started her new life there. She met new people there and the history of previous home owners. I think the book mainly wants to show that one movement, which is not always good, can shed new light on the future, as in this case.
You'll find out the rest reading a book that I heartily encourage you to.
Bye!