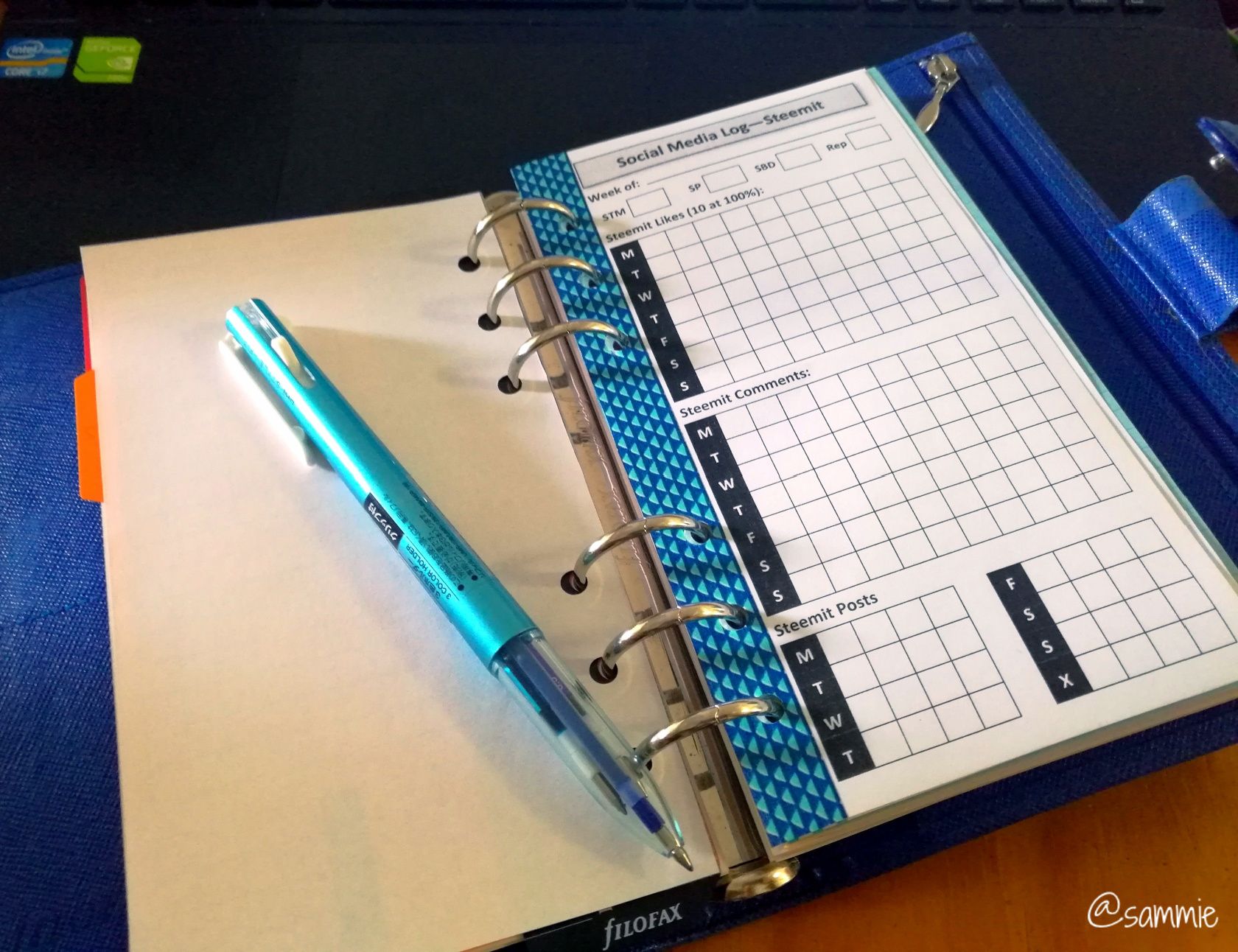 Free download - a printable page for your Filofax. Use it to log your Steemit activity.
It's a new year, so the perfect time to get organised and build new habits. I've been setting up tracking pages in both my Bullet Journal and my Filofax planner to stay on top of things.
One of the productive habits I'm working on for January is being more consistant with my Steemit posting and voting. When I'm focused and posting things start happening in my Steemit world. When I'm distracted by life and forget to even check in with Steemit, well that's when things don't go so well.
With that in mind I've whipped up a quick planner page to help log my daily activity. My goal is to fill in as many boxes each day as possible, as well as trying very hard to not break the chain! The pages are personal planner size (95mm x 171mm). They can be printed and punched to fit in your Filofax, or cropped and pasted into your bullet journal - whichever works best for you.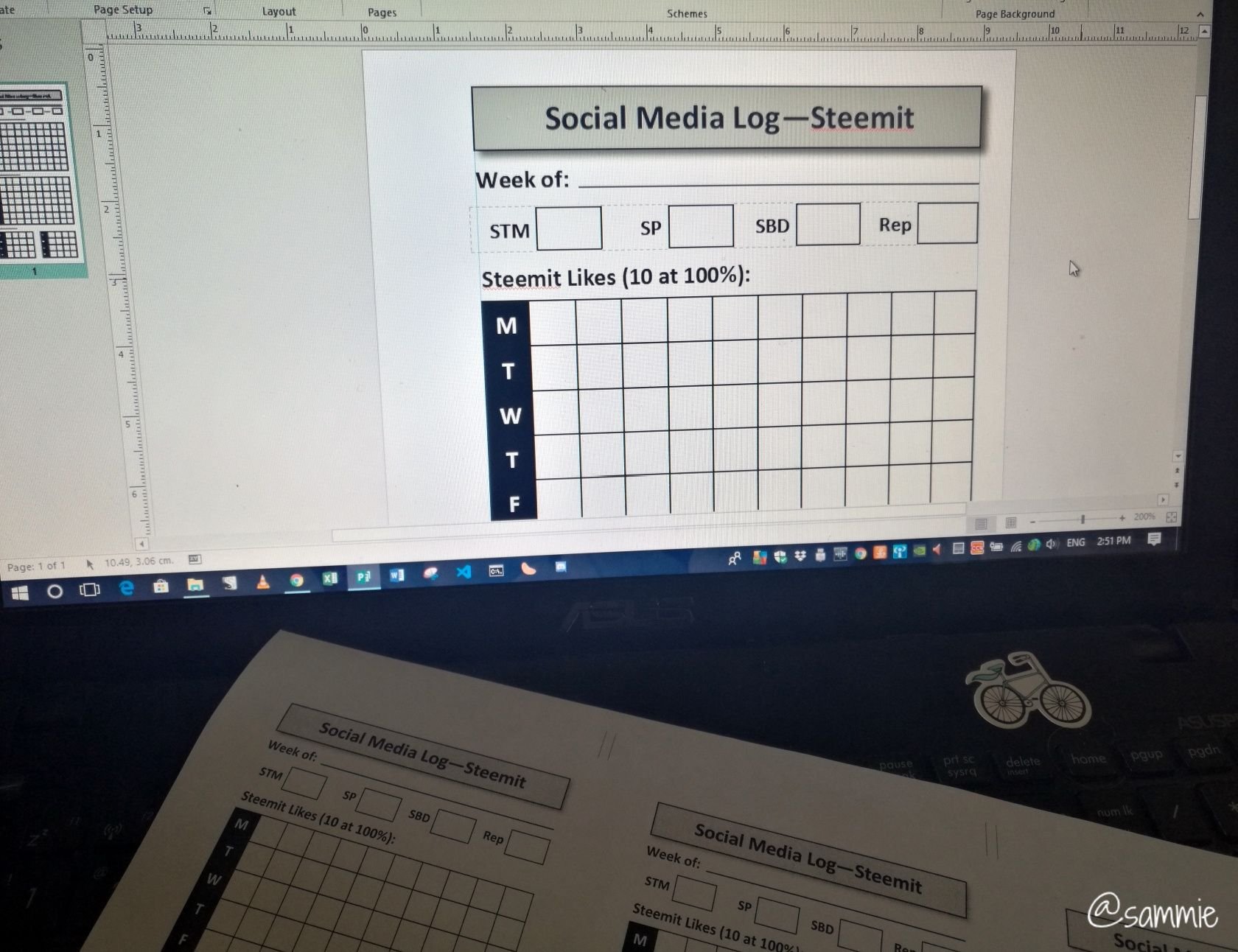 Designing the page in MS Publisher
I built the page in MS Publisher and it's very plain and simple. This first version has four sections:
Steem Stats - four little boxes to record my STM, SP, SBD, and Reputation values at the start of the week. I considered adding followers as well, but to be honest I haven't found this figure too helpful as so many of my current followers are inactive. So for now it's just the four values I'm keen to track.
Steemit Likes - working on the basis of 10 votes per day at 100% to maintain a high voting power. This section is to help keep me in check a little as my voting power regularly drops quite low.
Steemit Comments - this section is to encourage me to comment and interact more. I find this quite difficult and would rather hide in a safe little introvert cave, but it's something that I need to get better at.
Steemit Posts - another section to provide encouragement and motivation. I've allowed space for up to 4 posts a day, plus an extra four boxes at the end if needed.
As I mentioned, this is only a first version and I'm sure I'll find things to change and tweak as I use them.
How to add them to your planner
First of all, download the files at the bottom of this post. One prints a single page and can be used to print directly to blank planner paper (you can buy blank planner paper ready to go, it saves heaps of time). The other will print 3 planner-sized pages to one A4 page.

If you've downloaded the multiple pages per sheet version you will need to crop them to size. I've used my paper trimmer to do this. The printed page includes crop marks to make this a bit easier.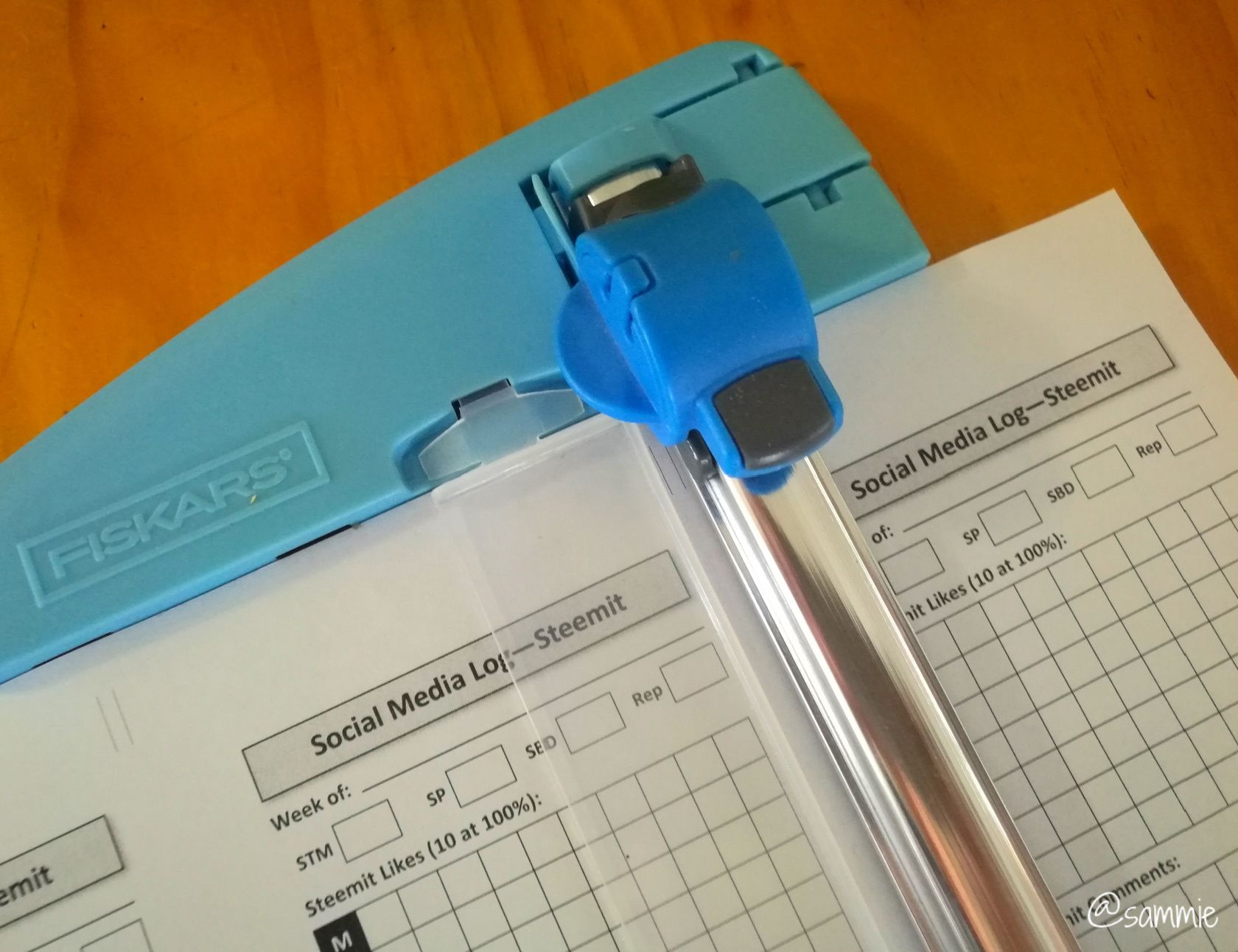 Cropping the pages to size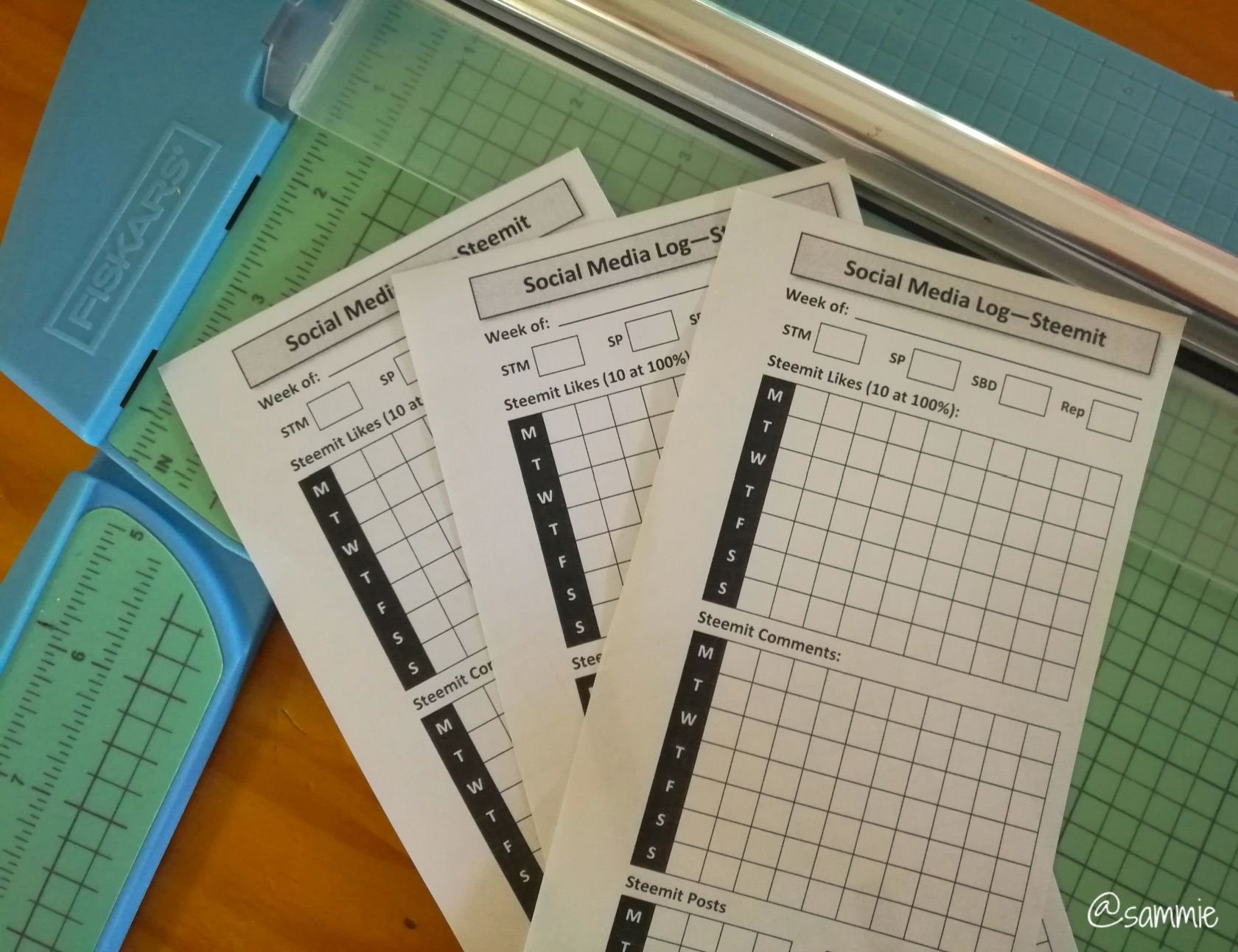 Cropped pages ready to be punched
Once the pages are printed you'll need to punch holes to fit your planner. I added a washi tape edge to each page to reinforce the holes. This also provides a little decoration.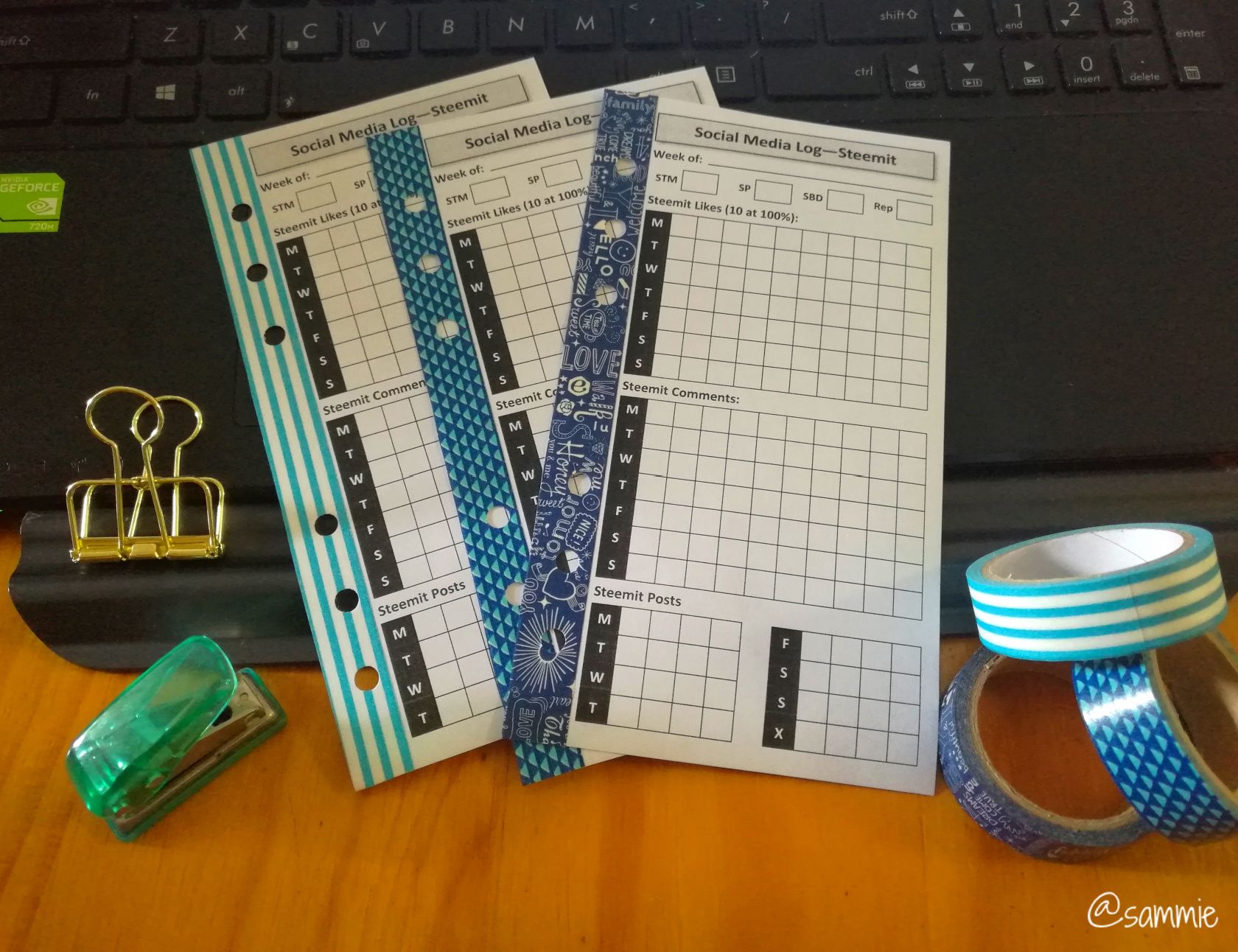 Pages punched and finished, with washi tape for reinforcement
File download
---

---
Recent Posts: