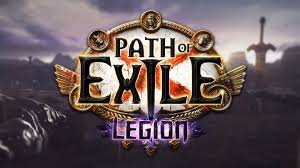 3 months have passed, and a league has ended. Now it's time for the Legion league to start, and @mattclarke is hosting his own solo self-found PoE race again! These races are really making me absolutely love SSFHC, it's a totally new experience, and I can say that I actually like it more than the standard leagues by now.
Link to the race: https://steemit.com/poecomp/@mattclarke/path-of-exile-the-24-hr-hardcore-race-starts-in-4-days-biggest-prize-pool-yet
My profile: Waterhorse
The whole melee system got a rework, and it's looking fantastic, I would probably go for my classic duelist start, but most likely I'll be trying to get that extra 20 Steem that @linnyplant added for the best witch. I think the battle for the top witch will be intense, so I don't know if I'll start another character. If I happen to do so, I'll be trying the reworked melee(most likely on a Marauder, because I've never played one in 3 years, lol), since it's been a while and it looks really interesting.
I'm sure this race is gonna be as fun as all of them (maybe even more fun because of the additional bounty on the witch :P). I wish everyone good layouts and loots, a lot of fun! See you in Wraeclast, exiles!!