Разные пути , И разные дороги
Нас ведут мечты, А не только ноги.
Что-то сделал так , что-то не иначе,
Все это пустяк. Ничего не значит .
Думаю что скоро , кончится идея-
И пути назад , не найду во тьме я,
И забуду страх, горе и обиды-
И сверну назад, где проходишь мимо .
А пока пути нам дают дороги
И идем туда , куда топчут ноги.
Вроде бы казалось - ты сверни налево-
Нет, нельзя никак, это как то смело .
Ну а если вдруг , там на горизонте -
Ты услышишь стук , мчится страх, постойте!
Что ж ты отошел , со своей дороги .
Может это знак, что не правы ноги.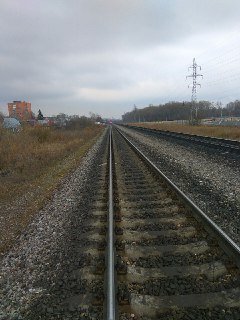 Different ways, And different roads
We are conducted by dreams, Rather than just feet.
Something did so, something not differently,
All of it is a trifle. Means nothing .
I think that soon, will end идея-
And a way back, I will not find in darkness I,
And I will forget fear, grief and обиды-
And I will displace back, where pass by .
And while ways give roads us
And we go there, where trample down feet.
As though seemed are you displace налево-
No, it is impossible in any way, it as that dare .
Well and if suddenly, there on horizon -
you will hear a knock, fear speeds along, stand!
That you stepped, back after the voyage .
It can sign, that feet are not right.
On-line перевод имеет ограничение по размеру текста.