Непонятные явления происходят тут и там.
Что же это за проявления , объясните все же нам.
Может боги в своих изумлениях все пытаются разрядить небеса
Может небо над нами смиренное , но грозится обрушить стан.
Я один поднимаю голову , и смотрю и твержу к богам
Что ж вы делаете с нашими судьбами - а в ответ :"Виноват ты сам "
Я спокойный пойду дорогою, и не буду больше просить -
Только знай, что своей свободою над богами ,умей дорожить .
Будут мысли в душе неспокойные - или что-то тревожить тебя,
Знай всегда ты свою голову - можешь вверх обратить , к небесам...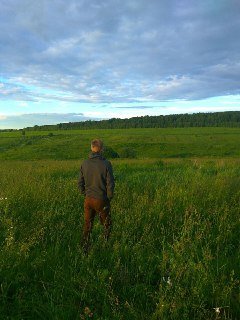 The incomprehensible phenomena take place here and there.
What it for displays, will explain to however us.
Can Gods in the amazements all try to discharge skies
Sky can above us humble, but threatens to bring down a figure.
I lift one the head, and I look and repeat over and over again to Gods
That you do with our fates - and you " are "Guilty in reply :
I am quiet I will go a road, and I will not anymore ask -
Only know that above Gods,able the freedom to value .
There will be ideas in the soul restless - or to disturb something you,
Know always you the head - can upwards turn, to skies...
перевод с http://translate.meta.ua/