Rakeback went down, down, down.
This is an update from previous post, I learned a couple of things more about the new system.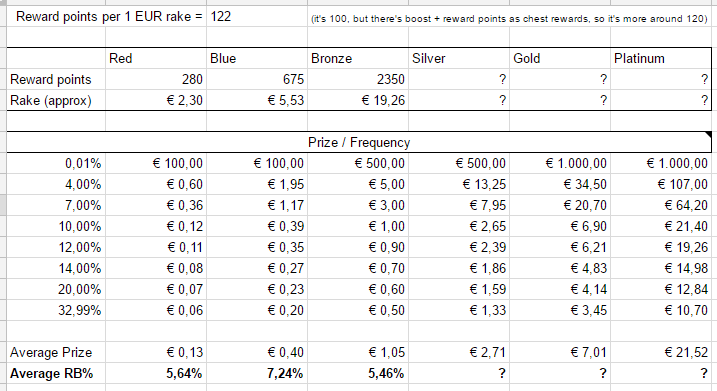 Come on, you give me less rakeback with the bigger chest?!?
You get 100 reward points for every 1 EUR of rake paid. But there is a little boost every 8 hours, and chests give you both StarsCoins and some reward point for the next chest. So, this month I got about 120 reward point every 1 EUR rake.
The amount of reward point to unlock chests is player-specific. I need 2350 reward points to open a bronze chest, but you may need less points, if you deposit a lot and/or you play more and/or you play higher stakes. How much less? Impossible to know.
VPPs are gone from the interface a couple of days ago, I wrote to support and they say the only way to know how much rake you are paying is use PokerTracker / HoldemManager / etc. They also told me that, since June, 1 EUR rake = 5 VPPs (not the old 8 VPPs), so there's a big mistake in my previous post.
As a former Goldstar I used to get around 16% rakeback, but this month is about 7% (and I paid about 400 EUR in rake playing Zoom NL10, NL25, plus a couple of tournaments).
I opened like 7 bronze chests, they gave me an average of 5,6% RB this month, compared to 8,1% of blue chests and 8,3% of red chest. Ok it's just one month of data, but I feel this is wrong on so many levels.
I think the new rakeback system is horrible for poker regulars (I mean people playing hours every day, could be good or bad players).
First of all, they cut (my) RB in half, which is like increasing rake. And from the little I saw, the more you play the less they give you back. They increased variance even more by putting randomness in rake(back), something we already saw with the introduction of spin n go's multiplier. And there's little transparency about how the new system works.
Unfortunately there are no alternatives for me in the italian online poker market (other rooms have very low traffic and/or they lack fast forward tables). So I will keep grind on stars... the day I will not beat the rake anymore, I will stop playing.