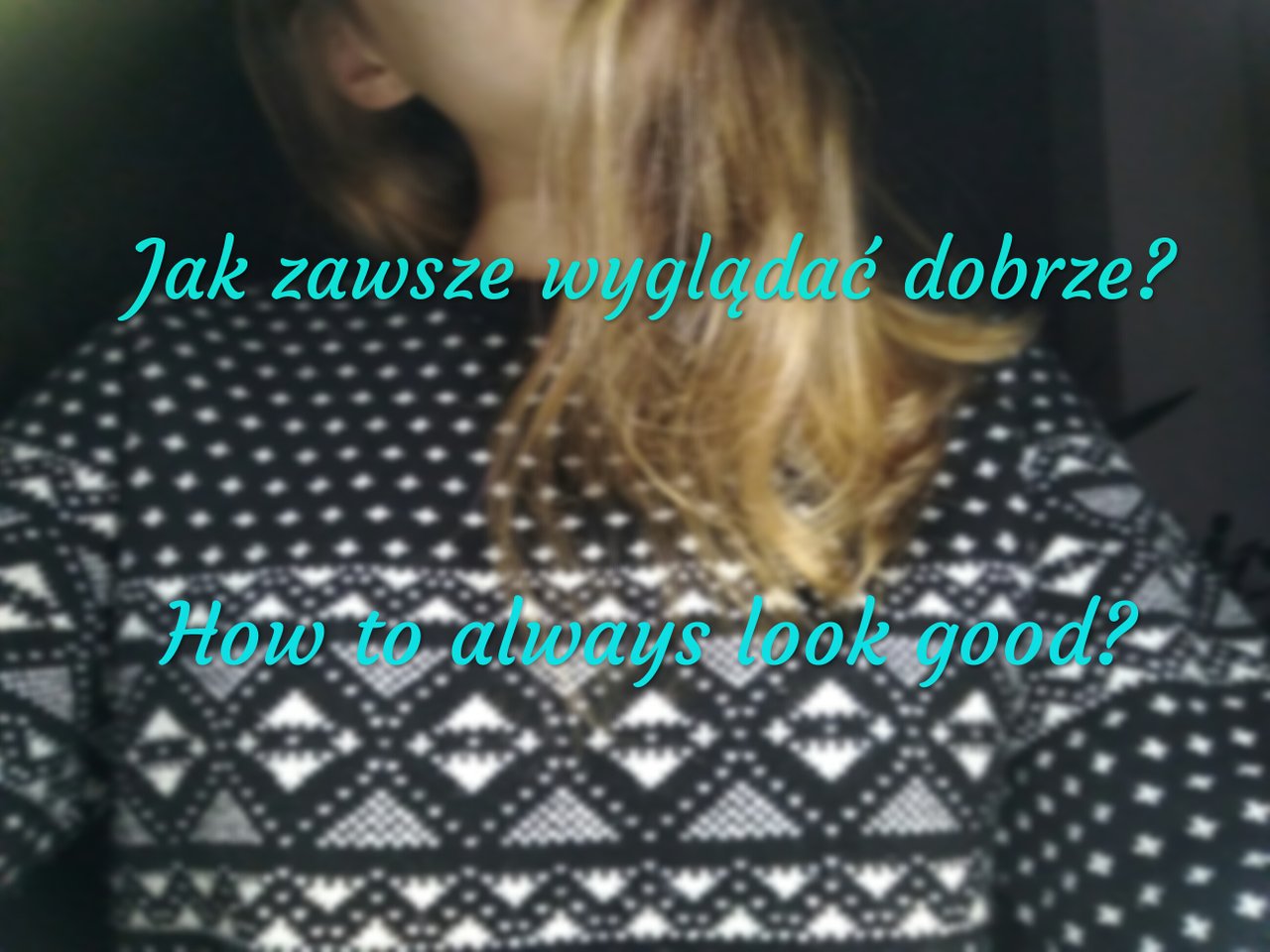 Cześć!
Pewnie znasz taką osobę, która zawsze wygląda idealnie. Nie raz chcielibyśmy się spytać jej " Co ty robisz, że tak świetnie wyglądasz?!" ale domyślamy się, że odpowiedzią byłoby : "Weź przestań, przecież tak nie wyglądam". Ja powiem wam, jak możecie się przybliżyć albo nawet zostać takim idealnie wyglądającym człowiekiem!
Ręce Jest to bardzo ważne, rękami się witasz, gestykulujesz, zatykasz usta przy kichaniu. Jeśli będziesz miał/a pourywane skórki, brud za paznokciami i brudny plaster na palcu, nie będzie to wyglądało fajnie.
Buty Ważne jest, aby były czyste, ponieważ brudne buty nie wiadomo co kryją, ale też mówią wiele o tym jak dbamy o naszą odzież.
Ubranie Najlepiej ubrać się wygodnie i schludnie. Kiedy ubierzemy jeansy w których nie możemy się schylić, nasze ruchy lub zakłopotanie, gdy będziemy musieli się schylić, będą wprawiać w zakłopotanie naszych rozmówców lub gości.
Biżuteria Najlepiej nosić jej mało. Zawsze dopasowywujmy biżuterię do danego ubioru. Do luźnego swetra i jeansów, nie ubierajmy ogromnych zwisających kolczyków, ponieważ to nieestetycznie wygląda.
Włosy Kiedy patrzymy na jakąś osobę pierwsze co rzuca się nam w oczy to włosy, nikt nie chciałby rozmawiać z osobą, która ma posklejane, tłuste włosy. Rozumiem, że nie każdy ma czas na umycie włosów, może ktoś miał gorszy dzień? Dlatego w każdym domu powinien się znaleźć suchy szampon, który doda świeżości naszym włosom!
Brwi i usta Brwi, które są powywijane w każdą stronę też nie zachęcają do rozmowy, jeśli rozmawiamy z kimś, staramy się mu patrzeć w oczy, ale co jeśli brwi je po prostu dominują swoją wielkością? Usta spierzchnięte też nie są fantastycznym akompaniamentem do wspaniałego makijażu.
Dziękuję wam za przeczytanie mojego posta i zachęcam do wszelkiej aktywności na moim profilu!
Cześć!
Hey!
You probably know a person who always looks perfect. More than once, we would like to ask her, "What are you doing that look so great ?!" but we guess that the answer would be: "Take it, stop it, I do not look like that." I will tell you how you can get closer or even become such a perfect-looking man!
** Hands ** This is very important, hands are greeting, you are gesturing, you clog your mouth when sneezing. If you have peeled skin, dirt behind your nails and a dirty patch on your finger, it will not look cool.
** Shoes ** It is important that they are clean, because dirty shoes do not know what they hide, but they also say a lot about how we care about our clothing.
** Clothes ** It's best to dress comfortably and neatly. When we dress jeans in which we can not bend, our movements or embarrassment, when we have to bend, will embarrass our interlocutors or guests.
** Jewelry ** It's best to wear it a little. Always match the jewelry to the given outfit. For a loose sweater and jeans, do not dress huge hanging earrings, because it looks unsightly.
** Hair ** When we look at a person, the first thing that hits our eyes is the hair, nobody would want to talk to a person who has glued, greasy hair. I understand that not everyone has the time to wash their hair, maybe someone had a worse day? Therefore, in every home should find a dry shampoo that will add freshness to our hair!
** Eyebrows and lips ** Eyebrows that are strewn in each direction also do not encourage conversation, if we talk to someone, we try to look him in the eyes, but what if the eyebrows just dominate their size? The chapped lips are also not a fantastic accompaniment to great make-up.
Thank you for reading my post and I encourage you to any activity on my profile!
Bye!