Hey Jessielected representatives
I don't often follow politics because I feel they are just the "Hollywood" of the news stirring up issues for issue's sake and because of it what they have always done. They get a salary to entertain and misdirect the masses while policies the back and systems they benefit from strip the ordinary man of wealth.
We all know they are a highly ineffective way of conducting social change; the whole point of it is to stall until the next regime comes in. It be a strain on the economy, having these people sit around and debt one another for our supposed greater good.
While I have no issue with what other people do with their time, it shouldn't have to place cost implications on to me. I have no problem with you coming up with an idea and people wanting to back it, but it shouldn't mean cost implications for me.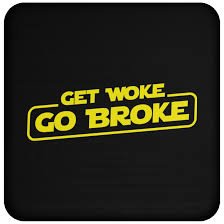 Image path - superherogearstore.com
Woke until broke
We now live in a snowflake generation where everyone thinks they are entitled to something and that it's not a life that is unfair its the system. On that we can agree, the system is shit but abolishing it is not going to bring any sort fairness as people think. Oh, we will tweak policy and governance and boom it's going to be fair, nirvana here we come.
We live in a world where capitalism has been bastardised into something almost unrecognisable, and this new neo-feudalism has reached a point where its pushing social unrest and tempers are high.
People have every right to be pissed off, and this woke culture while cringe has some fight in it and hate for an establishment that I can agree with but not their solutions. The solutions seem to be bigger government, more regulation, and even more centralised control capital.
When will we realise that the government never has our best interest at heart its all different names and policies that are looking to keep the status quo of control.
Earn your keep
If these woke politicians believed in what they were saying they would call for disbanding of their employers. They would push for giving the individual more control, more rights, less oversight, more power to the people. Instead, they propose adding another crunch, to coddle people, to keep them looking to the government for answers and not encouraging people to take control of their own lives.
Have your say
What do you good people of steem think? Are you for more government intervention? Do you think they can get their act together or do they need to relinquish control to the individual?
Holla at me in the comments! All my commenters I will now refer to as Jessie. Jessie is a good friend of mine, but Jessies got a girl, and I want to make her mine.
So have at it my Jessies! If you don't have something to comment, comment "I am a Jessie."
Let's connect
If you liked this post sprinkle it with an upvote or resteem and if you don't already, consider following me @chekohler


---
| Buy & sell STEEM | Donate LikeCoin For Free | Earn Interest On Crypto |
| --- | --- | --- |
| | | |