It may be a surprise to some, but not for others, that the USA isn't being led by the people, but by money.
Two political scientists at Princeton and Northwestern, Martin Gilens and Benjamin Page, did a study which analyzed 1,779 policy outcomes. The result: "economic elites and organized groups representing business interests have substantial independent impacts on U.S. government policy," while average citizens "have little or no independent influence."
An oligarchy means a small groups of people having control, which is quite contrary to a democracy. From oligio, few, and arkhein, to rule. The study shows how this is so.
First, looking at each group and their respective influence on public policy in Congressional decisions, you can see that the richest are 10% of the population and hold 78% of the reigns of power to mold policy for the country. Next is business groups at 43% influence, and interest groups with 24%. Citizens themselves only hold an insignificant 5% influence over Congressional decisions.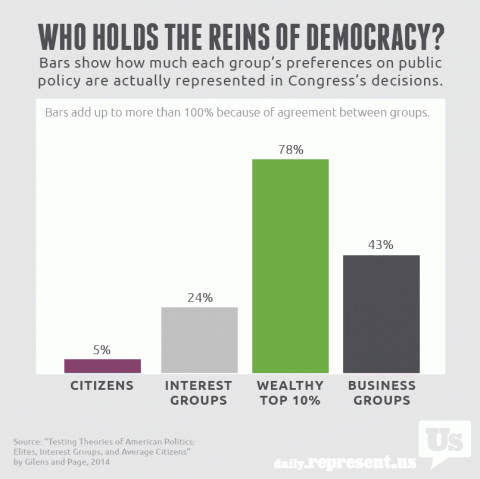 Source
In looking at theoretical types of government, a democracy is supposed to have most of reigns held in the hands of the people themselves. In a typical oligarchy, the wealthiest have the most power, followed by the business people and citizens with about the same amount of influence.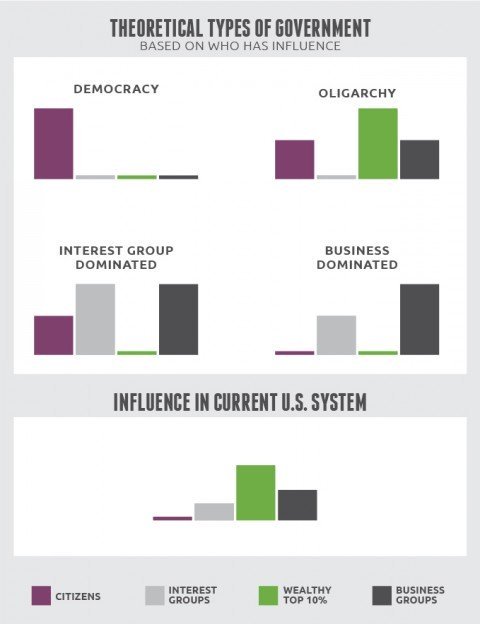 Source
Out current system doesn't even have citizens anywhere near on par with the business groups. We are worse off than a typical theoretical oligarchic model, with citizen power being neatly none existent, despite the mirage and illusion we are sold in schools, in the media, and by politicians.
The hands of people with money and their interests are influencing, if not directly writing, the policies that politicians are cementing into the legal system of the America. Money funds politicians and their elections. Money buys political decisions. Money rules. It's a plutocracy.
This is a corrupted way of living where money makes the decisions about what becomes the way of life for everyone. The population isn't the guard and guide of their own interests in the nation. Instead it's a smaller group that is deciding things for the rest of us. And most people think this is "freedom". What a joke.
---
References: